On the whole, the Razorbacks' performance this season was as up and down as a seesaw on a trampoline. And, of course, those last two wipeouts to Mississippi State and Missouri didn't exactly provide the kind of "consistency" Hog fans crave. Still, a few players gave it their all, through good and bad, to provide hope heading into next year.
Foremost among them is linebacker De'Jon "Scoota" Harris.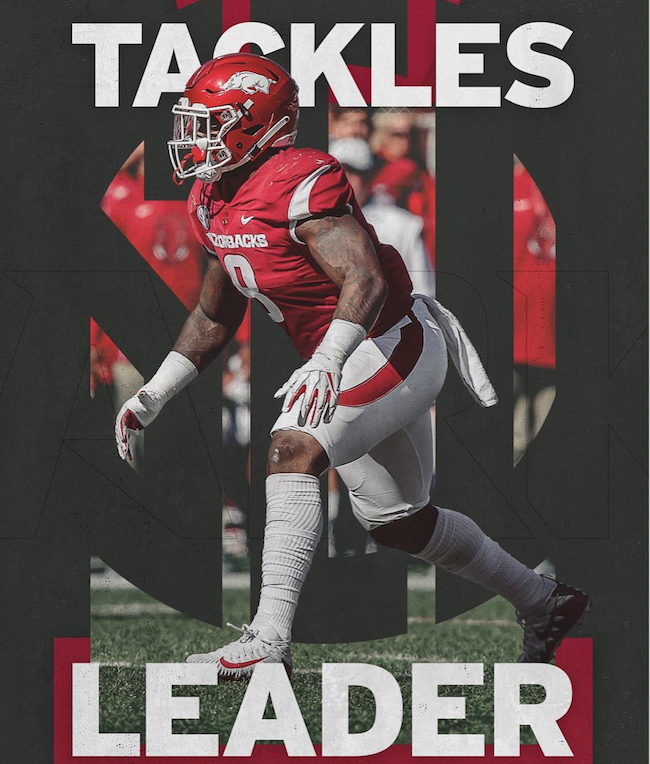 With 118 tackles De'Jon Harris became the SEC's leading tackler in 2018, just a year after finishing as its runner-up. In 2017 and 2018, he racked up a total of 233 tackles. That ties with Sam Olajubutu as the most by any Razorback in a two-year span since the early 2000s, when the likes of Caleb Miller, Jermaine Petty and Ken Hamlin prowled the earth and struck terror into the hearts of mortal men.
Harris first broke into major minutes midway through his freshman season, when then-sophomore Dre Greenlaw went down with an injury. "He took me under his wing even when he got hurt," Harris told Cox Sports TV in November. "He was in the same boat his freshman year, so he understood the stuff I was going through. Playing beside Dre helped me a lot."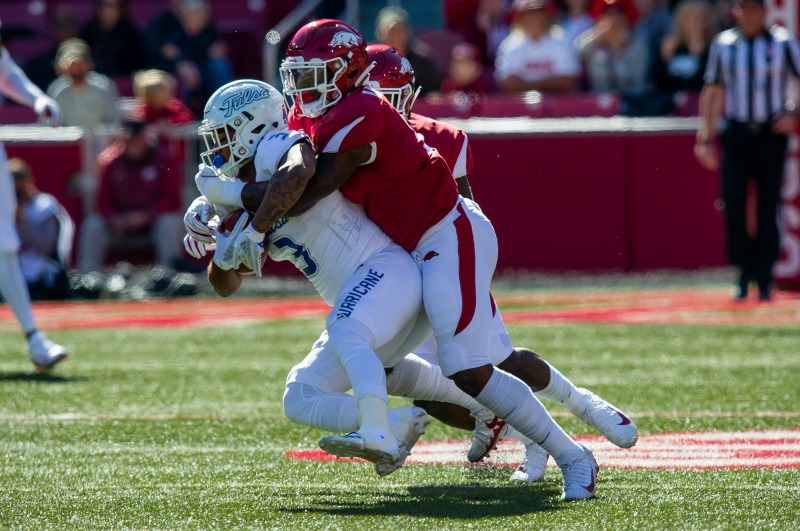 Greenlaw is one of a few seniors to whom Harris feels thankful. "Words can't explain the impact these seniors had on my career here," Harris tweeted after the season. "Coming in learning from them and hearing their stories on and off the field just made me put my head down and grind harder. I will always cherish our memories. Forever my brothers, once a Hog always a Hog."
Those seniors helped De'Jon Harris make a big jump as a sophomore, earning All-SEC honors and becoming the first Razorback in the SEC era to lead the team in total tackles, tackles for loss and sacks. In 2018, he and Greenlaw performed as arguably the team's brightest spot. "We feel like we're the best duo in the conference, in the nation really," Harris said.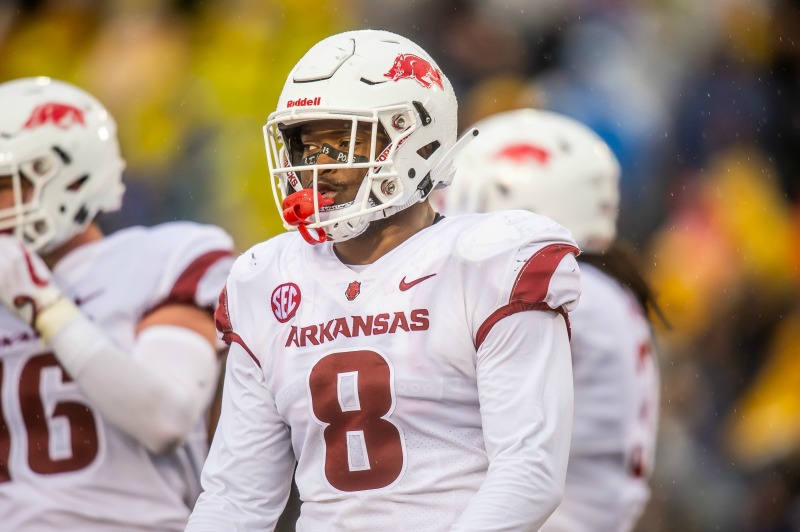 This season the Hogs allowed an average of 413 yards per game and six yards per play. Granted, such stats make most Arkansas fans want to throw up a little. But it would have been worse without Harris. "He's had a great year, in my opinion," defensive coordinator John Chavis said. "I don't use the word 'great' very often. Certainly, there were times he could have been better. But he's had an outstanding year."
Harris is the kind of player who constantly seeks physical and mental advantages. Just as good coaches do, he talks shop with opponents as well. A native of the New Orleans area, he knows both LSU linebackers. LSU's Michael Divinity is his cousin, while Devin White has become a close friend in the last five years. Harris said before this fall's LSU-Arkansas game he and White often talk with each other about college football.
Discussing the next level is a possibility, too.
Devin White, a junior, is tabbed as a Top 5 pick in the 2019 NFL Draft by draft guru Mel Kiper.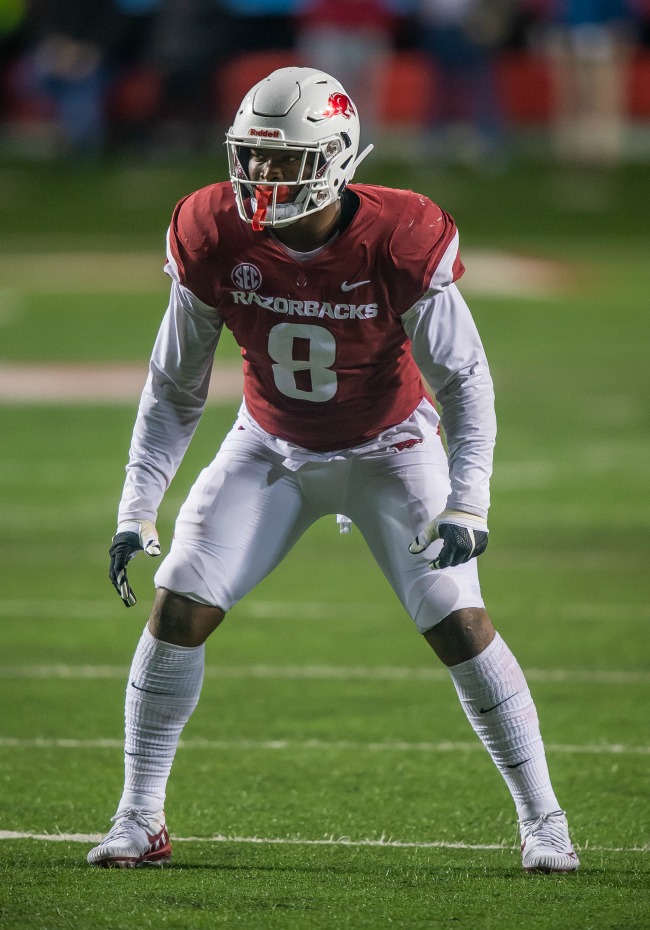 De'Jon Harris, at 6 feet and 245 pounds, isn't rated nearly as high. "I spoke with some area scouts who have been through Arkansas, and I agree with their opinion that he should return to school," Charlie Campbell, draft analyst for WalterFootball.com, told me. "Right now Harris does not project well to the NFL as he is short, lacks speed, and is limited athletically. He also does not offer pass coverage ability. The NFL is a passing-driven league so returning to school to improve his pass coverage skills would be the best plan for Harris."
As a junior, Harris can first get more professional feedback and a draft grade to help him make an informed decision on entering the draft. It's likely he will apply for such paperwork along with junior defenders McTelvin Agim and Ryan Pulley.
Regardless of whether he declares for the draft or not, Harris told Cox Sports TV he's in no hurry to make a decision: "I feel like everyone's shooting to get to the NFL, but [entering the draft] can become a distraction. I never talk about it to others. The NFL's always gonna be there. I'm working to get there so when it's my time; I'll be ready for it."
Photos courtesy of Razorback Communications.