The state's oldest-known recording of an African-American sports event comes with a mystery.
It's a cold, grey night in North Little Rock, in a part of town called Dark Hollow, and Joe Hale and Russell Hawkins are going back through time.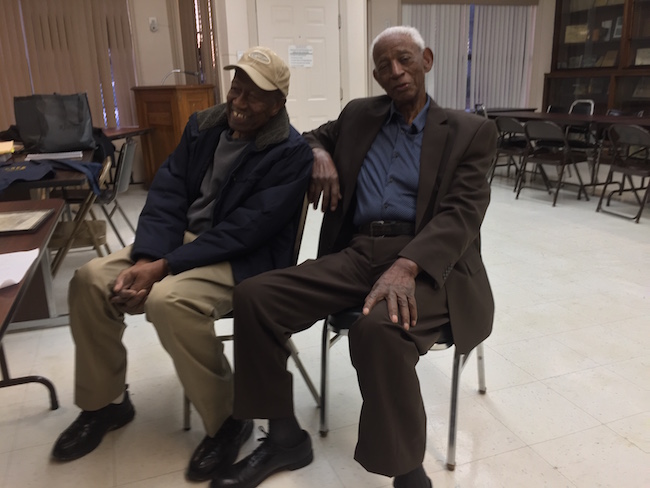 Here is the last stand of the school where Hawkins once coached basketball, from 1964 through 1970. Scipio Jones High itself has been wiped off the face of the earth, but much of its heart still beats within this small, nondescript building near King Solomon Baptist Church.
In its main room are an assortment of trophies, banners, wooden plaques, photographs, newspaper clippings and more, all referencing the school which North Little Rock's African Americans attended in the era before and during integration. The building serves as both an alumni association headquarters and museum.
On this night, though, Russell Hawkins, 84 years old, has brought a historic relic of his own. It's captured on a CD. The label reads:
Basketball Game
1963 State Tournament
 McRae High vs. Forrest City
Here, in his hands, is the earliest known preserved broadcast of an African-American sports event in Arkansas.
Its tale takes place around 1963, a year or so before Hawkins left to take the Scipio Jones head coaching gig. Hawkins then coached the all-black McRae High in Prescott. His boss was Joe Hale, the school's athletic director and principal, who'd helped lead the school to state championships and deep tournament runs as a player and coach in the previous two decades. Hale even coached Paul Silas, a future Boston Celtics great and the first NBA coach of LeBron James.
The friendship between Hawkins and Hale, now 90, is plain to see. They laugh often and easy in each other's company, slapping each other on the backs and carrying on about the time they darn near killed themselves fishing during a storm on Millwood Lake.
The story behind the CD, though, doesn't bring the same smiles.
It starts with an ugly fact: In the Jim Crow era, in Prescott, like so many other places, whites and blacks largely kept to their own. This included the sports world, where the white community supported then predominantly-white Prescott High, and the black community cheered McRae High. So it was no surprise that local radio station KTPA, run by whites, broadcast only Prescott High football and basketball games.  "As far we know, they paid no attention to blacks," Hale says. Hawkins adds: "We were not seen, and not heard."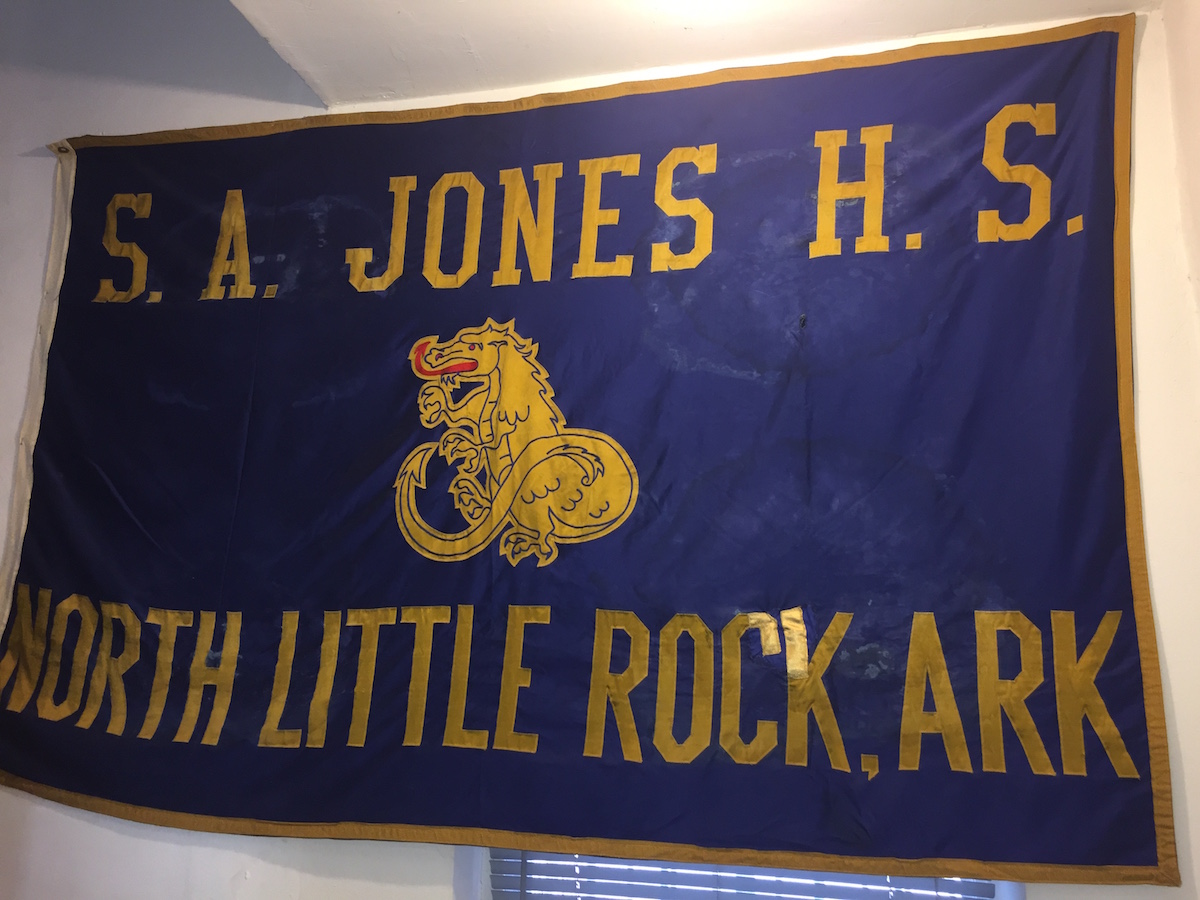 But that briefly changed during the state basketball tournament season that year. Pre-integration, two state boys basketball tournaments were held annually — one in Little Rock for white schools in Little Rock, and one in Pine Bluff for black schools.
McRae High was having an outstanding season with a 19-6 record, better than that of Prescott High, as Hawkins recalls. McRae won its first round and was gearing up to play Forrest City Lincoln in the quarterfinals when a young white broadcaster from KTPA showed up one evening to interview Hawkins about the team.
While black sports events were covered in some south Arkansas towns,* such attention was rare — if not unprecedented — in Prescott.  "I told him we were going to Pine Bluff to participate in the state tournament," Hawkins recalls. "Then, when he got back to the station, he called me and said 'I'm going to go tape the game and broadcast it the next morning.'"
"I got floored by that,"  Hawkins recalled. "I ran into Hale's office to tell him. I didn't even knock," he added, laughing. The broadcaster was a white man, probably in his 20s, who was sympathetic to the Civil Rights movement sweeping the nation. His name, though, escapes Hale and Hawkins.
Joe Hale drove him to the tournament on the campus of what is now the University of Arkansas at Pine Bluff. Hale then sat by him, serving as a reference for any unfamiliar players, as he opened the Thursday evening broadcast of the McRae/Lincoln High. The recording begins with an interview of C.E. Hines, then the commissioner of the state's all-black sports association and organizer of the tournament.
It's filled with the voice of an excitable young broadcaster fully engaged in the game. The McRae brothers Odell and Louis Hardman get lots of mentions. He effuses,"That Louis Hardman is making some fabulous shots!" and later, when McRae is pulling away, lets loose with: "These boys are playing some basketball, let me tell you!"
The unbridled enthusiasm is well worth a listen (audio snippets are here).
McRae High won the game handily. When interviewing Coach Hawkins afterward, the KTPA radio man asks him who they next play (McGehee) and then signs off with, "Until then, good night everybody and be a real good sport!"
McRae would lose its next game, but even had it surged on to the title, nobody from back home could have listened. The KTPA broadcaster returned to Prescott with his McRae/Lincoln recording and aired it to the community the next morning. Apparently, the station fielded some complaining calls and that same day "they canned him," Hale recalls.
"I was shocked," Hawkins says. Hawkins and Hale had expected this to be the start of a new era in which black sports events were aired alongside the white ones. Indeed, the broadcaster had said he'd start airing McRae football games that coming fall. But, "when we heard he was fired, we knew that was the end of our run" in terms of media exposure, Hawkins adds.
The idealistic radio man left town, and they never spoke to him again. But, before he left, sometime after the recording of the game but before its broadcasting, he dropped by McRae High and left a gift: a copy of the reel-to-reel audio tape on which he'd recorded his broadcast. Off that original audio tape, Hawkins had the CD made.
Then, last year, Joe Hale ran across an obituary in the paper. He gave it to Hawkins. They swear it was of that same broadcaster. They recall that, according to the obit, the man moved elsewhere in the state to work in radio (El Dorado, as Hale recalls) and apparently died there too. At some point, he had a home in Dallas, Hale recalls.
But that's about all that's recalled. The obit can't be found and the man's actual name, unfortunately, is forgotten. What's not forgotten is his attempt at bridging the kind of racial divide which long defined the South. Thanks to his foresight, and Hawkins' care of the original tape, a rare gift has been left to future generations of Arkansans.
Hale adds: "He was a good man."
***
*In the early 1960s, the radio station KXAR in nearby Hope broadcast some games of that town's all-black Yerger High, according to Jerry Westmoreland, a disc jockey there 1962-1964. KXAR also broadcast the messages of African-American county extension agents and the Sunday services of Garrett Chapel Missionary Baptist Church, he said.
Evin Demirel is collaborating with The Butler Center of Arkansas Studies on a digital history project to commemorate Arkansas' athletic heritage. He is the author of African-American Athletes in Arkansas: Muhammad Ali's Tour, Black Razorbacks & Other Forgotten Stories.