Late last Saturday afternoon, I sat with my six-year-old daughter on the west side of Donald W. Reynolds Razorback Stadium. Eden wore a little cardinal red dress and had talked all week about how excited she was to see her first Arkansas football game. Yet as hundreds of people left their seats and streamed past us toward the exits, she wasn't so much entranced by the action on the field as a trio of young boys standing about 300 feet away. They swung their hips and outstretched arms like clockwork in the dying daylight. As the final seconds of the Hogs' 17-44 loss to North Texas ticked away, these kids were doing "the Floss," the most metronomic dance known to man.
The final whistle pierced the air. As we began walking down the stairs, she asked who won. I told her the bad news. She replied: "But why?"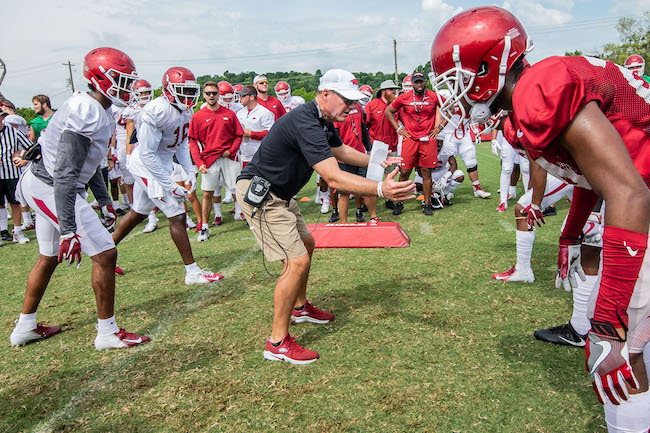 Most of the state is still scratching its head over this one, too. One answer is erratic effort and execution. All coaches push their teams to perform with extreme consistency and precision — in short, they want the football equivalent of "the Floss." Yet the kinds of performances which Razorback fans have suffered ever since the reign of John L. Smith far more resemble the spasmodic boogying of Elaine from "Seinfeld."
The 1-2 Hogs' big loss to North Texas, a mid-major team, is only the latest example of the inconsistency plaguing the program for seven years. Three games into the Coach Chad Morris Era, it's still a bugaboo. Morris is a brilliant offensive mind but Arkansas won't go full throttle in his high-octane passing system until he brings in the explosive playmakers and elite quarterback he needs. To keep the program competitive until then, Morris is simplifying the playbook. "If it's only four things we can do, then let's just get good at those four things," he said this week. "Maybe we only get to 10% of the offense this year."
Arkansas may succeed in cutting the fat, but it will be for naught if some Razorbacks keep approaching the game like Eeyore. "There's definitely some guys that have not bought in, and I think it trickles down to other guys," Razorback insider Richard Davenport recently said. No secret there. Before North Texas, the pregame ritual of walking under the "A" onto the field at times resembled a wake. Some Razorbacks shuffled past fans in a near daze.
I understand. I get it. These Hogs have legit reasons to feel frustrated. They drank the Kool-Aid former head coach Bret Bielema sold them and now see only a Kool-Aid Man shaped hole in the wall through which he and most of his assistants ran last winter.
The coaches who promised to mentor and prepare them for the pros were fired. Many Hogs must now play in a system opposite to Bielema's, under coaches with whom most had no prior relationship. In short, there's a lot of square peg in round hole-ing going on. Chad Morris isn't giving up on the team. And neither should its fans.
Arkansas now sits at a crossroads. On Sunday night, Chad Morris called his players together and "read them the riot act," longtime Arkansas broadcaster Mike Irwin said on "Sports Talk with Bo Mattingly." How they respond in the next nine games will determine not only the fate of this season, but could affect the trajectory of the program for years. Chad Morris and Arkansas Athletic Director Hunter Yurachek agree a good target date for Arkansas to compete in its first College Football Playoff national championship game is January 2024. To rise to the mountaintop by then, the Razorbacks cannot afford a full-scale meltdown in 2018.
Let's be clear here: Finishing above .500 this season will be a very tough row to hoe. The Hogs' SEC schedule — beginning with Auburn this Saturday — is a Murderers' Row. But will it finish closer to, say, five wins or stay at only one? It matters, because Chad Morris has the nation's No. 23 ranked recruiting class in the pipeline despite the horrid start. That's up from a No. 48 ranking in the previous class. Such an accomplishment is highly impressive, all thing considered.
His current commitments out of the class of 2019 include four-star receiver Treylon Burks (Warren), defensive end Zach Williams (Little Rock) and KJ Jefferson (North Panola, Mississippi), a dual-threat dynamo who's the kind of quarterback Morris teams need. Plus, four-star tight end Hudson Henry from Little Rock (Hunter Henry's younger brother) is considered a Razorback lean.
These elite prospects haven't yet signed. Top programs still pursue them. Chad Morris and his assistants must work hard to keep them on board. "I promise you, those other colleges are trying to come in right now," Richard Davenport, the Arkansas Democrat-Gazette's recruiting analyst, told Bo Mattingly. "They smell blood and they're trying to get into kids' heads."
The unbelievers among the Razorback upperclassmen need to push aside their gripes, suck it up and do the selfless thing — lay it out on the line to keep the program from nose diving.
This isn't the season start they foresaw. No doubt, they bought into a vision of the Razorbacks competing for an SEC championship by now. So perhaps they feel jaded.
If that's the case, they shouldn't let those feelings sabotage their efforts. Their teammates and fans deserve better. For the next two months, they need to find a way to turn frustration into motivational fuel. If they pour themselves into building a foundation for something they likely won't experience first hand, even in the face of hopes that never panned out, they will become better men for it.
Photo Credits: Razorback Communications