Hello, Arkansas friends! Today I have the pleasure of introducing you to Rivercrest High School senior, Sydney Lane. You'll want to remember her name as I expect we'll be hearing much more about Sydney in the months and years to come. She has explosive dreams and the perfect combination of brains, dedication, and talent to see her goals realized.
High jump is Sydney's athletic specialty.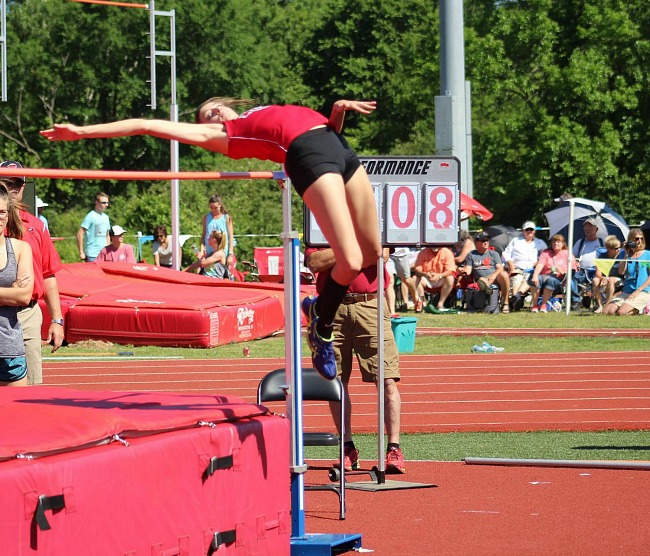 In Michigan last summer, Sydney earned her first national title as AAU Junior Olympic High Jump Champion. Later at the Arkansas Meet of Champions, she set the Arkansas high jump record with her personal best of 5 feet 8 inches. Other high school track accomplishments include All-State (9th-11th grades), All Arkansas Prep Track Team (9th-11th grades), and numerous indoor and outdoor high jump track championships.
Last year as a junior, Sydney placed 2nd in the 2017 Arkansas Activities Association Heptathlon. I probably don't need to tell you what a feat this is. A heptathlon covers seven events. One of Sydney's goal for 2018 is to win first place in the Arkansas State Heptathlon scheduled for May in Cabot.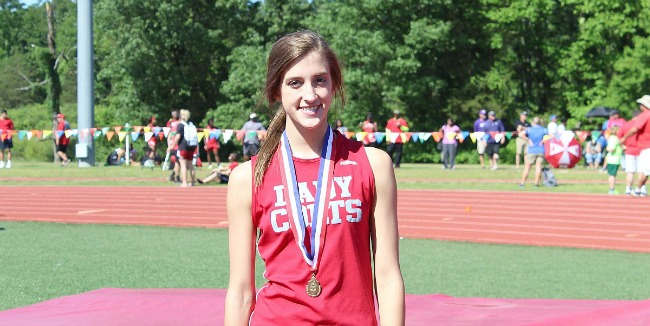 Fun fact: Sydney's grandpa, Danny Graham, was my junior high basketball and track coach. Sydney's grandma, June Graham, was my high school cheerleading sponsor. I tell you this not to draw any sort of athletic parallel between Sydney and me (because there is none whatsoever!), but only to underscore how small-town folks are connected, practically related even, and most definitely supportive of one another.
Sydney must have athletic code written in her DNA. To say she was raised in a sports family would be an understatement.
In addition to her grandparents (who will always be Coach Graham and Mrs. June to me), Sydney's parents played sports. The youngest of three children, Sydney grew up watching her two older brothers compete. Once she became a participant rather than a spectator, she developed a personal love for it.
"I fell in love with competing, with working hard for something, and with the way sports bring so many different people together."
As a compassionate competitor, she identifies with this quote from 2012 Olympic and 3-time World track champion, Allyson Felix, "To give anything less than your best is to sacrifice the gift." Sydney lives her favorite quote, always giving her best no matter the activity, sport-related or otherwise.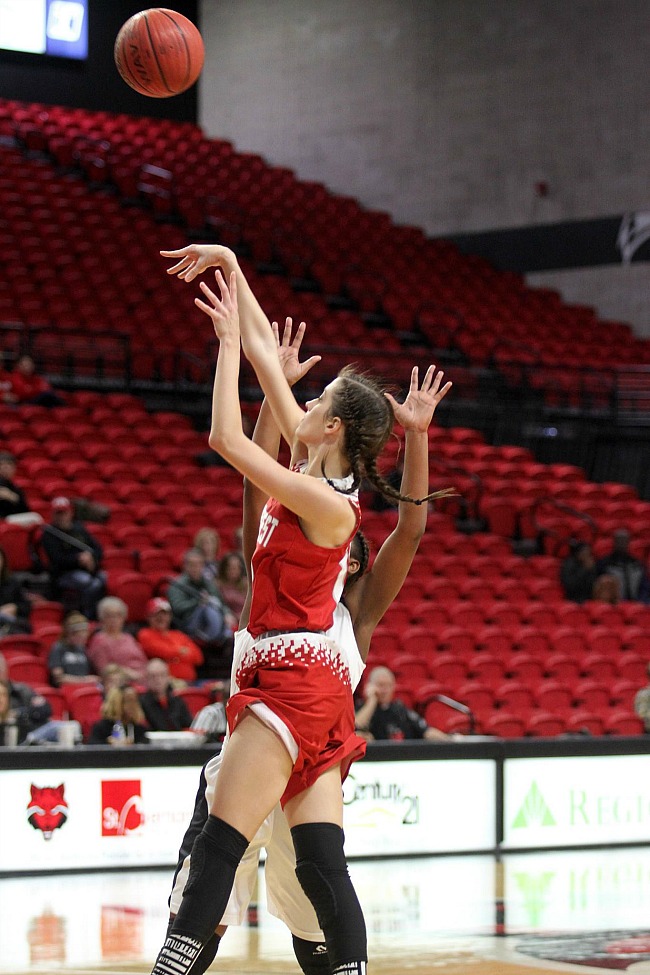 In addition to excelling at track and field, Sydney is captain of the Lady Colts basketball team. She made All-Conference in 10th & 11th grades and was recently named to the NEA Tournament Division II Girls All-Tourney team. When she isn't on the court or field, she's cheering. The Rivercrest cheerleading squad won the 3A Game Day State Championship last year in Hot Springs. In December, they cheered the Colts to victory as Rivercrest won the 2017 Class 3A state football championship.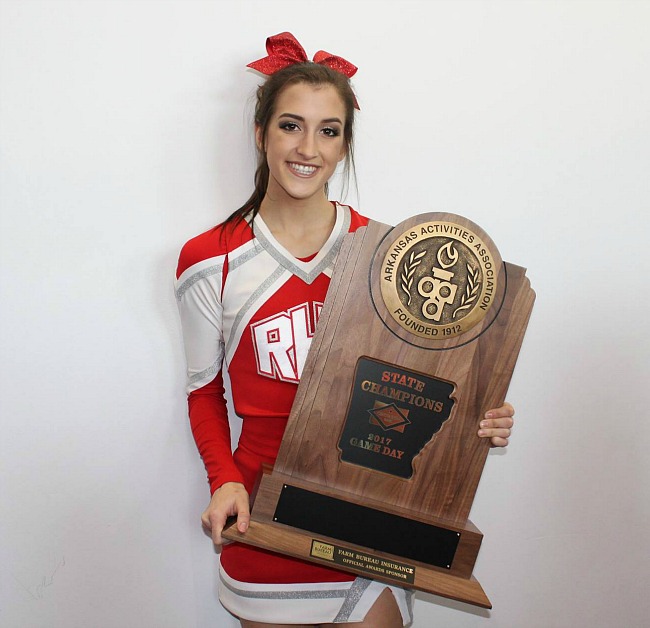 I bet you're thinking what I'm thinking. When does Sydney (and her parents)  find time to sleep?
No time soon.
This is her senior year at Rivercrest. As class valedictorian, she isn't coasting. Not by a long shot. Already, she's the recipient of several academic scholarships and awards. Her goals for her last few months of high school are far from run-of-the-mill. She wants to set a new personal high jump record, go undefeated in high jump in all her events including high school, State and Meet of Champions. She hopes to win the 300-meter hurdles at State and win the Arkansas Heptathlon.
"And of course, I want to have fun and enjoy my senior year."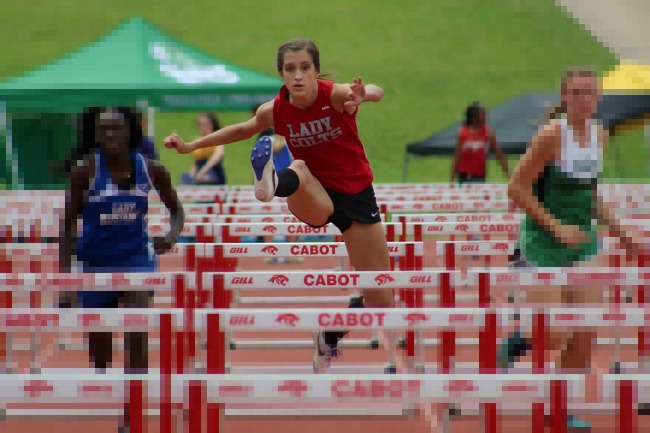 Sydney considers herself to be more introverted than extroverted. She prefers listening and being part of a conversation rather than adding more noise or being the center of attention. For all her awards and accolades, in many ways, Sydney is a typical teenager who enjoys hanging out with friends, going to movies (The Greatest Showman is her current favorite), and participating in school clubs and activities. Most impressive to me—as president of Student Council, Sydney recently organized a service project to benefit Rivercrest students who are food insecure.
Does she have time for hobbies?
Somehow she does.
In whatever spare time she can squeeze from her schedule, she writes poetry and blogs at Simply Sydney. The piano is her instrument of choice. She fell in love with it after watching her Grandma play for years.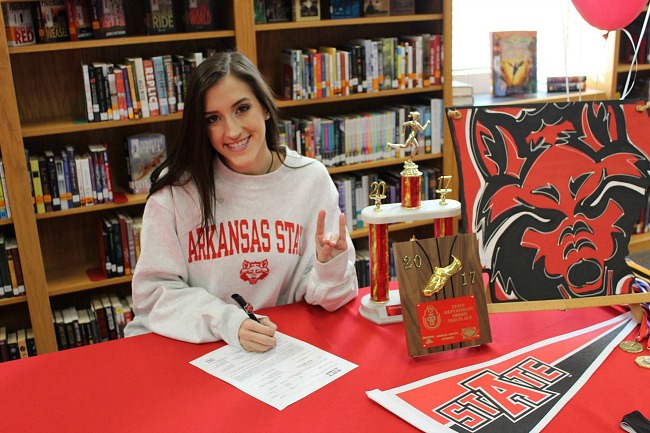 Next fall, we'll be able to follow Sydney's high jump success as she wears a Red Wolf jersey. It's no surprise that several universities courted her. In the end, she officially signed with Arkansas State University (ASU), drawn to the school's smaller size and locale, its track and field program, and the Honors Program.
"The main reason I chose ASU was because I feel like God put certain people and certain opportunities in my life, that sort of led me there."
Sydney grew up in Keiser, my favorite one-stoplight town in the delta. "Growing up in a small town, I had to make my own fun. There isn't a lot to do in Keiser, so when I hung out with my friends, we had to get creative. We made up stories, explored, and used our imagination to have fun. I think having to do that as a kid helped me grow into a person who isn't afraid to use her imagination and to dream big."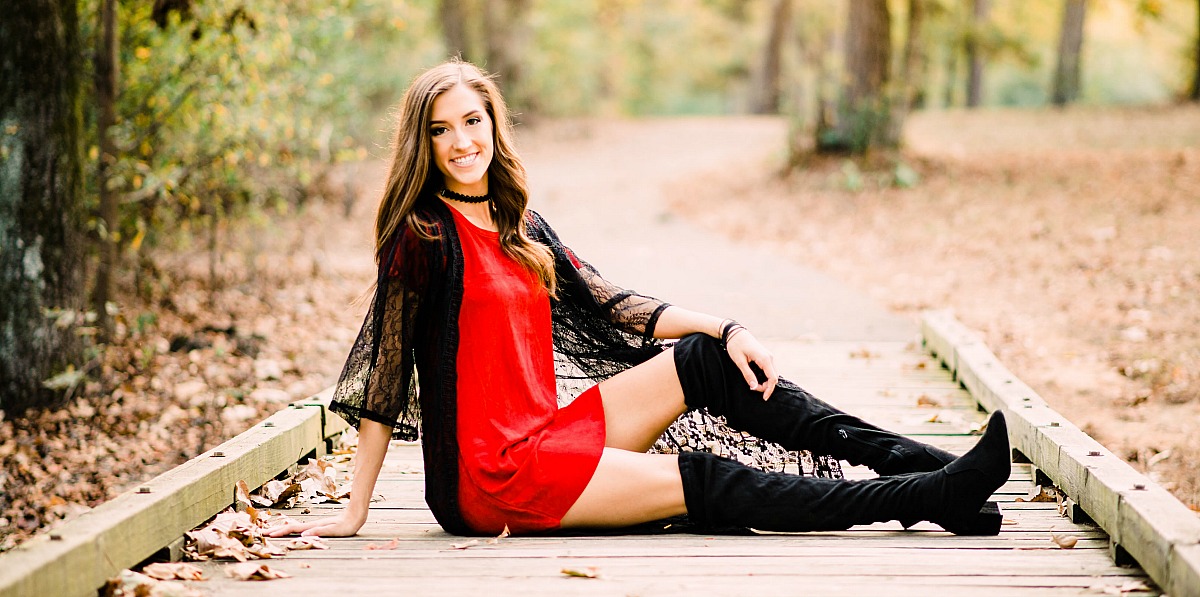 What are Sydney's dreams for college and beyond?
"I want to win the Sunbelt Conference in high jump and make it to the NCAA championships. My biggest goal is to make it to the Olympic Trials. Anything after that is just a blessing."