Chad Morris remembers those early 2011 staff meetings at Clemson like they were yesterday. Head coach Dabo Swinney had just hired him to turbo charge an offense which flailed the season before. Though Clemson had limped to a 6-7 record, Swinney still felt like he was building something special.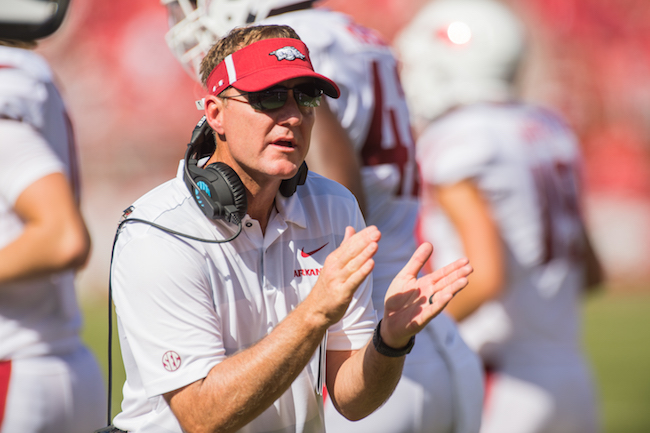 "Nothing happens overnight," Morris recalled Swinney repeating in the office. "We will be the model program for all others across the country to follow."
Morris admired Swinney's optimism; he recently told sports radio host Josh Bertacinni. "I would just look at him and say 'Whatever you did this morning to have that type of attitude and that kind of approach, I need to have the same thing.'"
Fast forward eight years and Swinney's prediction has been realized. To a degree hardly anybody expected.
Last week, using an offensive system built by Morris, the Tigers crushed defending champion Alabama in the national championship game. "Little old Clemson," as Swinney referred to the program afterward, now stands as the king of college football.
Meanwhile, after a 2-10 season, Arkansas stands as the pauper of the SEC West. Still, Morris crackles with Swinneyesque energy heading into his second season as Razorback head coach.
Morris plans to build a program here that reaches the same heights that Clemson has. Outrageous though such a vision may seem now, here are three reasons it could be realized, too: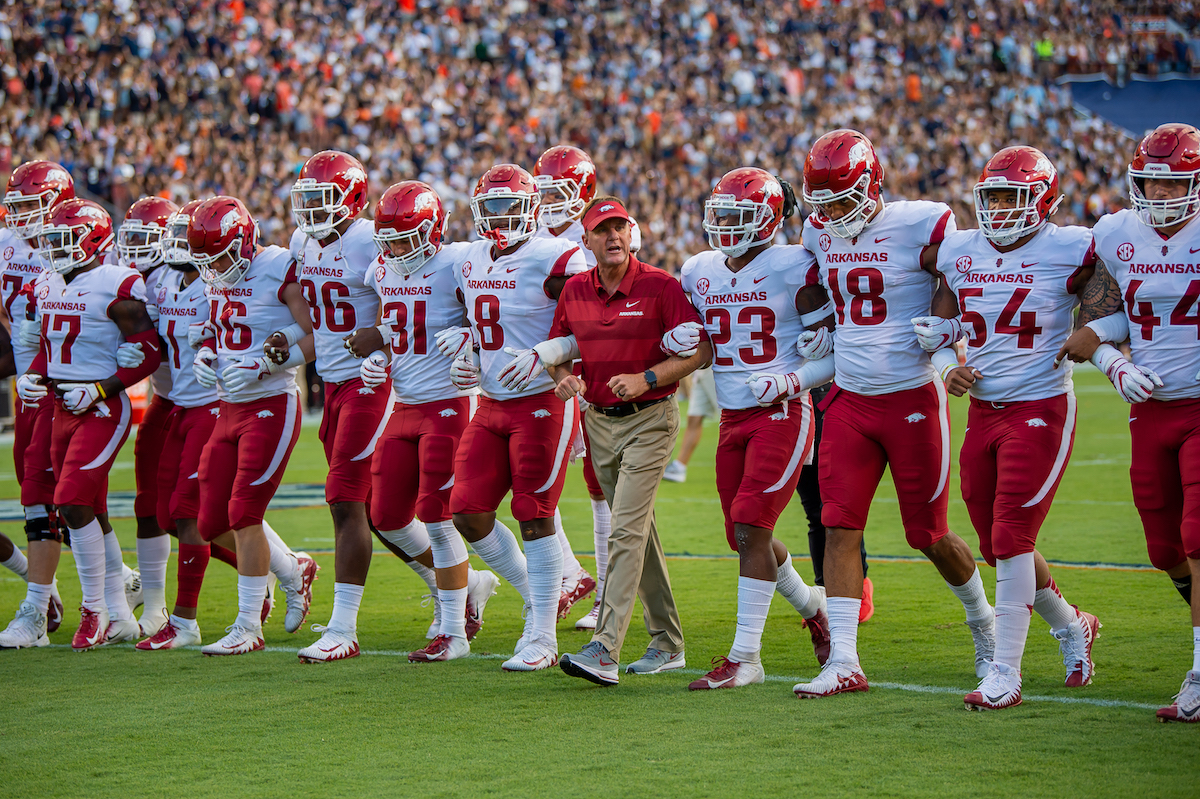 Programs Cut From The Same Cloth
Before Swinney and Morris turned Clemson into a perennial ACC champion, the program was mired in decades of average performance. With the exception of a few great seasons, Arkansas has been the same way since the 1980s.
Both fan bases knew their programs were capable of better things, though. Before Swinney's two national titles, Clemson had won its sole national championship in 1981. Likewise, Arkansas has won a single national title so far, partly because of the play of great linemen like Lloyd Phillips.
That 1964 Hogs title came under coach Frank Broyles, who then coached Phillips' younger brother Terry Don. Terry Don Phillips later served as a Razorback graduate assistant and athletic administrator before becoming Clemson's athletic director in the 2000s.
It was Phillips who saw something special in Swinney and promoted him to the head coaching position, though many felt Swinney was unprepared. It was Phillips who kept the faith when things looked bleak, and who signed off on hiring a relatively unknown offensive coordinator out of Tulsa named Chad Morris.
"I had no qualms going with Chad, even though his work at the college level was minimal," Phillips later recalled. "But his high school record was pretty spectacular in what he accomplished in the state of Texas, and he came in here and he changed the paradigm on what we did offensively."
After Morris was chosen at Arkansas, Phillips described the decision as a "great hire."
Non-Native, Southern Head Coaches
Swinney is a native Alabamian who played and coached for the Crimson Tide under Gene Stallings, a disciple under Fordyce, Ark. native Paul "Bear" Bryant. Swinney learned what made an excellent program tick from the inside out.
Those deeply embedded lessons were paramount in helping build Clemson into the juggernaut it is now. Under Swinney, Alabama became Clemson's blueprint.
The importance of Swinney's Deep South roots shouldn't be understated. Though not a native South Carolinian, he could more easily charm Clemson boosters, fans and the parents of recruits because he understands their culture and had a shared background.
Likewise, Chad Morris isn't a native Arkansan. As a northeast Texan, though, he well understands the culture and people of this part of the country. He spent 16 years coaching high school football in Texas, the nation's most talent-rich football state.
So, his technical background was likely more wide-ranging than Swinney's, as he absorbed and bounced concepts off of some of the most innovative minds in the sport.
Morris also developed friendships with a lot of those ingenious high school coaches. Those ties are starting to pay off big time.
Recruiting Pipelines To Big States Next Door
Chad Morris, like Swinney, touts that he leads a "relationship-based" program. Of course, most coaches say something along these lines, too.
But how well does that coach establish and maintain relationships? When it comes to retaining top assistant coaches, Swinney has done exceptionally well. It's too early to judge Morris on this front, but he'd kept everybody on board heading into mid-January 2019.
Swinney, too, has been superb at recruiting. He has taken full advantage of his school's proximity to the more talent-rich state of Georgia to recruit many future superstars, including quarterbacks Deshaun Watson and Trevor Lawrence.
Likewise, besides Arkansas, Morris is focusing on nearby states. This is a more direct and common-sense approach than that of his predecessor, Bret Bielema. Early in his Arkansas tenure, Bielema opened a recruiting pipeline to Florida. Then, some of his top recruiting assistants like Randy Shannon left and he couldn't sustain it. When talent stopped flowing from Florida, Bielema couldn't make up the difference by poaching elite recruits from other states.
Morris has made Texas, and to a lesser degree Oklahoma, major points of recruiting emphasis. He's already signed nine players from the class of 2019 from those two states, including six from Texas alone. They are part of the most highly rated Arkansas football class in the SEC era.
As Clemson's future success is tied to Georgia talent, so is Arkansas' future success tied to Texas.
***
Morris spent four seasons in Clemson, helping Swinney build an athletically elite, tactically brilliant and emotionally attuned foundation for a powerhouse program.
Just as his former boss used Alabama as its model, Morris isn't shy about modeling the Hogs off of Clemson. "It's the vision we put in place here since I walked through in the door here," Morris told sports radio host Bo Mattingly. "It's in active motion. I think you see it. I think you see with the recruiting."
He added: "There's growth happening in this program and it was happening through the season. It wasn't seen by the outside world, but the culture being instilled and established in this program was happening — and happening every day."
Photos courtesy of Razorback Communications.