The University of Central Arkansas is home to 12,000 students, 400 student-athletes, and many athletic record holders. From the Bears' participation in the NAIA division to its transition to NCAA Division I sports in 2006, their athletes excel in all 17 sports.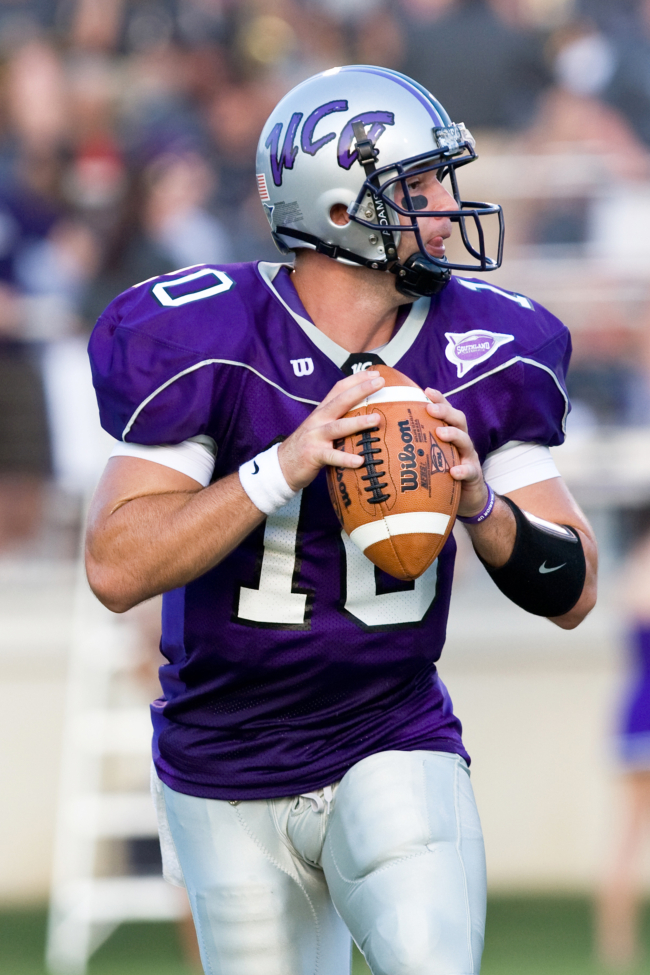 Nathan Brown
Nathan Brown joined the UCA Bears in 2004 after a successful high school football career as the quarterback at Russellville. Brown began a record-breaking career, helping to lead the team to a Gulf South Conference Championship and a quarterfinal finish in the NCAA Division II playoffs in 2005. Brown finished his freshman year with an impressive 2,410 passing yards and 25 touchdowns. The next season saw Brown and the Bears taking on their first year of NCAA I-AA play and achieving an 8-3 record, despite Brown missing three games with a broken bone in his hand. The 2007 season brought the Bears' first full season of Southland Conference play. Brown rose to the challenge, throwing over 3,000 passing yards and 26 touchdowns, including seven touchdowns against Texas State. He also passed for 439 yards against Missouri State. Brown won Southland Conference Offensive Player of the year.
Brown's senior season in 2008 ushered in one of the Bears most successful seasons. Brown threw 31 touchdowns for over 3200 passing years. The team won the Southland Conference Championship, though they couldn't officially be named the winner since they were still under a transition period with the NCAA. Brown collected numerous honors, including Southland Conference Player of the Year. He also became the record holder of career total passing yards at 10,558 yards and career touchdowns at 100 for both UCA and in the state of Arkansas. After a short pro career, Brown turned to coaching and returned to the Bears in 2009 to coach quarterbacks, became the offensive coordinator in 2014 and will coach his first season as head coach of the UCA Bears in 2018.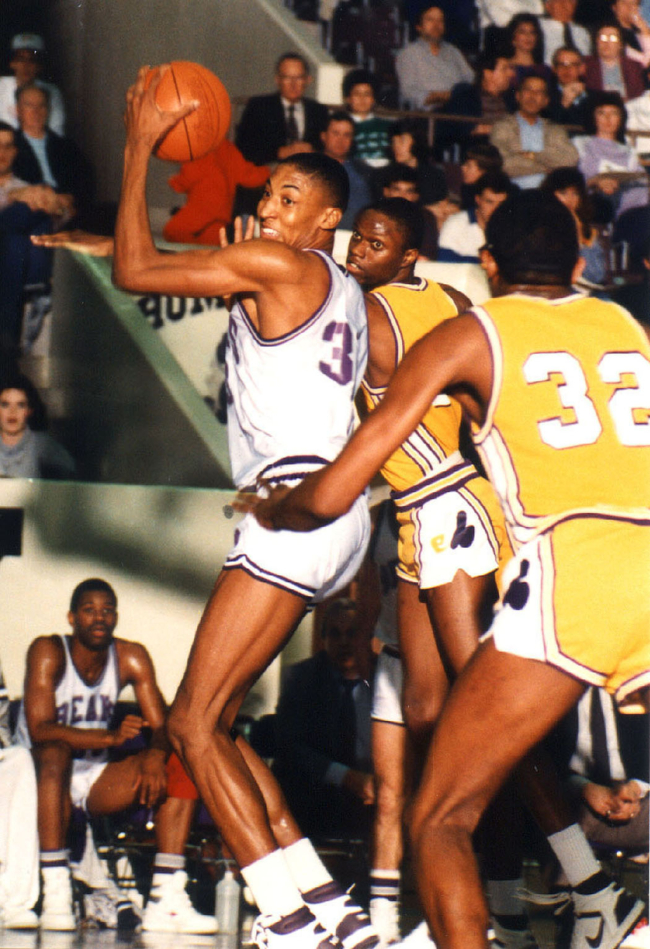 Scottie Pippen
It's hard to talk about professional basketball players from Arkansas and not end up discussing Scottie Pippen. Before he became the championship-winning Chicago Bulls player, Pippen competed at UCA in a meteoric rise to fame matched only by the six inches he grew from the beginning of his UCA stint to the draft.
When Scottie Pippen walked onto the UCA basketball team in 1983, his 6'1″ frame made him a natural point guard. Though Pippen doesn't carry the number one spot on any UCA record, his name figures into the top ten of many of the basketball records. As a freshman, Pippen added depth to the bench, playing in all twenty games, but only starting one. He'd also grown a few inches and gained valuable experience. When he returned for his sophomore season, Pippen was now 6'5″ and earned a starting position. He now had the moves of a point guard and the height of a forward. He led the team that year in points and rebounds and never looked back.
His junior and senior year, he continued to lead the team and became a two-time NAIA All American. Though he played in only 93 games, starting 74 of them, he ranks 6th in scoring and rebounding, 5th in assists, 6th in blocked shots and 2nd in steals. His numbers reveal his amazing versatility and hustle. After his senior season, the now 6'7″ NAIA star was drafted fifth overall in 1987 and traded to the Chicago Bulls, where he began his famous career playing alongside Michael Jordan and winning six NBA championships. The University of Central Arkansas retired Scottie Pippen's jersey #33 in 2010.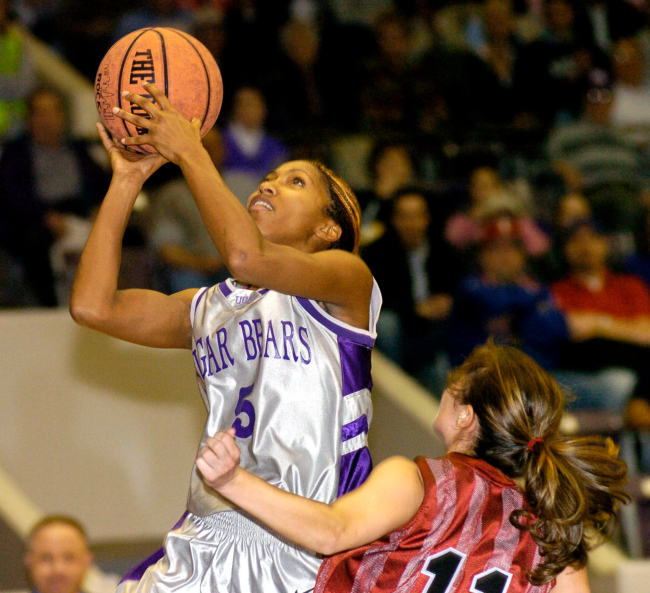 Carone Harris
When Carone Harris hit the basketball court at UCA in 2001, the campus and city of Conway was a big step up from her small hometown of Bradley, Arkansas. The 5'8″ point guard immediately made an impact for the Sugar Bears. She started every game she played over her four years, totaling 132 games, making her the player with the most starts in UCA women's basketball history. The record-breaking stats don't stop there. Harris scored 2,447 points in her career, putting her only twelve points behind Checola Seals, the all-time points leader.
As a point guard, Carone was uncontainable as she drove to the basket, lethal at the free throw line and able to knock down field goals as well. Three times in her career she hit last-second shots to win the game. And she led the Sugar Bears to an NCAA Division II semifinals finish her senior year. In the record books, Harris is in the top three in nearly every category. She had 667 steals in her career, an average of 5.1 per game and a number to which no one else even comes close. For her efforts, Carone Harris was named an All-American three times. In 2010, five years after wrapping up her basketball career, Harris was named the Gulf South Conference West Division Player of the Decade.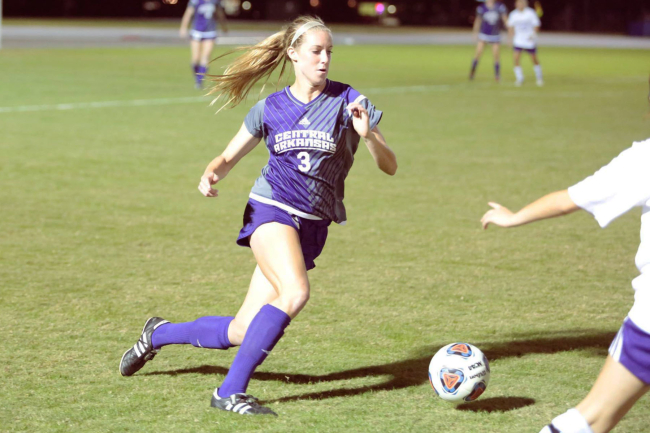 Shelby Wilson
When Shelby Wilson joined the Bears on the soccer field in 2013, she looked immediately to impact the team in her role as a midfielder. She played in all 21 games her freshman season, starting all but one, and adding four goals and four assists. Over the next three years, Wilson, a Plano, Texas native, shone in her ability to get the ball forward and into the net. Her overall number of goals scored (12) and assists (19) rank her tenth on the career points record.
Her 19 assists also rank her third on the assists list. But the record that speaks most to Wilson's ability as a midfielder and soccer player is in games played. Wilson ranks first on the list with 80 games under her belt as a Bear, and first again under games started at 78. Her time on the field puts her third on the list of minutes played overall. After her senior season, which saw the Bears reach the Gulf South Conference semifinals, the two-time All-Southland Conference player decided to pursue a professional career overseas. With help from Bears Coach Derek Nichols, she joined Sweden's P18 IK where she's already garnered a starting position.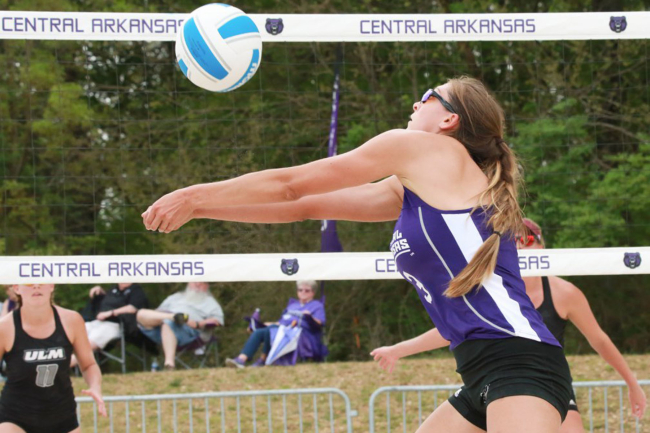 Megan Nash & Haley Tippett
There's one sport at UCA where the record books are nearly a blank page. Women's Beach Volleyball had its inaugural season in 2017. With just two seasons behind them, these players aren't losing any time creating records in the sand. Beach volleyball is played in pairs, and in 2017, twelve players hit the sand for UCA and finished with an impressive overall record of 14-3. Their winning percentage of .824 was one of the highest in the nation.
In 2018, the Bears continued the success of their first year, adding fifteen more wins for the program. This put them second among their Southland Conference competitors. Senior Megan Nash and junior Haley Tippett were just named to the American Volleyball Coaches inaugural Top Flight Team. The pair played together 23 times this season and finished with an overall record of 16-7. With so much success in the record books, the UCA Bears will continue their athletic success for years to come.
Photos courtesy of the UCA Athletic Department and used with permission.