Look inside your kitchen gadget drawer – do you have a Microplane® grater? The stainless steel culinary tool is known for grating nutmeg, cheese, ginger, garlic and zesting fruit. But did you know that they are made in Arkansas? And did you know that they originally started out as woodworking tools? Take a look inside Grace Manufacturing, Inc. and learn how their simple tools have taken three different industries by storm.
The Beginning
Founded in the mid-1960s by Louis and Richard Grace, they created precision thin metal parts for industrial use. One of their applications was a dot matrix printer, which declined in the mid-80s. At that point, they tried to figure out what other types of products could be manufactured using their sharp edges, and the answer at the time was woodworking tools. Lisa Egger, the marketing manager of Kitchen Products at Microplane explained, "It started out in 1990, merely as a new type of woodworking tool. "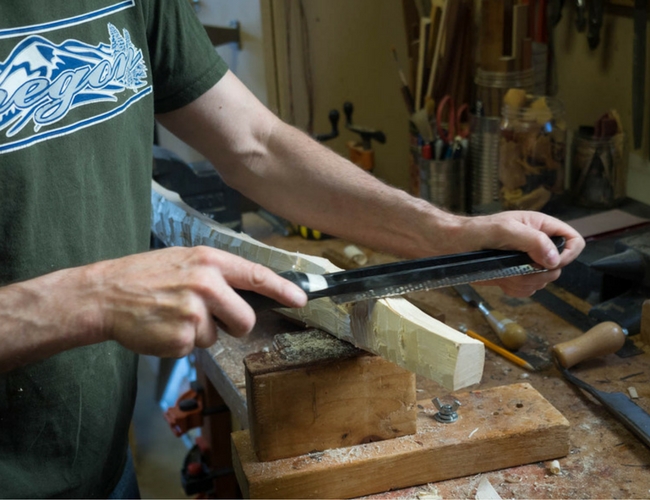 She retells the story, "The Microplane® rasp was first invented in 1990 by brothers Richard and Jeff Grace at their jointly owned contract manufacturing facility, Grace Manufacturing Inc., in Russellville, Arkansas, USA. The company already had almost 20 years of photochemical machining experience making parts for the high-tech printer industry, but it had never really produced any parts of its own design.
"We always had so much really sharp metal lying around that everyone had to stay careful of. We thought. Hey! What would happen if we tried to cut things on purpose? How sharp of a tool could we make and what would you use it for?" remembers Richard.
"So first we etched a series of holes in the metal and then we started trying it on things," added Jeff. "You can tell every desk in the plant that Richard has ever used by the fact that the corners have all been planed away," said Lisa.
Taking the Kitchen World by Storm
In 1994, a Canadian housewife borrowed her husband's new woodworking tool, the Microplane, to zest oranges for her Armenian orange cake. It worked so well that she started selling the tool as a zester in her hardware store, Lee Valley Hardware. Lisa continues, "In 1999, The New York Times wrote an article about the zester, which prompted Julia Child and Martha Stewart to purchase their Microplanes at Broadway Panhandler, creating a surge in interest for Microplane zesters.  This surge in interest led to the creation of the Microplane Kitchen Division." Now, Microplane Kitchen has over 80 different items, many of which also come in several color variations. 100 percent of the photo etched blades are made in Russellville.
From Food to Feet
If you've gone to pedicure salon recently, you may have noticed a new tool that looks an awful lot like the Microplane — because it is! Lisa explains, "We started receiving calls about women using our kitchen graters as foot files and having remarkable results. We were surprised, and a little grossed out, but as time went on the comments and testimonials became overwhelming. In 2004, we decided to create a foot file that could be used in salons and purchased for retail that was specifically developed for removing calluses and rough, dry skin from feet." With the creation of the foot file, the Personal Care line was born. It has the tagline "Transform your soles." The foot file has 95 tiny files that gently massage and exfoliate skin. It's a shame to waste all of that luxury zesting a lemon, so try it on your toes!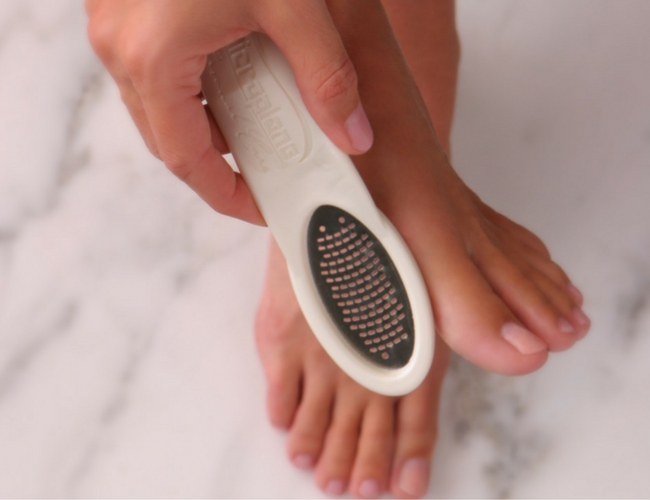 The Company Today
Currently, Grace Manufacturing has 300 employees, 150 of which are in Russellville. Microplane's best-seller is the premium zester, which is an upgraded version of the original rasp.  The premium zester has a soft-touch handle and rubber feet for stability. But when you look at their website, if you have a need, they probably have a tool to match. You can order products online or find them at many Arkansas retailers.