For many, the sweet sway of tree limbs and our state's diversity of species makes us Arkansans tree lovers. My friend Nina from Conway told me that I must see Jeremy Newton's art pieces. That they are absolutely gorgeous!
Tree art? I was intrigued. Being a tree lover myself, one who could never live in the outstretched deserts of Arizona or the treeless flatlands of, well, anywhere, I was eager to see this art form from trees.
"We know him from the years he worked with his father," Nina explains. "Jeremy and his father Ronnie removed several trees from our yard over the years."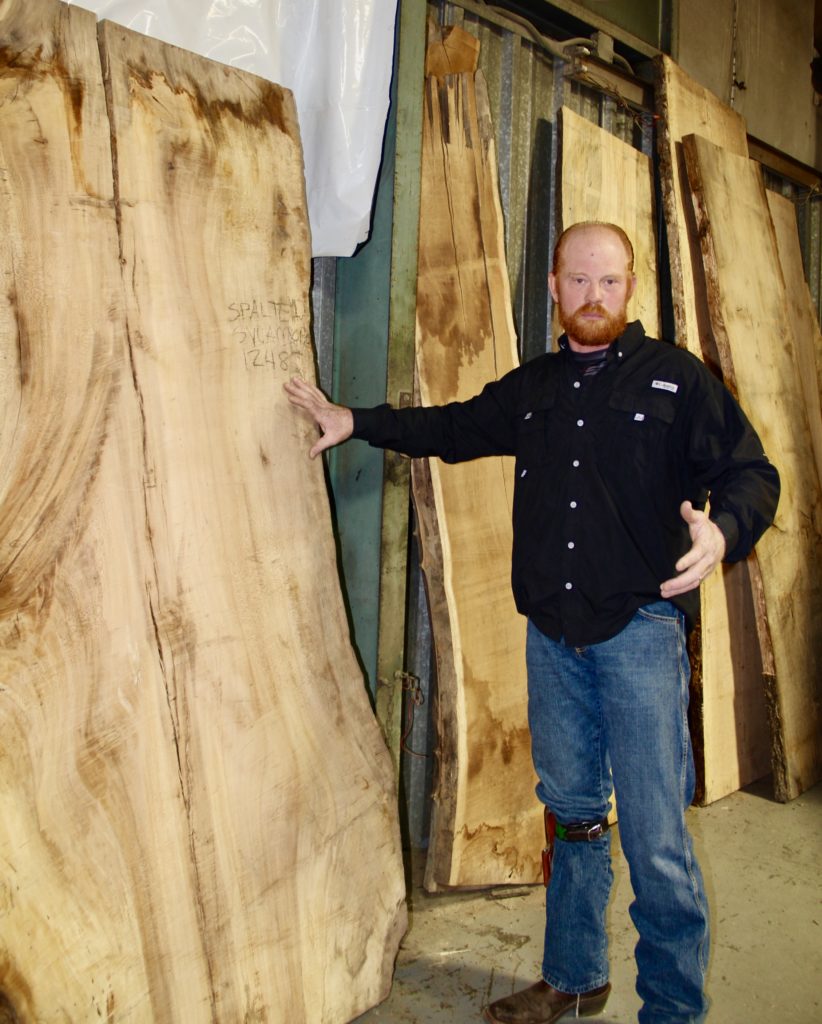 Nina and I dropped into Art on the Green, a Conway art gallery that exclusively sells Jeremy's large Lazy Susans. They're not just any Lazy Susans though.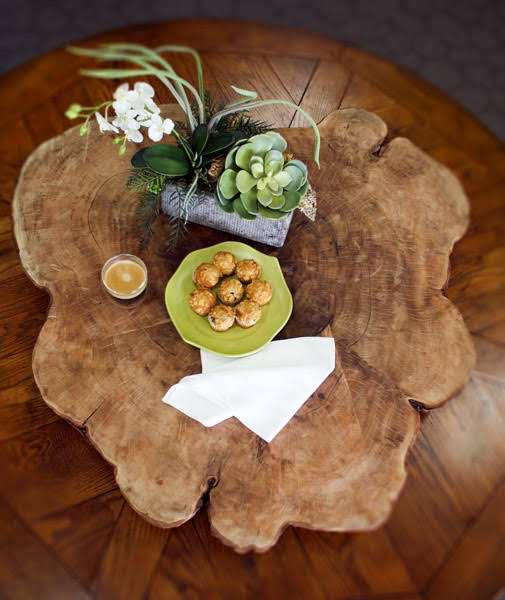 Brenda McClain, gallery director at Art on the Green shares, "We've named these large pieces Southern Spin because Jeremy uses woods unique to Arkansas, he can only create five of these annually. When first seen, they just take one's breath away."
Breathtaking they are. Jeremy envisioned within each trunk and limb how they had a unique magnificence, and it gnawed on him to leave these beauties in a landfill to rot or become compost. That was an idea set to seed, but it took 10 years to germinate.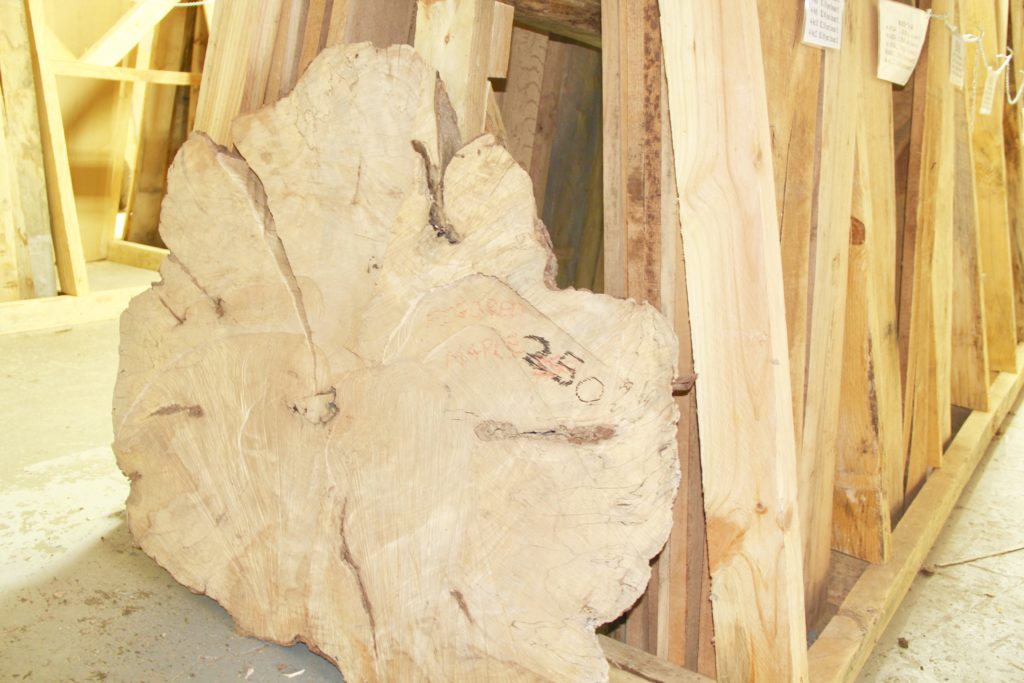 So it is as a tree grows, as the limbs lean, so we are with our families.
What started with his father Ronnie during his college days became the family Newton Tree Removal Services while Jeremy was growing up.
"My dad was majoring in math at UCA," Jeremy says, "when he visited a friend in North Carolina one summer, Dad worked with his friend's father in his tree service business. Dad loved it and decided that's what he wanted to do."
After Jeremy graduated from Greenbrier High School in 1994, he attended Central Baptist College for a year studying forestry. Jeremy then decided to join his father in the business. The Conway and Greenbrier areas are thick with trees outgrowing their confined areas.
Nevertheless, even though Jeremy understood the trees needed to be cut down on the residential and commercial properties, he just couldn't see those hardwoods dumped. Some were almost a century old.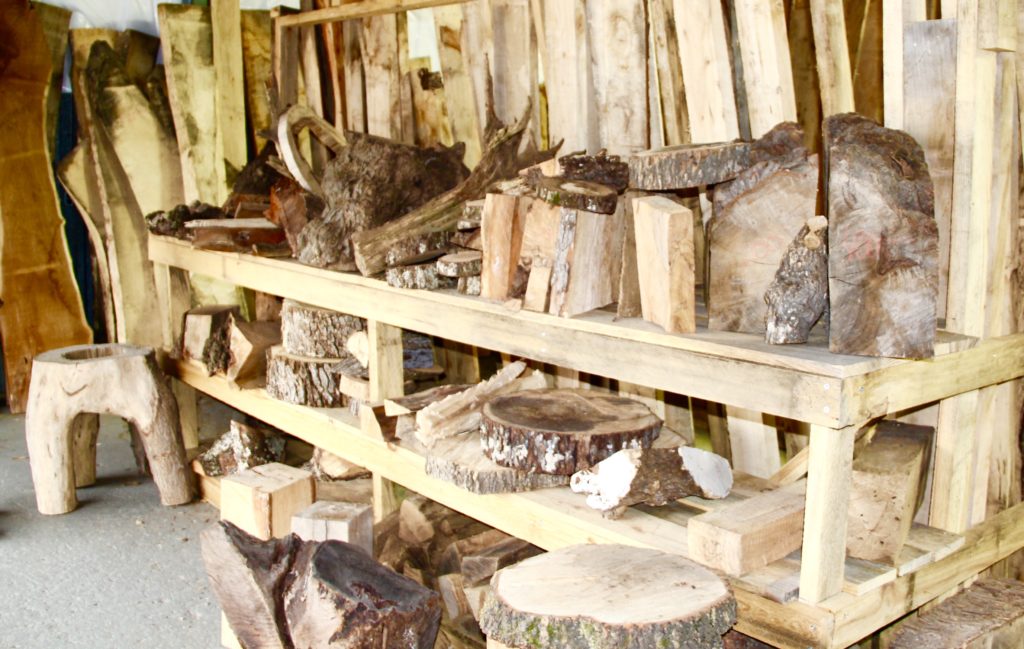 That's how artists think—repurposing something valuable into another use for others' enjoyment. His grandfather from Hot Springs first ignited Jeremy's artistry for crafting wood. Special memories began with hours he spent in his grandfather's workshop.
His grandfather, Hiram Smith, has his own history in Arkansas as a community leader, family man and developing his then third-generations-old family whetstone business.
It was in his Hot Springs workshop in the early 1960s, Smith figured out how he could cut and finish out the raw Novaculite stone only found in the Hot Springs area. Developing his business internationally had Hiram Smith back in his workshop in the 1980s with 12-year-old grandson Jeremy by his side. His grandfather was figuring out how to construct a wooden box to hold this rectangular knife sharpening tool.
Learning how to use a scroll saw and its patterns, realizing even small pieces of wood had purpose, stayed with Jeremy. He continued during his high school years creating art from wood to sell.
In 2006, while working with his father, Jeremy decided to buy an old sawmill. At first his reasoning was to use it while he built a house for his family. The sawmill's multi-purpose evolved into Jeremy's solution for salvaging the gorgeous hardwoods they had removed. He began building dining room and kitchen tables, porch swings, customizing to the wood and size of his orders. With the smaller pieces he crafted keepsake boxes and handmade pens. A business, Urban Timbers, was built.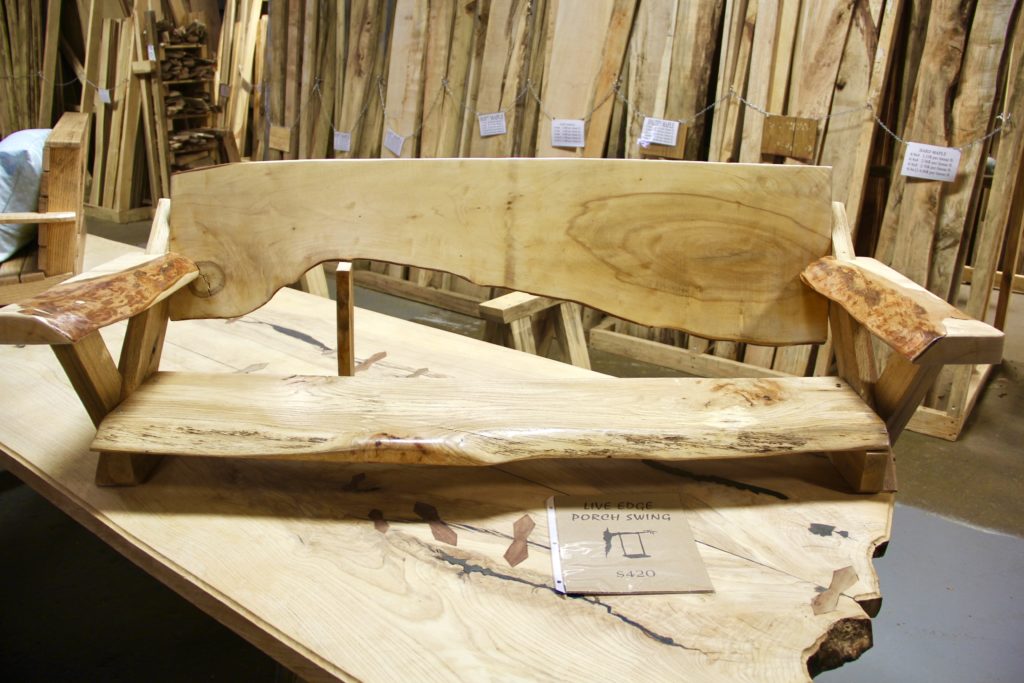 Mission of Urban Timbers: Our responsibility to the environment—reuse. Urban Timbers procures lumber from our sister company Newton Tree Service. Our mission is to reuse lumber from local trees that have been removed from commercial and residential properties which keeps the product out of the landfills and provides local craftsmen, furniture makers and woodworking fanatics a fantastic resource for one-of-a-kind lumber products.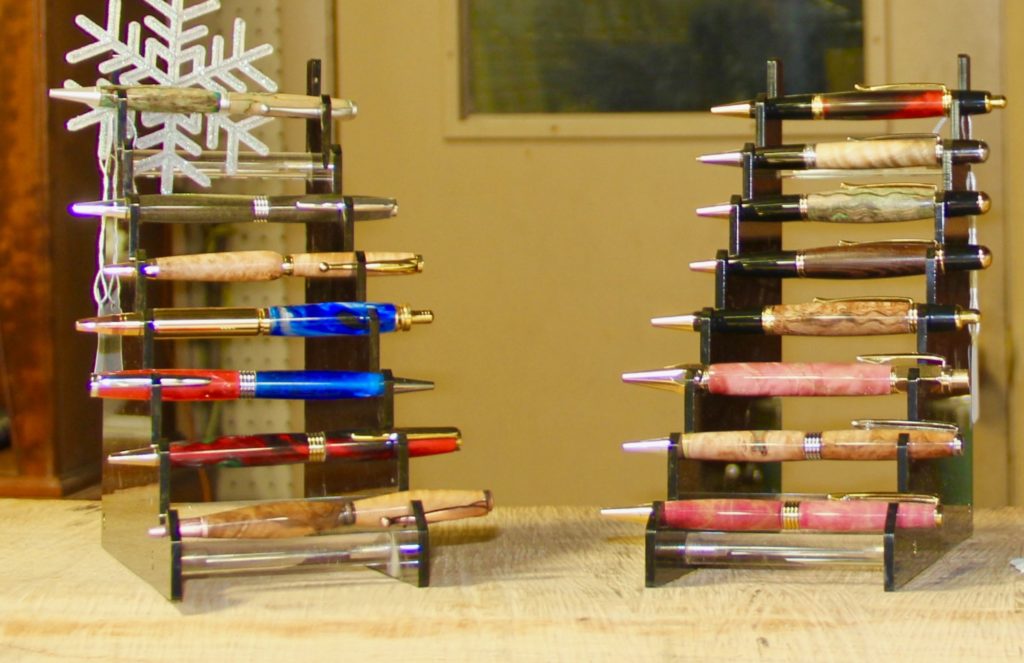 Jeremy explains why this region in our state possesses such a rich wealth of forests.
"In Arkansas, we live in the hardwood belt," Jeremy explains. "It's an overlap from Oklahoma, Missouri and Mississippi that offers us a greater variety the surrounding states don't have."
Glancing around at the rows of lumber separated by their species, furniture and smaller wood pieces, thanks to Jeremy's vision to repurpose hardwood, we get to enjoy that blessing.
Speaking of blessings, Jeremy, his wife Jennifer and their three sons enlarged their family four years ago, adopting a sibling group of three brothers. Their ages interspersed with the other three. Six sons.
When I asked if any of their sons show any particular interests in following in his footsteps, Jeremy says, "Well, this is all they know. Cutting and sanding and smoothing wood. I guess it's like growing up on a farm. It's just what we do."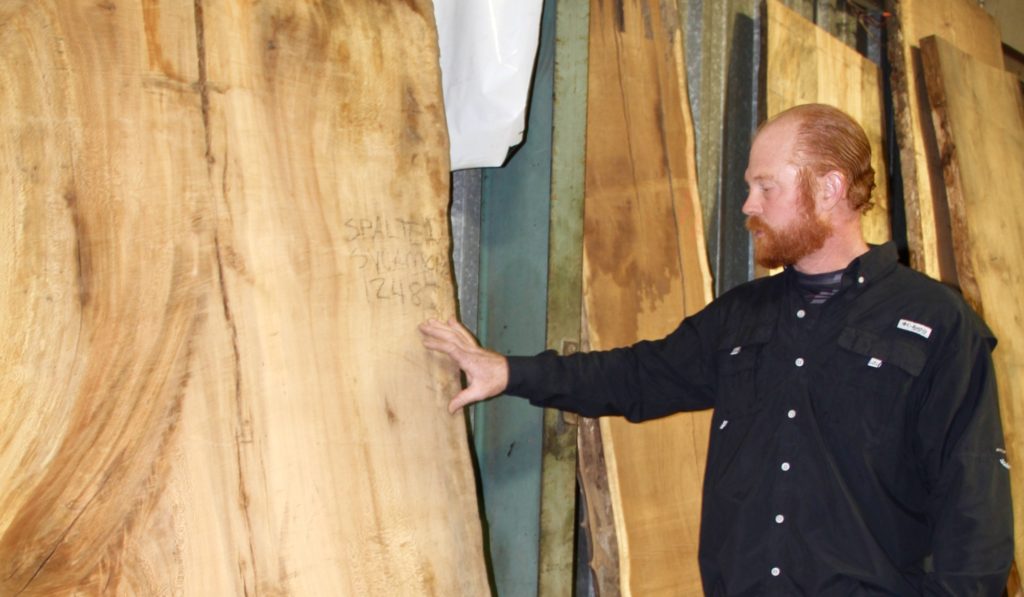 What is obvious is Jeremy Newton has been an apprentice, a journeyman and now a master craftsman of his art. Through those years beginning at 12, he has immersed himself in his love for wood to combine his creativity with the precision necessary for a classic Southern Spin, a live-edge porch swing, a custom-built walnut dining table to be surrounded by generations that will live on for generations.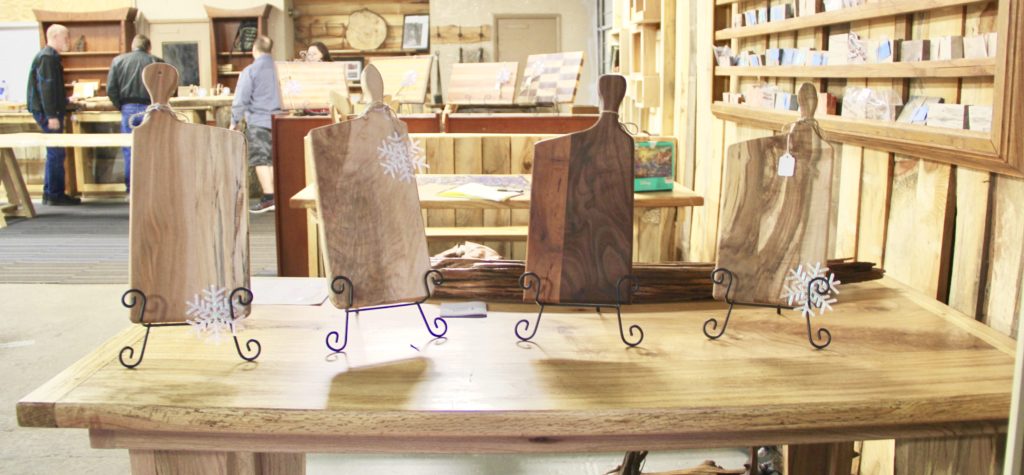 His store on 812 Merriman Street in Conway is around the corner from Tacos 4 Life. Within this warehouse are sheets of kiln-dried lumber in wide-cut slabs up to 52-inches and dimensional lumber, pieces perfect for a distinctive project, small or large. There you might meet his father Ronnie, Jeremy or one of his sons.
Urban Timbers also hosts a Crafter's Market for local craftsmen. The products sold range from furniture, outdoor pieces, pens and knives. Follow Urban Timbers on Facebook for updates on these events.
For more information about Jeremy and his custom-made products, artwork, lumber, and times and day open, visit his website Urban-Timbers.com, Facebook page Urban Timbers and Art on the Green website.