We're only days away from the kick off of a new year of Razorback sports. From touchdowns to high-flying dunks, last minute goals and hard spikes, Hog fans across the state are excited to watch these talented athletes compete in football, basketball, soccer, volleyball and numerous other sports. What fans see on game day is the culmination of many hard hours of training, conditioning and careful monitoring to help each athlete be the best they can be. The Sports Nutrition Department at the University of Arkansas is one catalyst behind Razorback athletes' success on the field.
Karla Horsfall came on campus last September to direct the sports nutrition department within the newly minted Jerry and Gene Jones Student Athlete Success Center at the University of Arkansas. Sports nutrition is a newer field that is definitely growing as more universities and pro sports teams look to add this key component to their staff. In 2010, Karla estimates there were fewer than 50 sports nutritionists employed full-time at universities or with pro teams. That number is now up to 150 across the nation.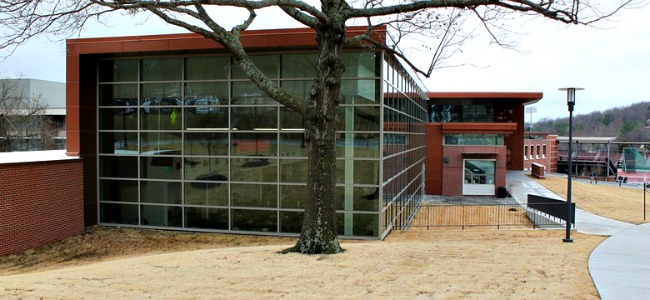 Having access to a sports nutritionist and a nutritional center is the next big tool in recruiting athletes to campus. In 2015, Arkansas opened the Student Athlete Success Center, which includes the nutrition center run by Karla and her staff and culinary team. The nutrition center is top of the line and serves every athlete on campus. Gone are the days when athletes had to scramble after practice to get to the cafeteria before closing, only to find instant mashed potatoes and cereal were the only foods left at a late hour. With a designated nutrition center, athletes can meet their nutritional needs no matter what time of day they practice and compete.
Each athlete is allowed two fueling and refueling opportunities a day. Karla is specific in using this language as she considers these opportunities to eat more than just meals or snacks. Athletes who are training and competing at intense levels are always preparing to compete or replenishing their bodies for the next practice and competition.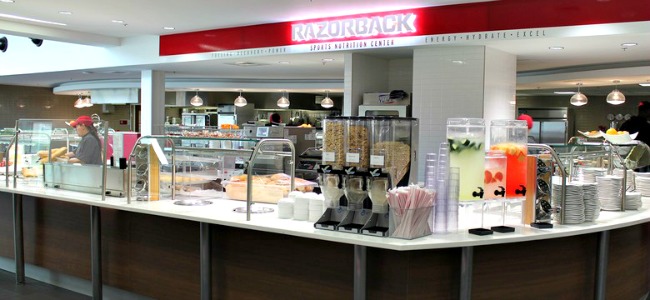 With that in mind, Karla works with a culinary team to devise a menu each week designed to enhance the athletes' overall health. They maintain a chef on staff, grill and broil often, avoid frying foods and try to tweak traditional items to give greater nutritional value to the athletes. Karla admits they provide dessert, but it's not available at every meal or even every day, unlike traditional cafeterias.
Despite their efforts to provide access to fresh, healthy fueling opportunities, the nutritional needs for athletes in different sports, and even among individuals, can differ greatly. This is the meat of Karla's work as she meets with teams or individual athletes to go over practice schedules, game day preparation, nutritional goals and needs. Karla creates individualized plans after these meetings which include weekly or biweekly food logs to help monitor the effects of nutrition on the athlete's performance.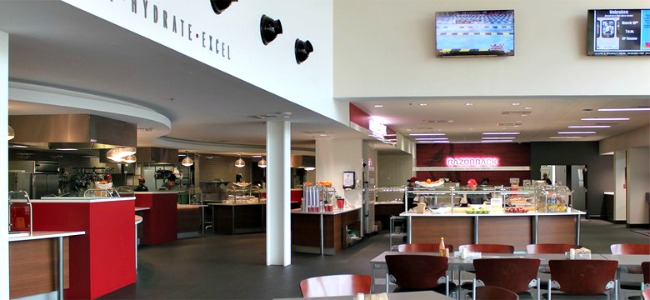 Although the goal of the nutrition center is to provide for the immediate nutritional needs of Razorback athletes, Karla's commitment to her students doesn't end there. She focuses on educating her student-athletes for life. Karla gives team presentations on nutrition, hosts cooking classes and explains the science behind what they're asking athletes to eat and why. "Nutrition is a lifelong thing," she says. Once athletes leave campus, she wants them to be prepared to make a lifelong commitment to good health.
Karla begins her day inside the nutrition center, where athletes are either recovering from early morning training sessions or fueling up for later in the day. She loves the informal interaction she gets simply by walking through the center and greeting the athletes as they come in for fuel/refuel opportunities. She also tries to attend team workouts each week to see how things are going.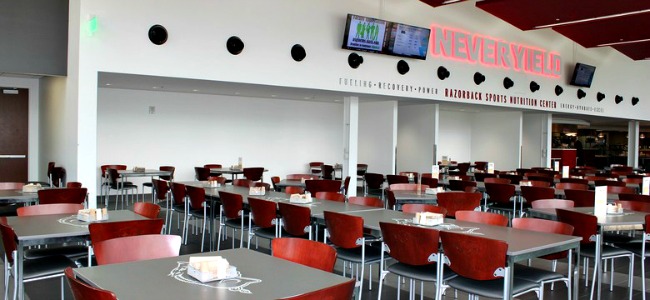 She's back at the center by lunch time for another walk through, then moves on to individual meetings. She sits down with her culinary team nearly every day to lay out requirements for each meal and the center's chef creates a menu around those requirements. Two of Karla's standing requirements are variety and high-quality ingredients. She also focuses on multiple proteins, multiple starches and vegetables for each meal. Karla is a registered dietician as well as a sports nutritionist.
Now in its second year of existence on campus, the sports nutrition department is looking forward to a new year with Razorback athletes. Karla is excited to have a year of experience with the center and is asking what the department can do to improve so that every Razorback athlete is ready to compete. As the Razorback sports season kicks off, she and her team will be working hard behind the scenes so that athletes and Razorback fans see the results of great nutrition played out on the field.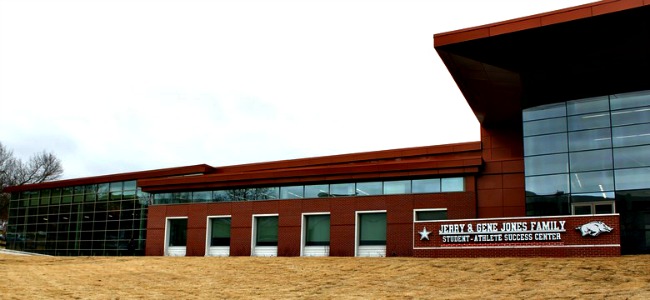 Photos used with permission by the University of Arkansas Sports Nutrition Department.