In 1823, Fayetteville's first known permanent settler, James McGarrah, arrived with his wife and five sons. McGarrah purchased much of the land north of Spring Street and east of College, using a portion for his home site (at Spring and Willow) and the remainder for crops and pasture. Five years later in 1828, the boundary line between Arkansas Territory and Indian Territory was moved forty miles west, and Fayetteville became a bit safer as criminals preferred to hide out just across the border. Soon thereafter, a post office was opened and Fayetteville became downright official with a "good courthouse, a good bank, and a good brick tavern," as recorded by a doctor traveling with the Indians. (A Walk Through Washington-Willow Historic District).
I tell you all of this because one hundred and ninety-two years later, my husband and I are making our home in this same area of Fayetteville. Of course MUCH has happened in nine score and twelve years… Too much to discuss here, so I'll hit a few historically significant dates for reference.
1839—Fayetteville Female Seminary opened.
1857—The Butterfield Overland Stage Line began traveling directly through Fayetteville from St. Louis to San Francisco.
1861-65—The Civil War brought much destruction primarily with the burning of buildings including the seminary mentioned above.
1871—Arkansas Industrial College was constructed as part of a significant federal land grant. Renamed University of Arkansas in 1899.
1881—The railroad came to Fayetteville bringing people and commerce.
1886—Telephones.
1880s-1920s—Various style homes were constructed in the Washington-Willow area including Victorian, Greek Revival, Neoclassical Revival and bungalow.
1910—University of Arkansas mascot changed from the Cardinals to the Razorback!
Fast forward to 1979—The National Register of Historic Places accepted the nomination of the 37-acre Washington-Willow Historic District, including 105 primary structures (19 with architectural significance).
Our home, known as the Johnson-Art Lewis-Murray House (that's a mouthful), is part of the official Washington-Willow walking tour. Prominent Fayetteville citizen Art Lewis raised his family of five girls in the home (Madge, Claire, Betty, Louise, Virginia). Lewis was involved in civic affairs, Lewis Brothers Hardware, and served as president of the local bank. Later, the home was sold to veterinarian Dr. William Murray.
We've quickly come to realize our home, which was built in 1876, is unique not only because of interesting architecture like the diagonal window on the north wall and original woodworking pictured below, but also because of items left behind by those who came before us.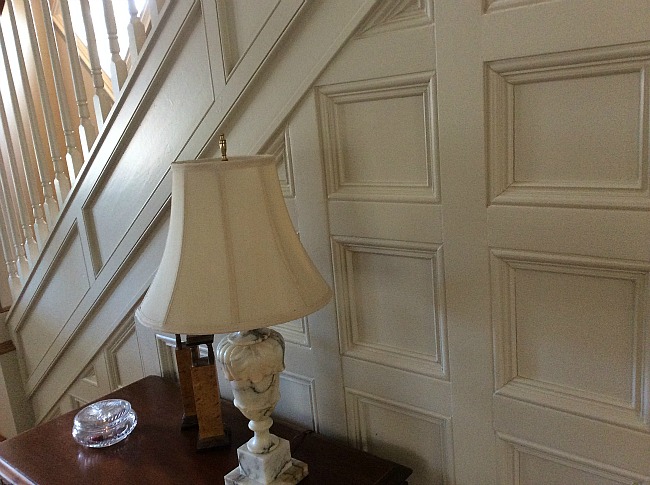 Three things in particular strike me as notable.
First of all, our front doorway includes a Mezuzah. The practice of hanging Mezuzot on doorways is a Jewish tradition that hearkens back to Moses. The Mezuzah consists of two chapters from the Torah written in Hebrew on parchment, rolled into a scroll, inserted into a case, and attached to the doorpost. There are specific requirements as to how and where to affix the Mezuzah. Here's the one attached to our front door frame.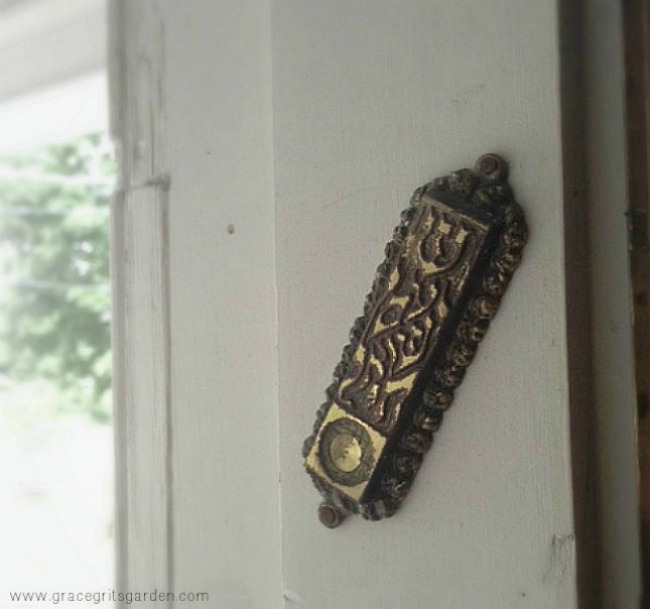 Until recently (twentieth century), families put tangible objects inside walls to protect their homes from evil spirits, ward off disease, and encourage fertility. When the prior owners renovated our house, they found this child's shoe (a common symbol of fertility) buried in the wall. It must have belonged to one of the Lewis girls?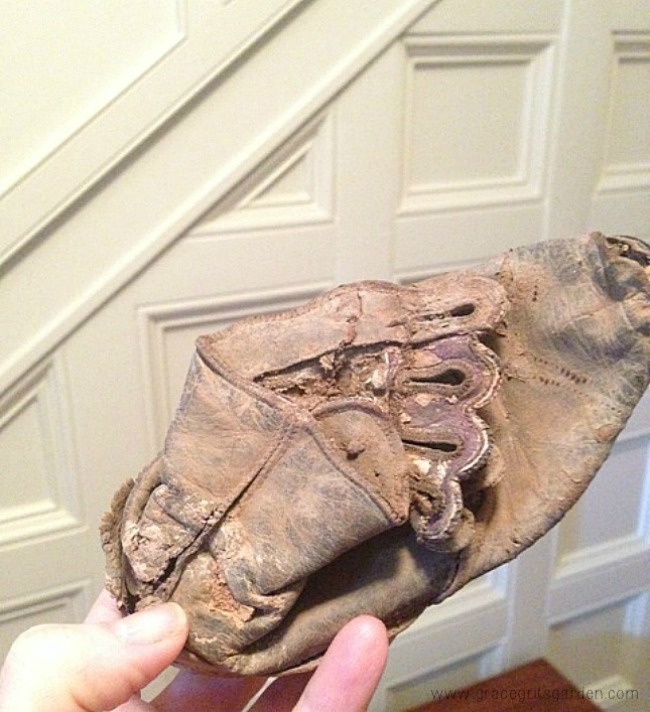 See these old bottles?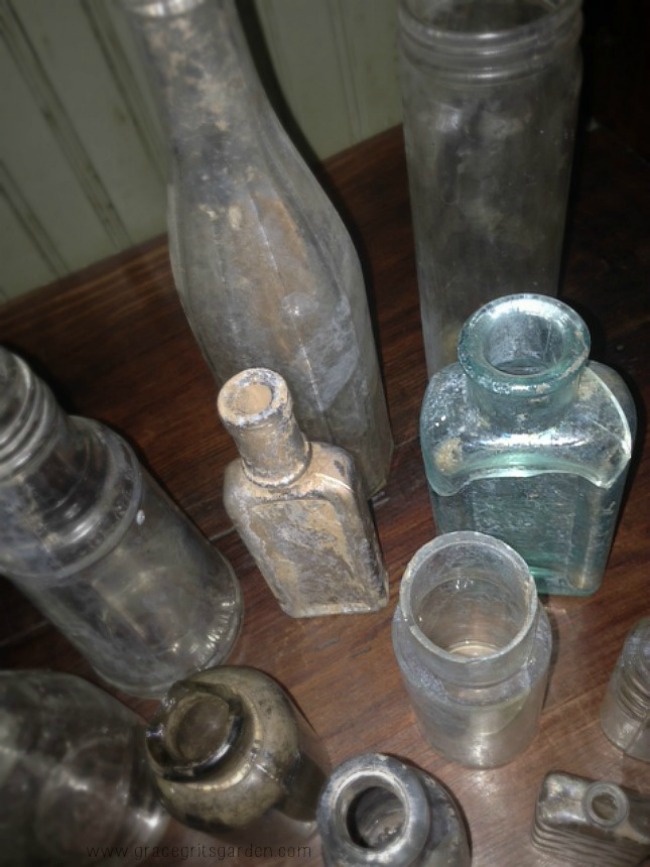 These bottles were discovered buried on our property. Since this historic area of Fayetteville was a Civil War encampment, perhaps some of these glass bottles date to the Civil War. I am in awe of the history and grateful the bottles were left for us.
Do you live in an old home? Have you found cool things buried on your property or inside the walls? I'd love to know.