My friend and Arkansas author Kimberly Mitchell shared some table space and afternoon time at a coffee shop to talk about her soon-to-be-released middle-grade fiction book, "Pen & Quin: International Agents of Intrigue Series: The Mystery of the Painted Book." Writing the children's mystery under the name "KS Mitchell," she brought fascinating tidbits from her life and education to the story of young sibling sleuths eager to solve a mystery.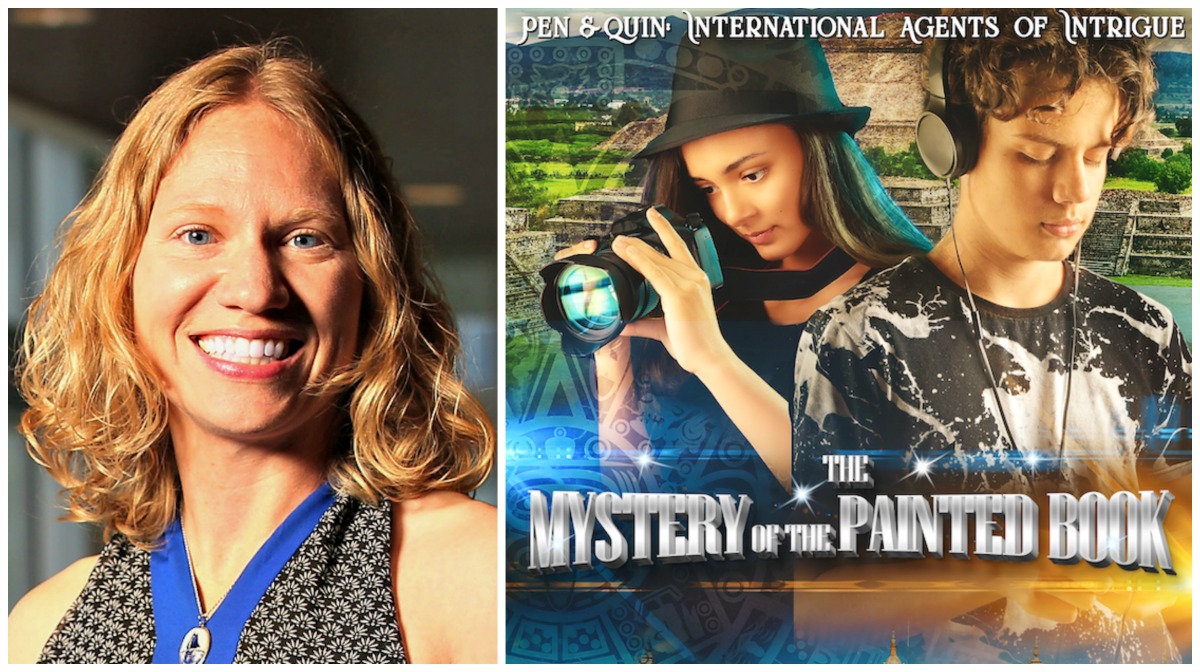 "The Mystery of the Painted Book"
"When 12-year-old twins Penelope and Quintus Grey Reyes are sent to Mexico to spend the summer with their grandparents, Pen creates a website advertising their services as international agents of intrigue. A mysterious client hires them. The assignment? To locate the Codex Cardona – a rare 15th century painted book."  – Vinspire Publishing
Pen & Quin come across a family connection, a possible curse and the discovery that they're being watched. Someone doesn't want them to succeed in their search, but they are determined to use their combined talents and skills to solve the mystery.
I learned so many interesting things about Mitchell's youth, her young adult adventures and how she included in this story her childhood, her college studies and her travels.
You've written a fiction mystery for children; let's start with what you liked to read as a child. What were your favorite books?
First, I'll tell you that one of my favorite memories is reading encyclopedias. On Fridays, my sisters and I got to sleep downstairs in our sleeping bags. That's where we kept a set of encyclopedias; we would each pick a letter and an encyclopedia and start reading about the topics and we learned so much. It's a wonderful memory.
Other authors I enjoyed reading include Beverly Cleary, Judy Blume, Joan Aiken, Richard Peck, Elizabeth George Speare, Madeline 'L Engle and C.S. Lewis. During my childhood, I entertained the idea of writing children's literature, and then at some point filed those thoughts away.
I absolutely rediscovered the joy of reading after graduating from college. I found so much time. After years of reading textbooks and completing my requirements, I had the opportunity to simply read for pleasure rather than solely for academic studies.
"The Mystery of the Painted Book" involves twins who travel to other countries, adventure, intrigue, and science fiction. Why this story? From where did you get your inspiration for Pen & Quin?
I can trace lots of my love of science and space to my fifth-grade teacher, Mr. Beltzner. He allowed my sister and me and a boy in our class time to write a play and then perform it! He just must have seen something in us. One day, he just asked us to do it and regularly gave us classroom time to work on what we were creating. I remember him saying something like, "I think you would be good at this." I knew then it was a special opportunity and I am so thankful for it.
I took English from stellar teachers in high school, to whom I give credit for my writing and love of writing. Their good teaching encouraged me to write as I got older.
Also, I'm a twin! There are definitely aspects of the sibling relationship that are unique to twins. I bring some of my childhood experience and story and perspective to the story of Pen and Quin.
I love that you wove elements of your life into the book. What kind of a role do your experiences play in this story?
My travel experiences and language studies also played a big role in the setting and development of this story.
I backpacked through Europe and parts of Central and South America: Costa Rica, Honduras. I studied in France and Mexico two different summers. And I went to Peru as part of a college ministry experience. My education includes a B.A. in Spanish and International Relations, I speak Spanish and French, and I have an M.F.A. in Creative Writing for Children.
As a result of these studies and travels and my love of languages, I wanted my characters to have an international flair. Part of that is brought about by their family connections in other countries. Pen and Quin come from Boston and are spending the summer in Mexico with their grandparents.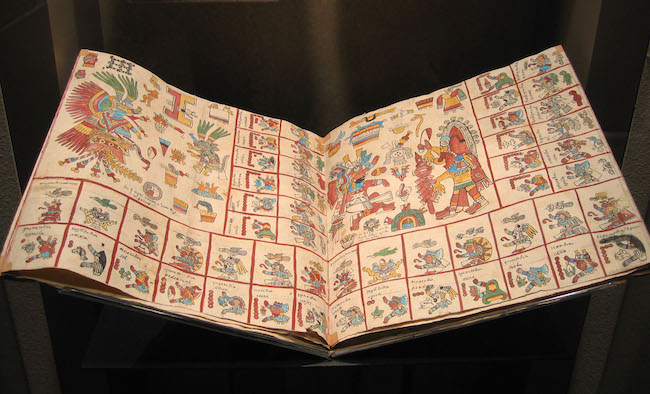 Mitchell used this picture to form a mental image of what the codex looks like, and specifically mentions this replica in the book.
I have a couple of questions from readers who are interested in knowing more about the work of a children's author. Answers to these questions will help solve some of that mystery:
What is something unusual or surprising about what you do?
As a writer, I have to research many things. What's the layout of the Plaza Mayor in Madrid? Sample train or plain schedules? The history of Aztec painted books and where those codices are now. What does a 12-year-old listen to? Read? Wear? It's fun and time-consuming and I can't let research get in the way of actually writing the book. But I love that writers get to be mini-experts on lots of different subjects.
How do you keep up with tech trends to prevent your material from being dated?
This a such a challenge. The first thing is to keep the technology somewhat generic instead of referring to specific programs or apps. However, technology plays a large role in the story, so I have to get used to the idea that whatever I include will probably be dated by the time the book is a few years old. In a way, books can be snapshots into the past. I still enjoy reading books written much earlier when cell phones and the internet didn't dominate our lives. So I just have to trust readers will overlook a little "old" technology down the road.
Kimberly has written several other books, wrote "The Mystery of the Painted Book" before she had children, and still writes as much as she can while raising two girls with her husband on their farm in Lincoln. A traveler at heart, she is anxious to plan another travel adventure. Follow her writing work:
Site: KimberlyMitchell.us
Instagram & Facebook: @ksmitchellauthor
Twitter: @KSMitchell17
You're invited to the book release party for "Pen & Quin: International Agents of Intrigue: The Mystery of the Painted Book."
Nightbird Books in Fayetteville
April 27, 2019, 1:30 to 3:30 p.m.
Aztec codex replica photo: Creative Commons License, size reduced for publication
Headshot photo credit: Jacob Slaton