Have you ever stopped to think about how Arkansas town names came to be? From A to Z, our state is a mix of the colorful, odd, and unusual town names as rich as the history itself. Often our towns were named on behalf of early explorers or settlers, or because of a vital connection to the railroad—the whole reason many of the small settlements sprang up in the first place. Sometimes town names can be traced back to a humorous tale. Even the state itself was named after its first settlers, a sect of the Quapaw Indians, who called the people akansa meaning land of the down river people.
Winston Churchill said, "The farther back you can look, the farther forward you are likely to see." That's what we're doing today—looking back at our state and a few of the town names. Of course, we can't cover every Arkansas town in one article, so I've researched a few of the largest, smallest, and most unusual.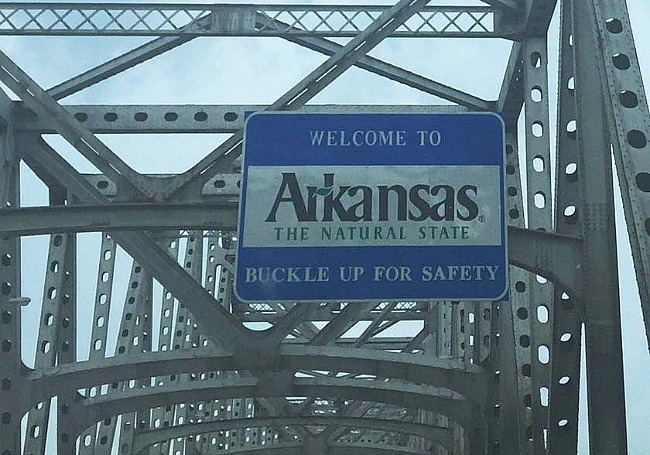 Ashdown (Little River County): For such a small town, Ashdown went through several name changes including Turkey Flats and Keller. In 1892, when railroad lawyer and landowner Lawrence Byrne's sawmill burned to the ground leaving nothing but ashes, he officially renamed the town Ashdown.
Blytheville (Mississippi County): Many towns were named by adding "ville" to the original settler's last name. That was the case of Blytheville founded in 1879 by Methodist clergyman, Henry T. Blythe. Many of his descendants still live and farm in the area today.
Calico Rock (Izard County): According to legend, early settlers compared the colorful limestone cliffs along White River to the calico fabric women used to make dresses.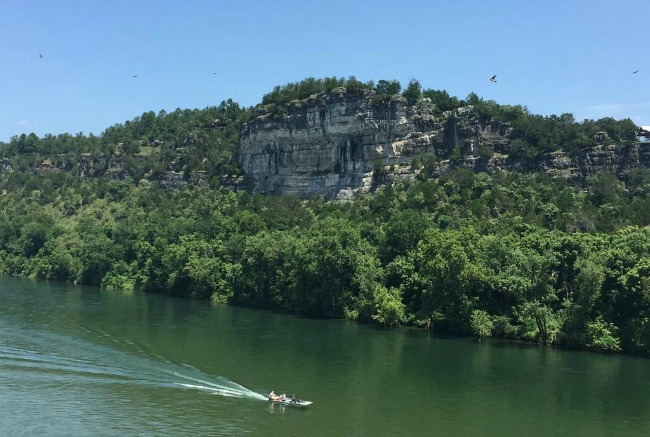 Dardanelle (Yell County): Founded in 1855, Dardanelle is one of the oldest towns in Arkansas. The origin of the name isn't known, although one theory holds that the town was named for an early French woodsman, Jean Baptiste Dardenne, who owned land in the area.
Evening Shade (Sharp County) may have been crowned with the best southern sounding name in all of Arkansas. As you might have guessed, the town's name describes the heavy shade cast by tall pine trees in the area.
Fort Smith (Sebastian County) began as a western frontier military post in 1817 and played a major role in the heritage of Wild West law enforcement. The town was named for General Thomas A. Smith, who served as commander of region's military district.
Greasy Corner (St. Francis County) has often been referenced on lists of unusual place names and with good reason. This spot in the road was originally named Mack's Corner for local landowner B. M. McCollum. McCollum operated a restaurant and automobile shop in the same building, which resulted in less than pristine conditions. One day, when an auto mechanic (doubling as a waiter) served a local farmer a plate of food stained with automobile grease, he called McCollum out saying the town should be called Greasy Corner. And so it was. (Better than B. M. though.)
Harrison (Boone County) was named after General Marcus LaRue Harrison, the surveyor who laid out the city along Crooked Creek. General Harrison organized the First Arkansas Cavalry which became the most famous Union regiment from Arkansas.
Imboden (Lawrence County) was named for early Swiss settler Benjamin Imboden.
Jonesboro (Craighead County) was named after State Senator William A. Jones who was instrumental in the formation of Craighead County. Originally spelled Jonesborough, the city name was later shortened to its present-day spelling.
Keiser (Mississippi County) was originally known as Savage Crossing in reference to the untamed part of the county before the turn of the century. Later, when the community became a stop on the railroad between Wilson and Jonesboro, landowner Robert E. Lee Wilson renamed the town after his friend, John Keiser.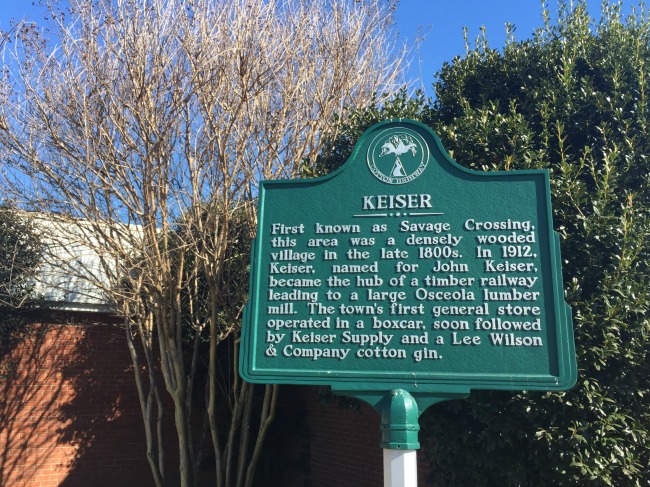 Lake Village (Chicot County) is named for its location on Lake Chicot, an oxbow lake formed by the mighty Mississippi River. The names of Chicot County and Lake Chicot likely derive from a French word meaning stump. If you've seen cypress knees, you'll understand the reference.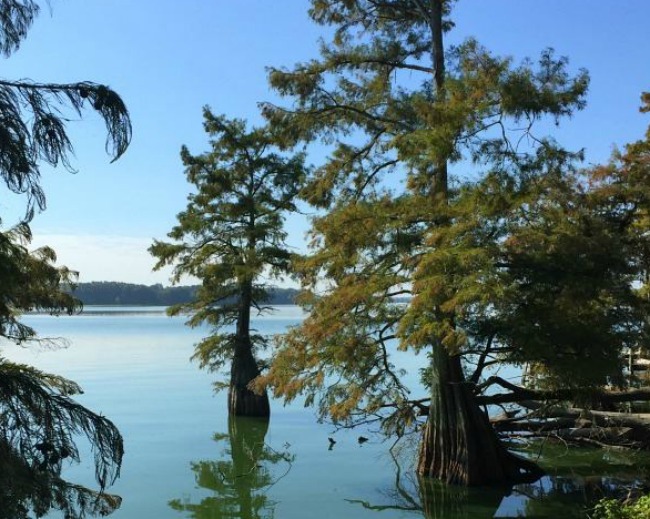 Marked Tree (Poinsett County) is located between the St. Francis River and Little River and is thought to be the only town in the world with this unique name. The town was named for an oak tree marked with a foot-high "M." There are two theories as to who marked it: 1) a member of John Murrell's band of Jackson, Tennessee horse-thieving outlaws or, 2) the Osage Indians. The original "marked tree" is on display with a historical marker.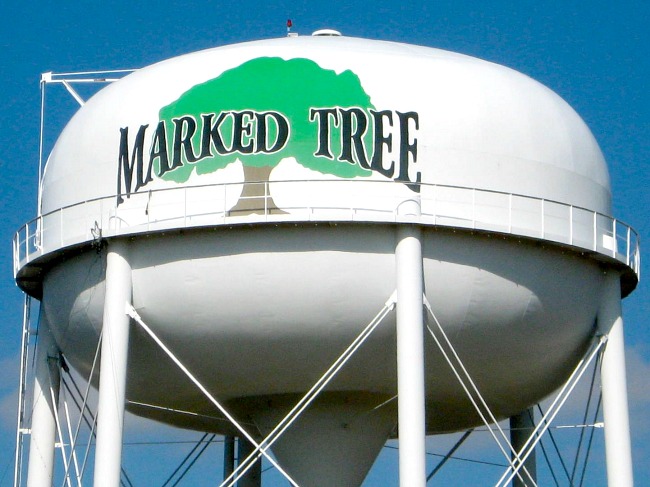 Newport (Jackson County), a wide bend on the White River, was originally known as Tidwell's Landing. In 1835, ferry operator Roland Tidwell referred to the location on his license renewal as "The town of New Port." The landing became a regular loading point for steamboats before the Civil War.
Oil Trough (Independence County): This area of Arkansas was once bear country popular with French bear hunters. Oil Trough reportedly earned its unique name in the early 19th century when troughs were used to float bear fat down the river to be sold in New Orleans.
Paris (Logan County), as you may have deduced, was named after the French capital in 1874.
Quitman (Cleburne & Faulkner Counties): Mexican War brigadier general John Anthony Quitman is credited as the namesake of Quitman. He also served as Governor of Mississippi in the 1830s.
Romance (White County): According to folklore, a local schoolteacher who thought the view from the bluffs was particularly romantic named this tiny town. As you might imagine, the Romance post office is super popular around Valentine's Day.
Stuttgart (Arkansas County) — Reverend Adam Bürkle, who emigrated from Plattenhardt, Germany, named Stuttgart after the capital of the Kingdom of Württemberg. And now our Stuttgart is the rice capital of the world.
Toad Suck (Perry County) won "most unfortunate town name" in an on-line poll a few years ago. The origin of the name Toad Suck is unclear. Some say area church ladies accused idle river men of congregating at the local tavern and "sucking on the bottle 'til they swelled up like toads." Others believe it came from a butchered French phrase meaning a narrow channel in the river. Regardless, if you're from Toad Suck, Arkansas, you always have a conversation starter.
Umpire (Howard County) was named after America's favorite pastime. In 1890 when a new gristmill opened, area folks played a baseball game to celebrate. Afterward, the local schoolteacher suggested the new post office be named Umpire.
Viola (Fulton County) is just south of the Missouri border. One of the first settlers, Newton Barker, became postmaster and named the town Viola for his hometown Viola, Kentucky. He loved the name so much he named his daughter Viola, too.
Weiner (Poinsett County) was originally known as West Prairie. In 1881 when the railroad came through Crowley's Ridge, the train depot was named Weiner after the engineer who oversaw the construction of the St. Louis Southwestern Railroad. Three years later the post office was established, and the powers that be went with Weiner over West Prairie.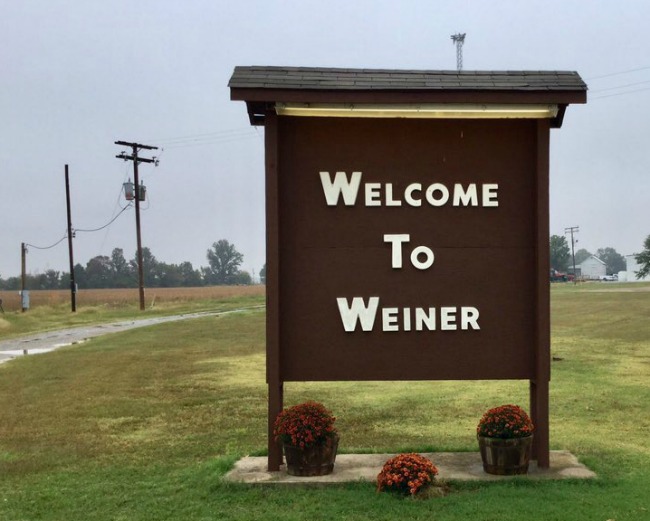 X: Are you still reading? If so, this is where I reveal there is no Arkansas town beginning with the letter "X". There are only a handful of such towns in America, the closest being Xenophon, Tennessee. If you know of one, feel free to include it in the comments.
Yellville (Marion County) was originally located in Izard County and named Shawneetown. In 1836 when Marion County was formed, Archibald Yell (second Governor of Arkansas), requested the town be named after him. He offered to pay $50 for the honor. The town complied, but he was killed during the Mexican-American War before he paid his debt. A few years ago, Governor Yell's descendants from Michigan and Georgia arrived at the Marion County Courthouse and paid the $50.
Zinc (Boone County), as the name implies, was once a center for zinc mining. In fact, northern Arkansas was once touted as the "richest lead and zinc mining district in the world."
That's it for our A to Z tour of Arkansas town names. We're fortunate to have such history in the hills and hollows, along river bends, and beneath our flat delta fields. Arkansas is filled with charm and humor, too. As Dr. Seuss said, from there to here and here to there, funny things are everywhere.