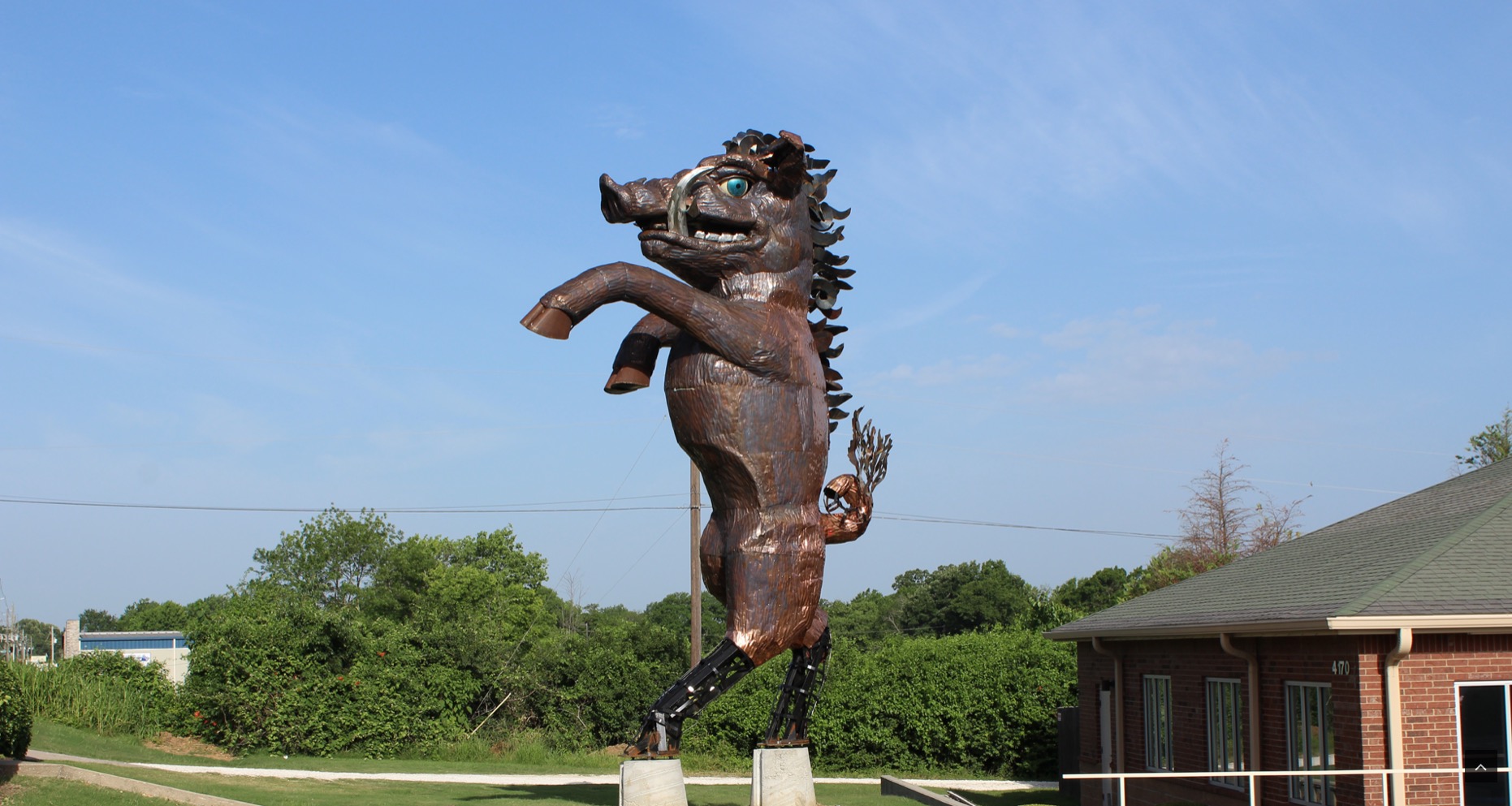 Longtime local artist Eugene Sargent has once again added to his legacy of creating public art in Fayetteville.
Sargent, who is the sculptor behind the 45-foot worm and the unique benches near the castle at Wilson Park, the giant locomotive at the Botanical Garden of the Ozarks, the unique doors at Bordinos on Dickson Street, among countless other interesting works around town, over the weekend installed his latest creation just on the western border of Fayetteville.
His latest creation? "Hogeye," a nearly 30-foot tall dancing boar located across from the Ozark Mountain Smokehouse on Highway 62.
The sculpture was commissioned by local business owners Cliff and Niki Slinkard of longtime local promotional products company, Hogeye Inc.

Putting the finishing touches on the sculpture< / Photo: Fayetteville Flyer
Cliff said he was considering installing a sign, and decided he'd rather create a more creative landmark to help his customers find his business.
"I was originally looking to get a new sign for our business and decided it would be neat to have a unique artistic landmark instead," Cliff said.
The Slinkards enlisted the help of Sargent, who constructed the statue at his rural Washington County studio and installed it in its new home over the weekend. The design is based on the Hogeye Inc logo, though Sargent's design depicts the boar on its back legs, with its front feet pawing the air as if it were dancing.
The statue was prototyped to scale, with each numbered section carefully sketched and planned before the final build began.
Altogether, the project took nearly a year to complete.

A closer look / Photo: Fayetteville Flyer
Sargent was still working on adding finishing touches to the statue earlier on Tuesday, working on some finishing features of the hog's feet, and installing some lighting.
Now that the sculpture is in place, the Slinkards are hoping the local community will embrace it.
"This is an art-loving community, and we hope people will put the sculpture on their list of things to see in Northwest Arkansas," Niki said. "It will be a great photo opportunity for young and old alike. We welcome everyone to come see the art for themselves. It definitely has a 'wow' factor."