Over the summer and fall of 2017, wildfires ravaged parts of the U.S., from California to Montana. In September, the U.S. Department of Agriculture declared the 2017 fire season the costliest on record. While large wildfires may not be as common in Arkansas, the state averages well over 1,000 wildfires each year, with 1,566 recorded for 2017. With homes and businesses often near natural areas, this makes many Arkansans vulnerable to fire damage.
The Arkansas Forestry Commission (AFC), an agency of the Arkansas Agriculture Department, was established in 1931. Prior to this, the woodlands in Arkansas were unregulated, but a survey in 1929 revealed some alarming news. Arkansas had 22 million acres of forested land at that time, and over 20 million of these acres had been cut over, thanks to a small timber boom earlier in the century and the expansion of railroads into the state. Farmers also cleared forested areas and regularly burned through the undergrowth. Wildfires were common and in that survey year, 11,000 fires burned through 2.5 million acres, more than 11 percent of Arkansas's forested land.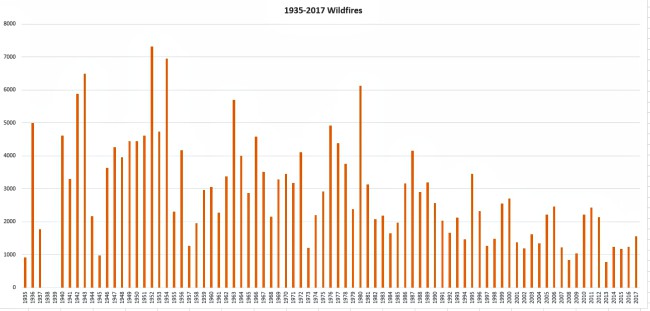 Arkansas Wildfire Frequency from 1935-2017
The newly established AFC began its efforts alongside a national push to detect wildfires earlier. The primary detection system became the fire tower. These towers decked the mountaintops of the Ozark and Ouachita mountains and were generally manned by one watchman. The Civilian Conservation Corps helped build many towers in Arkansas. Between 1931 and the 1960s, 122 were constructed. That number began to dwindle once airplanes became the more common method of fire detection and people began settling in greater numbers in forested areas. By 1994, only 48 fire towers still existed. Today, fire towers have fallen into the past, though a few still stand and are listed on the National Register of Historic Places.
The Arkansas Forestry Commission is responsible for fires that burn in forested or grassy areas outside of Arkansas municipalities. However, sometimes wildfires threaten homes, structures and businesses, as was the case with a 2016 wildfire that burned near several small communities near Ft. Smith. The fire burned over 1,000 acres near populated areas, causing structural damage and evacuation alerts.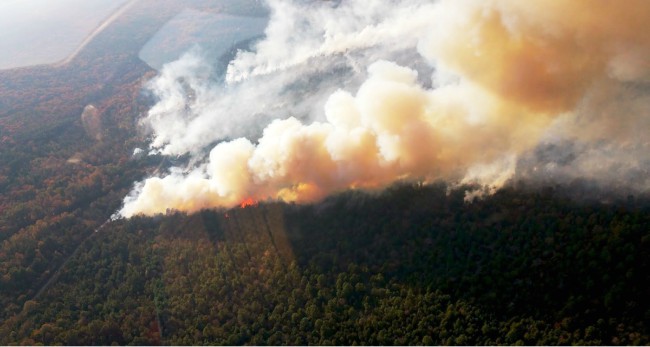 Sometimes wildfires threaten communities, like this fire near Ft. Smith in 2016.
During 2017, we didn't see fires that threatened municipal communities, but a concerning trend was the fact that the fires were larger than usual, with November being the most active month. The Arkansas Forestry Commission uses aerial detection to help spot forest fires on days when fire danger is elevated. Citizen reports are also an important part of wildfire detection. The AFC maintains a 24-hour dispatch center ready to receive reports of wildfires.
Once a wildfire is spotted, the AFC sends out its firefighters to assess the fire and the best way to fight it. The main role of AFC firefighters is to operate bulldozers to create fire lines to take away the fuel for the fires. The firefighters are heavily trained and operate state of the art equipment.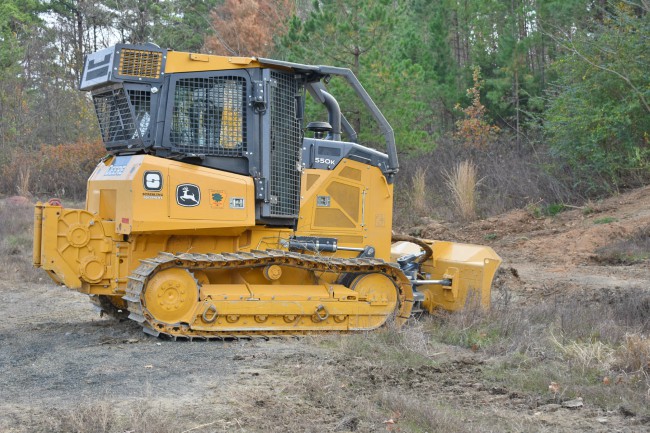 The AFC also works in tandem with rural fire departments if structures are under threat. The AFC doesn't typically fight fire with water, so rural departments are tasked with defending structures and houses with water. Adriane Barnes with the Arkansas Forestry Commission states that "it's not enough to just use water, especially in dry conditions." The AFC also fights fires through an active prevention program that includes prescribed burns to carefully remove forest debris that could provide fuel for wildfires.
Dry conditions are the most dangerous time for wildfires. Dry conditions in November 2017 led to over 5,000 acres being burned. The 2018 Arkansas wildfire outlook doesn't look promising as dry conditions are expected to continue, especially across the northwest part of the state. In the AFC's official report State Forester Joe Fox states, "With plenty of fuel, an uncertain drought outlook, and wildfires trending larger in size, Arkansans can expect the possibility of an active wildfire season beginning soon."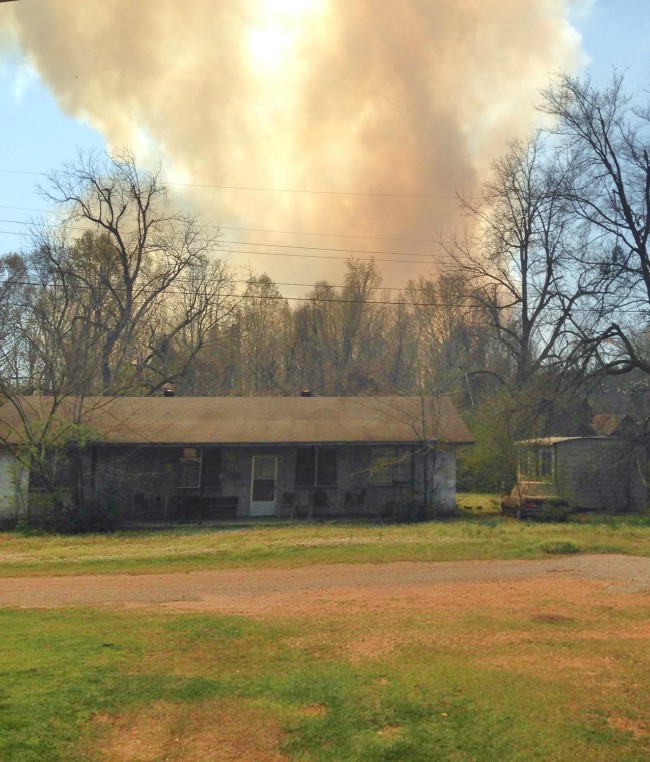 A wildfire threatens a home in Carthage in March 2017.
Though some of the larger wildfires seen in Montana and other western states are caused by lightning strikes, Arkansas wildfires are most often caused by arson and routine burning that quickly gets out of hand, including the burning of trash, grass and leaves on private property. Property owners need to heed burn bans and be aware of dry and windy conditions that could quickly exacerbate small fires.
Arkansans can find updated wildfire information on the Arkansas Agriculture Department website, which houses the Arkansas Forestry Commission site as well. Find out existing fire danger by county, as well as burn bans and prescribed burns in your area.
The site also includes information on two important programs, Arkansas Firewise and the Rural Fire Program. Arkansas Firewise works with local communities to improve wildfire readiness and implement strategies to prevent fires, including what homeowners can do to make their homes less prone to wildfires.
The Rural Fire Protection Program consists of over 1,000 departments around Arkansas that help fight fires in rural communities and forested areas. Many of these firefighters are volunteers, and the AFC supports them through grants and loans of firefighting equipment.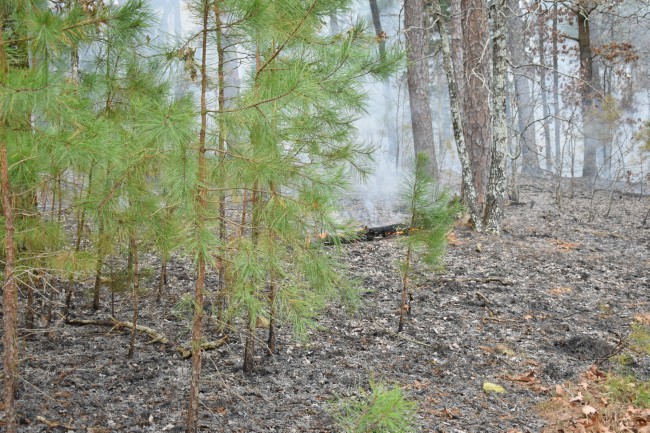 Being aware of fire conditions and following recommended procedures is the best way to stay fire safe this year, but remember the AFC is here to support and fight fires if you should spot a wildfire in 2018.
Photos courtesy of the Arkansas Forestry Commission and used with permission. 
The Arkansas Forestry Commission is an agency of the Arkansas Agriculture Department.