Last weekend we were treated to a taste of spring, but winter isn't over yet. There is always something to do in Arkansas on the weekends, so beat the chill and the rain in the upcoming forecast and seek out something fun! The hard part will be choosing what to do. This weekend you can check out Winter Jam, a Beast Feast, cookie decorating classes, a mock trial, and more. Cheers to the weekend!

Winter Jam 2019 (North Little Rock, AR)
Christian Music's largest annual tour will be in Arkansas this weekend. Several artists will be performing at Verizon arena for over 4 hours of live music.
Venue: Verizon Arena
Date: February 9
Time: 6 p.m.
Admission: $15 donation at the door
Contact: Click Here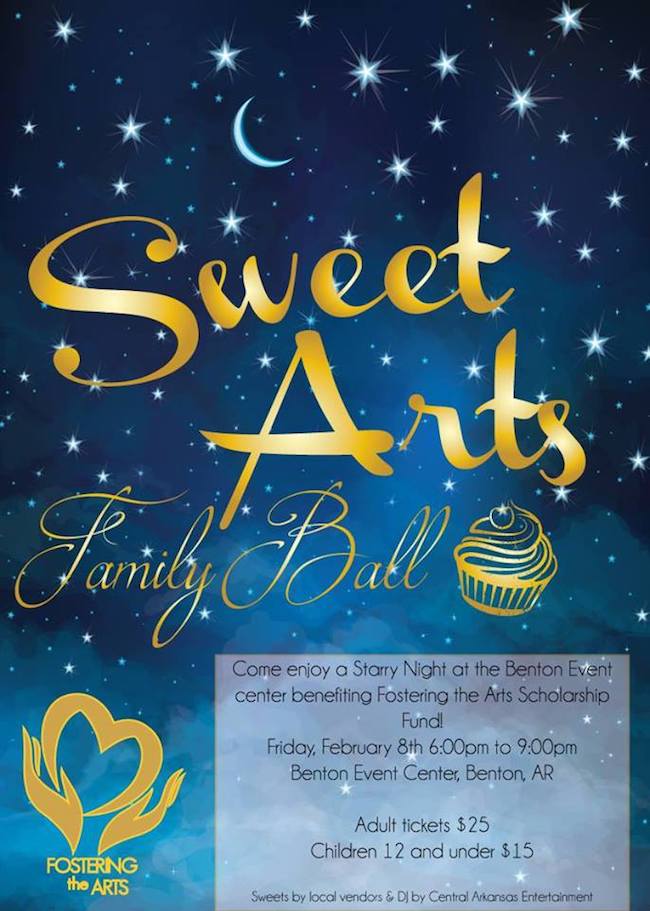 Sweet Arts Family Ball (Bryant)
Enjoy a Starry Night at the Benton Event Center benefiting the Fostering the Arts Scholarship fund. Wear your best dress or coat and tie, dust off your dancing shoes, and grab your family for a night of sweets and fun. The DJ is provided by Central Arkansas Entertainment and food will be provided by local vendors.
Venue: Benton Event Center
Date: February 8
Time: 6 p.m.
Admission: Adults $25, Child Ticket $15
Contact: Click Here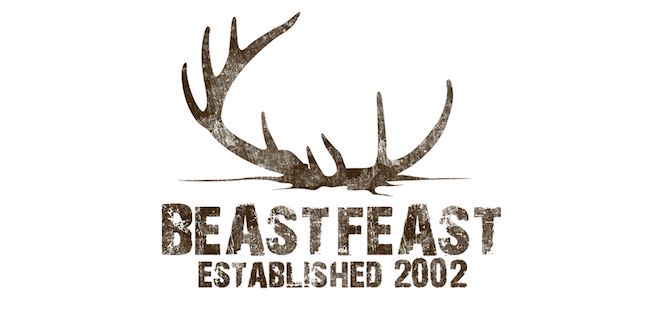 Beast Feast Arkansas 2019 (Conway)
Beast Feast is the annual Sportsman Banquet hosted by the Second Baptist Men's Ministry in Conway, Arkansas. It is held each winter and is open to men and boys of all ages and is a night filled with games, entertainment, prizes, live music, great food, and great speakers. This year, former Major League Baseball first baseman, Adam LaRoche will be speaking. LaRoche is one of the co-owners of Outdoor Networks hunting show Buck Commander with friends and pro athletes Chipper Jones, Ryan Langerhans, Tom Martin, Luke Bryan, Jason Aldean, and Willie Robertson who is from the Duck Commander series.
Venue: Conway Expo Center
Date: February 9
Time: 1 p.m.- 8 p.m.
Admission: $25
Contact: Click Here
2nd Friday Art Night (Little Rock)
Second Friday Art Night is a fun and free night of art, history, live music, refreshments and Arkansas-made shopping that happens the second Friday of each month and is one of several downtown locations that participate in this monthly gallery walk. Visitors can start at the Historic Arkansas Museum where there is plenty of free parking and catch the trolley to visit other participating venues.
Venue: Historic Arkansas Museum, 200 E 3rd St., Little Rock
Date: February 8
Time: Evening
Admission: Free
Contact: (501) 324-9351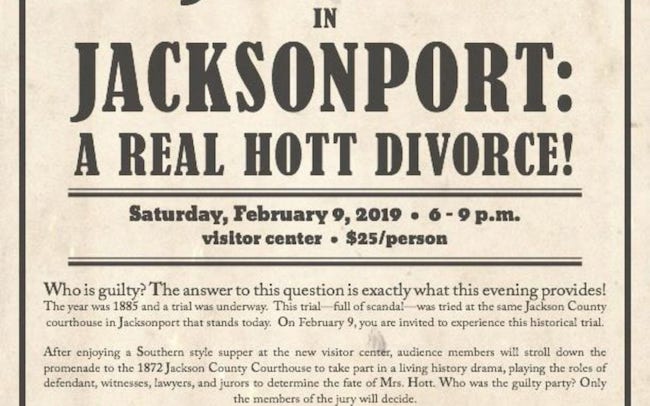 Justice in Jacksonport 1885: A real Hott Divorce! (Newport)
This trial is based on actual scandalous events that occurred in Jacksonport during the summer of 1885 and were tried at the Jackson County courthouse in Jacksonport in the fall of 1885. The trial will be conducted in the same courtroom where it was originally held. After enjoying a southern style supper at the new visitor center in the multipurpose room, audience members will stroll down the promenade to the 1872 Jackson County Courthouse, where they will take part in a living history drama, playing the roles of defendant, witnesses, lawyers, and jurors to determine the fate of Mrs. Hott. Who was the guilty party? Only the members of the jury will decide.
Venue: Jacksonport State Park
Date: February 9
Time: 6 p.m.
Admission: $25 (Advance Registration Required-Call for tickets)
Contact: Click Here
31st Annual Home and Garden Show (Pine Bluff)
Head to Pine Bluff for gardening seminars and how-to sessions at the home and garden show. There will be live plants, hands-on activities, mowers, yard art, bee information/supplies, bromeliads, home interior, honey, salsa, herbs, oils, clothing, insect info, plant disease diagnosis, bunnies, children's activities, educational booths, food trucks and more!
Venue: Pine Bluff Convention Plaza
Date: February 8-February 9
Time:Friday — 9 a.m.-5 p.m., Saturday — 9 a.m.-3 p.m.
Admission: Free
Contact: 870-534-1033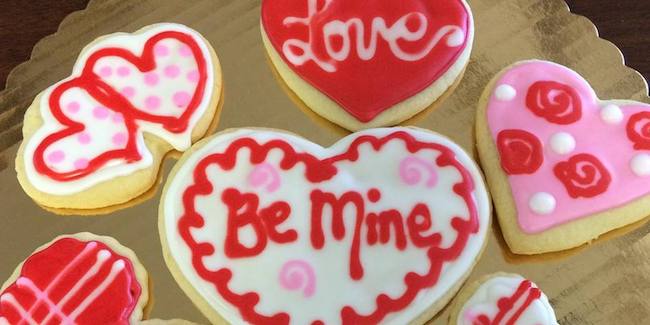 Kids Valentine Cookie Decorating Class (Fayetteville)
Nellie B's bakery is offering cookie decorating class for kids ages 3-12. Kids will decorate an assortment of Valentine's cookies to take home. It will make for a great afternoon, and the cookies are perfect for gifting! Two classes include buttercream frosting and assorted sprinkles and royal icing techniques. You will be able to learn to decorate a variety of cookie shapes and styles.
Venue: Nellie B's Bakery
Date: February 9
Time: 1 p.m. and 3:30 p.m.
Admission: $15
Contact: Click Here for the 1:00 class, Click Here for the 3:30 class

IF:Fayetteville 2019
IF:Fayetteville is a local IF:Gathering event that will join together women from all over Northwest Arkansas for worship, fellowship, and relationship building. At the event, you will hear from local speakers and watch the live stream of the IF:Gathering 2019 event in Dallas, TX.
Venue: Christian Life Cathedral
Date: February 8-February 9
Time: Begins Friday at 6 p.m. and ends at 5 p.m. on Saturday
Admission: $10- Click Here
Contact: Click Here
Carmina Burana (Jonesboro)
Delta Symphony Orchestra brings Carl Orff's Carmina Burana to the Fowler Center stage this weekend. Make plans to attend!
Venue: Delta Symphony Orchestra
Date: February 10
Time: 2 p.m.
Admission: Tickets Required-Varied Prices
Contact: Click Here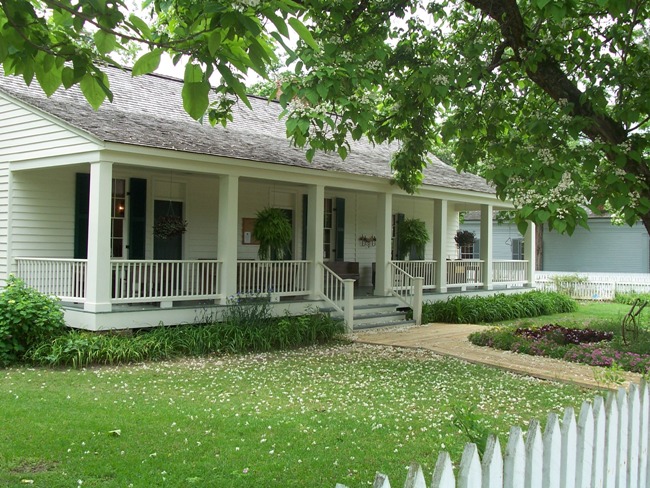 Valentine's Dinner (Washington)
Enjoy a romantic evening with someone special at Williams' Tavern. A surrey ride starts at 6 p.m., dinner and entertainment will follow at 7 p.m. Reservations are required.
Venue: Williams' Tavern Restaurant
Date: February 8
Time: 7 p.m.
Admission: $70/couple
Contact: Click Here
Renegade @ Club 10 (El Dorado)
A high energy country dance band from the Monroe area will be in El Dorado this weekend making their Club 10 debut. The show is open to the public. Make plans to go and listen and dance with Renegade.
Venue: American Legion Post 10
Date: February 9
Time: 8 p.m.
Admission: $10
Contact: Click Here
Header photo courtesy of the Arkansas Department of Parks and Tourism.