Nothing seems to bring on the magic of Christmas quite like a beautiful light display. From modestly decorated trees to drive-through displays and setups that include millions of light, there are several places to choose from to marvel at the Christmas lights in Arkansas this year! Here are a few:

Lights of the Ozarks — Fayetteville
Enjoy the amazing winter wonderland of lights on the Downtown Square. The lights illuminate the square each evening from 5 p.m. to 1 a.m. Nightly carriages and pony rides, fresh hot chocolate and festive holiday music make the Lights of the Ozarks an event that cannot be missed. The romantic and breathtaking display of a half-million twinkling lights is cherished by the locals and visitors alike that stroll or drive through the Lights of the Ozarks each year. Each year, Fayetteville Parks and Recreation workers spend over 3,300 hours decorating the Downtown Square with over 400,000 lights.
When: November 21- December 31
Venue: Fayetteville Downtown Square
22nd Annual Enchanted Land Of Lights & Legends — Pine Bluff
The Pine Bluff Festival Association proudly announces their 22nd season of the award-winning "Enchanted Land of Lights and Legends." This holiday event has been recognized as the state's largest drive-through display of holiday lights. Admission to the 1.2-mile drive-through is free. However, donations are accepted by community volunteers at the end of the display to ensure future lighting displays are bigger and brighter. Donate $10 and you will receive an ornament (while supplies last). Just beyond the collection station is a photography stage where visitors can park and take their own pictures under a festive arch.
When: November 20- December 31
Venue: Pine Bluff Regional Park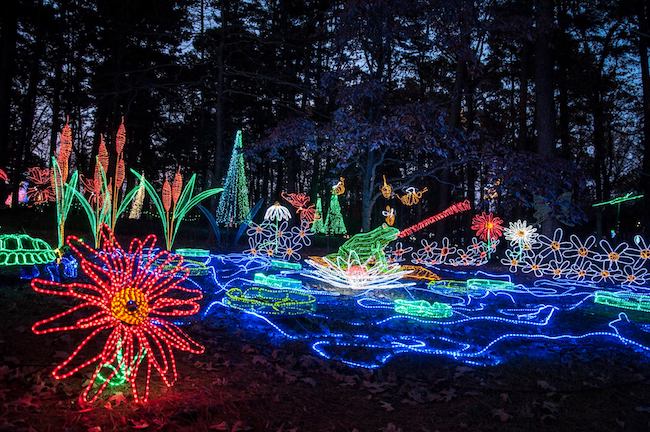 Holiday Lights at Garvan Woodland Gardens — Hot Springs
Garvan Woodland Gardens in Hot Springs will present its sixteenth annual Holiday Lights event, starting Saturday, November 17 and running through New Year's Eve (closed Thanksgiving and Christmas days). Holiday Lights is an outdoor light experience like no other. Covering 18 acres of the 210-acre Garden, it is an incredible way to view the Garden in a whole new light, a celebration of the Garden spaces with light, as well as an exceptional way to build wonderful family traditions. As visitors begin their tour of Holiday Lights, a stroll through the natural 4-acre Garden of the Pine Wind featuring ethereal blue and white lighting, giant koi fish, a multitude of light-wrapped trees characterizes the uniqueness of Garvan's Holiday Lights. Next on the tour, the 50-ft tall Rose Tree display features a musical holiday celebration with an animated light show. Then, visitors will explore the Garden acres featuring the ice dandelion meadow, and icicle trail, ice tunnels, an ice palace, flowers and a pond blooming with light. For kids at heart, the fully-animated James the Train offers hands-on fun, surrounded by traditional elves, reindeer and a lighted sleigh. The fanciful lighted Parterre garden and Jazz Piano trio are featured on the Great Lawn, near the lighted miniature Train Garden and free Hot Chocolate tent.
When: November 17- December 31
Admission: $15 adults, $5 ages 4-12, free ages 0-3; no dogs allowed
Website: http://www.garvangardens.org

Stewart Family Christmas Lights — Fayetteville
The Stewart family collection of lights started in 2003 with 3000 lights and two inflatables. Over the years it has grown to over 1.5 million lights and over 500 inflatables. There is a walk-through pathway so you can enjoy the lights and the inflatables, a live train for your family to ride, as well as camel/pony rides. There is also a mailbox for Santa letters. Children can drop off letters to Santa through December 20 and if a return address is provided Santa will write your child back.
When: November 17- January 1
Where: 4423 E. Wyman Rd. Fayetteville, AR 72701
Contact: 479-427-6205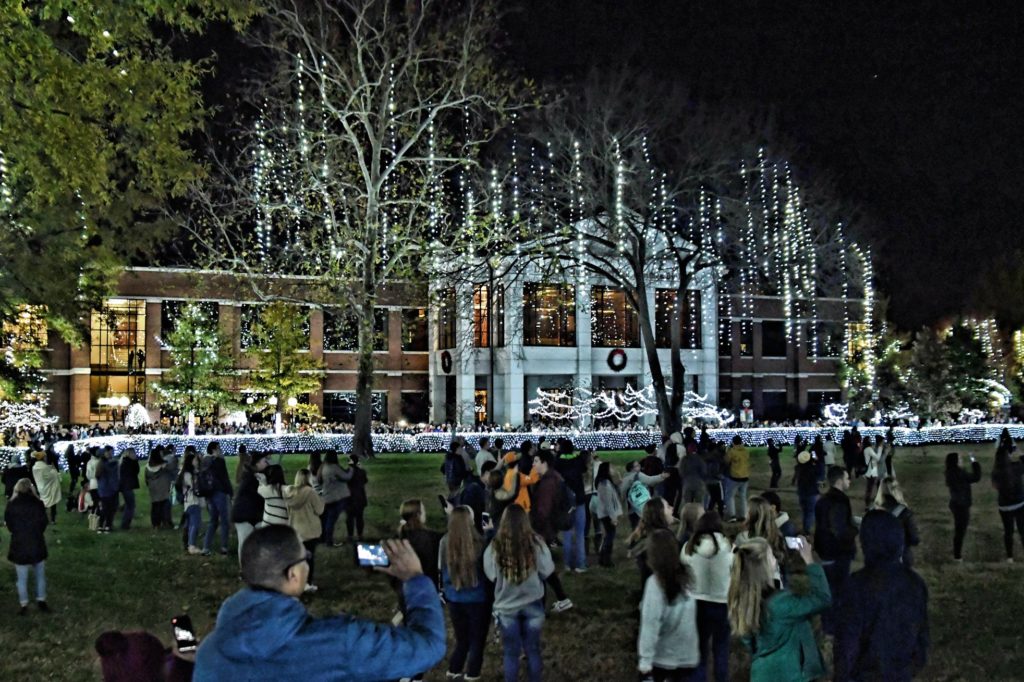 Photo courtesy of Al Fowler
Searcy Holiday of Lights — Searcy
Searcy may be a small town but it has a big heart for Christmas and everyone is involved. Light displays fill the Courthouse Square, Spring Park, Berryhill Park and the grounds of Harding University. There will be ice skating, carriage rides and Santa! Christmas performances will include Miracle on 34th Street, choirs, orchestras, cantatas and a Ring and Sing Bells Performance. There is so much to do and see in Searcy this holiday season during the Holiday of Lights! Make the trip to check out the beautiful court square as well as all the parks.
When: November 26 throughout the Holiday Season
Lights: Viewable Nightly throughout Searcy
More Information: Click Here
Lights of the Delta — Gosnell
Visit the largest lighting display in the Mid-South with 6 million lights and 48 + major motion displays on a 40-acre drive 1.5-mile drive-thru site. Enjoy your visit!
When: November 19- December 27
Where: 1405 Airbase Highway, Gosnell, AR
Contact: 1-870-762-9788
Website: http://www.lightsofthedelta.com/index.html
Price: Cars, trucks, vehicles up to 12 passengers: $10.00, Small buses: $25, Full size buses (church, school, charter, etc.): $50
Hodo's Christmas Light Show — Van Buren
Richard and Helen Hodo have been turning their extensive yard into a Christmas wonderland for over 20 years! Santa will be at their house from 2pm-5pm every Saturday between now and Christmas to take photos with the kids! Bring them out to talk and sit with Santa!
Where: 1205 Woodland Creek Cir, Van Buren
Contact: 479-474-5296
Event Page: Click Here
Admission: FREE

Photo courtesy of Arkansas State Parks and Tourism
Smackover Holiday Light Extravaganza
The Arkansas Museum of Natural Resources Oil Field Park, located at 3853 Smackover Hwy, comes to life each Friday and Saturday night from mid-November to late-December from 6:00-8:00 p.m. Each lighted scene represents the sights of the winter holiday season. Visit the Ice Castle and jam with Santa's band before warming up with a cup of hot cocoa in the museum gift shop.
Where: Arkansas Museum of Natural Resources
Admission: Admission: $5 for adults, $3 for children under 10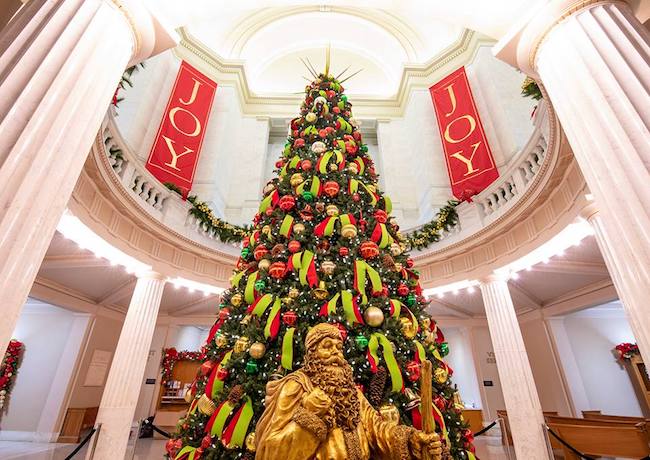 Arkansas State Capitol
The state's official tree, the George Jernigan tree located on the front lawn of the capitol, is decorated with hundreds of lights! The building is beautiful and the inside is breathtaking. The magnificent Rockefeller pine tree and elegant decorations are ready for viewing in the Capitol building's rotunda. Plan an evening of strolling and enjoying the lights of the capitol!
When: December 1- January 1
Where: Arkansas State Capitol
Trail of Lights — Sherwood
Sherwood's Enchanted Forest Trail of Lights is a drive-thru trail with the entrance located at the Sherwood Sports Complex, 511 Bear Paw Road. The Trail of Lights is over a mile of spectacular lights. Admission is free but nonperishable items, donated to local food pantries, are welcome. Everyone receives a candy cane.
When: November 26- December 30
Time: 6 p.m.- 9:30 p.m.
Where: Sherwood Forest, 1111 West Maryland Avenue
More Information: Click Here
Hot Springs Holiday Lights on Bathhouse Row — Hot Springs
Swing through downtown Hot Springs to see its annual light display along Bathhouse Row starting on Nov. 19. While you're there, stop by the Arlington Resort Hotel and Spa's lobby to see the giant gingerbread house and Christmas tree.
Where: 239 Central Avenue
More Information: 501-321-2277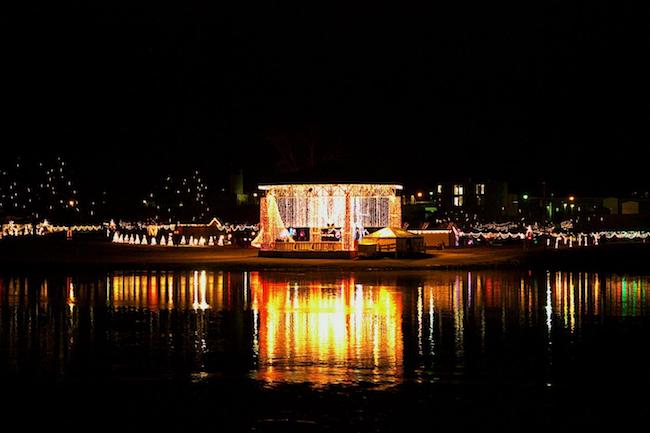 White River Wonderland — Batesville
If you haven't already made Batesville a holiday destination, you need to this year! Once you experience the magical ambiance of this community during the holiday season, you will want to make it an annual tradition. Over one million lights are on display at Riverside Park along the beautiful White River. Visitors will enjoy driving through the light display that is coordinated with your favorite Christmas tune, carriage rides, a synthetic ice rink, and new this year is the White River Wonderland Express train ride.
When: November 21- December 31
More Information: Click Here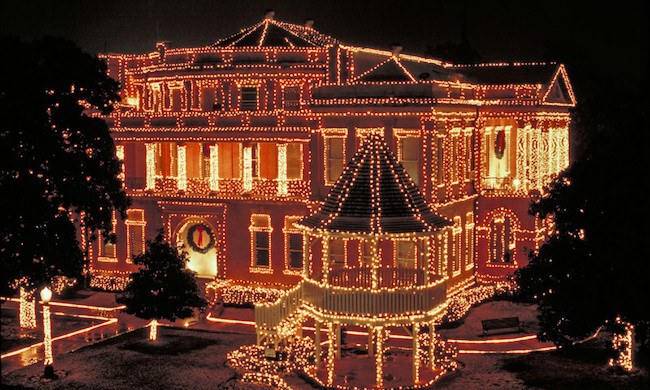 Magnolia Holiday Lights — Magnolia
Head to downtown Magnolia to view the lights on the courthouse and then travel just one block north of the downtown square to walk through the extravagant lights at Wilson Traylor Gardens.
Where: Court Square (Magnolia)
More Information: 870-234-4352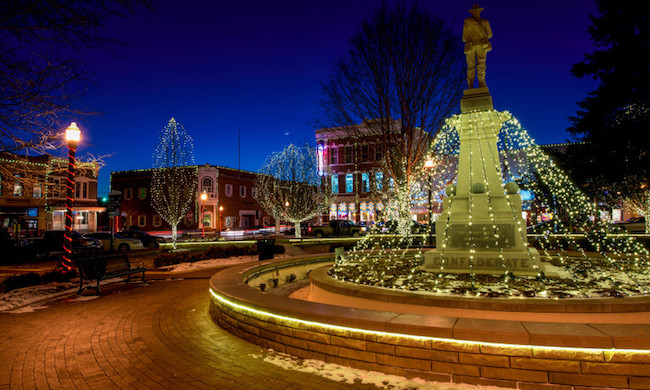 Bentonville Holiday Lights — Bentonville
Holiday lights will illuminate the Bentonville square from November 17 thru New Year's Day. Lights on the square are on from dusk until dawn. Enjoy!
When: November 17- January 1
More Information: 479-319-0371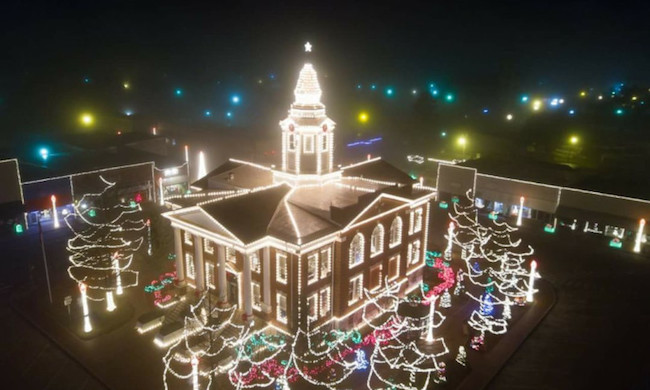 Paris Holiday Lights
Fall in love with Paris this holiday season. The courthouse square is set with 100,000+ lights for your viewing pleasure and the only Eiffel Tower in Arkansas.
Where: 12 North Express (Paris)
More Information: Click Here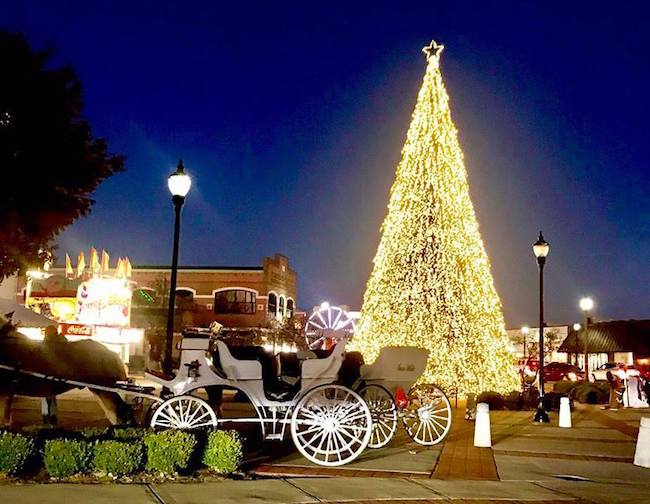 Conway Holiday Lights — Conway
Now in its third year, Illuminate Conway will take place in Rogers Plaza around Conway's 54-foot-tall Christmas tree. Illuminate will feature a Ferris wheel, mini-train rides for kids, live music, a food truck, horse-drawn carriage rides, photo opportunities with an over-sized snowman and gingerbread man. The events at Rogers Plaza will be going on nightly through December 23 but the tree will stay lit until December 31.
When: Nightly until December 31
Where: 900 Oak Street
More Information: Click Here

Finney's Christmas Wonderland — Crossett
Finney's Christmas Wonderland offers a half-mile driving circuit of lights paired with music. One highlight is a drive-through train tunnel. Hours are sunset-10 p.m. nightly until Dec. 31, with free admission and donations invited.
When: Nightly until December 31
Where: Three miles north of North Crossett on Hwy. 133
Cover photo features Fayetteville's Lights of the Ozarks display.