The Liverpool Legends will provide you with a Beatles Experience in Helena while Champian Fulton, legendary pianist, kicks off the "Live at the Five and Dime" series in Bentonville this weekend.  The kids are looking forward to the annual appearance of the Easter Bunny and he will be hopping into egg hunts all around the state.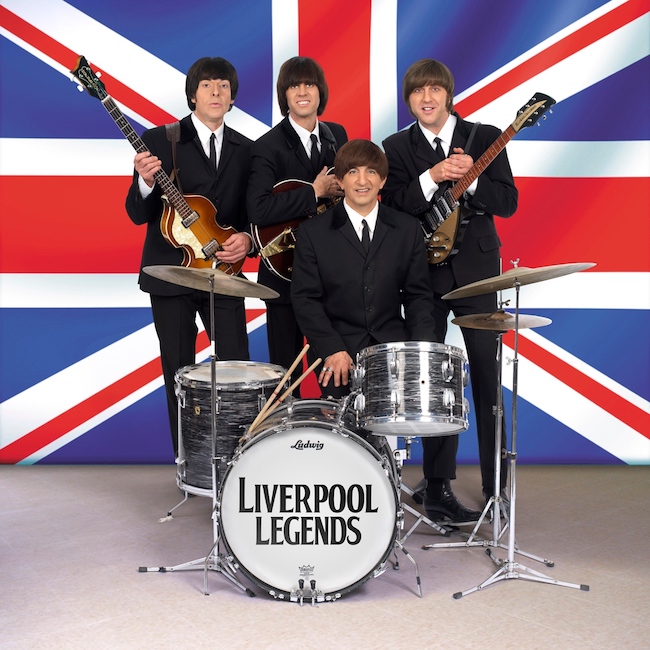 Liverpool Legends (Helena-West Helena)
The Liverpool Legends perform songs spanning the entire career of The Beatles and on through the solo years. With precise attention to every musical detail, along with costume changes, vintage instruments and special effects, Liverpool Legends will make you feel like you are watching the real thing! Together, these four lads will bring you "The Complete Beatles Experience."
Venue: Lily Peter Auditorium
Date: March 29th
Time: 7:30pm- 9:30pm
Admission: Free
Contact: Click Here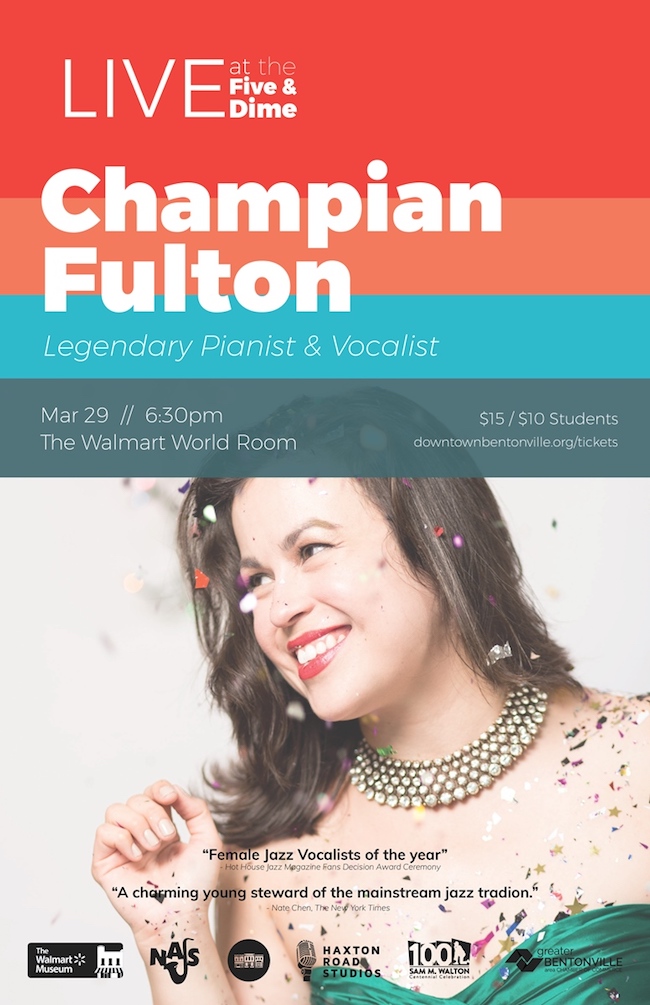 Live At The Five And Dime Music Series (Bentonville)
Join The Walmart Museum in celebrating Sam Walton's life as we honor the man who made a difference in so many lives. As part of the Sam Walton Centennial Celebration, the museum will be hosting the "Live at the Five and Dime" music series. Legendary pianist and vocalist Champian Fulton will be performing. 
Venue: The Walmart Museum
Date: March 29th
Time: 6:30pm
Admission: $15/ $10 students
Contact: Click Here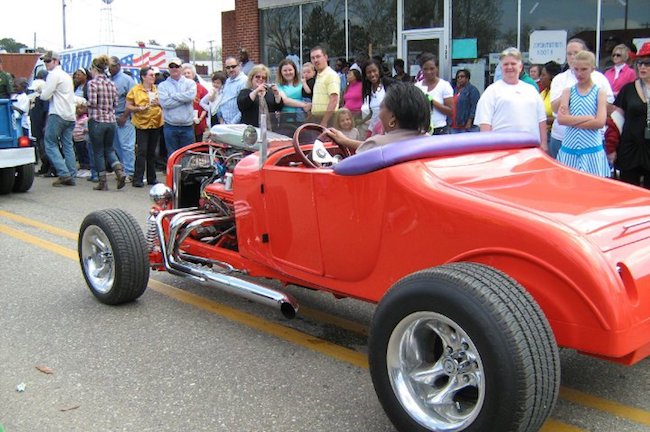 33rd Annual Governor Conway Days Festival (Bradley)
This festival is one of the largest arts, crafts and collectibles shows in the Ark-La-Tex area. There will be a classic car show, bass classic tournament, children's games,  and a big parade on Saturday. There will be good food and fun.
Venue: Downton Park (Bradley, AR)
Date: March 30th-31st
Time: 8:00 am- 8:00 pm
Admission: Free
Contact: deloisdm@yahoo.com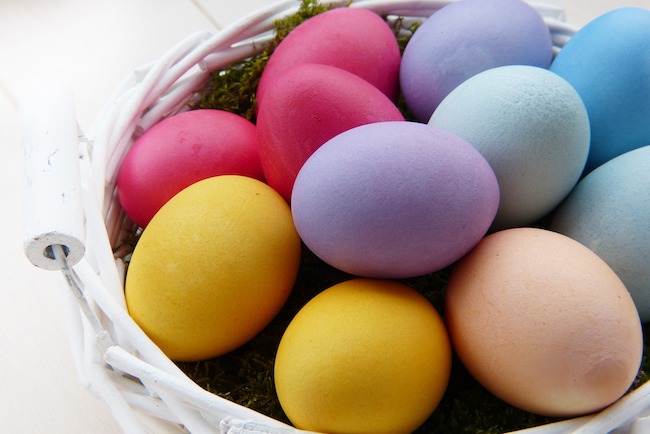 Easter Egg Hunts are happening all over the state this weekend. Many local churches, community centers and state parks have fun family events planned in your local area. Here are just a few that may be of interest.
30th Annual Easter Event Weekend (Kirby)
Head over to Daisy State Park for the 30th Annual Easter Event Weekend! Have fun with friends and family with a challenging hunt for the golden egg. The fun continues with a family-friendly Easter egg hunt and raw egg toss on Saturday. In addition to these two main events, the park will have a variety of activities scheduled for the weekend. Give your family an experience they will never forget at Daisy State Park!
Venue: Daisy State Park (Kirby)
Date: March 30th- April 1st
Admission: Free
Contact: 870-398-4487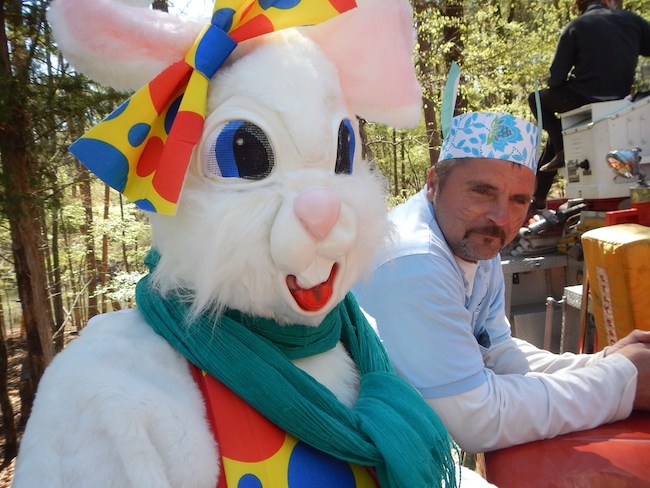 Harbor's Huge Easter Egg Hunt, Doggie Hunt And Party And Firetruck Parade (Mount Ida)
Head out for a great celebration of Easter on Lake Ouachita at the East Cove Park and Pavilion! The fun starts with a huge egg hunt, followed by games and refreshments and the popular "Doggie Easter Egg Hunt!" Bring your favorite furry friends for their very own hunt for doggie goodies! After the party, the kids (big and little) jump on the fire trucks for a fire truck parade.
Venue: East Cove Pavilion (994 Mountain Harbor Rd. Mound Ida, AR)
Date: March 31st
Time: 10:00am- 12:00 pm
Admission: Free
Contact: 870867-2191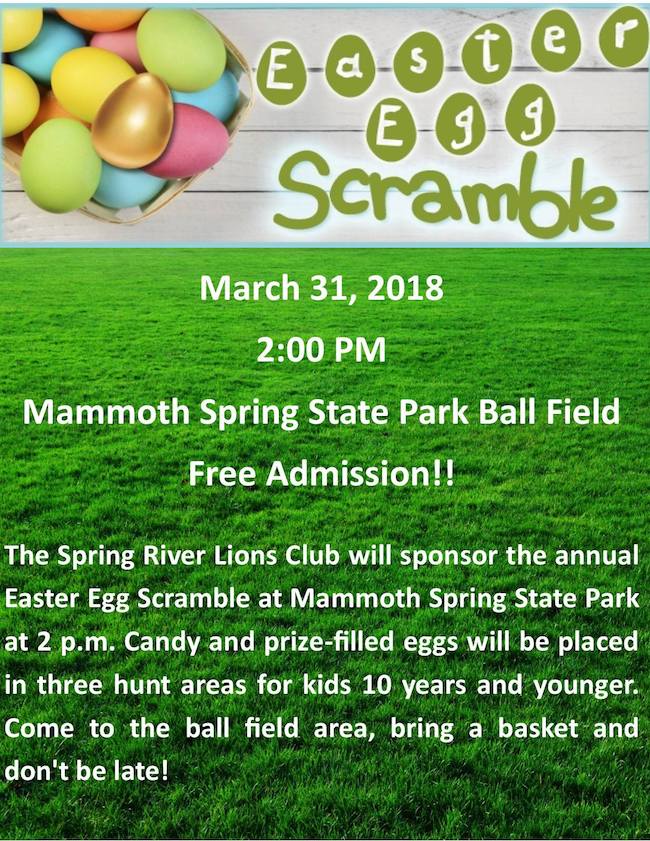 Easter Egg Scramble (Mammoth Spring)
The Spring River Lions Club will sponsor the annual Easter Egg Scramble at Mammoth Spring State Park at 2 p.m. Candy and prize-filled eggs will be placed in three hunt areas for kids 10 years and younger. Head to the to the ball field area, bring a basket and don't be late!
Venue: Mammoth Spring State Park
Date: March 31st
Time: 2:00 pm
Admission: Free
Contact: 870-625-7364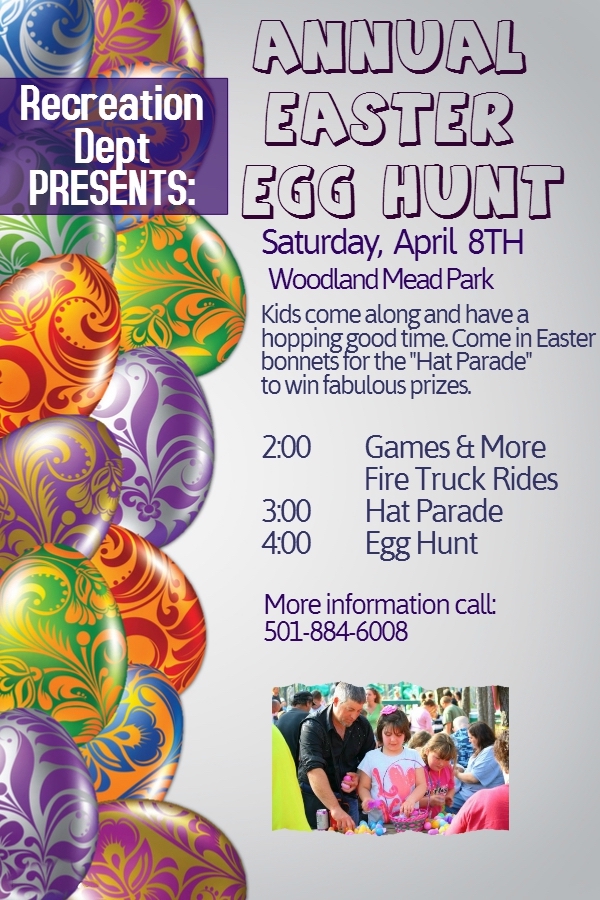 Annual Easter Egg Hunt (Fairfield Bay)
Head to Fairfield Bay this weekend for free fire truck rides, games, free mini golf for the kids, a Hat Parade at 3 p.m and an egg hunt at 4 p.m.
Venue: Woodland Mead Park
Date: March 31st
Time: 2:00 pm
Admission: Free
Contact: 501-884-6010 or email stacy.goff@ffbcommunityclub.com
Easter Egg Hunt (Hot Springs)
Continuing a tradition for more than 30 years, Lake Catherine State Park will host an Easter egg hunt. Join the fun as youngsters and the young-at-heart participate in this event. Meet at the Picnic Hill area of the park and action begins promptly at 2 p.m.
Venue: Lake Catherine State Park (Picnic Hill)
Date: April 1st
Time: 2:00 pm
Admission: Free
Contact: 501-844-4176