It is Easter weekend which means egg hunts abound but there are many other great events happening throughout Arkansas. Mountain View is kicking it off the weekend with their annual Folk Festival! Hot Springs is hosting a Corvette show and crawfish festival. There will be a lovely Feast in the Fields this weekend with fantastic food, beautiful scenery at a great venue! Wherever you hop to this weekend we hope you have a hoppy Easter weekend.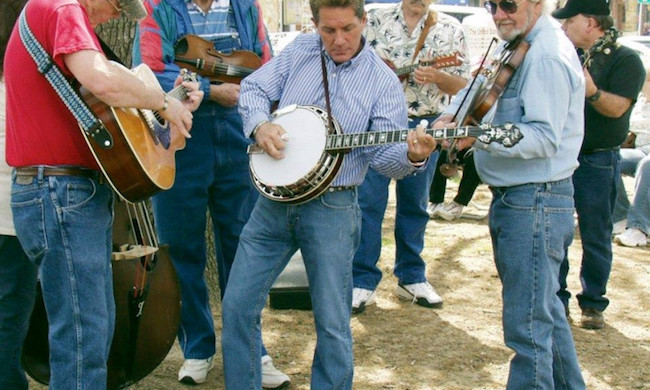 57th Annual Arkansas Folk Festival and Craft Village Open House (Mountain View)
The Arkansas Folk Festival celebration features handmade crafts, a parade, lots of "folk, mountain, and bluegrass" music, and dancing on the Courthouse Square. This is a great family fun festival. Ozark Folk Center State Park opens for the season and is offering free admission to the craft village during this weekend. Bring your friends and family to see what's new in the Craft Village this year. The craft Village Open house is on April 20th and admission will be free from 10 a.m.- 5 p.m.
Venue: The festival will be at the Stone County Courthouse Square. The Craft Village open house is at the Ozark Folk Center State Park.
Date: Festival April 19-20
Admission: Free
Contact: Click Here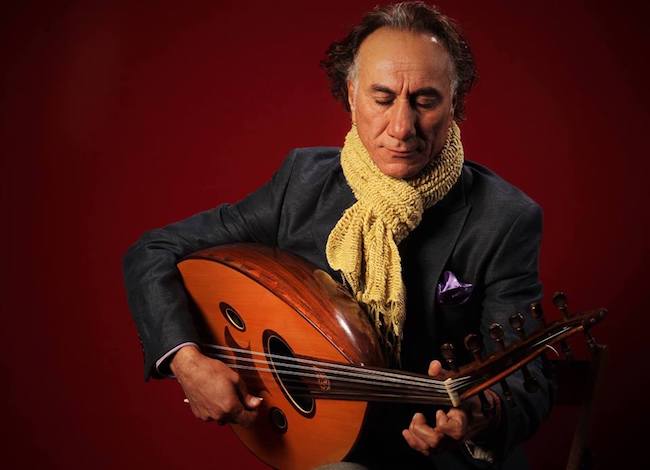 Rahim Alhaj Trio  (Fayetteville)
The Faulkner welcomes The Rahim AlHaj Trio, featuring award-winning (National Endowment for The Arts 2015 National Heritage Fellow and Smithsonian Folkways Recordings) and two-time Grammy nominee artist Iraqi oud virtuoso and composer. Rahim Alhaj. Alhaj is joined by Iranian santour maestro Sourena Sefati and Palestinian-American, Arabic percussion master Issa Malluf. The trio performs Alhaj's intricate compositions. Aljah's music delicately combines traditional Iraqi maqams with contemporary styling and influence. His compositions evoke the experience of exile from his homeland and of new beginnings in his adopted country. His pieces establish new concepts without altering the foundation of the traditional "Iraqi School of Oud."
Venue: Faulkner Perfomring Arts Center
Date April 19
Time: 7:30 p.m.
Admission: Tickets required-prices vary
Contact: Click Here

21st Annual Corvette Weekend (Hot Springs)
America's First Resort meets America's classic sports car as the 21st Annual Hot Springs Corvette Weekend roars into town April 19-20, 2019. Make your plans to attend today!
Venue: Hot Springs Convention Center
Date: April 19-20
Time: Friday 9 a.m.-9 p.m.,  Saturday 8 a.m.-2 p.m.
Admission: Free
Contact: Click Here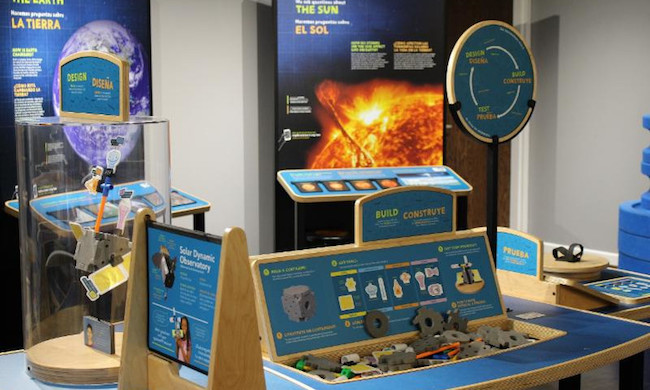 Sun, Earth, and Universe  (Pine Bluff)
Visitors to the Sun, Earth, Universe exhibition can explore hands-on science actives and learn about how NASA missions are designed to help answer the big questions about our planet, our solar system, and the wider universe.  This exhibition will run from Tuesday, April 2 – Saturday, June 29, 2019
Venue: Arts & Science Center for Southeast Arkansas
Date: April 2- June 29
Time: Operating Hours
Admission: Free
Contact: Click Here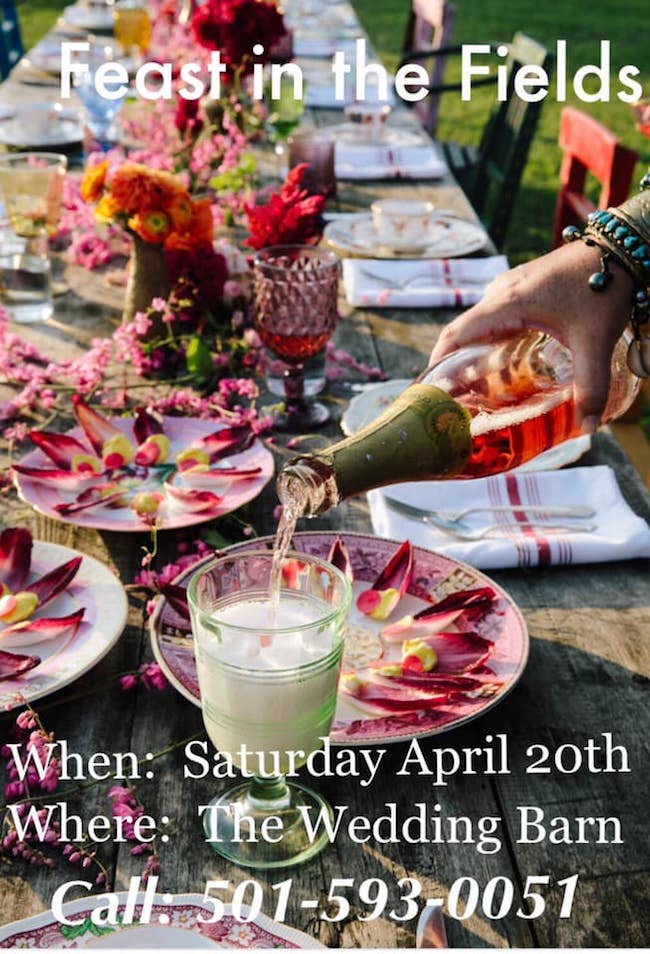 Feast in the Field (Pangburn)
"Feast in the Fields" is this weekend. It will be a lovely spring evening with horse and carriage to deliver you to your dinner table, a harpist playing during appetizers, violinist while you enjoy a delicious menu of fine cuisine surrounded by Arkansas's natural beauty, specially prepared dessert and bagpipes for a sunset experience not to be missed.
Venue: The Wedding Barn
Date: April 20
Time: 5:30 p.m.
Admission: $40
Contact: Click Here or Call 501-593-0051

Music in the Park (Eureka Springs)
There will be free live music in Basin Spring Park this weekend featuring Joe Purdy with SmokeyDewdrops.
Venue: Basin Spring Park
Date: April 20
Time: 6 p.m.
Admission: Free
Contact: Click Here

Hot Springs Gumbo & Crawfish Festival  (Hot Springs)
The Hot Springs Gumbo & Crawfish Festival is this weekend!  There will be a Gumbo Cookoff, crawfish plates, and entertainment. This event is open to the public.
Venue: Hill Wheatley Plaza
Date: April 20
Time: 12 p.m.- 5 p.m.
Admission: Tickets Required-Prices Vary
Contact: Click Here
Springfest (Norman)
This weekend is Springfest in Norman. It will be fun for the whole family with live music and karaoke, a kids carnival, lawn mower races, car show, food vendors, arts and crafts vendors. There will be contests that include local photo, baking and grilling talents.
Venue: Norman City Park
Date: April 20
Admission: Free
Contact: (870) 867-2723
Easter Eggstravaganza (Jonesboro)
Head to Jonesboro for an "Eggciting" Easter Eggstravaganza. You can enjoy plenty of free activities that are sure to put a smile on everyone's face. There will be egg hunts, inflatables, face painting, photo booth, & prizes. The first 100 children will receive a free Easter Basket. There will be special appearances by some of your favorite princesses and Cubbie Bear. This is for ages birth-6th. To save time you can pre-register online here.
Venue: JHS Football Field (3707 Harrisburg Rd)
Date: April 20
Time: 10 a.m. – 12 p.m.
Admission: Free
Contact: Click Here
Egg-streme Egg-stravaganza Community Easter Egg Hunt (Little Rock)
The Egg-streme Egg-stravaganza Easter Egg Hunt is this weekend. It is a fun event for all age groups. There will be two different egg hunts, one for the kids and another for the young adults/adults. Free food is included with any registration but on a first come first served basis. General admission tickets are free for kids and for anyone that does not want to participate in the Adult Easter Egg Hunt. The Adult Easter Egg Hunt is $12 which includes entrance into the Egg-streme Hunt for a chance to win candy, cash, and other prizes.

Venue: Brodie Creek Park Pecan Lake
Date: April 21
Time: 2 p.m.- 5 p.m.
Kids Easter Hunt(age 0 – 7 years old): 2:30 pm
Kids Easter Hunt(age 8 yrs – 16 yrs old): 2:45 pm
Egg-streme Easter Hunt(Paid Registrants): 3:15 pm
Admission: $12 for the Egg-streme Easter Hunt, Free for the free kid's hunt
Contact: Click Here
Golden Egg Challenge (Kirby)
Daisy State Park is hosting its 31st Annual Easter Event Weekend! Don't miss out on the challenging hunt for the golden egg. Beginning Friday, hunt throughout the park boundaries for a golden egg. This golden egg doesn't have candy inside, but it does have certificates for some great prizes! To help the hunt, clues are provided at the visitor center starting Friday at noon and continue until the egg is found. Contact the visitor center for contest rules and clue lists. The fun continues with a family-friendly Easter egg hunt and raw egg toss on Saturday. Bring your baskets and enthusiasm as you and your little ones search for these multi-colored treasures. The hunt is divided by age groups; maximum age for collecting eggs is 12 years. Age groups are 3 and under; 4-7, and 8-12. Ages 3 and under will meet at the playground, ages 4-7 will search the large field between the playground and pavilion, and ages 8-12 will search the area around the amphitheater and forested area near the pavilion. Stay after the hunt to play a fun family game of raw egg toss. Make sure to be early; the hunt begins promptly at 10 a.m. In addition to these two main events, the park will have a variety of activities scheduled for the weekend. Give your family an experience they will never forget at Daisy State Park!
Venue: Daisy State Park
Date: April 19- April 21
Admission: Free
Contact: Click Here
Easter Celebration (McNeil)
Join park staff at Logoly State Park for the annual Easter Celebration. At 1 p.m. visitors will have a chance to show off their artistic side with a variety of spring-related crafts, including an egg-dyeing tutorial. At 2 p.m. the hunt begins. Kids, ages 4-12, will hunt for eggs containing candy and other prizes. Participating kids will be split into three age groups for the hunt. Only kids will be allowed in the designated egg hunting areas, though friends and family are encouraged to cheer for their little ones. After the hunt, everyone is invited to the visitor center to redeem prizes and check out the gift shop's new spring inventory. This event is completely free, and visitors should bring a basket for egg hunting and for carrying your prized home.
Venue: Logoly State Park
Date: April 20
Time: 1 p.m.
Admission: Free
Contact: Click Here
Easter Egg Hunt (Bluff City)
Bluff City is hosting their Annual Easter Egg Hunt this weekend! There will be hundreds of candy-filled Easter eggs will be hidden throughout the park for kids age 12 and under to find. The hunt starts at 2 p.m. so don't forget to arrive early for parking. Also, bring a camera, we hear that the Easter Bunny will be making an appearance.
Venue: White Oak Lake State Park
Date: April 20
Time: 2 p.m.
Admission: Free
Contact: (870) 685-2748 (ext. 2)