There is a lot going on this weekend in Arkansas and plenty of opportunities for you to experience some good ol' southern tradition. For traditional southern gospel music lovers, you can choose from two great events. The treasure hunter will want to make plans to visit Prairie Grove for The Junk Ranch. Lightning on Ludwig sounds like an exciting event for the entire family. There are also several hometown festivals that always deliver the best food with everyone competing to win the cuisine contests.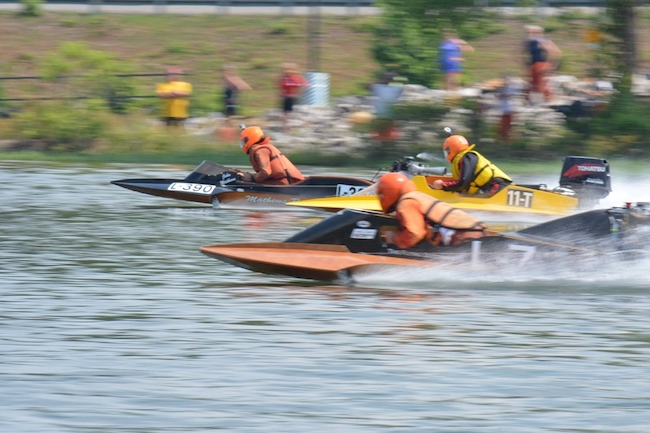 Lightning On Ludwig (Clarksville)
"Lightning on Ludwig" North/South Shootout is a premier sporting event that will feature hydroplane boat racing and outdoor recreation.
Venue: Lake Ludwig
Date: June 8th- June 10th
Time: 12:00 pm – 5:00 pm
Admission: Free
Contact: 479-970-0058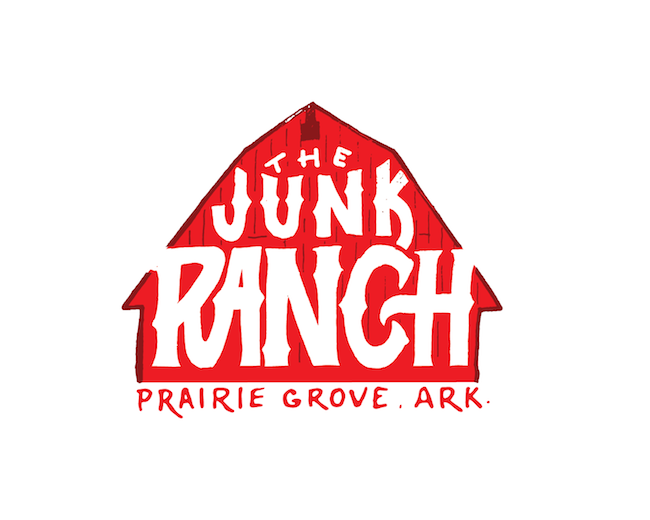 The Junk Ranch (Prairie Grove)
The Junk Ranch is a "Country Barn Sale" held on 35 acres in Prairie Grove. In addition to multiple acres that are utilized for outdoor vendor booths, there are three large tents, as well as a wonderful old farmhouse and our big red barn for additional indoor use. Some of the best vendors in the area and many more who travel from out of state will be coming with items. This is a unique event, and the first of it's kind locally. A fun weekend in a laid-back atmosphere that will have food trucks, live music and junk. It's one of our favorite events on OnlyInArk.com – see Top Things To Shop For at the Junk Ranch.
Venue: The Junk Ranch
Date: June 8th- June 9th
Time: 10:00 am- 5:00 pm
Admission:  $10 on Friday (free re-entry on Saturday) or $5 on Saturday. Kids under 12 are FREE – FREE parking
Contact: Click Here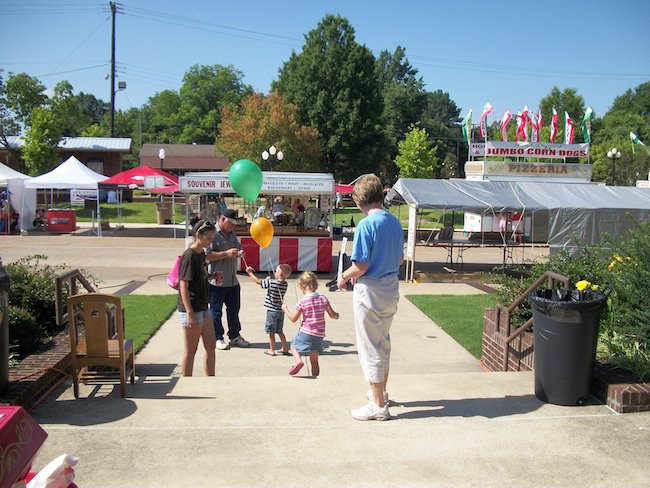 42nd Annual Farm Fest (Wynne)
This event has family fun, food, carnival rides, and arts and crafts. Bring your lawn chairs and listen to the live entertainment on the courthouse lawn Friday and Saturday evenings. There is also a KCBS sanctioned bar-b-que contest and space enough for over forty teams. 
Venue: Wynne Farm Fest (410 E Merriman)
Date: June 8th- June 9th
Time: 10:00 am
Admission: Free
Contact: Click Here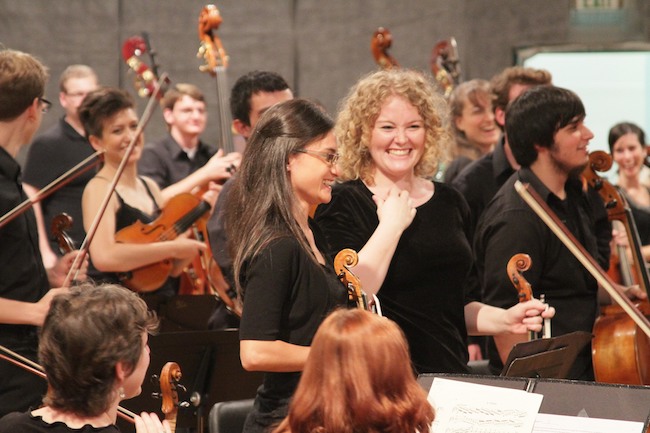 Hot Springs Music Festival (Hot Springs)
The festival brings together over 100 international musicians each June to Hot Springs. For over 20 years, the festival pairs world-class mentor musicians from major orchestras, chamber ensembles and conservatory faculties with pre-professional apprentices, all of whom receive full instructional scholarships. The two groups play "side by side" in orchestral, chamber, solo recital, and choral repertoire. For two weeks, these musicians form a unique community, presenting over 20 concerts and 250 open rehearsals for music lovers from around the globe.
Venue: Various Venues in Hot Springs
Date: June 3rd- June 16th
Time: Varies
Admission: Single concert tickets are available on a first-come-first-served basis. Festival passes also available for $150. Rehearsals are free and open to the public. $5 student tickets are also available.
Contact: Click Here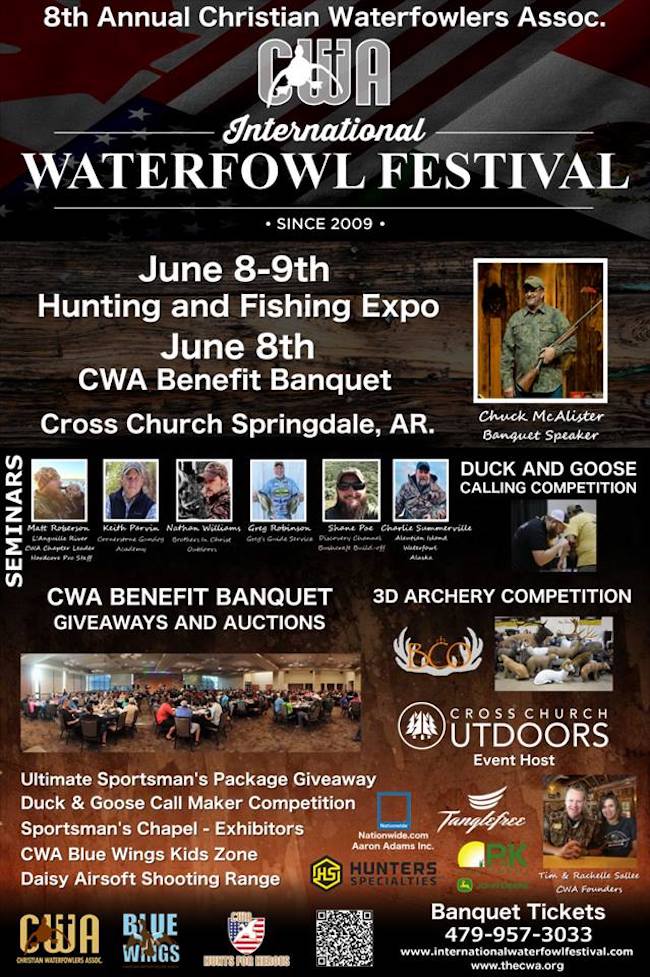 9th Annual CWA International Waterfowl Festival And Outdoor Expo (Springdale)
This is an outdoor expo for hunting, fishing, and camping. Activities include a duck and goose calling competition, duck and goose call maker competition, 3D archery competition, outdoor seminars, kids zone, CWA benefit banquet. giveaways and more.
Venue: Cross Church, Springdale
Date: June 8th- June 9th
Time: 10:00 am – 6:00 pm
Admission: Free
Contact: Click Here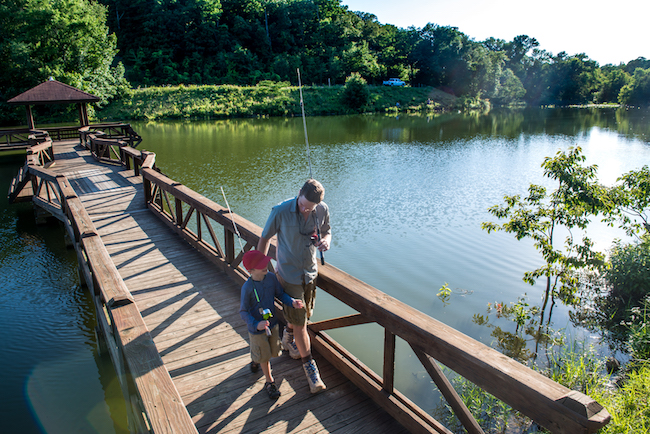 33rd Annual Fun Day (Greenbrier)
It's summertime, and we are ready to celebrate! Bring your family and friends to Woolly Hollow State Park for a day of games and contests on the beach! Sack races, pedal boat races, watermelon seed spitting, and a water balloon toss are a few of the fun events of the day. Free swimming and pedal boating too!
Venue: Wooly Hollow State Park
Date: June 7th
Time: 11:00 am – 3:00 pm
Admission: Free
Contact: 501-679-2098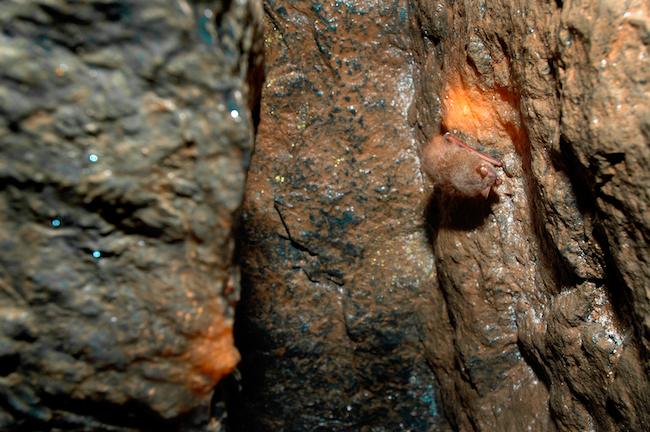 29th Annual Bat-O-Rama (West Fork)
Park staff and special guests will be on hand for some great family fun as we celebrate one of the most beneficial but misunderstood creatures in the world – BATS! Nighttime mist netting will be conducted so you can get an up-close view of these amazing creatures. Bring your cameras!
Venue: Devil's Den State Park
Date: June 8th- June 9th
Time: Varies
Admission: Free
Contact: Call for details 479-761-3325

Youth Fishing Derbies Across the State
Several places are hosting a Youth Fishing Derby this weekend. This is the PERFECT activity for a kid who loves to fish! Hook, line, and sinker! See below to find out which derby is closest to you! There will be prizes!
Petit Jean State Park
Date: June 9th
Time: 8:00 am
Admission: Free
Contact: 501-727-5441

Gillan Pond (Clarksville)
Date: June 9th
Time: 8:00 am
Admission: Free
Contact: 479-754-2864
Lake Fort Smith State Park
Date: June 9th
Time: 8:00 am
Admission: Free
Contact: 479-369-2469
Lake Charles State Park (Powhatan)
Date: June 9th
Time: 7:00 am
Admission: Free
Contact: 870-878-6595
Mississippi River State Park (Marianna)
Date: June 9th
Time: 8:00 am
Admission: Free
Contact: 870-295-4040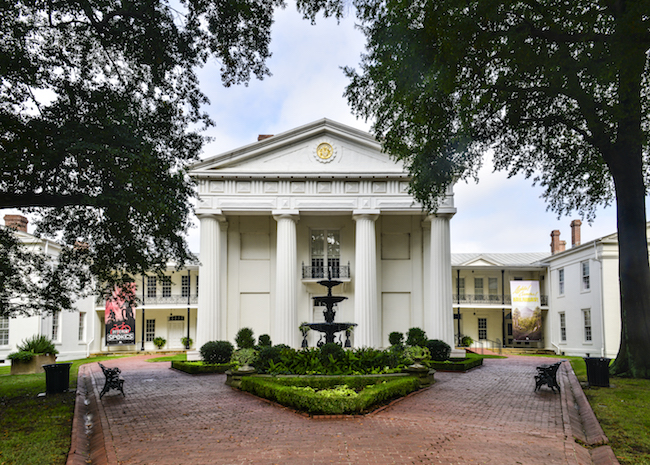 182nd Statehood Celebration (Little Rock)
Have fun and learn about your heritage with Living History Characters at "Migration Patterns & the Cultural Heritage of Arkansas Settlers," during our Celebration of Arkansas' 182nd Birthday. Old State House Museum's lawn is the place to encounter people from that time doing the activities typical for people of that period. Where did the people of Arkansas come from? Find out!
Venue: Old State House Museum
Date: June 9th
Time: 1:00 pm – 6:00 pm
Admission: Free
Contact: Click Here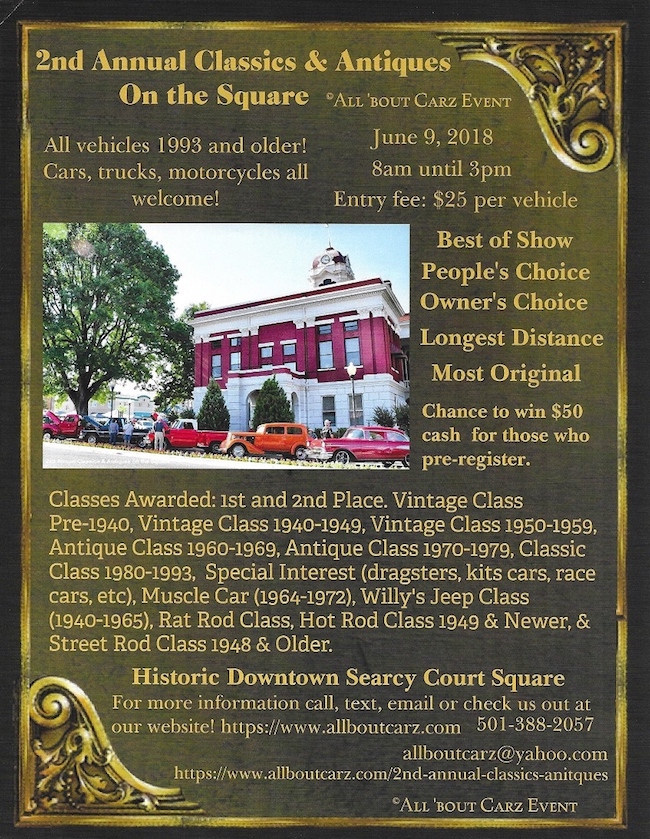 2nd Annual Classics And Antiques On The Square (Searcy)
Head to Searcy for an antique car show! Registration is $25. All vehicles must be 1993 and before and the show includes all make and model cars, trucks, motorcycles and more.
Venue: White County Court House
Date: June 9th
Time: 8:00 am – 3:00 pm
Admission: Free
Contact: Click here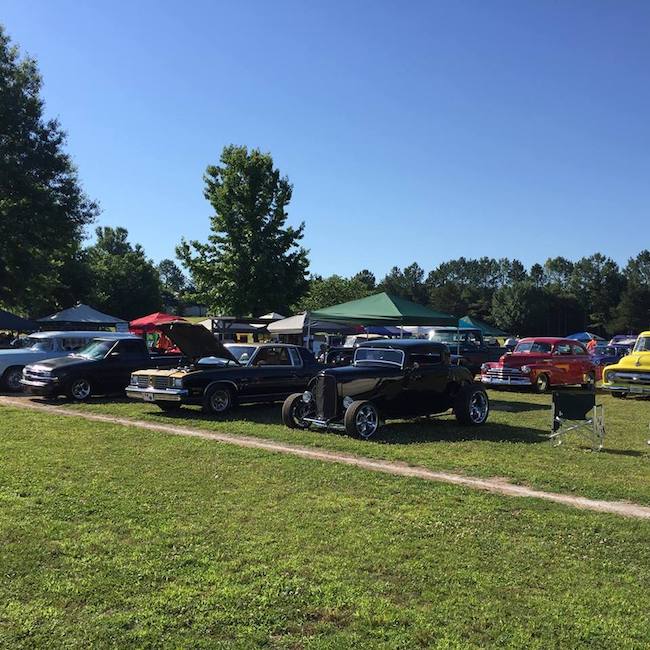 Flippin Fling (Flippin)
The Flippin Fling is an event hosted by ABC's & 123's, a 501c3 non-profit that assists children and families in need throughout the Twin Lakes Area with clothing, personal items, school supplies, and any other assistance they can offer. They also have a program to assist teenagers that wish to attend prom. In 2017, they started a scholarship program for local students that will continue this year. Featuring live music, food vendors, craft vendors, car show, 3 on 3 basketball tournament, rag ball tournament and carnival rides for the children!
Venue: Flippin City Park
Date: June 9th
Time: 8:00 am
Admission: Free
Contact: Click Here or call 870-405-8724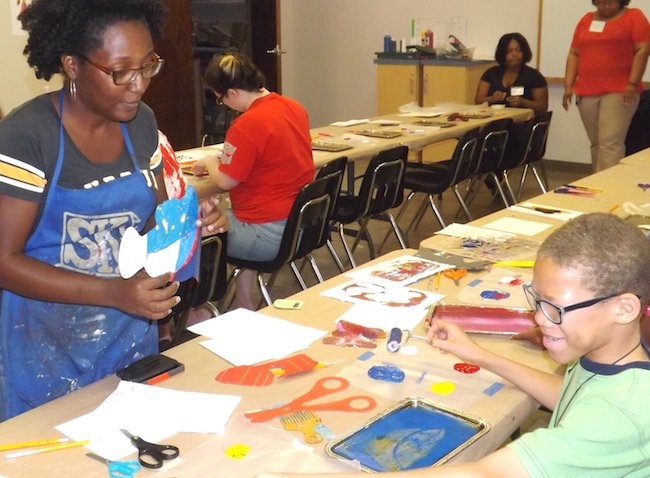 Second Saturday Family FunDay: Crafting A Character (Pine Bluff)
ASC's Second Saturday Family FunDay program offers monthly hands-on arts and science activities in which visitors create art, complete science projects, or perform dance, music, or theater. Activities complement current art or science exhibitions. Activities are free and led by visiting artists, local art educators, and ASC staff.  This month they will be working on crafting a character. Who is your character? What do they like? What scares them? Get creative as we delve into the art of storytelling and crafting characters.
Venue: Arts & Science Center for Southeast Arkansas
Date: June 9th
Time: 1:00 pm – 3:00 pm
Admission: Free
Contact: Click Here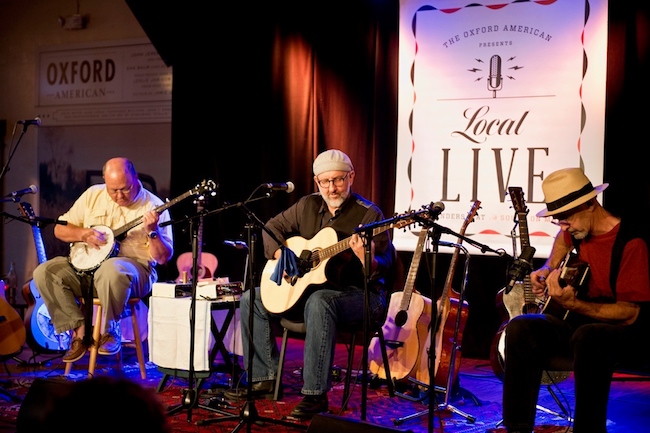 Acoustic Concert Benefit (Fairfield Bay)
Award-winning trio Finger Food will perform an eclectic blend of folksy, jazzy fingerstyle guitar. Silent auction with local art. Refreshments are included plus cash bar. Proceeds benefit the nature trails, educational facilities, and conservation programs of the South Fork Nature Center on Greers Ferry Lake.
Venue: Fairfield Bay Conference Center
Date: June 9th
Time: 6:30 pm
Admission: $45
Contact: 501-754-6444 or centralarkansastickets.com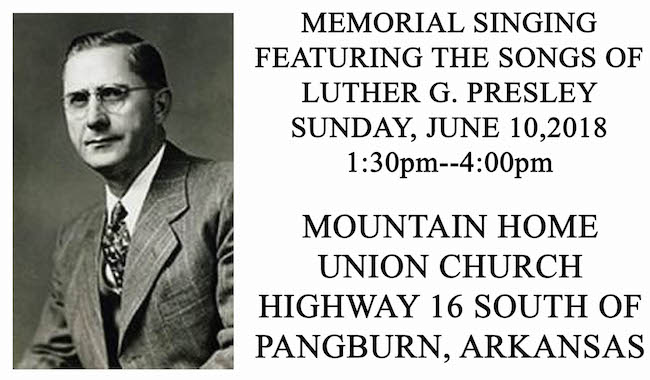 Luther G. Presley Memorial Singing (Pangburn)
Join in an afternoon of gospel singing honoring one of gospel music's greatest composers, instructors, and directors. Mr. Presley published over 1600 gospel songs and was inducted into the Southern Gospel Hall of Fame in 2008. Some of his famous compositions include: "When the Saints Go Marching In," "I'd Rather Have Jesus," "I'll Have A New Life." Broadcast Music, Inc. Reports that his songs are still played on today's media thousands of times each month. The Southern Tradition gospel group will be the hosts.
Venue: Mountain Home Union Church
Date: June 10th
Time: 1:30 pm
Admission: Free
Contact: Click Here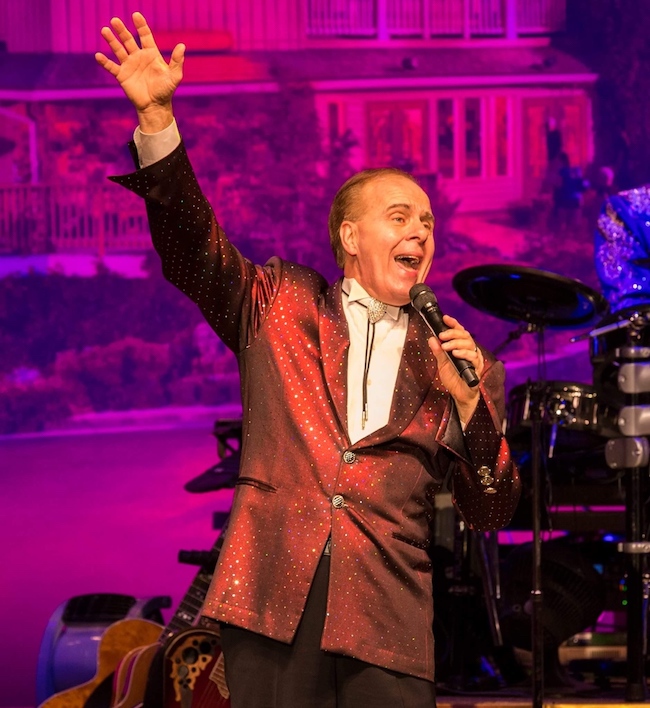 6th Annual Clinton Gospel Fest (Clinton)
The event will have performances by The Kings Highway, Hallelujah Harmony, Spirit Breez, Sulphur Road Pickers, May Garden, and Charles Crain from Presley's in Branson. There will be BBQ, burgers, and more.
Venue: Clinton Public School
Date: June 9th
Time: 11:00 am – 5:00 pm
Admission: Free
Contact: Click Here