Community pride is important to towns, especially small towns; it can determine whether it will thrive or wither away. Many bedroom communities are in the process of revitalizing their downtown areas to boost their image and bring in new customers and residents to help grow the area, and Morrilton is no exception. When you drive down Broadway, you will find what has become THE community gathering place on Main Street, Big Cuppa, located between the historic Rialto Theatre and the old downtown bank building. Owners Jaime and Marty Krutz had been in Morrilton for quite a few years working at the University of Arkansas Community College-Morrilton when they decided that they wanted to be a part of the Morrilton downtown revitalization.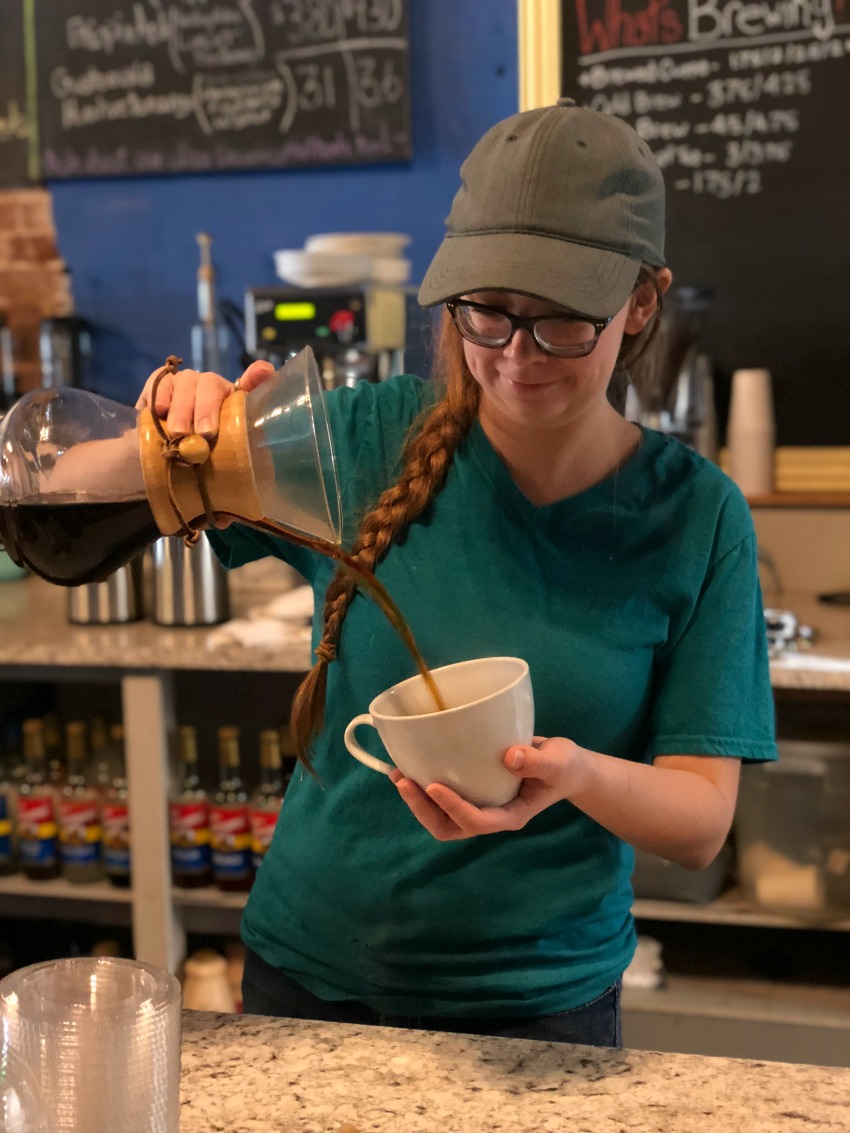 Barista Danielle Krutz serves up a cup of deliciousness at Big Cuppa.
"We'd walk around at night, and we'd see the buildings that weren't being used; it was just kind of sad," Jaime said. As a career counselor by trade, Jaime was concerned about how the people of Morrilton felt about their hometown. "Morrilton, in general, had a lot of negative self-talk, but then if you were to call them on it, I heard 'Morrilton is the best,' so I knew there was an underlying pride in the town."
The Krutz's vision and their son's love of coffee led the family to open Morrilton's favorite coffee spot, Big Cuppa. "Our goal was to (help) revitalize downtown and promote community pride. That's literally in our mission statement…to have a venue for new shared experiences. That's the brunt of why we do what we do," Jaime said.
Well, it seems that the people of Morrilton have welcomed their presence. With over a year under their belts, they have hired extra baristas to help with the growing business that passes through the door and added a lunch menu. When I said that the town loves Big Cuppa, Jaime responded, "We love the town, so it's a mutual relationship."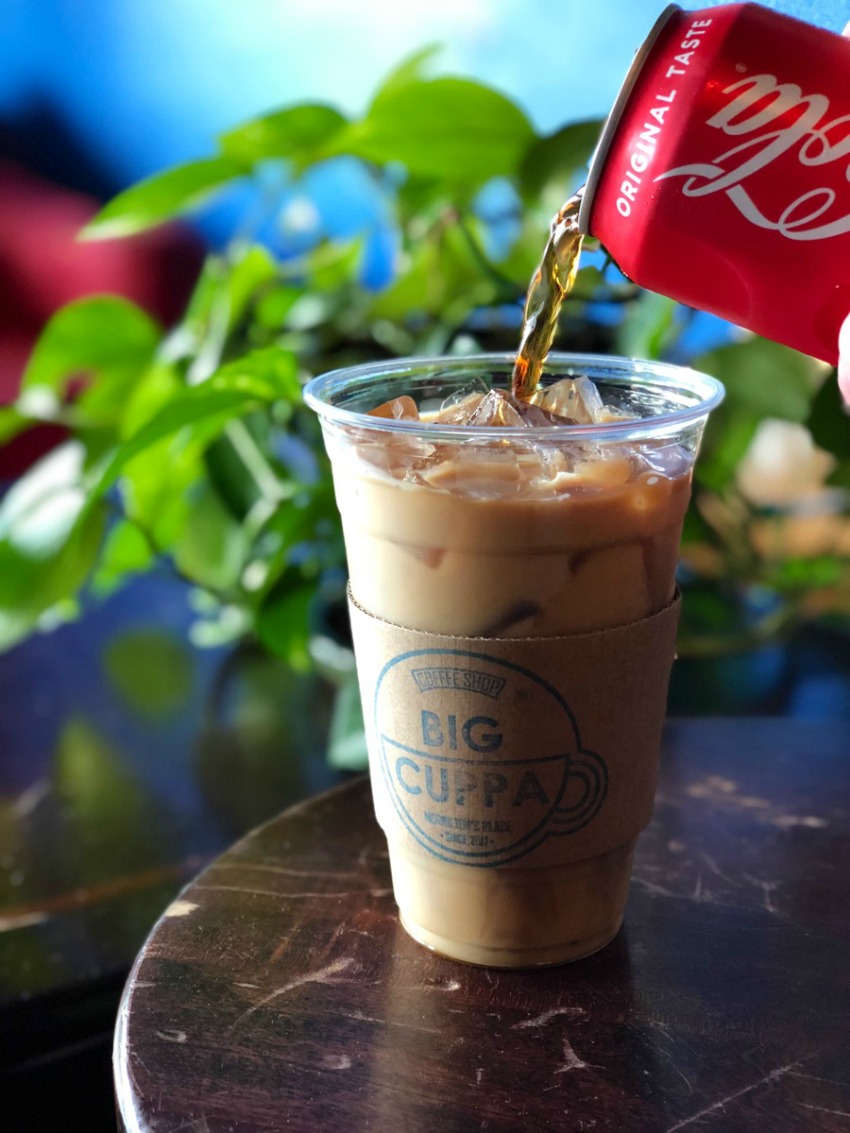 Opening up the restaurant to allow events free-of-charge has been another way to give back and gather people. "We've had art shows, karaoke, trivia night, and we are open to whatever. Wonder Woman has passed by me heading to the bathroom. We've had some crazy things here, and I love it. I can't wait to see what else the town has to offer," Jamie said.
Current Big Cuppa specials include the Shaken MoTown: our regular MoTown shaken and served over ice;  Honey Lavender Latte: all local products including local lavender, honey, and espresso; Sinus Blaster: mint green tea with a little honey and our signature steamed lemonade; and Bedtime Hug: chamomile tea sweetened with cardamom and steamed milk.
They will launch their fall drink menu September 7th featuring Pumpkin; a Rosemary Maple Latte: rosemary syrup made in-house; and a Cinnamon White Mocha: made with a cinnamon syrup also made in house!  Plus, a returning fall favorite,  Mayan Mocha, which is a blend of Dark Chocolate sauce (made in-house), ginger, nutmeg, cinnamon, cayenne, espresso and milk!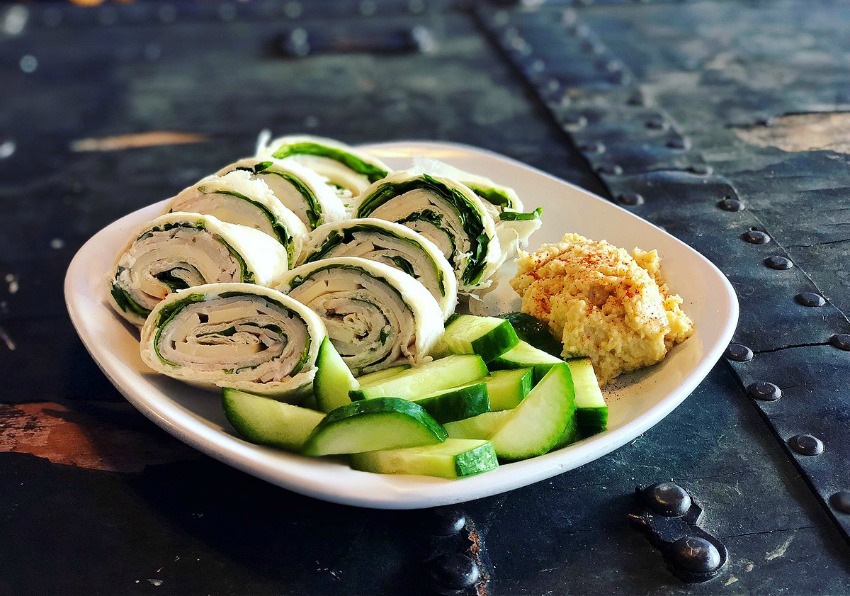 And let's not forget the desserts sure to please any sweets lover. There are the classic homemade chocolate chip cookies, various muffins, scones offered in blueberry, cinnamon apple and raspberry white chocolate, several selections of bagels, and, my personal favorite, the S'mores Bars. Though your inner child will tell you to pick that up and devour it, if you want to stay clean, use a fork.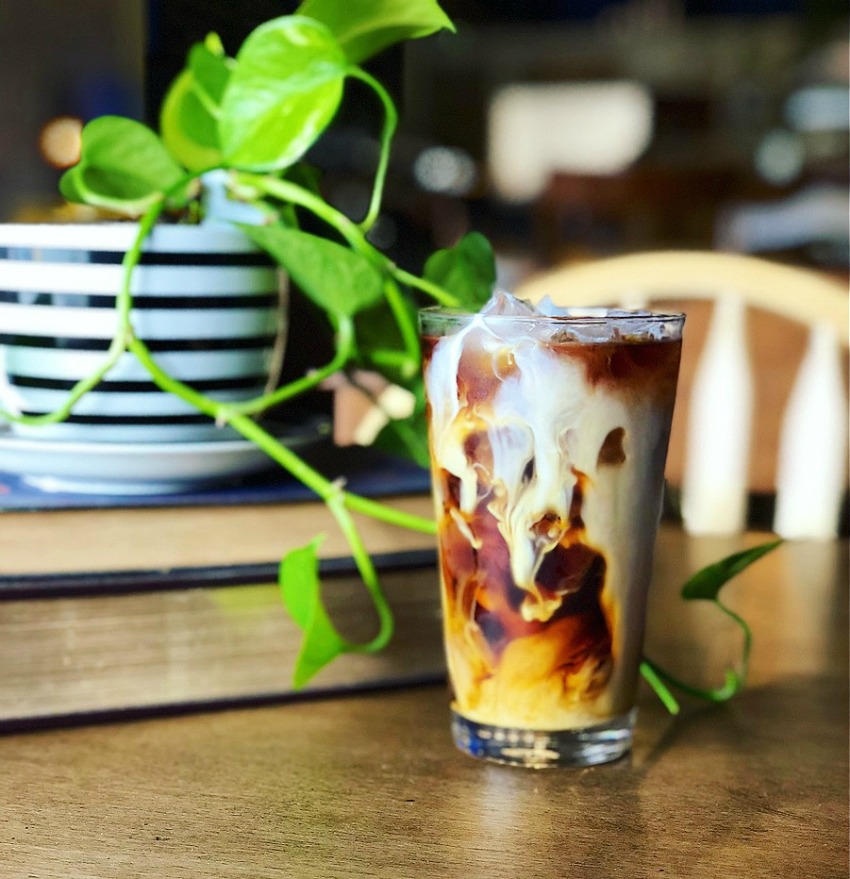 What can be better than all that? How about another location? Over the summer, Big Cuppa expanded onto the campus of UACCM. Jaime said, "We adore them. I believe in their mission statement as much as I believe in my own. It makes sense to go there." I am sure the college students will appreciate not having to drive across town for their daily dose of Big Cuppa. Check out their Facebook page for their latest specials and more information on the UACCM location. 
Big Cuppa
205 E Broadway, Morrilton, Arkansas
Monday – Friday 6:30 a.m. – 6 p.m.; Saturday 9 a.m. – 6 p.m.; Closed Sunday