About once a year my family and I drive up to Bentonville from Little Rock for a short weekend getaway. We usually stay at the 21c Hotel, visit Crystal Bridges Museum for a few hours, and spend the rest of the time at many of the restaurants on or near the town square.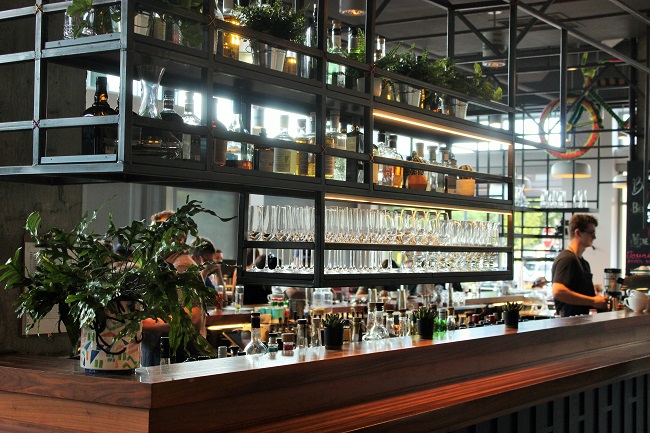 One of those restaurants, Pressroom, is typically on the itinerary for Sunday brunch.
I've always enjoyed Pressroom, both at its previous location and the current digs conveniently connected to Onyx Coffee Lab. The interior, with a modern, open layout, is about as well-designed as a restaurant gets. It's a space you want to be in—that is, unless you prefer outdoor dining. But if that's the case, then you're still in luck as Pressroom also has a beautiful patio area. Everything about the restaurant's décor is spot-on, especially the enormous, eye-catching bar that resides right in the middle of the action.
But enough about the setting. Let's get to the food. At brunch, there is no shortage of options.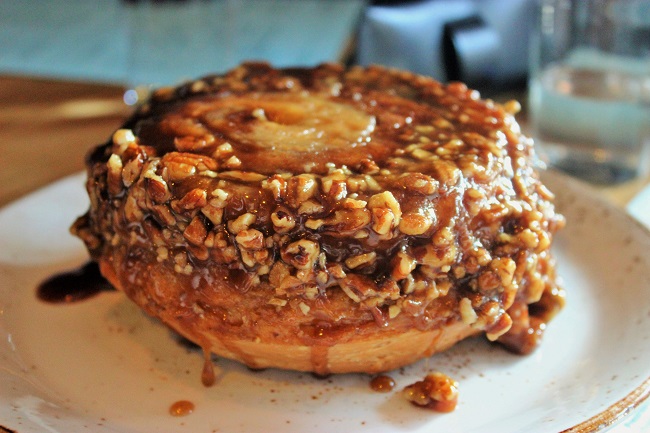 You'll want to start with a bang by making sure to order the massive "Big Sticky" Roll, an item which is also smartly displayed near the entrance. One glance is all it takes, and your willpower will quickly fade into the midmorning air. Gooey, sticky, buttery and covered with pecans, the "Big Sticky" Roll is a must-order, especially if you're dining with four or more people and looking for a blast of sugar but not the guilt of devouring one of these rolls by yourself.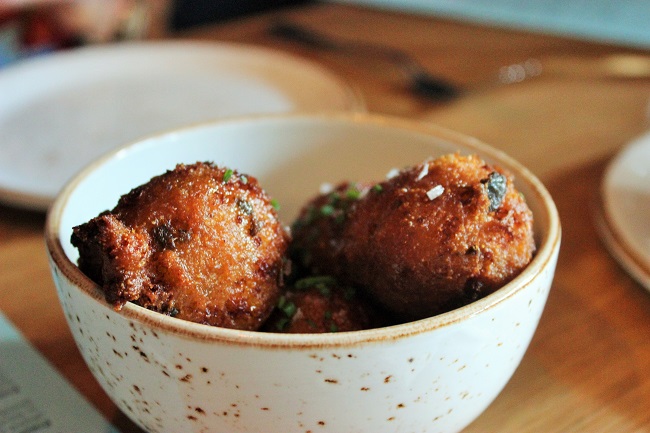 The rest of the "Starters" portion of the menu is also a hit, including the Hush Puppies, which are essentially balls of fried dough with a delicate balance of jalapeño, cheddar, honey, lemon flavors, along with the Buttermilk Beignets covered in powdered sugar. While ordering all three appetizers is a tad bit gluttonous, I've never associated brunch with a time to count calories, so go for it.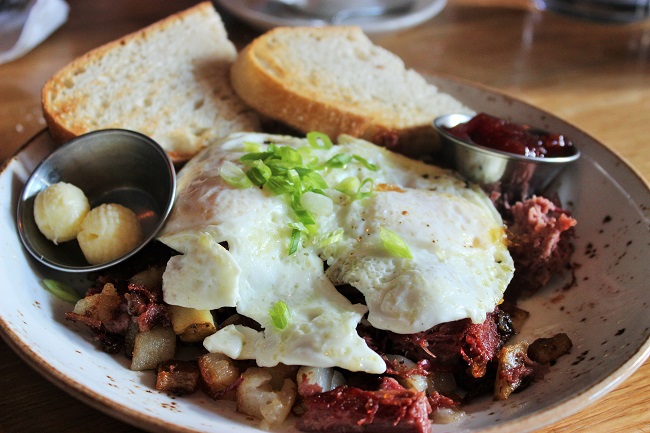 For entrées, the Salmon Platter with smoked salmon, bibb lettuce, pickled onion, pickled veggies, 60-minute egg, and tomato is a perfect sharing dish, as is the Press-trami Hash with house-smoked corned beef, potatoes, onions and local eggs. The tender chunks of smoky beef highlighted this dish and ultimately proved to be our table's absolute favorite. Other items to consider ordering include the Ham Benedict with double smoked ham, poached egg, hollandaise, and frites and the Pressroom Granola with whole milk yogurt, coconut granola and seasonal fruit. Pressroom even has its version of the ever-popular Avocado Toast.
Good food and service in a relaxed, yet vibrant atmosphere is the name of the game at Pressroom. I'm already looking forward to my next visit. Hopefully, it will be sooner than a year.
What to Drink
Pressroom's brunch service features these drinks: Bloody Mary, Mimosa and a Pirate's Pick-Me-Up (spiced rum, espresso amaro, almond milk, orgeat).
Pressroom
100 NW 2nd St #100, Bentonville
Hours: Monday-Friday 7 a.m.-10 p.m.; Saturday 9 a.m.-10 p.m.; Sunday 9 a.m.-3 p.m.
Phone: (479) 657-2905