December is here and it is the most wonderful time of year. Christmas classics fall into my ears and twinkling lights delight my eyes. Adding to the mix of the wondrous holiday cheer would be the aroma of coffee as I walk through the squeaky door of Jitterbug Coffeehouse in Heber Springs. Bring your family, bring your sweetie, or just bring yourself to sit on the comfy couch and let your hands hug the mug as you enjoy time passing.
Recently, we found ourselves in need of another family adventure and we let our appetites be our guide. Without hesitation, we headed for our small-town coffeehouse. We stepped through the door and our tiny member was off! He went straight to the counter to place his order. This would be the most difficult aspect of our trip to Jitterbug, for the options are numerous and narrowing to just one is quite impossible. We had intentions of only ordering food but shortly found ourselves back at the counter ready for coffee and an ice cream treat.
As we sipped and rested, we decided it would be a good day for the games to come out for play. Obviously, we are not in-it-to-win-it with our little boy, but our family trips to Jitterbug often include pulling a few selections stashed on the shelves. Our family is not considered loud or bothersome, we are welcome. Our trips are never a disappointment, not even for the little one. Whether we cuddle on the couch, or demand space at a table, we know this is our happy place.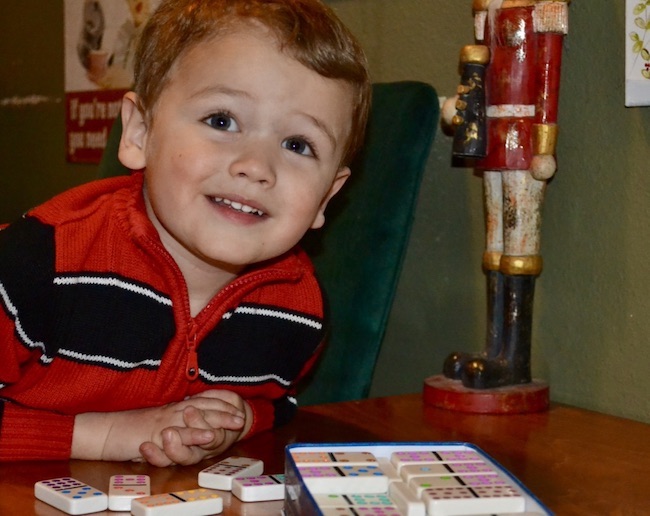 Christmas is always a very busy time of year, and many of us are moving too fast to look down, but finding yourself in Jitterbug would be a wonderful place to slow down and experience the season. The owner, Scott Jones, believes spreading Christmas spirit throughout the coffeehouse will ensure customers are greeted with a small dose of holiday happiness. Each year regular customers will bring families from various places and the coffeehouse strives to be the place you are proud to bring your whole family for the holidays. When speaking with Mr. Jones you can see he desires to spread seasonal cheer through delicious lunches or glorious mug masterpieces. Some of my favorite Christmas creations include peppermint bark mocha coffees or hot chocolates, gingerbread lattes and pumpkin white chocolate mochas. All of which we have slowly sipped with our own family from near and far away.
As a family, we do find ourselves squeaking through the door of Jitterbug quite often. At times, it makes me laugh to think how I was not quite so thrilled with moving to a smaller town. I was afraid of leaving the big city gourmet coffee I had grown to desire. I could not imagine myself finding happiness in a mug anywhere else. Well, I fell in love from the very first cuppa' joe from my small-town coffeehouse. Since then, I have become a self-proclaimed Jitterbugger as I have watched it grow over the years.
In the many trips where I sat and sipped, I have gleaned the history of the business and the walls. The 'Bug spans for more than 10 years in Heber Springs with multiple locations, until it finally landed in the historical district. Mr. Jones purchased the coffeehouse a little over five years ago, and since then has focused on creating a welcoming atmosphere. You will find it is quite unique inside the Jitterbug being located in the 1938 Houston building with wood floors, tin ceilings, an eclectic mix of tables and artwork. Knowing that Arkansas offers various crafts and goodies, the owner includes as much small-town Arkansas as possible. Local artists' masterpieces on the wall, coffee sleeves which support the foster care program in the county, ice cream from a neighboring town, and of course, coffee from a local roasterie.  The more and more Mr. Jones fits local and small into the Jitterbug, the more special the place feels to all.
Whether you are studying for an exam, planning with colleagues, adventuring with family, or just plain worn from your day; the 'Bug welcomes you. The owner wanted his customers to have a place where the whole family could find something to enjoy. A coffeehouse to come and sit for a while as you enjoy friendly greetings, yummy drinks and of course, food!
In your many travels this holiday season, I hope you will make time for a small-town adventure to a Heber Springs coffee house. The atmosphere this holiday will make your trip worth every moment. I know you will be greeted with holiday cheer, happiness in a cup, and find something for the whole family to enjoy.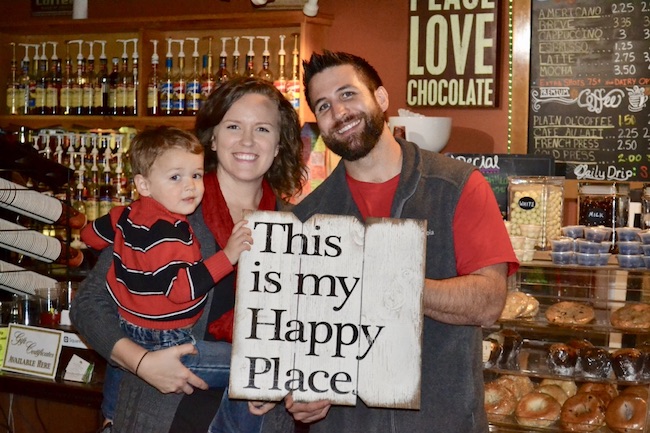 "Drip for dad, latte for mom, ice cream or smoothies for the kids"
~ Scott Jones, Owner/Manager Jitterbug Coffeehouse, LLC