If you're anything like me, I bet you probably have a ton of go-to recipes in your cooking arsenal — tried and true, can't fail concoctions that you've been making for years. They're perfect for when friends or family members come over and you want to impress in both the taste and presentation departments. 
For me, one of those recipes is this Pan-Seared Tuna with Avocado, Soy, Ginger, and Lime from Tyler Florence. I've had good results with many of Florence's recipes, and this one is no different. Simply put, this might be my favorite at-home recipe, mainly because it's easy to prepare, has a ton of ingredients I love, and is quite versatile.
Click on the recipe and give it a good once-over, but you'll also probably want to follow a few of these suggestions:
1. Purchase the very best tuna you can find. I was able to purchase some sushi grade, flash frozen tuna at my local Fresh Market in Little Rock. Each filet cost around $5, which was quite reasonable given the high quality.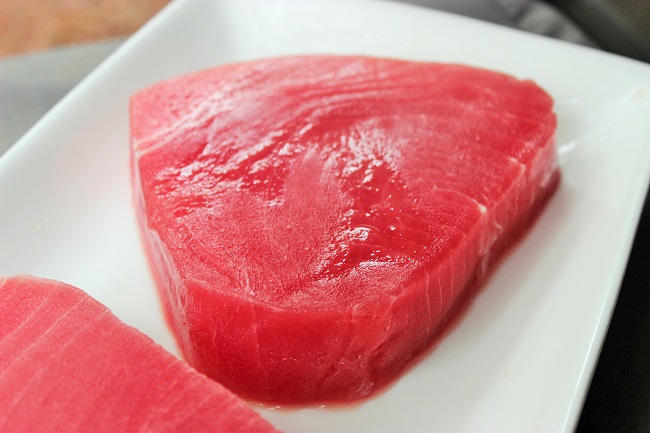 2. Prep your tuna by washing and patting dry with a paper towel. You'll want to eliminate as much moisture as possible from the exterior of the fish before it hits the cast iron skillet. Speaking of the skillet, make sure it is piping hot! I like to see a little smoke rising from the pan. That will ensure an excellent sear on the tuna.
3. Get all of the ingredients prepped and ready to go by the time the fish hits the skillet. The tuna only needs two minutes to cook, so you'll want to have everything else ready. This includes slicing the jalapeño, grating the ginger and garlic, measuring out the soy sauce and olive oil, cutting the avocado, and squeezing the lime.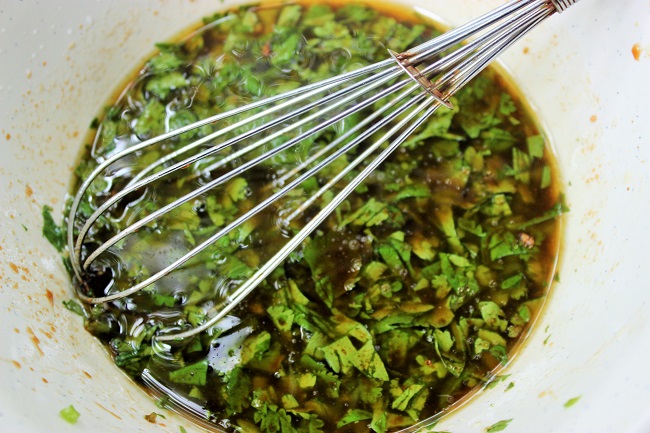 4. Make sure to grate the ginger. This releases a ton of flavor and ensures that it integrates with the other ingredients. Big (or even small) chunks of fresh ginger can be quite overwhelming to the palette. 
5. I favor a rare piece of tuna, so I typically sear it for no more than one minute on each side. Feel free to increase the cooking time per side for a more cooked-through piece of fish.
6. Let the fish rest and then slice against the grain in ¼-inch pieces, not too thick but not too thin.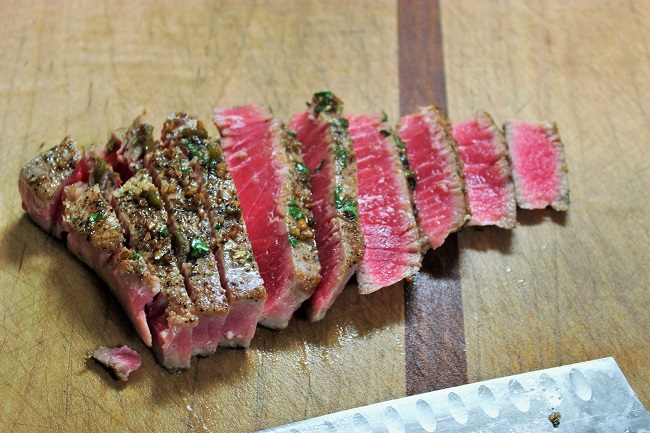 The end product will blow you away in both taste and presentation. There is such an amazing balance of sweet, acidic, and spicy flavors and the beautiful color of the tuna will blow you away. Also, if there's an ingredient you don't favor, like cilantro, just leave it out.
And the best part?
Pair the fish with some rice and serve it as an entree or break out the toothpicks and set it out as an appetizer for a dinner party. We are entering the holiday season, so I thought this would be an ideal recipe to share.
This recipe is absolute gold.
Promise.