On my early evening walks, I'll often catch a flutter of movement out of the corner of my eye. When I focus on what I think is a bird, I realize the small creature darting around is actually a bat.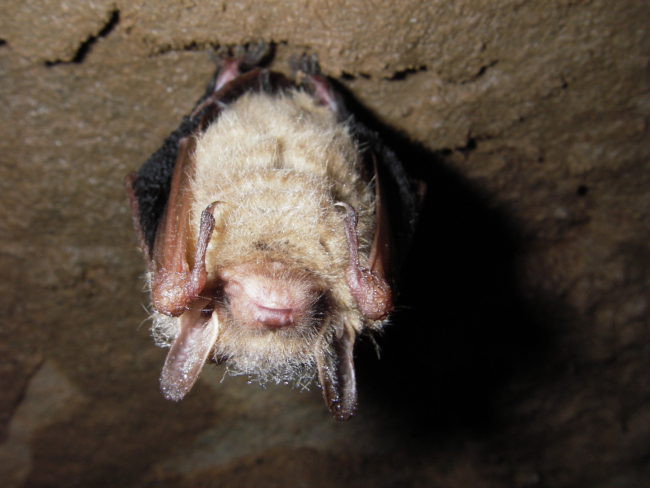 Bats are mammals just like humans, which means we share some common traits. Bats are warm-blooded and nurse their pups with milk. However, bats are the only mammals that can fly. They have five elongated fingers with two layers of skin stretched across the digits, creating flexible wings.
Bats are amazing fliers and if you're observant, you'll see them demonstrate their maneuverability as they pursue insects in a sometimes-erratic pattern. They locate their prey using echolocation. Their high-pitched squeaks bounce off the insects and create echoes, alerting the bat to their locations. These squeaks are so high, we can't hear them. Bats can see, contrary to the popular saying, but since they do most of their hunting at night, echolocation is a far more effective way for them to capture their prey.
Arkansas Bats
Bats are an ancient species going back an estimated 50-60 million years. Today, there are over 1,200 species in existence around the world. Arkansas is home to 16 species of bats. The Brazilian free tailed bat can be found in the south and east of the state. These bats have been clocked at 99 mph, making it the fastest animal in flight. The red bat can be found across the state and is the most common type of bat in our area. While all bats are protected by law, the Indiana, gray, and Ozark big-eared bats are endangered. And the Northern long-eared bat is threatened.
The Tri-colored bat can be found across Arkansas.
Though blood-sucking bats are the species that draw the most attention, most bats eat insects, and they consume them in impressive numbers. Some bats can eat a third to half of their body weight every night. Do you hate mosquitoes? Bats are often an under-credited but important control on the insect population. The gray bat can consume 5,000 small insects in an hour.
Bats live in many of the caves that proliferate the Ozark and Ouachita Mountains. Chris McAllister is a professor of Biology at Eastern Oklahoma State College. Born and raised in Arkansas, he became interested in studying bats more in-depth when he accompanied Arkansas's famous bat biologist, Dr. V. Rick McDaniel, on caving expeditions.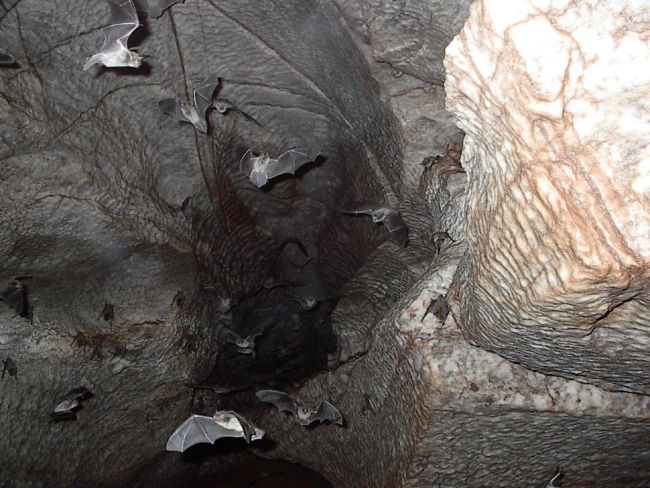 McAllister studied under Dr. McDaniel at Arkansas State University and honed his focus to external and internal parasites in bats. He has written several publications on parasites in bats and described several new species of parasites specific to Arkansas bats. McAllister says his work with bats is far from being done. He has yet to survey many species for parasites and expects to find new species of parasites to describe, as well.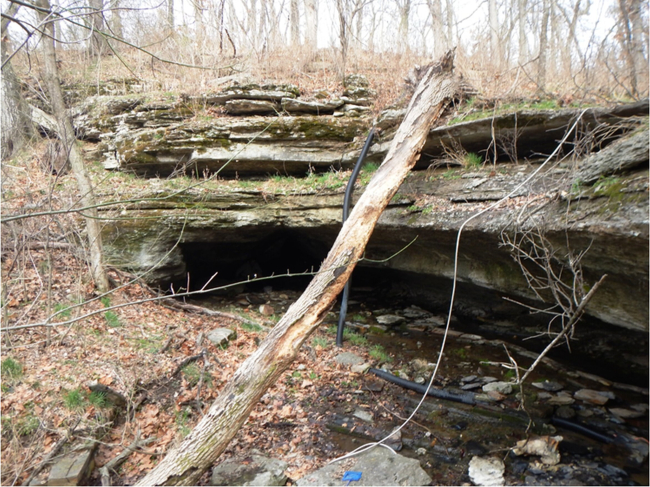 Diseases
McAllister says bats are "part of the special biota of the state…and should be appreciated and protected." One measure of protection has been to gate and lock cave entrances, especially since the emergence of White Nose Syndrome, a fungal infection afflicting bats across the nation. By locking caves with gates that allow bats to enter and exit but keep people out, the bats are less likely to be disturbed, especially during their winter hibernation. If bats awaken early, they use up stores of energy too quickly and may not have enough to carry them through winter. White Nose Syndrome has killed almost 6 million bats in the United States and has been found in bat populations across Arkansas.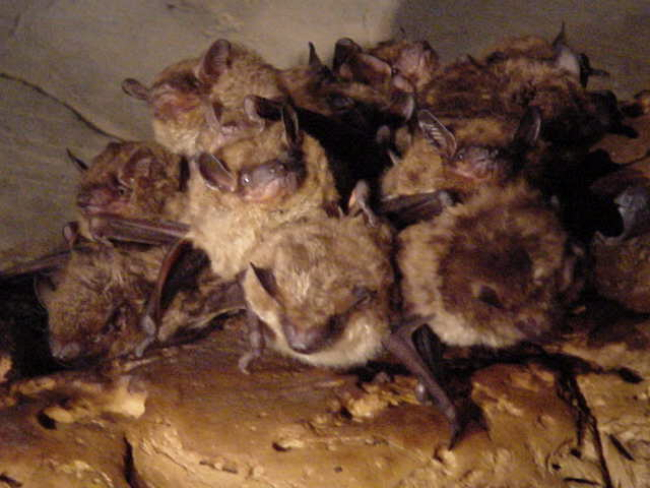 Another disease often attributed to bats is rabies. McAllister notes that the threat of contracting rabies from bats is rare but bats do sometimes carry the disease. If you come across a lone bat, especially during the day, it's best to avoid touching it and contact the Arkansas Game and Fish Commission.
Habitat
Caves aren't the only place you'll find bats roosting during the day. They can also be found in trees, barns, and other man-made structures. Most bats awaken around twilight to feed and return to their roosts by dawn. Bats live in groups called colonies that can number into the thousands or even millions. Since bats play such a vital role in our ecosystem, maintaining thriving colonies of bats is important. You can make the area around your home more inviting by constructing a bat box and limiting or eliminating the use of pesticides. And of course, when you see a bat busily chasing insects on a warm Arkansas evening, thank it for its hard work and enjoy the acrobatics of an amazing mammal.
Photo Credits: Entry to Savoy Cave, Private Property, Washington County by Chris McAllister and used with permission. Bat photos are by Terry Mitchell and used with permission.