Located in the beautiful city of Heber Springs in North Central Arkansas is a small family business that has created quite an enduring legacy.
Julian and Sons began as a father living his dream of building and working with his hands along with his four sons. It has grown into a renowned custom woodworking shop that has created masterpieces for clients all over the world.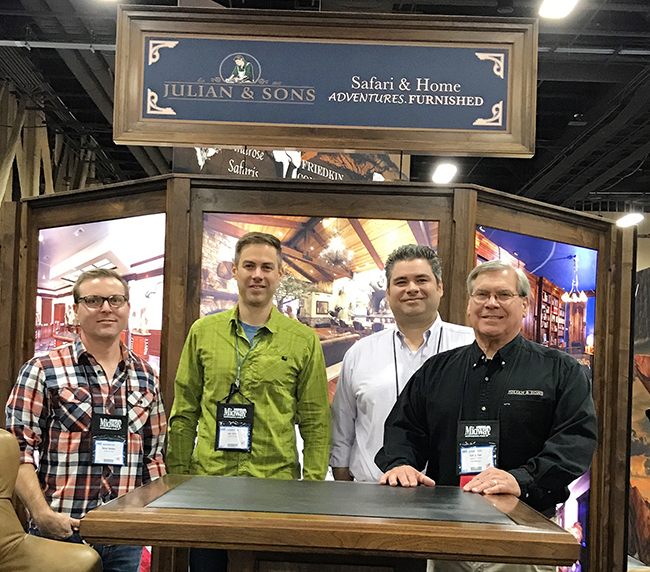 The works of art created by Julian and Sons are as interesting and memorable as Julian himself. Tom Julian grew up in southern California. Tom's father had many experiences in life; he played professional football and flew planes in the Navy. Eventually, his father became a custom home builder, and Tom would also work on the job sites, usually cleaning or helping the "old-timers" install crown molding and set cabinetry.
The experiences gained from working with these men would serve Tom well throughout his life and career, as would the love of working with his hands as his father did.
One day, a newly wedded Tom got stuck on the highway in the normal heavy traffic. This southern California boy who loved to surf determined in his mind that enough was enough; he was moving away from the people, the traffic, and the pollution. He wanted to live somewhere like Oregon, where you could hunt and fish and have fresh air and peace.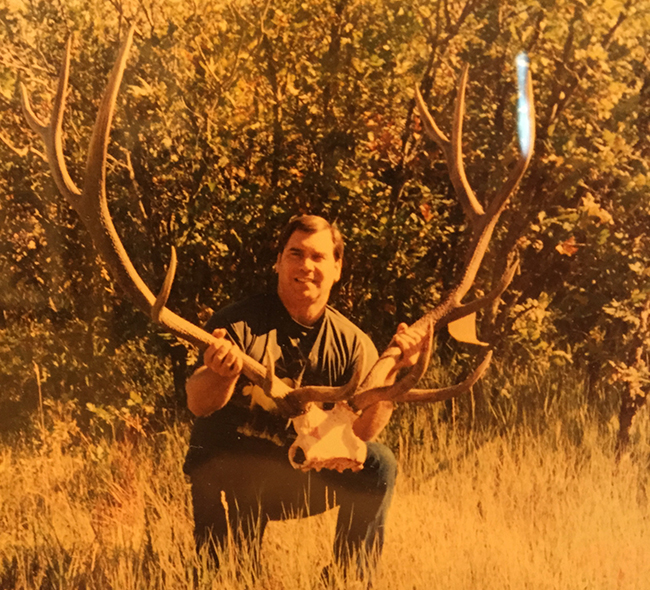 His wife knew a place just like that: Arkansas. She explained that she used to visit her relatives in Arkansas every summer, and she was sure that Tom would love it. At first hearing this, he snickered and laughed as a California boy would: "Oh, you mean like Jethro and Jed!"
Soon they vacationed in Arkansas for a week or so. Immediately after returning to California, he announced to everyone he was moving to Arkansas, to which everyone laughed as he did prior. It didn't matter though; they packed up everything, sold what they couldn't carry, and moved to Arkansas in 1972.
Tom initially worked for his wife's uncle laying bricks, but he eventually followed his father's footsteps and started his own company. After being joined by his younger brother and a best friend from high school, they formed Julian Brothers Construction Company. A rift eventually developed because Tom's focus was on detail work and creating something special for his customers; the others focused on projects that were more profitable. The other two broke away, and Tom continued the business on his own.
Tom eventually grew tired of being a general contractor; dealing with subcontractors, being on the phone for most of the day, and having to direct everything on the job site left little opportunity for Tom to 'work with his hands.' In 1983, he made another major decision to build solid wood furniture.
After about a year, he gathered his young family, a wife and four sons, for a family meeting. He wanted to create a family business with his boys at his side. Tom said he'd change the Italian proverb from "the family that works together stays together" to "the family that works together eats." So, starting out, he taught the boys (the oldest was 11) how to sand and to apply finishes. The business incorporated in 1985.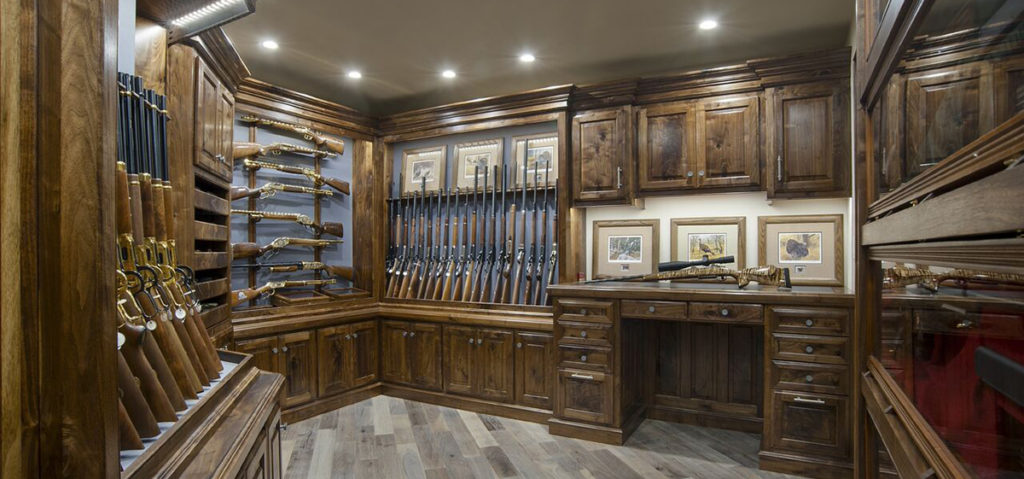 One day, someone suggested Tom attend the Safari Club International, which is a game hunter's convention attended by people from all over the world. He built a few desks, gun cabinets, and other items for his booth and went to SCI. There Tom met a big game hunter who bought everything he had built. This was an affirmation that he was on the right path. He had the artistic talent and ability to create masterpieces, and now he found his main customer base. From this point on, his focus was on trophy rooms and libraries.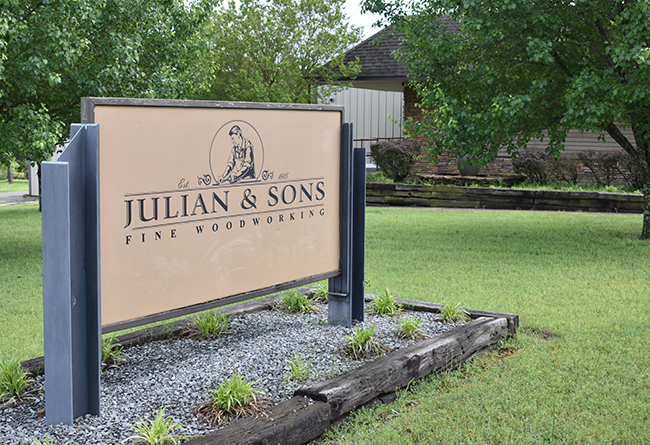 As his boys got older and more experienced, Tom could focus more on gaining experience in design. Jacob and Joe became partners and have been instrumental in running the business and marketing so Tom can handle design.
Over the years, Julian and Sons has grown to 25 employees. Their products have been installed all over the world – places like Alaska, Hawaii, Puerto Rico, Canada, South Africa, and of course, Arkansas. They have been featured in The Wall Street Journal, Popular Mechanics, and many outdoor magazines.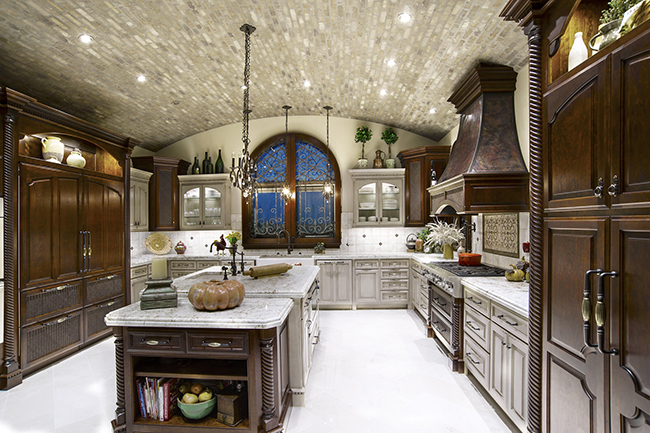 They are still widely known for building elaborate high-dollar trophy and gun rooms, and they focus much of their attention and marketing efforts in that direction. But they also design and build kitchen cabinetry, executive offices, and more. What sets them apart from others is they are a turn-key operation. Julian and Sons is there from beginning to end: the design, build, delivery, installation and finish work.
The Julians are a staple at Safari Club International, where Tom now does a seminar for designing and building trophy rooms. Their booths themselves are works of art that feature their incredible cabinetry, high-quality images and lighting.
Over the years, the Julians have built lasting and close relationships with their clients. Many customers come back again and again. Tom, Jacob, and Joe are known as personable, honest and highly detailed, and no project is complete until it meets the highest standards.
Even though Tom was a California boy, he now considers himself an Arkansan. Arkansas is the pure country that he dreamed about all those years ago, and it's a place where he planted deep roots while raising a family and building a successful business. Jacob and Joe now have families of their own, and they both love the business and Arkansas just as much as their father.
You can learn more about the Julians at http://www.julianandsons.com/ .
SaveSave
SaveSave
SaveSave
SaveSave