It's all Meg Ryan's fault.
Remember that cute little bookshop she owns in the film You've Got Mail? Lindsay Ramsey fell in love with that fictional shop. For years she harbored a dream of owning her own retail shop, but she worked as a bank marketing director and the idea seemed impossible. Then she took on a few small business clients for marketing. One of them happened to be a toy store. Lindsay loved the store's purpose and toys. When her family decided to return to her hometown of Fayetteville, she decided to combine her admiration for her former client's store and her long-awaited dream of a shop of her own and Kindness & Joy Toys was born.

Lindsay started small in the summer of 2016 with a few parties within friends' homes and a pop-up shop at Rick's Bakery in late summer. Encouraged by the response she got, she took Kindness & Joy Toys to the Northwest Arkansas Boutique Show in the fall. This proved to be the launching point Lindsay needed. People loved the toys she had carefully hand-picked.
When the opportunity came in early 2017 to open a small space within another store, Lindsay grabbed it. In her 250 square feet of space, she started showcasing the kinds of toys that make K & J Toys different. 2018 brought another opportunity for a retail space of her own and Lindsay saw the dream of her own store fully realized when Kindness & Joy Toys moved next door to Mama Carmen's Espresso Cafe on College Avenue in Fayetteville.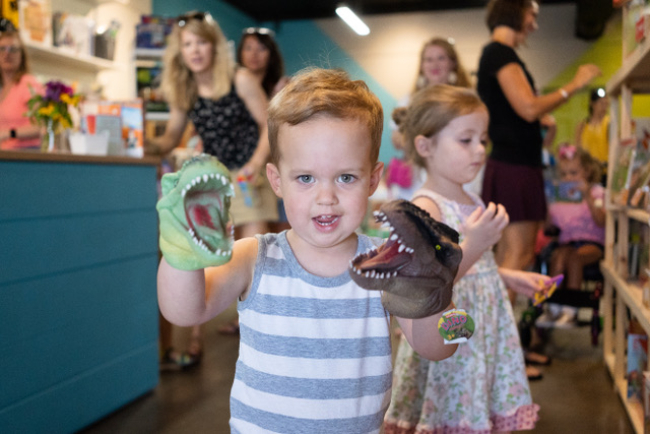 Everything about Kindness & Joy Toys is intentional, beginning with the name. Watching a child's face light up as they open a gift and find a toy they love brings as much joy to the giver as the child. For Lindsay, the kindness of the giver and the joy of the child epitomizes what Kindness & Joy Toys is all about.
When you walk into K & J Toys, you're immediately drawn to the tables and shelves stocked with toys not typically carried by big box stores. Lindsay handpicks every single item in the store. "I'm not looking for just any toy out there. I want unique, high quality, age-appropriate toys," she says. From baby-safe wooden toys to cool puzzles, art supplies, magnetic darts and more, each toy is considered carefully. Kids are encouraged to play and toys are within easy reach of eager hands, including mine when I spy the books and science kits. My toddler happily pulls all the baby bottles off the shelf to feed each baby doll.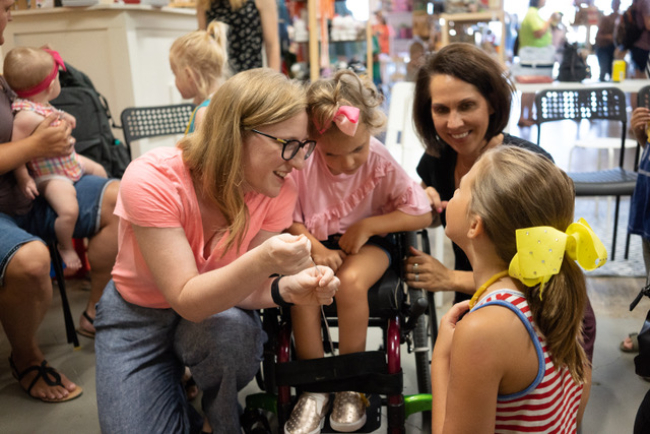 In the back of the store, a large open space welcomes groups for Kindness & Joy's frequent story times, for science events and provides a place for parents to simply hang out and drink coffee while kids explore. This extra space connects to Lindsay's vision for her store. "I want it to be a place where moms can connect and find community, where kids can come and play and feel comfortable and safe and experience toys."
As a mom of three boys, Lindsay understands just how busy life is as a working parent. She also believes it helps her connect with her customers. "I'm in it with you," she laughs. "I'm trying to teach my kids how to balance technology. I'm testing the toys and trying them out. I know what my kids like and what my kids don't buy. I know about the different aspects of toys and play. That's what makes us different — that we can relate to kids."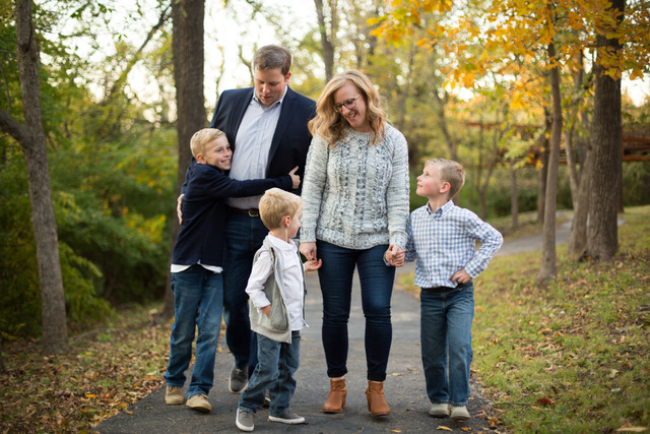 She also gets how busy life can be, and juggling all of those obligations for parents and children can be overwhelming. For that reason, Kindness & Joy Toys offers the birthday valet service. Parents call or text the store with their need or select a gift on the website and the toy will be gift wrapped and ready for pickup or hand-delivered to you or the gift recipient.
The birthday basket is another store favorite. Children visit the store and fill a basket with their favorite toys for an upcoming party, then invite their birthday guests to purchase from the basket. Kindness & Joy Toys is all about making it convenient for gift givers to find the perfect toy. This holiday season, the store will also host community organizations to wrap gifts for shoppers and give customers the chance to learn about the groups and support them.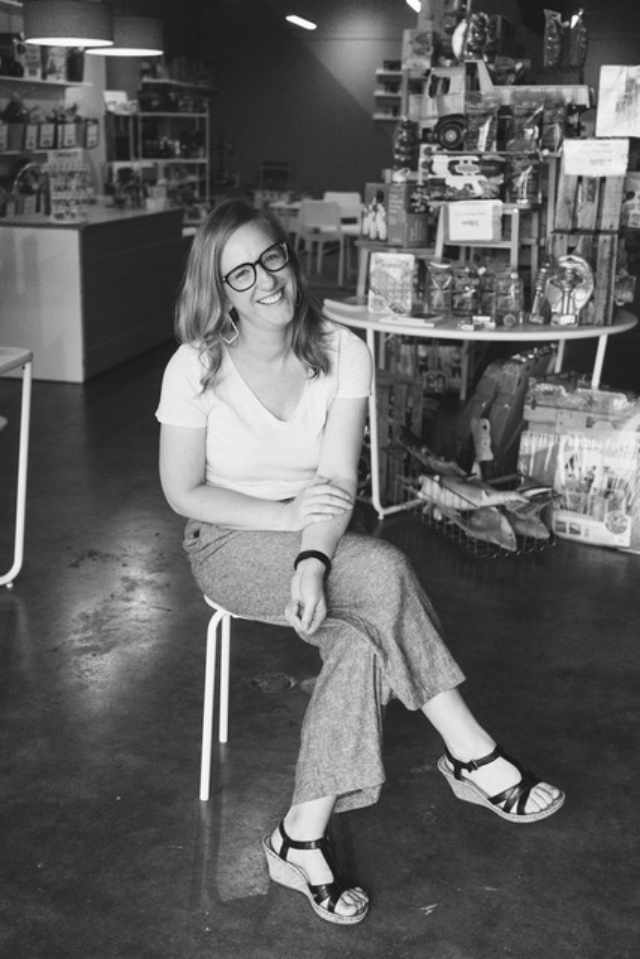 Though the last two years have been a whirlwind, Lindsay is grateful she's had the chance to open her own store. "It's allowed me to take a leap, to put myself out there in a way I didn't know I could. I've learned a lot about myself, I've had to follow through on some things, I've had to make some hard decisions. I have people in my life that I consider friends that I would have never met had it not been for Kindness and Joy."
Twenty years after the release of a little movie called You've Got Mail, Kindness and Joy Toys is bringing joy to life one toy at a time. 
Explore Kindness and Joy Toys online at kindnessandjoytoys.com and catch upcoming events on their Facebook page, or visit the store in person at 2852 N College Avenue in Fayetteville.
Photos are courtesy of Lindsay Ramsey and used with permission.