Interest in pottery began to rise in Arkansas in the late 1970s and continues today. Potters work all over the state making pieces that are not only beautiful but also useful. The "Shop Local" movement has encouraged many Arkansans to seek out functional products for their homes that are made right in their own backyard.
Pottery is thought to be one of the oldest human inventions. Archaeologists have discovered pieces dating back as far as 29,000 B.C., yet pottery methods haven't changed all that much in those years. Wet clay is molded and shaped, dried, and then fired at high temperatures. Traditionally this would have been done with wood and fire. Modern kilns are often electric or gas-powered, but the concept is the same. Pottery can be both functional and beautiful, and the act of forming something useful out of a piece of the earth is what draws many artists to the craft.
The studio craft movement began in the US following World War II. In studio craft, artists are directly involved in the production of work, not just the conceptualizing of it. Working artist's studios began to pop up all over the country. Artists were working with traditional materials but also began to experiment with new materials and methods. Potential customers could watch the artist at work, physically making the piece they were purchasing, which created a meaningful connection between the art, the object, the artist, and the customer.
You can find potters working in studios all over Arkansas. These five pottery studios are just a sampling of the talent that is abundant across the state.
Sunrise Pottery Studio
Dawn Lagerstedt
304 McDonald Meadows Pkwy
Bull Shoals, Arkansas
Website / Facebook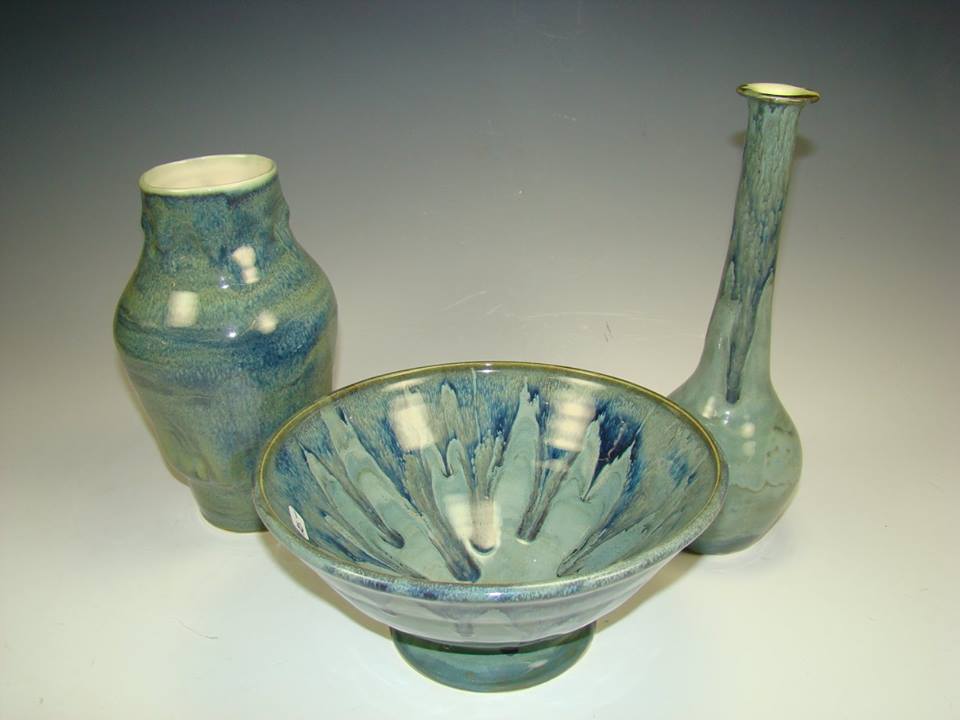 Dawn Lagerstedt's love for ceramics began when she was in college studying to be an art teacher. An elementary teaching position in a suburban Chicago school district provided her with the opportunity to work on her hand-building skills. It wasn't until her daughter when off to college that she took the time to reintroduce herself to wheel-throwing techniques.
Upon retiring after 32 years of teaching, Lagerstedt moved to Bull Shoals where she opened up a residential studio and gallery. Not letting all those years of teaching experience go to waste, she uses her studio to teach others hand-building and wheel-throwing skills through a variety of classes and workshops.
Lagerstedt makes functional stoneware pottery and likes experimenting by decorating the surface with textural and visual designs. Using different techniques, she can use clay and other materials to create a variety of forms, surface texture and color effects. She especially enjoys layering colors and creating drip effects. Lagerstedt tries to make each piece unique and let it be an expression of itself. She sells her work at her gallery and through local art fairs with the help of her husband. She will be at "Autumn Days" in Historic Branson from Sept. 13-15 and will be at the Mountain Home Fairgrounds in November.
Old Dog Pottery
Dale and Liane Maddox
Petit Jean Arkansas
870-847-5079
Website / Instagram / Facebook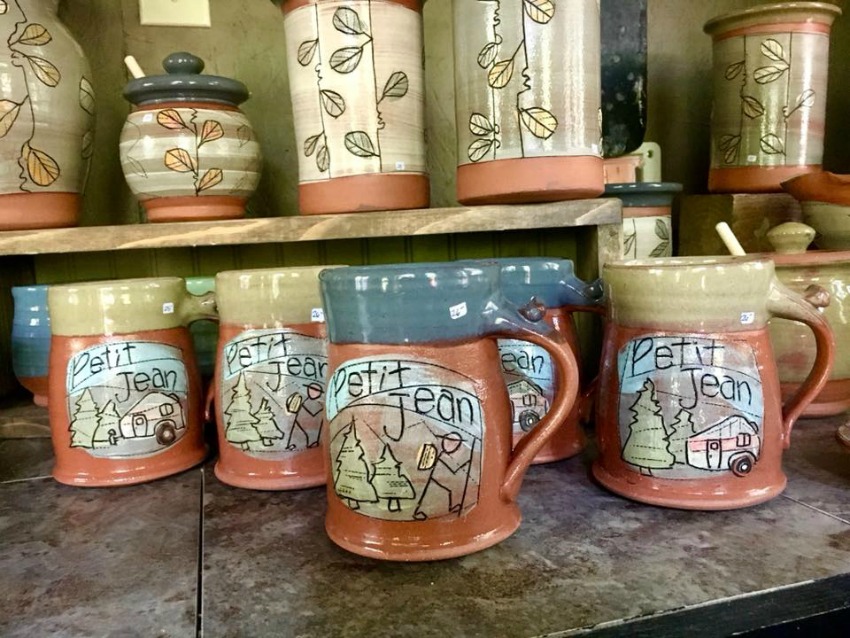 Dale and Liane Maddox met in the 1970s while studying art at Arkansas State University. They attended graduate school out of state before returning to Hardy where they opened a studio and showroom, Hardy Pottery, which they ran for 37 years. During that time, they raised four children who are now raising children of their own.
When they decided to sell their business and relocate in 2016, they renamed themselves "Old Dog Pottery" as a play on the adage about old dog's learning new tricks. Even though they would be continuing to work with pottery, they would be in a new space, and with all the change, they decided it was also time to learn some new tricks.
The Maddox's found themselves atop Petit Jean Mountain where they fell in love with the people and the community. As they set up their new studio, they began experimenting with earthenware in addition to the stoneware with which they were familiar. They have also been mixing and trying new glazes and styles of work.
Although the Maddox's are not set up for retail sales at their home studio, you can purchase their work online, at Mammoth Springs State Park, Mather Lodge at Petit Jean and the Visitor Center at Petit Jean State Park. You can also find their work at Oliver's Antiques in Jacksonville, Me & McGee Market in Lonoke, and Hardy Pottery in Hardy.
Perry/Munn Pottery at the Ozark Folk Center
Judi Munn and John Perry
1032 Park Avenue
Mountain View, AR 72560
870-269-3851
Website / Facebook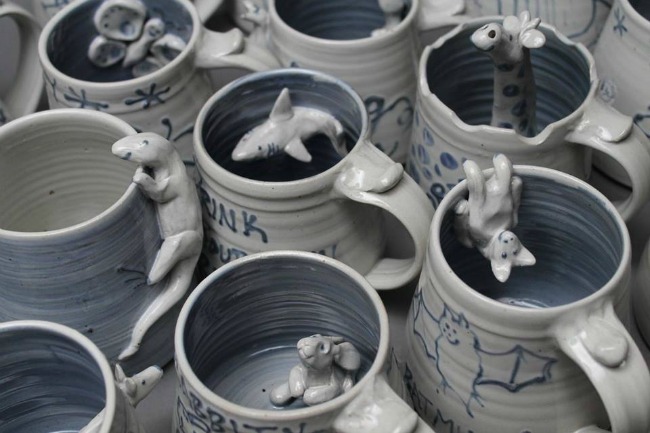 Judi Munn knew she wanted to be an artist since she was a little girl. She did the "practical" thing and went to college to get a teaching degree, but when the opportunity arose for her to take a pottery apprenticeship at the Ozark Folk Center in 1992, she couldn't say no. John Perry came on as an apprentice in 1996, and they have continued to work and teach there ever since.
Munn and Perry work in their home studio and can usually be found in the Craft Village Pottery Studio at the Ozark Folk Center Tuesday through Saturday. The majority of their pottery is wheel-thrown although Munn does enjoy hand-building as well. At the Ozark Folk Center, their work is fired in the Waste Vegetable Oil Kiln or the Wood-fired Groundhog Kiln. At home, they use an electric kiln. All of their work is food and dishwasher safe. They are most well known for their "critter pottery" which includes a variety of slip decorated pieces. Their "Critter Cups" which have a tiny sculpted animal inside of them are also popular, especially with children.
You will have an opportunity to see Munn and Perry at work in their home studio during the "Off The Beaten Path Studio Tour" which will take place in and around Mountain View from Sept. 14-16.
Osage Clayworks
Newt Lale
16501 Highway 103 S
Alpena, Arkansas
(870) 553-2513
Website / Facebook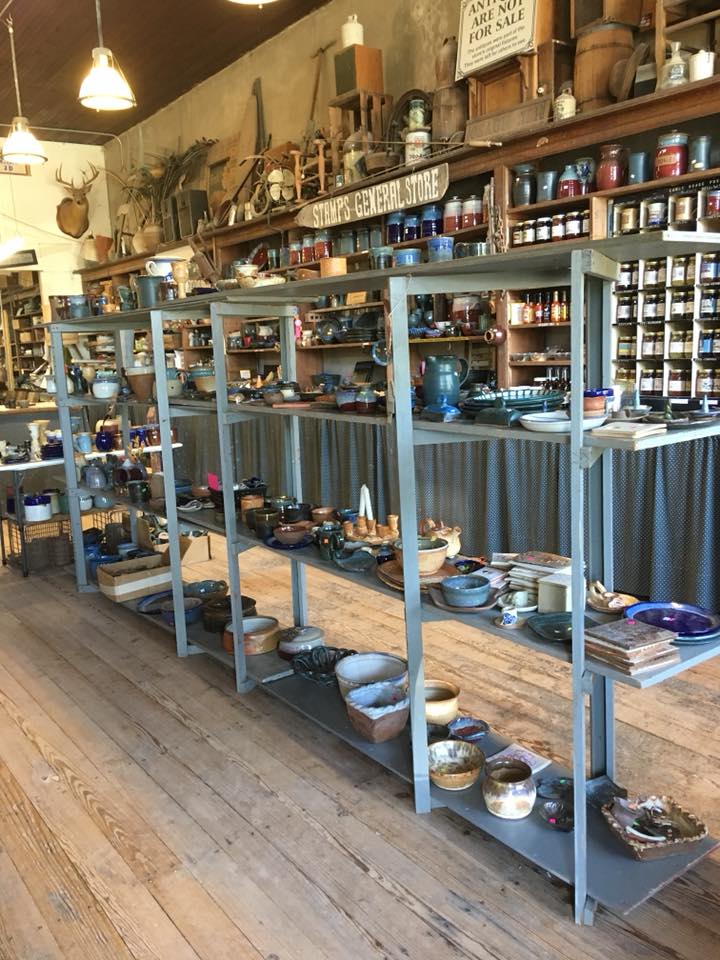 Osage Clayworks is located in downtown Osage, in the former Stamps General Store building which was built in 1901. The "neat old building" certainly adds to the charm, but the work of Newt Lale is an attraction in and of itself.
With more than 30 years of experience making pottery, Lale's pieces are expertly crafted and are fired right inside the studio/store. The selection of pieces you will find is seemingly endless. They make jewelry holders, mugs, garden markers and Christmas ornaments. You will also find napkin holders, toothpick holders, jugs, vases and even chess pieces. They sell food-safe pieces in a large variety of colors and styles. There is something for everyone.
Osage Clayworks is located near Eureka Springs and Branson, Mo., and is well worth the trip the next time you venture to that area of Arkansas.
Fox Pass Pottery
Jim and Barbara Larkin
379 Fox Pass, Hot Springs, AR 71901
(501) 623-9906
Website / Facebook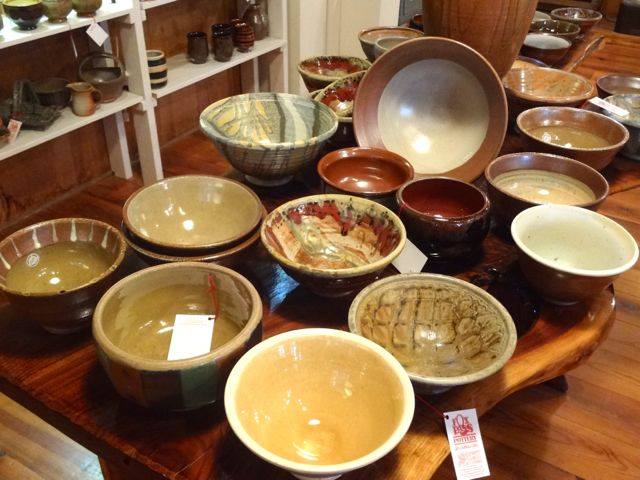 Jim and Barbara Larkin have been working together in their Hot Springs studio since 1973. The gray and red, wood and tin structure is charming and inviting, and the Larkin's encourage customers to not only browse their showroom but watch them work and even ask questions.
Barbara Larkin prefers hand-building methods while Jim uses a wheel. The Larkins mix their own glazes and create a variety of durable pieces which are safe for everyday household use. In addition to their gas kiln, they also use a wood-fired salt kiln. These pieces are often fired unglazed, getting their patina from the reaction of the wood ash and the sodium. Salt is injected into the wood-fired kiln when it reaches peak temperatures, and the chemical reaction creates an array of beautiful earth tone colors. There is always a bit of mystery and surprise when the kiln is unloaded.
Fox Pass is open Tuesday through Saturday, although they often close for holidays and occasionally take an extended winter break.
Cover photo is from the Wood-fired Groundhog kiln at the Ozark Folk Center and contains work by Perry/Munn Pottery.