Some of us know from an early age what we want to be when we "grow up." Others, like Jon Hatton, Creator and Owner of Rock City Thumps, stumble on to their destiny by way of a 'happy accident.'
During a six-month recovery from a run-in with a table saw that left him injured and bored, Hatton discovered a career that would allow him to make a name for himself by turning common items into blue-tooth hi-fi boomboxes. Using old suitcase and YouTube videos, Hatton built his first boombox as well as the beginning of a "booming" business.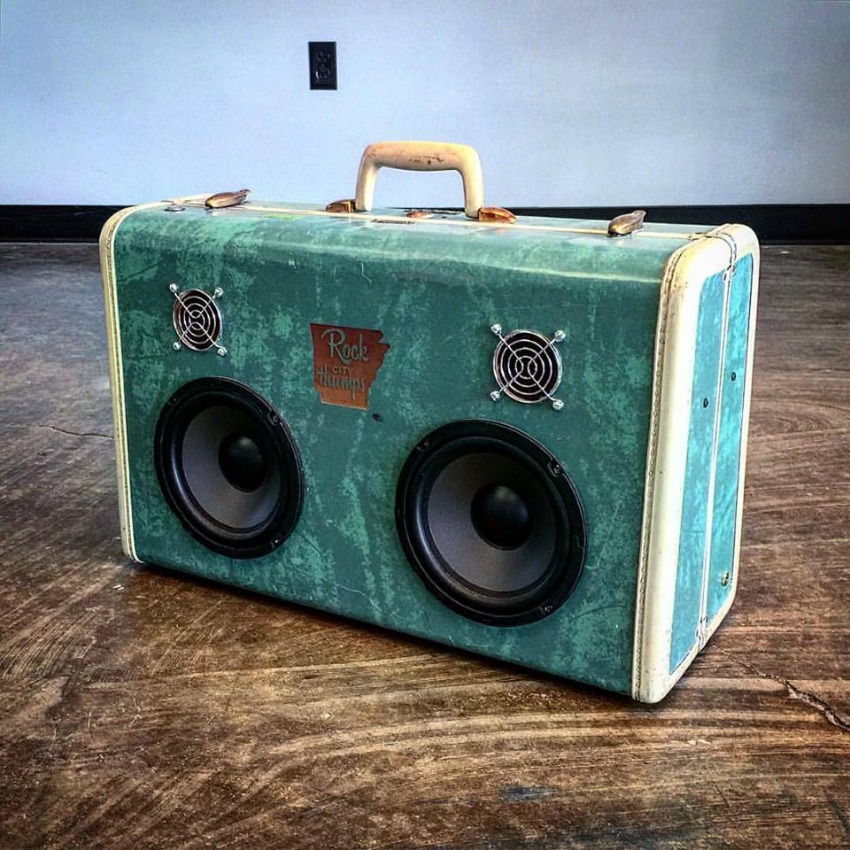 Rock City Thumps' Beginnings
Hatton comes from a family that values and appreciates the arts. With an art teacher mother and a woodworker father, Hatton has been making things for as long as he can recall. Creativity and the need to tinker are in his blood and fuel his need to always be doing something with his hands.
After earning a degree in theology and student ministry, Hatton moved to California, but the career left him seeking more, and he found himself back home in Arkansas where he worked a variety of jobs, most recently as a product designer for a local company. Hatton developed an interest in building reclaimed wood furniture, a hobby he enjoyed and would likely still be happily doing if not for a severe injury from a table saw.
Following surgery on a cut finger, Hatton was forced to keep the finger bandaged and his hand relatively immobile for over six months. With nothing but time on his injured hands and limited use of them, Hatton sought out something he could do to stave off boredom. Recalling a boombox he had seen nearly ten years earlier while in California, Hatton had been intrigued by the device made out of an old suitcase and a set of speakers but had walked away from the $1200 price tag.
"The speaker was so cool, but it wasn't something I could afford. I filed the idea away, though, hoping someday I would come back to it."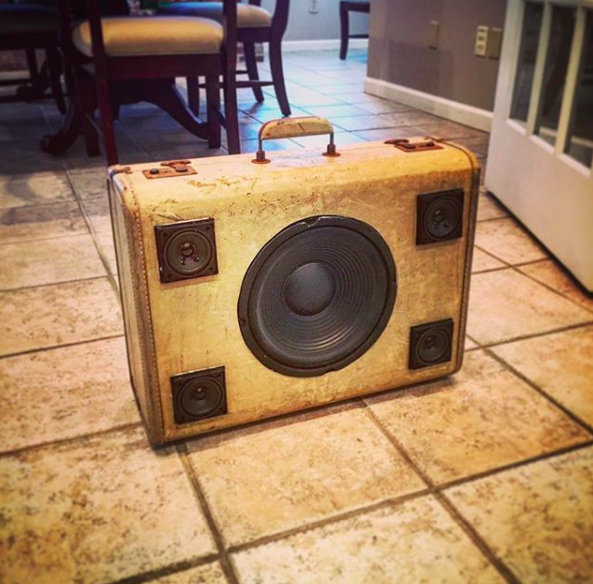 Jon Hatton's first handmade boombox.
That day came about five years ago when Hatton dug out a tattered old suitcase, cut a few holes in it and added some speakers. He toted it to a party and immediately began receiving requests from friends. His first boomboxes seem almost primitive compared to his more recent projects, but interest grew quickly and with it, the need to learn new skills and improve his craftsmanship.
Developing His Craft
Being familiar with the art communities and arts and craft movements in the Central Arkansas area, Hatton was no stranger to the Innovation Hub located in North Little Rock. Taking a laser cutting class at the Hub, he realized he could use the technology to cut the holes in his suitcases. The precision of the laser cuts immediately improved his craftsmanship, but, more importantly, it allowed him to make his own box enclosures which meant he could expand his design ideas beyond the fun but limited confines of a suitcase.
Still working full time as a product designer, Hatton continued to grow his business but wasn't able to devote himself to making speakers full time. Since most of his design concepts required the use of a laser cutter, Hatton was also limited by the availability of studio time at the Innovation Hub. Dedicated and determined, he saved up enough to purchase his own laser cutter which increased his production. Hatton left his product design job about four months ago and now makes boomboxes full time.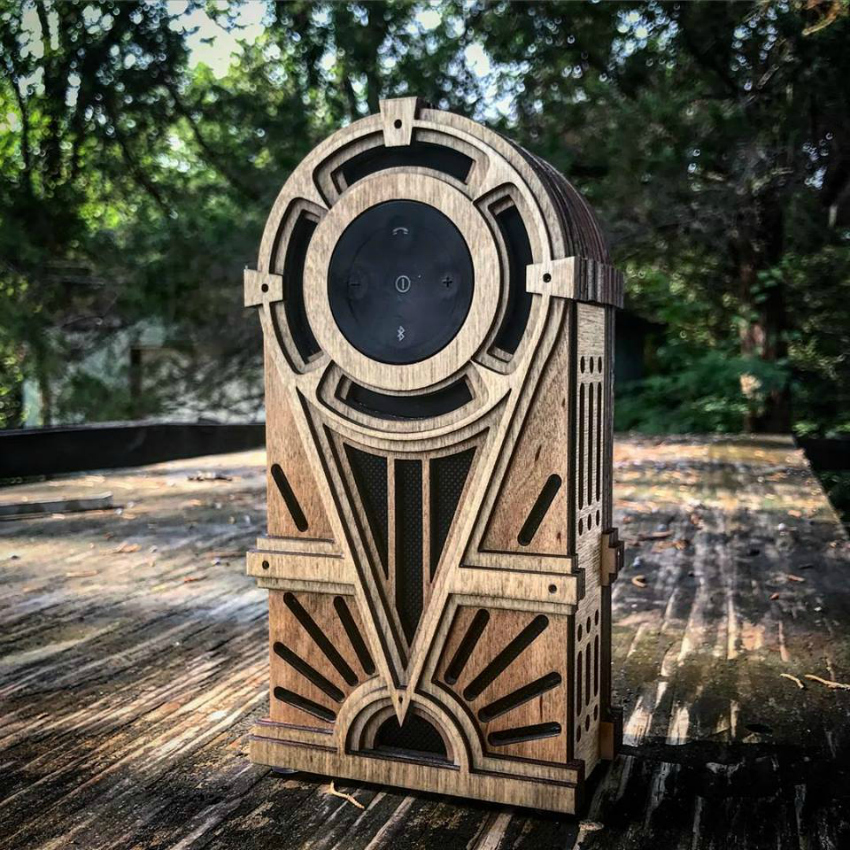 One of the things Hatton enjoys most about his job is that it requires a constant learning curve. New technology and new opportunities to learn something keep Hatton looking for new ways to take his work to the next level. A recent commissioned piece led Hatton to learn how to use computer programming to build a speaker with sound reactive lighting. He researched and found the best type of lights for the project and pulled the project together in about four weeks. 
"I love the commissioned pieces. I love it when a customer hands me something to work with or even just gives me an idea they have in their head and says, "Go Wild!" It's great when they have no expectations and just trust that I will create something great."
Rock City Thumps BoomBoxes
Hatton still makes boomboxes out of old suitcases, but his products have become more advanced and more unique with many of his more recent pieces showcasing his intricate laser cutting skills. Most recently, Hatton has been using old hardcover books for his projects. He removes the pages and builds the speaker enclosure from the book cover. The finished product can be placed on a bookshelf when not in use.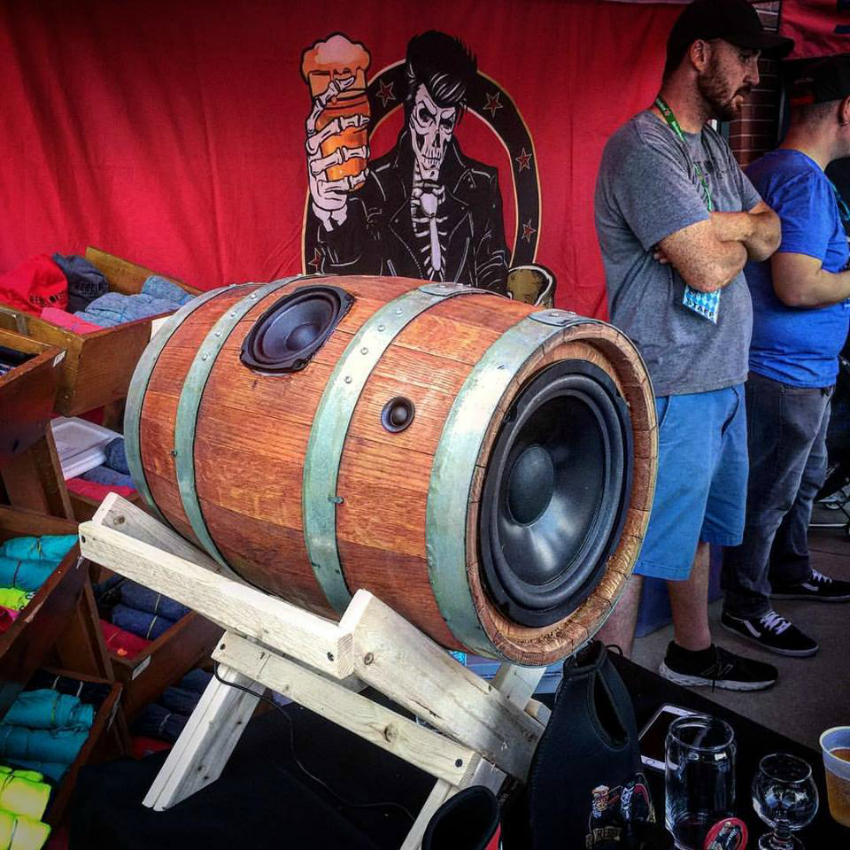 Recycling speakers and batteries that he has collected over the years, Hatton tests all of his boomboxes for exceptional sound quality and ensures that they provide at least six hours of battery life. Though most of his pieces are compact and portable, Hatton is not afraid to think outside of the boombox and has recently taken on several large-scale projects including a speaker made out of a whiskey barrel for Rebel Kettle Brewery and a five foot tall, sound reactive LED box for Few that debuted at the 2018 Roots Festival in Fayetteville.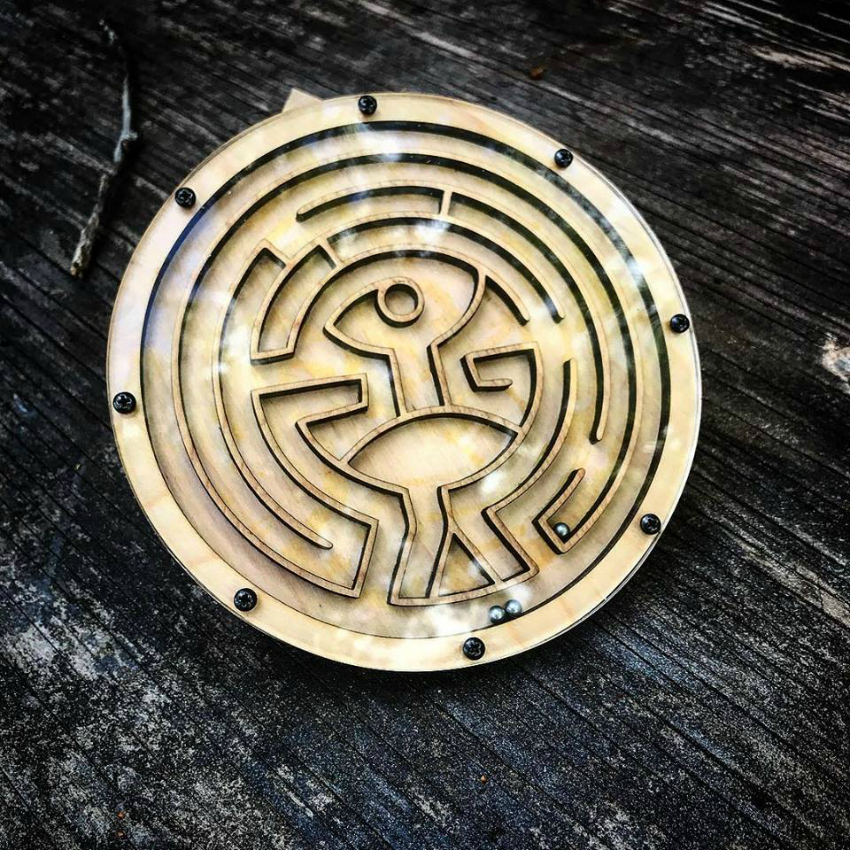 Custom crafted and uniquely functional, Hatton's speakers are not inexpensive, so he has begun offering smaller pieces to meet the demands of his growing fan base.  Each piece shows off his unique style of handiwork while also allowing customers to make a more modest investment. Hatton produces a variety of laser cut items including handheld maze toys and teeny-tiny music boxes, and he has been experimenting with lighting projects using old skateboards and other fun materials.
The Future of Rock City Thumps
Although Hatton has been making boomboxes for nearly five years, Rock City Thumps is a young company making big soundwaves in a new and unique marketplace.  As he takes on more and more projects (he is already working on several commissioned pieces heading into the holiday season), Hatton's boomboxes provide a multi-generational appeal.  Having sold his pieces to customers as young as 15 to well into their 60s, Hatton believes a universal love of music and a fascination for the unusual and extraordinary make his boomboxes appealing across multiple ages and demographics and allows his clients to showcase their music in a special way.

Hatton hopes to open a storefront one day, but until then, he will exhibit and sell his work at festivals and craft fairs. You can also find his work locally at South Main Creative and Kiehl Avenue Antique Mall. You can purchase his products online at his Etsy shop and keep up with his latest projects on Instagram and Facebook.
"This entire thing… It's a rush, man. It's been a blessing. Without my mom and dad, without the Lord's blessing … I don't know. I'm just trying to stay humble and enjoy the ride."