"The best hope for peace… is in the remembrance of war."
It's amazing how memories work. Some things you forget; others you can never forget… You'll always remember.
Growing up, we'd make the trek to my Grandma's farm quite often. I remember sifting through a box of photos and letters she kept behind her old rocker. Every time we'd visit, I'd dig out that box and study each photo over and over, reading each letter exchanged during the turbulent times of World War II. I couldn't get enough of the mementos in that box.
You see, that box contained actual wartime photos from both my Great Uncle Ben and Great Uncle Quinon, both of whom fought in the war. Uncle Ben was a tail gunner, flying over 300 missions. Uncle Quinon was a litter bearer, crossing two rivers under fire to carry the wounded to safety. Neither one would ever talk about their experiences during the war. Such is the story of so many brave men and women who have fought for our freedom, sacrificing so much, many of whom have made the ultimate sacrifice.
I like to tell my boys about their great great uncles… Sharing the stories and showing the faces of history is so important for future generations. A visit to Arkansas Air and Military Museum will do just that.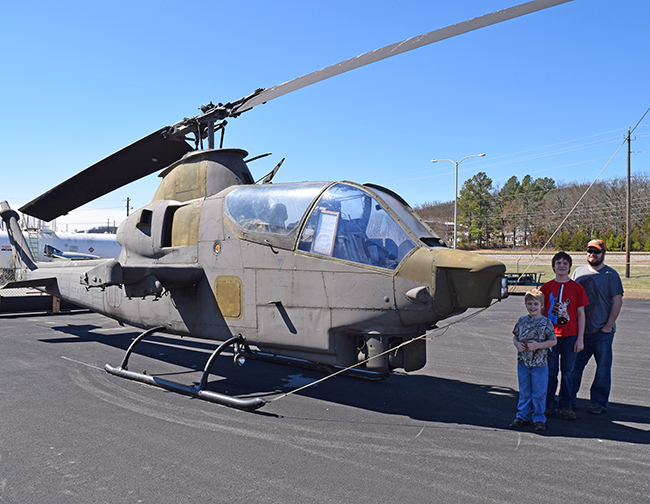 Located at Drake Field in Fayetteville, Arkansas Air and Military Museum shares the stories of Arkansas aviation and the stories of American soldiers and aviators who have fought in past wars. The museum doesn't just house planes and helicopters; it also houses military artifacts, ambulances, vehicles, weapons, and so much more.
On initially walking into the museum, visitors will enter a gift shop, purchasing their tickets to enter the museum. Beside the gift shop are numerous exhibits telling the story of Arkansas aviation and aviators, as well as sharing the progress of aviation in Arkansas. Tall glass booths hold wartime artifacts like pieces of a Japanese "Zero", helmets and uniforms, letters with stamps and postmarks still intact, Field Kindley's class notebook from Augiliary Gunner School with the Royal Air Force, old newspaper clippings, and more.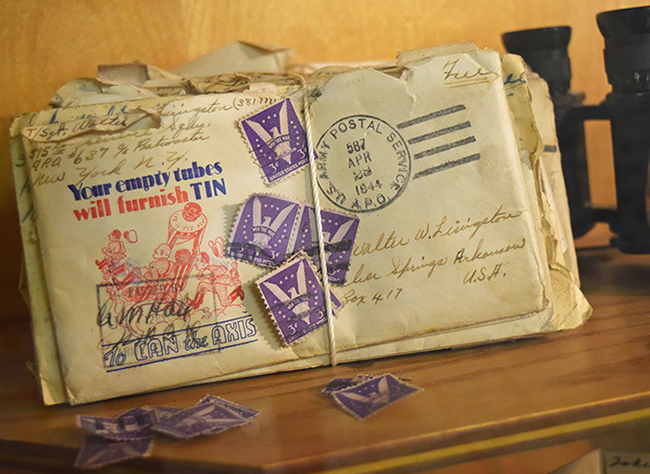 Arkansas men and women are recognized and honored in these exhibits, people like Captain Pierce V. McKennon, Louise Thaden, Field Kindley, and Commander Richard Covey.
The All-Wood White Hangar
Walking into the all-wood white hangar, built in the 1940's and placed on the Arkansas Registry of Historic Places, visitors immediately find themselves surrounded by flying machines, engines, and vehicles.On the ground floor, hanging from the ceiling, hanging on the wall… There are so many things to see! And many of the aircraft housed in this museum actually do still fly.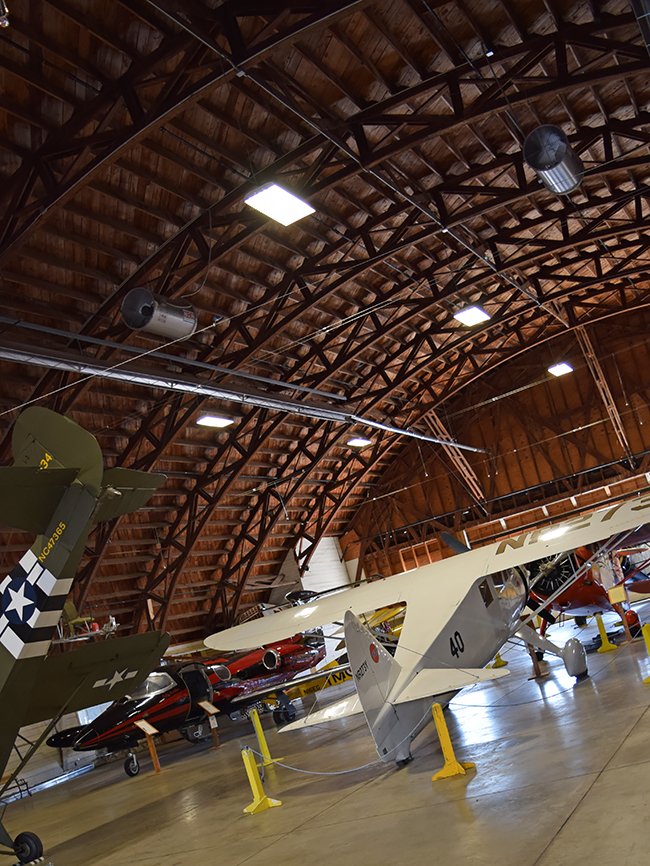 Sam Walton's plane was a beautiful silver two-seater. One of my favorite planes was the 1931 Stinson S Junior, the same plane they still use for public flights. Yes, you can actually make a reservation to ride in this historic plane. My guys fell in love with the 1940 Packard. I think we all wanted to take that beautiful car for a ride.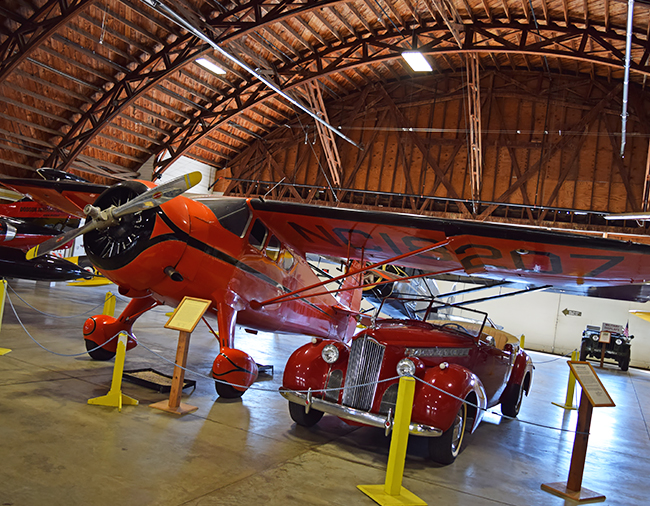 The Piper Tri-Pacer brought back memories for Dan, having learned to fly in that same type of plane with his friend's dad, a former missionary pilot.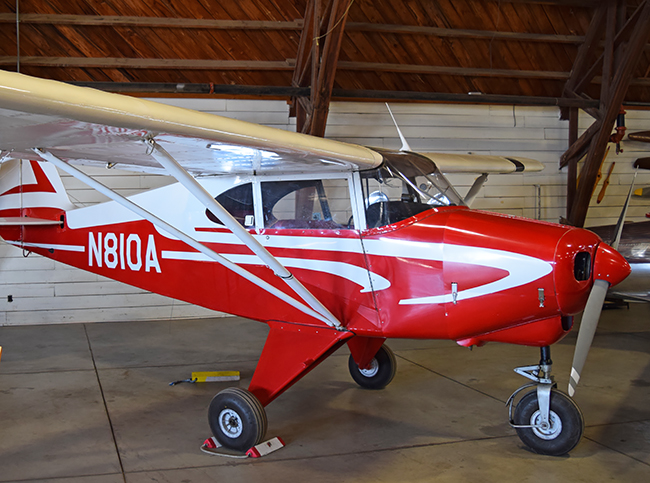 Military Display
Walking outside the white hangar, following the signs to the next building, visitors can check out the outdoor displays that include fighter jets.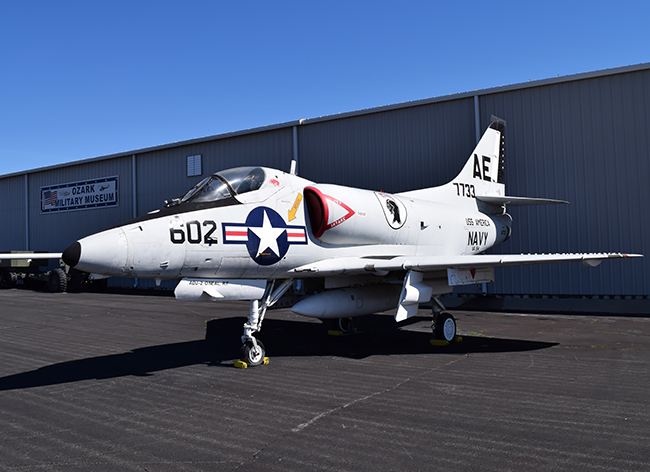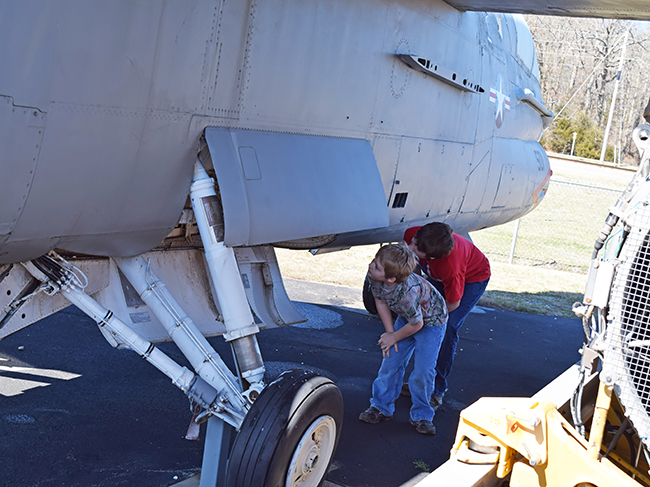 Inside the next hangar are all of the military planes, ambulances, trucks, jeeps, and other artifacts and memorabilia.
There are planes and vehicles from every era in modern wartime history. The walls are covered with the names of soldiers.
Helicopters are situated so visitors can see both inside and out.
Parachutes are hung on the wall, and as we walked through the ambulances toward the back of the building, we could see the area where restoration and preservation of aircraft and other artifacts takes place. The boys had a little fun with a couple of scientific/hands-on stations. Flying isn't just history, after all; it's a science in and of itself.
As we walked through, we noticed one display in particular. It was a camp all set up as it may have been in either World War II or Vietnam. Tent, supplies, clothes hung out to dry… It was a step back in time.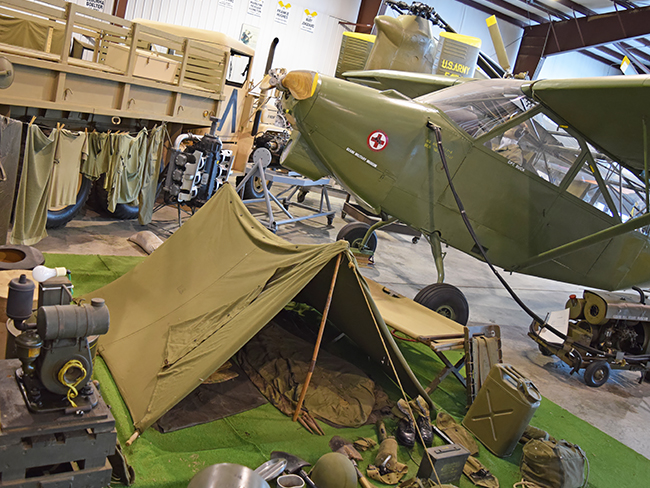 Interesting Fact: Did you know that soldiers on field duty in World War II would tuck a can of army rations, like a can of Campbell's soup, under the hood of their Jeep to warm it up? When mealtime came, it was ready to eat.
Final Building
The final building we visited held military uniforms, gear, badges, weapons, and other memorabilia. I was excited to see bomber flight crew gear, similar to what my great uncle may have worn. The coat and gloves were thick as could be, a sign of the cold they must have endured.
One thing that struck me was a sign filled with statistics of Americans killed in combat. Did you know that 618,000 were killed in the Civil War? And in World War II, we lost 418,500 souls. Unbelievable numbers…
Details for Your Visit
The Arkansas Air and Military Museum is located at Drake Field in Fayetteville. Hours are Sunday thru Friday, 11am to 4:30 pm and Saturdays, 10am to 4:30pm. Admission is very affordable. We paid $20 for the family rate. Children under 5, as well as Members, are FREE. Group rates are also available.
Most of the exhibits and displays are hands off, meaning no going inside, no touching at all. Public restrooms are available.
There is so much to see in this museum… I want to go back just to take time to read more of the information presented with each display. Visitors could probably spend half a day at the museum, taking in information, exploring all the displays. We made it through in just under 2 hours, but I would definitely like to go back.
If you happen to be headed Fayetteville way, be sure to visit Arkansas Air and Military Museum. It's a venue filled with unforgettable stories… history that should never be forgotten… Always remember.