Along the brick streets of downtown Rogers sits a corner building housing the Daisy Airgun Museum. If you've ever watched A Christmas Story, you're probably very familiar with the Red Ryder that Ralphie so desperately wanted for Christmas. What you might not realize is that there is so much more to the Daisy story, and the museum lets you in on the history of the company through photos, displays, collectibles, memorabilia, and more from decades of success they've experienced as a company.
The Daisy Airgun Museum came to Rogers in 1958, originally in a different location. In 2004, it moved to its current location, housed in a historic building that dates back to 1896.
Let's see what it's like to take a tour, shall we?
Taking the Self-Led Tour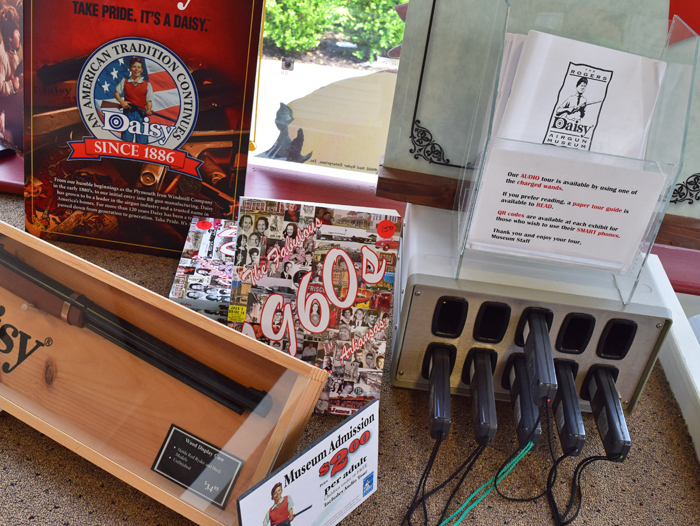 Walking in to the museum, we were greeted with a large timeline display, Red Ryder playing on a small television set in the background, and a guest book. Of course, we couldn't resist adding our names amongst the pages of guests who have visited this historic venue. Before guests start the self-led tour, they can choose to carry a booklet or a special electronic wand that tells about every single display. We actually chose to use our iPhones, scanning the QR codes available at each display. Each QR code leads to a webpage filled with all kinds of information about the displays throughout the museum.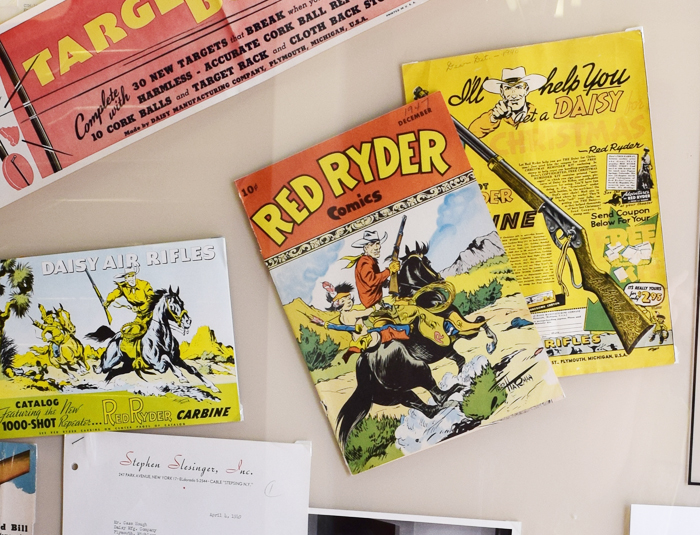 Walking through the museum, we learned the history of Daisy, even why the name Daisy. Did you know that Daisy began when an inventor named Clarence Hamilton introduced his all-metal airgun to the Plymouth Iron Windmill Company? He originally approached them because they had the resources to help him produce the airgun. One board member, upon examining that first gun, "exclaimed, 'Boy, that's a Daisy.' So the little gun was named, 'Daisy.'" By 1895, Daisy airguns were so popular and in such demand, that the company stopped manufacturing windmills and began to solely make guns. They became Daisy Manufacturing Company.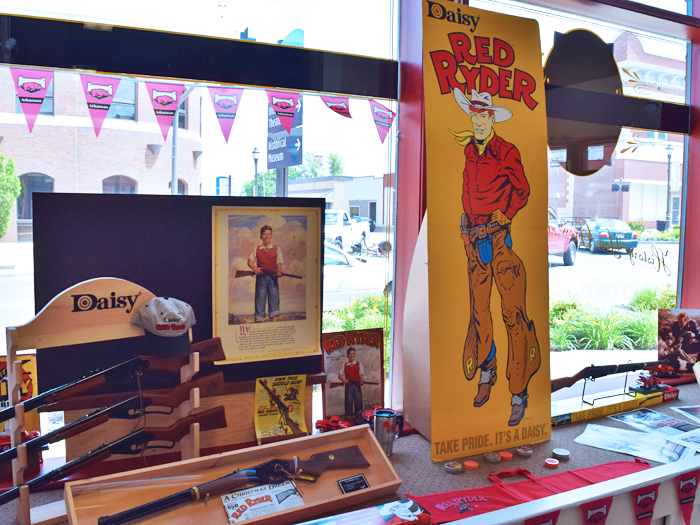 Walking through the museum, you'll notice vintage décor outfitting the entire front window, one of my favorite features of the museum. Displays begin with airguns (also from other companies/manufacturers) that came out of the 17th, 18th and 19th centuries, progressing up through the early years of Daisy's success and on into the 20th century. (Just a side note: we studied Lewis and Clark in history this year, so it was exciting to learn that they had indeed traveled with an air rifle.)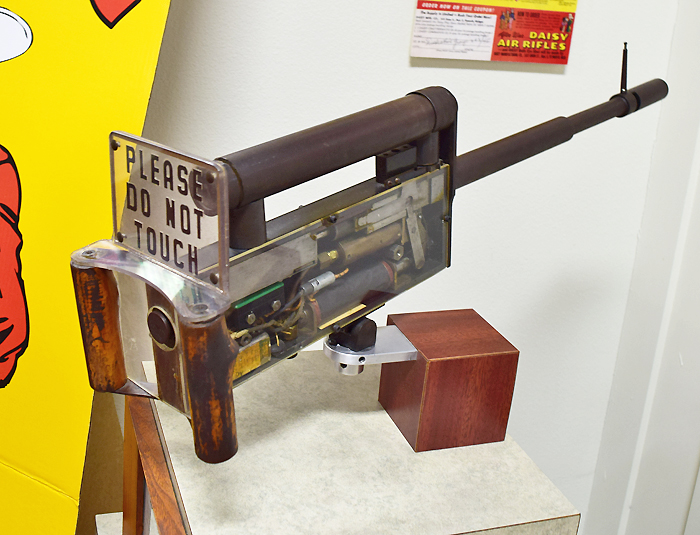 It was interesting to see the role that Daisy played during World War II. They were forced to stop production of BB guns; however, they produced over two billion BBs that were used by soldiers in aerial gunner training. With a great uncle who served as a tail gunner, flying over 300 missions and surviving the war, I had to wonder if he was one of those soldiers.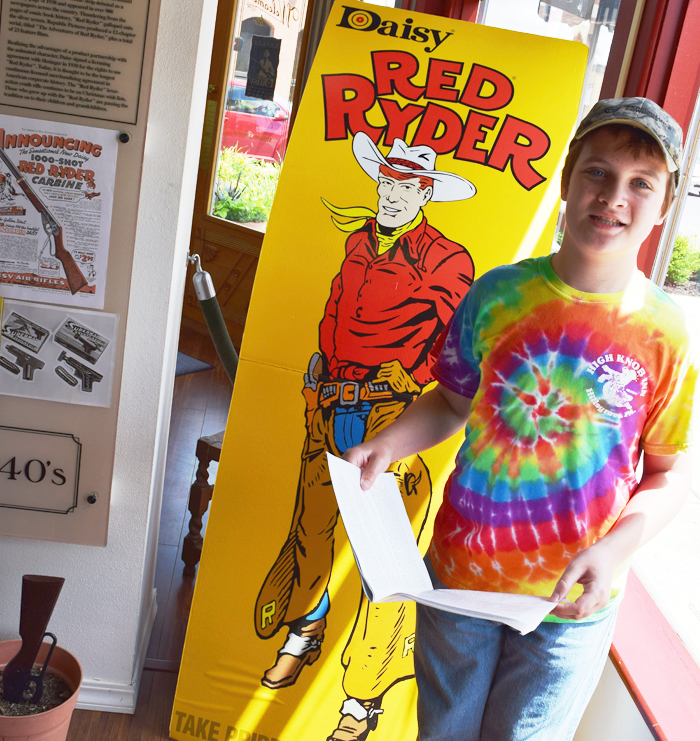 Jacob (12) enjoyed learning about the history of the guns; Jaden (6) enjoyed looking at the guns, examining all the toys along the way. As you progress into the 20th century, you'll learn about toys that Daisy manufactured, like the Buck Rogers Disintegrator, squirt guns, cork guns and more. Of course, they had an entire display dedicated to the movie A Christmas Story, so much fun. Who doesn't recognize the iconic leg lamp?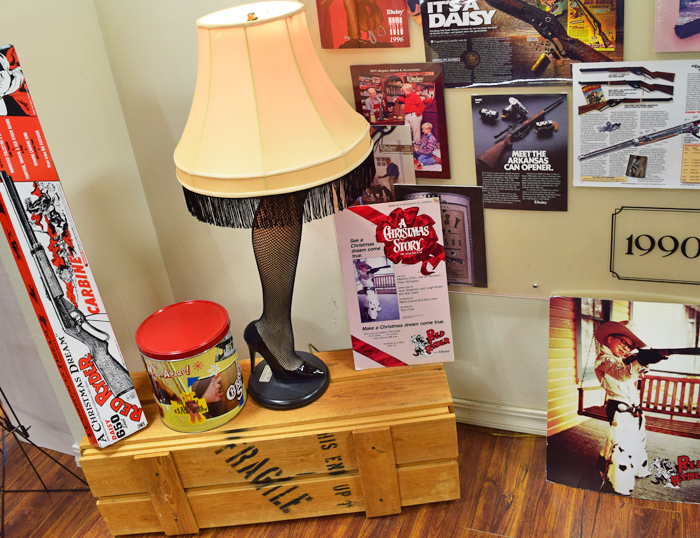 My favorite displays were both from my own childhood and those from my parents' years growing up. I'm not sure if my dad owned a Red Ryder, but I'm almost certain he probably did. To this day, he loves his Westerns. The images and artwork from that time, the 40's on up through my own growing up years, just brought back so many memories, whether from stories told or memories made.
At the end of the tour, you'll walk into the Gift Shop and Factory Outlet Store, where you can purchase guns, safety equipment, targets, BBs, collectible Daisy and Red Ryder memorabilia, postcards and more. You can fill your own tin from a barrel of Daisy BBs. The staff is extremely helpful, and you bet they know their stuff. Any question we asked about a particular gun, they knew the answer.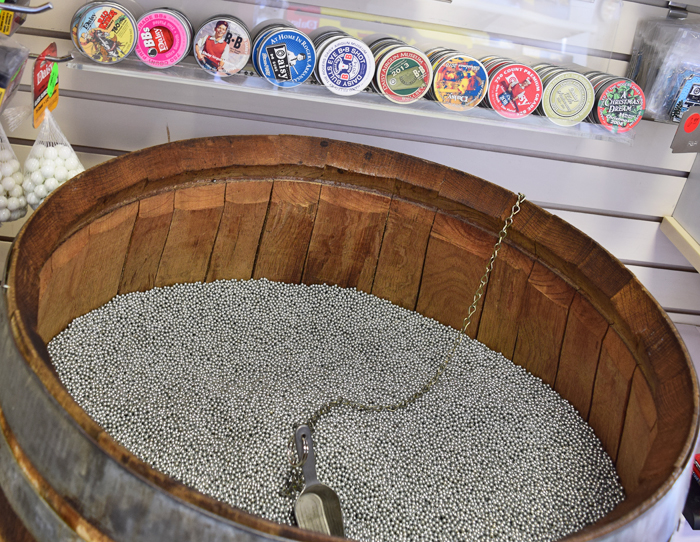 Details for Your Visit to the Daisy Airgun Museum
The Daisy Airgun Museum is located at 202 W. Walnut St. in Rogers, Arkansas. They are open Monday through Saturday, 9am to 5pm. Admission is $2 per person for adults; children under 16 are free. Admission is payable at the gift shop as you leave.
We highly recommend a visit to the museum. Whether you're a history buff or a gun enthusiast or even a lover of the outdoors, the museum will take you back in time, on a journey through the history of Daisy and their amazing story.
Info about the 49th Annual Daisy National BB Gun Championship
Coming to Rogers, Arkansas, July 4-6, is Daisy's 49th Annual National BB Gun Championship. Daisy has always been a leader when it comes to gun safety and marksmanship skills. This competition allows young athletes from all over, who've qualified in a state championship match, to come together and compete in BB Gun competitions.
This year's schedule is jam packed with events, from Equipment Checks to Open Practice, Opening Ceremonies, Matches and more.
Will you be in attendance at this year's Championship in Rogers?