Taking a stroll around the Fayetteville, Arkansas square on a Saturday morning during farmers' market season is a kind of Nirvana for anyone interested in the art and science of people-watching. It's part social outing, part grocery shopping, part entertainment event, all rolled into one square block of one of the prettiest town squares in the state.
One booth that has steady sales and lots of return customers each week is Dripping Springs Garden. The garden's founders, Mark Cain and Michael Crane, man their spot on the southwest corner of the square with infectious enthusiasm for the beautiful bounty they sell.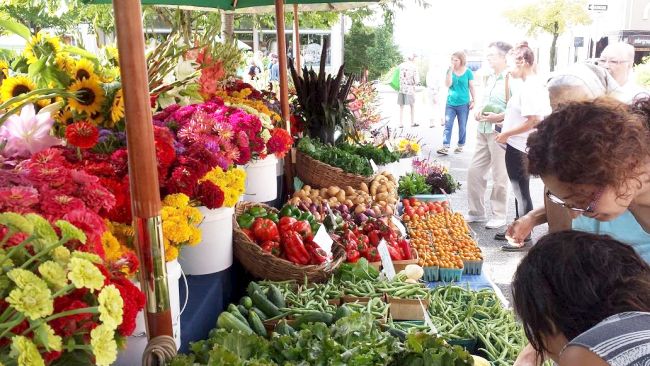 In the mid–1980s, Mark and Michael were both headed toward the same goal of spending their lives in a garden. Mark received a degree in biology from the University of Illinois and studied organic horticulture at U.C. Santa Cruz before heading for the Ozarks to find a place to start an organic farm. Michael, a native of Springfield, Missouri, was working as a landscaper and creating an enviable garden around his home in Eureka Springs. Friends say he not only has a green thumb, but "green fingers, feet, heart and mind as well." After meeting through mutual friends, Mark and Michael decided to join forces and began looking for land. The small valley they found along the banks of Dry Fork Creek in Carroll County was home to a derelict blueberry farm, but they saw the potential for revival.
As visitors drive the final few miles to the farm, off Arkansas Highway 21, it's easy to see why they chose this location. The small creek that wanders through the woods beside the dirt road feeds the irrigation source for Dripping Springs' crops, and the bluffs lining the road are made up of "karst" stone — a natural limestone formation that acts as a filter system for ground water in the Ozark mountain region. Karst geology also aids drainage in planted fields, a bonus during wet seasons.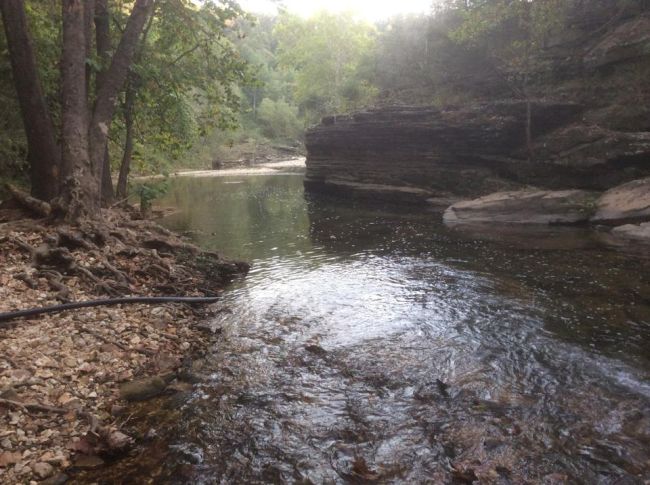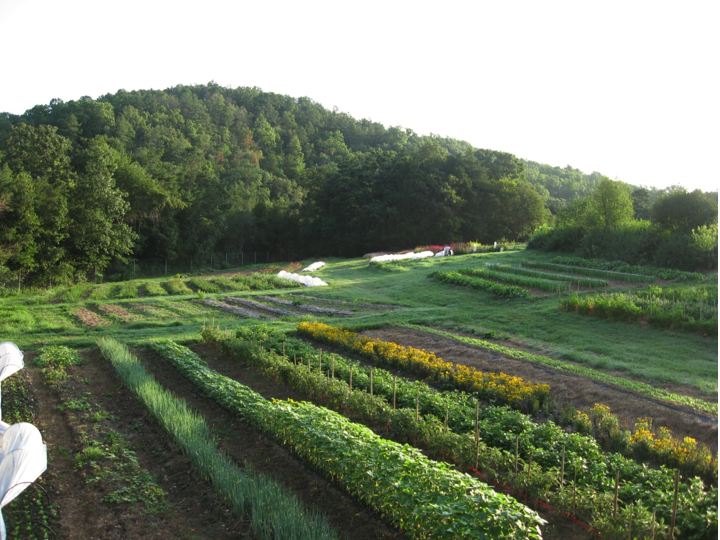 The forty-acre farm produces organically-grown flowers, vegetables and mushrooms, but they are also raising an annual crop of young people who are determined to go out and make a difference in the world of sustainable agriculture.
Since 1994, Mark and Michael have advertised a small number of annual internship positions on websites specifically aimed at matching qualified applicants with farming internships and apprenticeships such as theirs, a continuation of the kind of education Mark experienced in California. The methods used to grow their crops are sustainable and organic, and students who work with them learn by doing. As Mark says, "We've had people working with us on the farm since the beginning — this is the way I learned."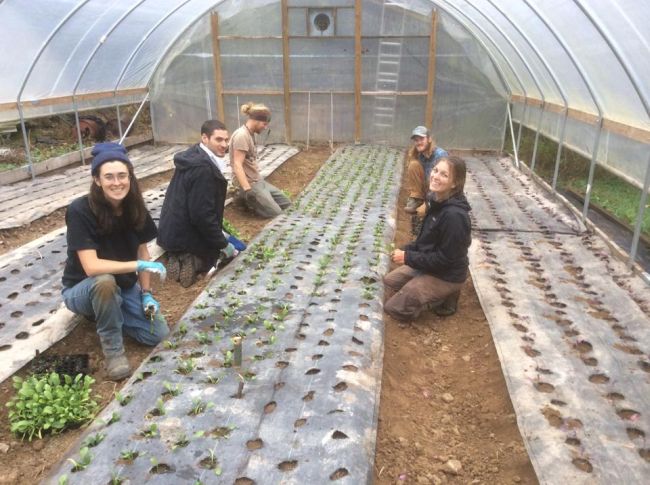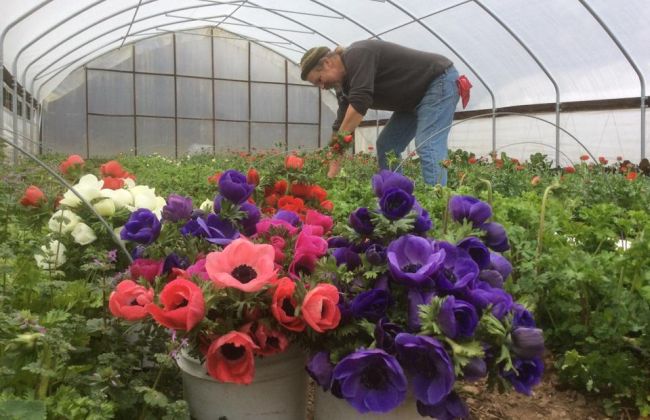 Four to six interns arrive in April each year, when planting for the summer crops begins in earnest, and they stay through October or November when the main gardens are put to bed for the winter. Each intern is paid a stipend and provided with room and board. A hand-built timber-frame barn on the property provides rooms for interns, and there are two yurts available as well. Mark and Michael have welcomed interns from just down the road, and from around the world.
If anyone arrives with bucolic dreams of living an easy life on the land, those dreams are soon abandoned as the real work of running a working organic farm begins. But despite long, physically demanding days, Mark says there has been a resurgence of interest in programs such as theirs in recent years. "The experience of working on a farm where income comes from sales is different than working at an institutionally supported program with a student garden." There is no university budget line supporting Dripping Springs — only the hands of the people living on the farm.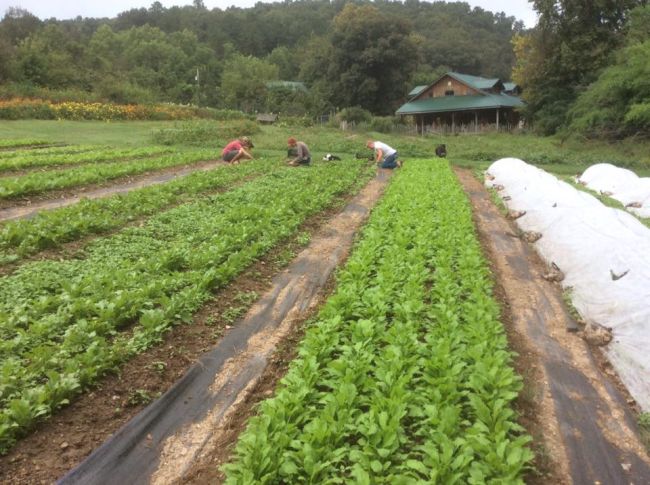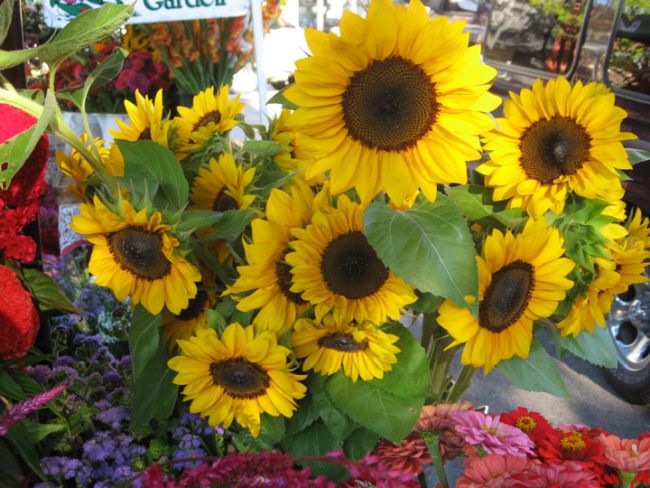 Mondays, Wednesdays and Fridays are harvest days at Dripping Springs Garden, with Tuesday, Thursday and Saturday mornings spent in Fayetteville at the market. No sales are made at the farm, but they do sell shares in a CSA program for individuals who are interested in organic, locally-grown food options. More information and lots of gorgeous photos can be found on their website, and be sure to follow them on Facebook and Instagram!
Dripping Springs at the Fayetteville Farmers' Market | Tuesday & Thursday: 7:00 a.m. – 1:00 p.m., Saturday: 7:00 a.m. – 2:00 p.m.