When is the last time you've ridden a horse? It's been at least six years since I've been on a trail ride, but all that changed this past week. We decided to have a family day in Mountain View to visit OK Trading Post.
OK Trading Post has been around for the last 28 years. Denisa Malott, who started this trading post, was there to tell me all about it. Originally from Indiana, Denisa has been on a saddle her whole life. She traveled the US for looking for trail riding spots until they made their home on Highway 14 in Mountain View. Her mission at OK Trading Post is to provide a service for everyone who comes to visit this neat little town in the Ozark Mountains.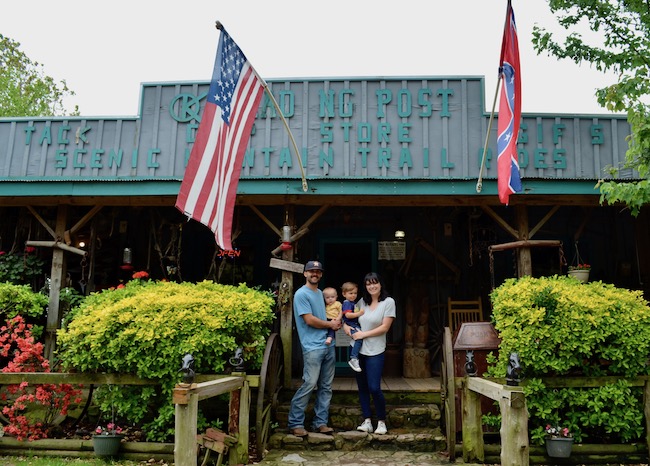 Along with trail guide service, they also provide birthday party events on site and can travel with horses to any corporate functions. Not everyone gets the privilege to ride horses whenever they want, so this is why her place is so special. You can come to OK Trading Post and fulfill your riding desires. 
Along for our ride was my husband, myself, our two boys (2.5 years and 10 months) and my mom; known as Granny. We called ahead to let them know we would have two kids in tow and they said it would not be a problem; they would have a double rider horse waiting on us. Calling ahead isn't mandatory, but they do recommend it, especially during spring break and summer. They said you'd be amazed at all the out-of-staters that come to the area during those peak times.
The team at OK Trading Post was so friendly and helpful. Riding horses with two little kids made me very anxious, but they made sure to accommodate. We opted to bring our own helmets for safety, but don't worry if you forget yours she has some available to use! Our guide made sure we felt welcomed and cared for during the ride. I was on June, with my 10-month-old strapped to me in a baby carrier. My 2.5-year-old was sitting with my husband on the horse named Sis. My mom rode Lily, and we were so thankful for her tagging along to capture all the moments of our first ride with OK Trading Post. We elected to do the one-hour trail, which I think was perfect with young kids like ours.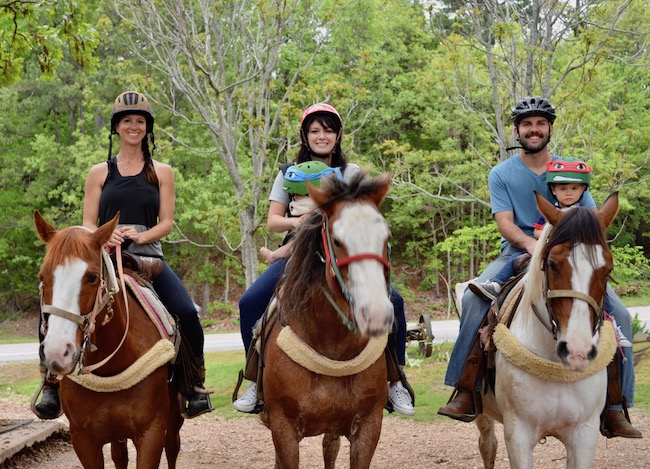 We started our ride crossing the main road to where the trails would begin. I was more on edge being by a highway than the horses. They were all so cool, calm, and collected. My horse, June, was excited about what spring showers provided for her. She tried to take a leaf or piece of grass everywhere we went. Anything green was attractive to June!
The one-hour trail includes going through the woods and around the hog pond. They say the hogs love bathing in the pond and scratching on the pine trees nearby. Luckily, you will not encounter any while riding, but knowing we are in the woods where wild animals call home is neat. We started our ride around mid-morning. I asked at what age young ones start riding without their parents, and they said normally around 6 or 7, but with a lead rope connected to the guide.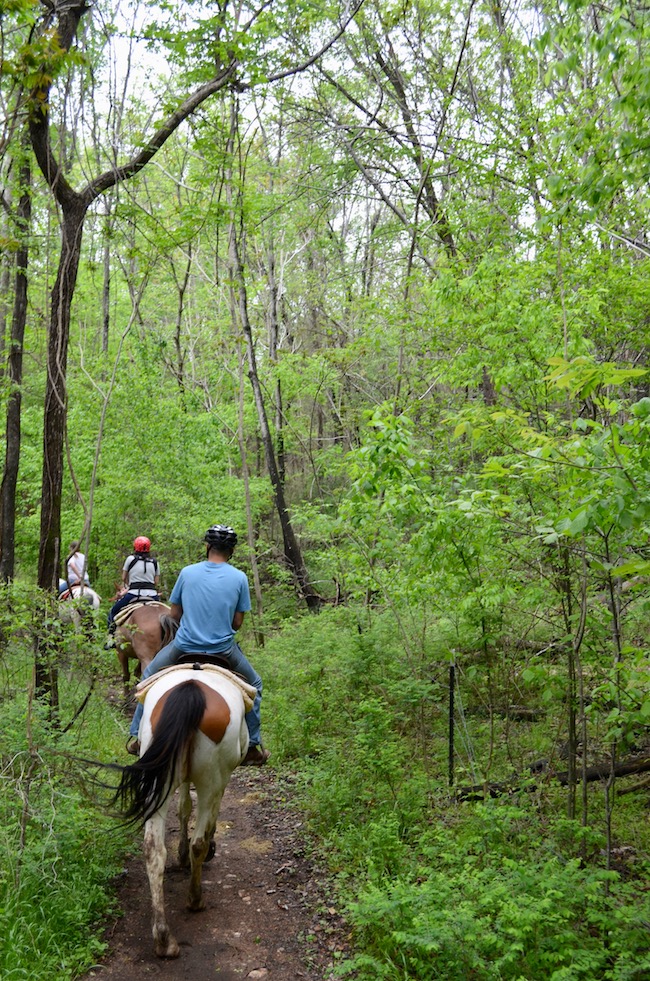 I think this is such a great experience for kids to be around horses; they are so big, yet gentle and kind. They also work really hard and use to be our only transportation, which I know kids these days have a hard time believing!
After our ride, our guide asked us if we wanted to go to the petting zoo. Is that even a question with young ones? They had a deer, donkey, miniature horse, geese, goats, bunnies, chickens, and a pig. It felt like our own personal Charlotte's Web, considering that is my son's favorite movie. I believe the petting zoo itself was worth the trip for our kids!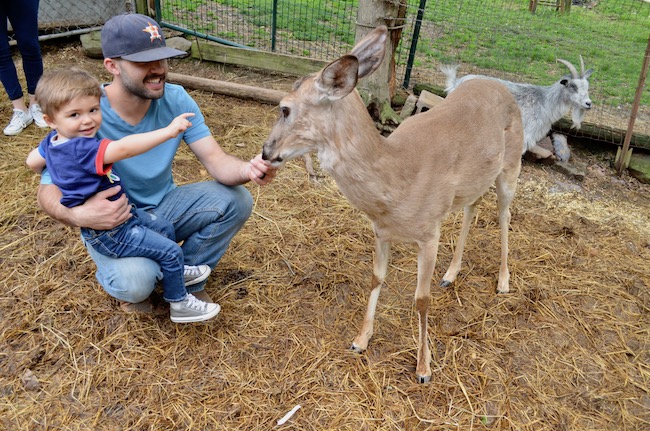 After our time with the animals, we decided to venture into the gift shop. Let me stop right here and give a fair warning for any grandparents along for the adventure. Your grandchild will want everything in the shop, considering there are so many cool toys. Somehow it's easier for parents to say no, yet for grandparents, it's a different story. Ezra had a blast exploring everything in the store, including homemade jams, cowboy hats, boots and all things horse related and toys. Lots and lots of toys! Ezra had a hard time picking his favorite, but he finally settled on a truck and horse trailer combo. Once he made the final decision, we scooted him out before he had time to see something new or change his mind.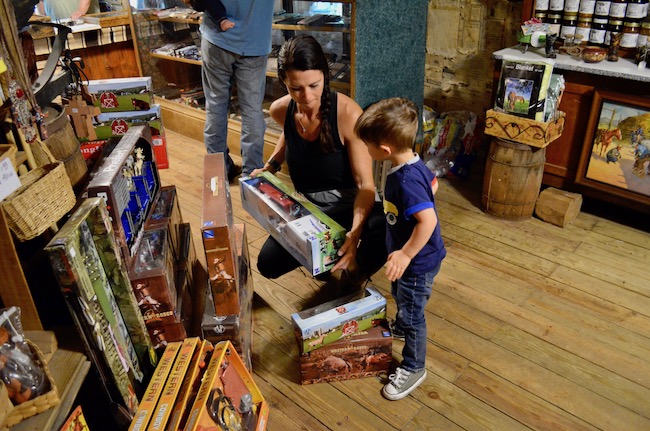 We spent time hanging out on their front porch, which seems to be a gathering place for everyone including the hummingbirds. We rocked on the rocking chair, glider, and Ezra's favorite was the wooden horse swing. From the front porch, you could see all the horses waiting to go out on the trail, which was a treat. I highly recommend putting this on your summer bucket list! Mountain View is a real gem along with OK Trading Post.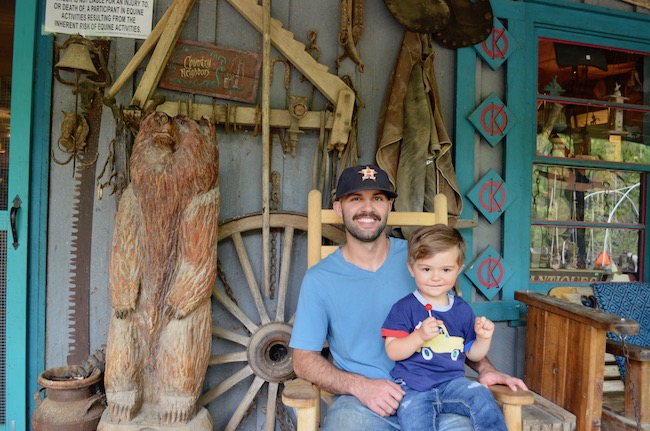 My husband and I would love to go back and do the four-hour ride without kids, which includes lunch at the creek.
The OK Trading Post is located at 11595 Hwy 14 in Mountain View, AR. You can contact them by visiting their website or calling (870) 585-2217.