Whether you want the thrill of the plunge or the relaxation of the lazy river, you don't have to go far for a trip to the water park. There are five different destinations across the state that offer wet and wild excitement. From Fort Smith to Texarkana, here's where to head for wave pools, slides and more:
Wild River Country in North Little Rock
As Arkansas' largest water park, it sprawls over 26 acres. There are 13 attractions, with more opening every season.  The Thrilling Three opened in 2017 and is definitely not for the faint of heart. The Aqualoop is as close to a looping roller coaster as you can get in the water! The Vortex takes you down twists and turns in an enclosed slide, so the entire trip is in the dark! For a little tamer time, visit the half-million-gallon wave pool, or the four-person raft ride, the Cyclone.  Kids can play in the Tad Pool, which features a fun splash zone and animals to play on. Admission is $10.99 for seniors over 60, $15.99 for kids under 48 inches and $29.99 for adults.  Kids under 2 are free.  Season passes are available for $79.99 but are on sale before opening day. Daily admission starts May 26 and ends August 12, but then they are open weekends through August 26. For more information, visit their website.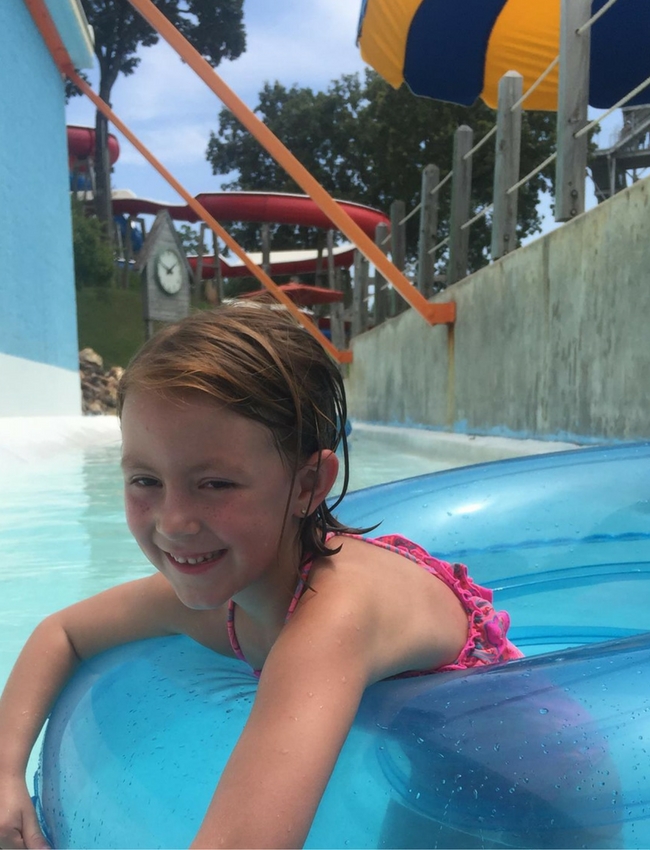 Parrot Island Waterpark in Fort Smith
Parrot Island has something for everyone. When they opened, they held a contest for locals to name the attractions, so many locals have bragging rights in the park for picking the winner moniker. Come visit the Caribbean Splash wave pool which features a machine making waves and splashing patrons all day. Tiny Turtle Island is great for the little kids with mini slides, splash features and a shallow play area. All of the slides are body slides — from an extreme plunge to a curving enclosed, dark slide, they've got them all! Admission is $15 for those over 48″, $10 for those under, and kids under 3 are free.  Non-swimmers can hang out for $5 and seniors can visit for just $9.  They open May 25, and regular hours go through August 12, but back to school hours are in effect until September 3. For more information, visit their website.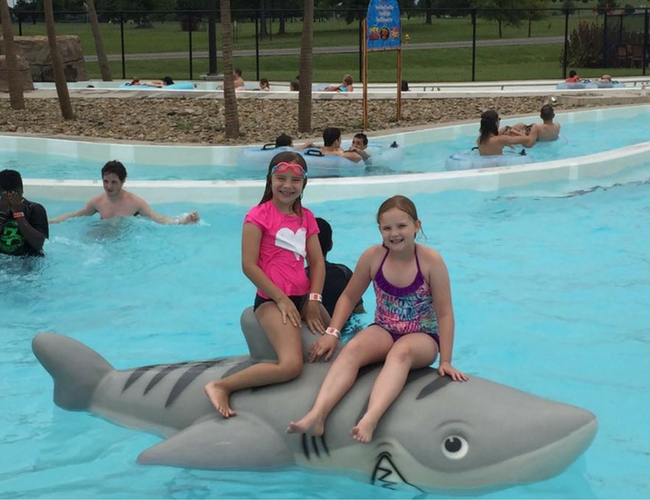 Magic Springs and Crystal Falls in Hot Springs
Along with the thrill rides of Magic Springs, for one entry fee you also get access to all of the water park attractions. Race your friends down Rapid Falls, a multi-lane belly slide or float around the Kodiak Canyon Adventure River. Spend an afternoon going down all seven slides on the Seven Falls Tower or take the plunge down the High Sierra.  Little kids can play around Splash Island, which also features cabanas for shade nearby. During the summer, they also show dive-in movies on a big screen so you can float and enjoy family-friendly flicks. Admission for the park varies between $34.99 and $59.99 depending on the day of the week (you can save by buying tickets online), and remember, it also includes admission to Magic Springs. Children under 48″ vary between $34.99 and $36.99. Children under 3 are free.  A season pass is available for $74.99 ($10 discount if bought online).  They are open weekends starting May 12 until May 25 when regular hours begin until August 11. Then they remain open weekends until September 3. For more information, visit their website.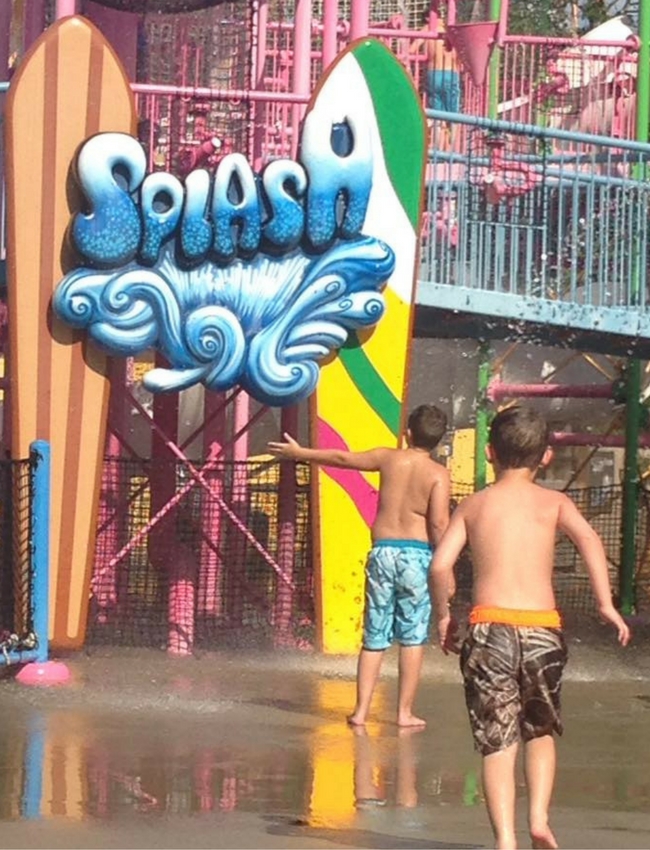 Crenshaw Springs Water Park in White Hall
Taking its name from the natural spring in White Hall (owned by the family named Crenshaw), which attracted thirsty travelers looking for an oasis, the water park does the same, attracting people from across the state for fun in the sun. They honor local heritage in the names of attractions as well — Diamondback Dive is their plunge slide, and Squirrel's Nest is the enclosed slide that will swirl you around before splashing you into the pool below.  One unique feature is their Don't Fall Rock Wall where you can climb up high with the safety of the water below. Kids will enjoy Turtle Tot Spot, which is shallow enough for babies to sit and splash but also has exciting water features for bigger kids.  Admission is $12 for adults, $10 for ages 4-12, kids 3 and under are free, and seniors are $10. They are open Memorial Day until Labor Day. For more information, visit their website.
Holiday Springs Water Park in Texarkana
On the border of Texas and Arkansas, you'll find an oasis with five water slides, river rapids, a wave pool, kids areas, and even a sand castle building area! The highlight for kids would be the 42-foot high Splash Mountain structure splashing over 1000 gallons of water onto the 100 interactive water features below. Or take a swim in the wave pool — on certain days you'll find a Splash DJ or live music entertaining you as you float! For some heart-pounding excitement, the Ozark Cliff Hanger drops you from over 65 feet high through a looping enclosed side. Admission is $26.99 for those over 48″ and $21.99 for those under.  24 months and under are free, and seniors are $21.99. Season passes are $99, or $95 if you buy 4 or more. They are open daily from May 26 until August 17. For more information, visit their website.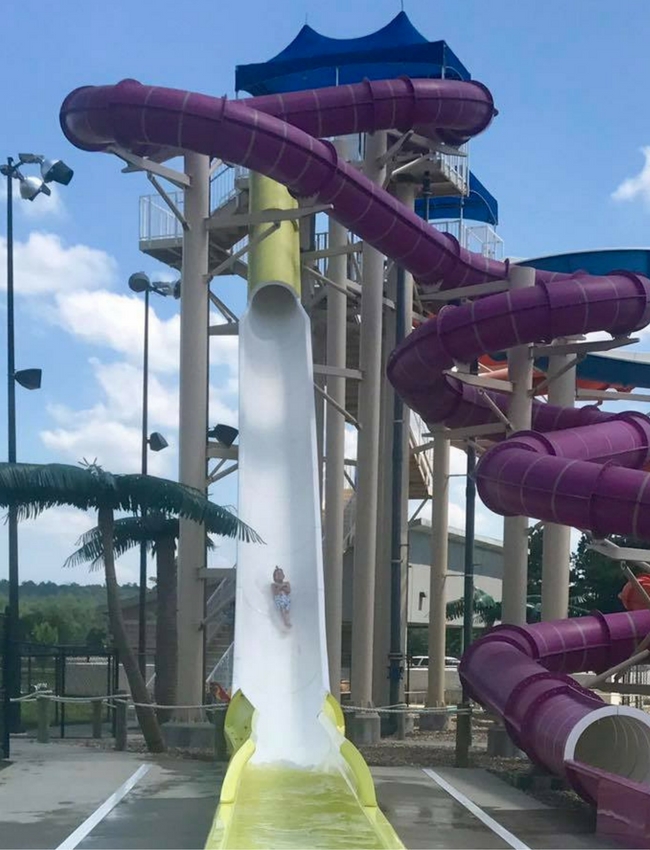 Have you visited any of these Arkansas water parks? Which one is your favorite? Tell us in the comments!