Everyone knows we are surrounded by natural beauty in Arkansas. Our landscapes range from wide open Delta to rugged mountain ranges and everything in between. For that reason, and thanks to a lot of folks who work in tourism, Arkansas has made it onto a number of lists of places to visit to ride bicycles. But some folks prefer their riding to involve significantly less sweat and significantly more speed. And Arkansas has them covered as well.
Arkansas Department of Parks & Tourism has compiled a list of beautiful motorcycle rides for anyone looking for a getaway. Their dedicated website also provides a link to sign up for an e-newsletter and a list of upcoming motorcycle events. If you are coordinating an event, be sure to send them your information!
Here are a few of the unique rides listed on the website, with information on the length, location and some of the spots you might want to stop along the way.
Delta Music Ride: 281 Miles – 5.5 hours
Arkansas has a rich music legacy, and a large part of it resides in the Delta region along the Mississippi River. If you hit the road the weekend before Columbus Day in October, you can not only enjoy the fall weather and scenery but also attend one of the oldest music festivals in the state, the King Biscuit Blues Festival, which takes place over three days every year in Helena. (Check their website in April to see the lineup for 2018.)
If you can't wait that long, some other great reasons to take this ride include:
The Historic Dyess Colony, which has been restored to include the original administration building and the boyhood home of Johnny Cash, whose family lived in the community just off AR 14 on 297.
Newport is not only the birthplace of rockabilly guitarist Albert "Sonny" Burgess, but you can also find a steaming plate of famous the famous Delta tamales to fuel your ride.
Learn a little about more about the history of the Delta region by stopping in at the Southern Tenant Farmers Museum in Tyronza and the Delta Cultural Center in Helena-West Helena.
Twisted Lady: 96 Miles – 2 hrs. 10 minutes
A shorter route, but no less packed with interesting things to do and beautiful vistas, the Twisted Lady is a loop in Northwest Arkansas headed south out of Harrison to Deer, and back again. The area is full of folklore and stories that are based on fact, but with a healthy dose of myth and legend sprinkled in for good measure.
One example involves a notorious family with a connection to North Arkansas. There is a headstone in the Snow Cemetery, near Wayton, that records the death of a man named Joe Vaughn. This is a fact that's undisputed. The legend that makes this fact more interesting is that Frank James, brother of Jesse and member of the infamous James Gang, was said to use the name Joe Vaughn to escape justice and live a quiet life in Wayton. Hmmmm….
In addition to a little cemetery visiting, you can also see some of the local Elk population as you ride through the Boxley Valley area, take a dip in the Buffalo River near Ponca, and stop for some downhome cooking at the Ozark Café in Jasper.
Arkansas' Grand Canyon – 157 Miles – 3 hrs. 56 minutes
The grandeur of the green-carpeted mountains of Arkansas' Ozark National Forest is only matched by the deep valleys that run through them. This ride, along AR 7, features the Rotary Ann Roadside Park, which holds the distinction of being Arkansas' first roadside rest area. It's not hard to see why it was first on the list when you take in its breathtaking 180-degree view of the Ozark Mountains.
This ride also runs through the Boxley Valley, so keep an eye out for those Elk. And if you're a sportbike enthusiast, the hairpin and switchback turns that take you out of the valley will definitely get your motor running, as they say.
Wine Country Loop – 122 Miles – 2 hrs. 39 minutes
Mount Magazine is one of the most recognizable geological landmarks in Central Arkansas. Created by two rivers, the Arkansas and the Petit Jean, it is also fortunately situated close to Arkansas' wine country around Altus and Paris.
Like the Arkansas' Grand Canyon ride, the elevation change experienced as riders climb Mount Magazine is challenging, a great ride for adventurous bikers. Grab a bottle of Arkansas wine as you start out at Wiederkehr Village, and make plans to stay in one of Mount Magazine's beautiful cabins for a memorable weekend trip. 
More points of interest to include on your itinerary include:
Arkansas' Historic Wine Museum and Eiffel Tower Park in Paris
St. Mary's Catholic Church in Altus
Subiaco Abbey and Academy in Subiaco
Beautiful Lake Dardanelle State Park just off the route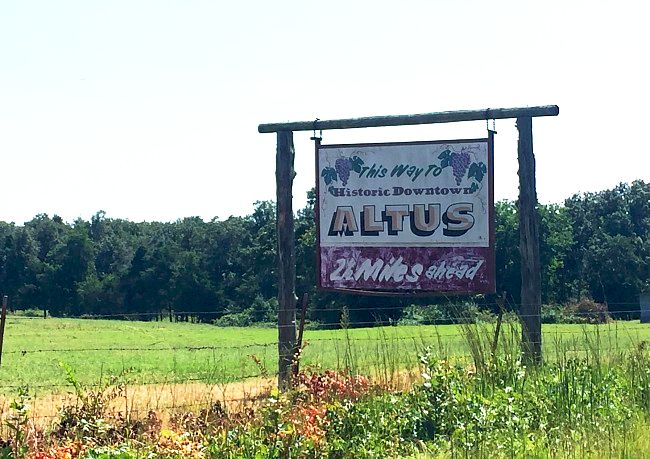 Image courtesy Talya Tate Boerner
Grand Prairie Loop – 122 Miles – 2 hrs. 39minutes
This ride makes up for its brevity by offering a great list of things to do when you need to stretch your legs. Oxbow lakes abound along this ride on both sides of the Arkansas River. And since you won't be forced to focus on the hills and turns on this flat terrain, you'll be able to see more of the sights, including one of the best duck hunting areas in the country around Stuttgart.
The curious legs of cypress trees that seem to float in the swampy marsh-lands in the Scott area provide a unique photo opportunity. Between Scott and Keo, take in the Plantation Agriculture Museum or the Toltec Mounds Archeological State Parks. If you're not starting in Little Rock, you might want to end up there and visit the MacArthur Museum of Arkansas Military History.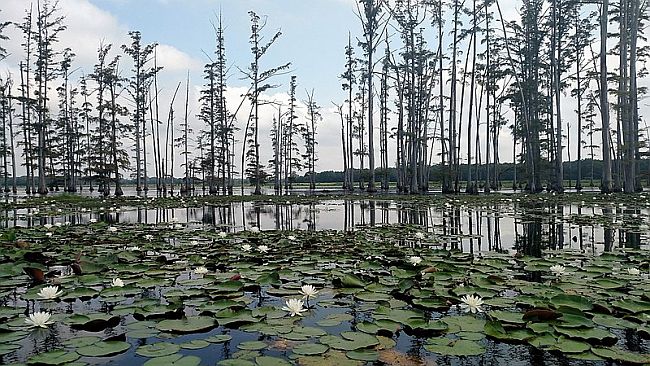 Image courtesy IIP Photo Archive
In addition to beautiful rides, Arkansas also has a number of annual events planned for motorcycle enthusiasts, including Bikes, Blues & Barbecue in Fayetteville, Steel Horse Rally in Fort Smith, and the Christian Motorcyclists Rally in Mena. Check the Arkansas Motorcycling website for more events and information on ways to discover Arkansas on two wheels.
Bikes Blues and BBQ
The Steel Horse Rally
Christian Motorcyclists Association
Arkansas Motorcycling
Cover image courtesy of Arkansas Parks and Tourism.