For many Arkansans, Fort Smith is a city full of historical significance, and they may know the stories of outlaws and hanging judges. But there's a new breeze blowing in this river town that doesn't include cowboy boots, unless they're larger-than-life and painted on the side of a building.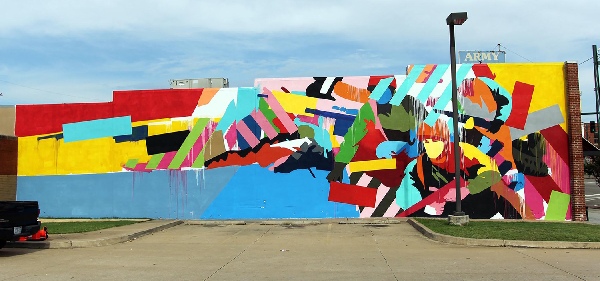 Organized by 64.6 Downtown, The Unexpected Project was a week-long street art festival held last September that brought eight international artists to town to transform almost a dozen blank walls along Garrison Avenue and surrounding streets. 64.6 Downtown is a nonprofit organization based in Fort Smith that believes economic growth can be reinforced by a community of creative thinkers who keep "quality of place" in mind as they plan for the future. To that end, they also included University of Arkansas Fort Smith students and local volunteers to make this project happen.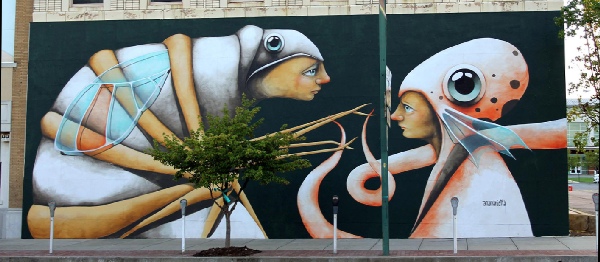 A quick Google search for "public art tours" brings up a dozen or more major cities across the country that have been encouraging visitors to visit specifically to see art in their public spaces. Festival organizer, Claire Kolberg has seen this first hand where she lives in Fayetteville. There, public art has been welcomed by the community and even partially funded by an active advertising and promotions commission for many years.
Several of the artists involved in the project were inspired by the history of Fort Smith as a historical gateway to the Indian Territory to the west. While organizers encouraged them to look beyond the "Cowboys and Indians" themes often associated with the glory days of the city, some stylized cowboy hats and portraits of Native Americans and even a bus-sized revolver still made their way onto the walls.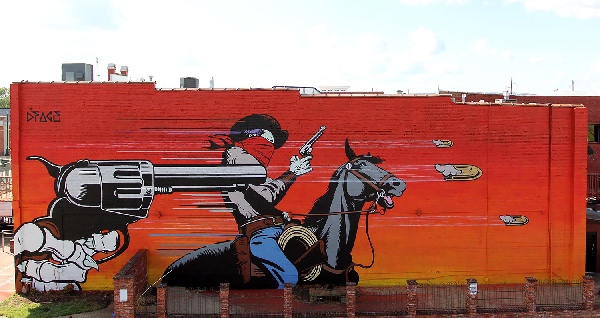 So next time you're driving through Fort Smith on your way to Tulsa, or further west to Colorado for Spring Break, stop for something to eat and take a little walk around downtown. Check the website for a map of mural locations and more information about the artists involved.