The former star Razorback linebacker is back in Arkansas after five years in the NFL.
In 2007, Jerry Franklin's college football career at the University of Arkansas got off to a rocky start. After starring as a safety at Marion High School, he discovered he'd need to switch to the linebacker position. In practice, he saw how difficult the competition would be. "You had guys like Darren McFadden, Felix Jones, Peyton Hillis and even Michael Smith in the backfield," he recalls. "I didn't think I would ever be able to tackle those guys."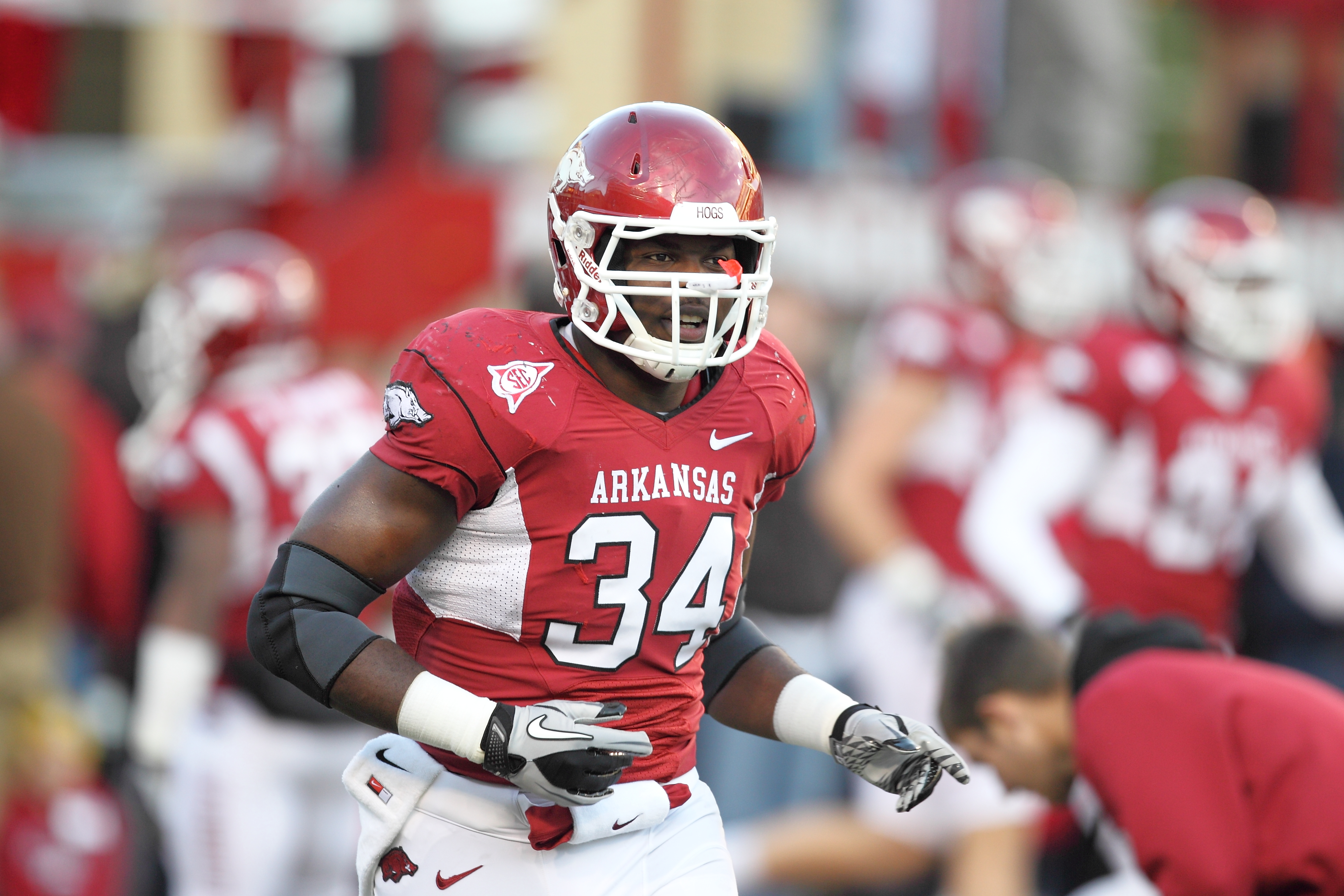 Franklin doubted he could cut it at the SEC level. "I remember at one point I was about to call my mom and be like 'Hey, this is not gonna work.'"
Fast forward to August 31, 2008, the season opener versus Western Illinois, and the first game of the Bobby Petrino era. This was also the first game in which Franklin would suit up as a redshirt freshman. "I remember being so nervous. I was late for the bus coming out of the hotel," he says, chuckling. "It was one of those days."
"I was like 'Oh my god, I'm late. What am I gonna do?' I was panicking." Franklin recalls playing a "decent" game as the defense held Western Illinois to 262 yards and 24 points.
The Arkansas offense, meanwhile, scored 28 points to eke past its mid-major foe. "I remember thinking I had played so bad. I was thinking 'Oh my god, I was late, I'm never gonna play again, coach is gonna put me on the bench." But coach came up and was like, 'Hey, you did great.'"
Franklin kept doing great things through the next four years. He led the Hogs in total tackles each of his four seasons, including 100 as a junior in 2010 and 101 as a senior in 2011. He helped lead Arkansas to the Sugar Bowl and Cotton Bowl in those seasons, too.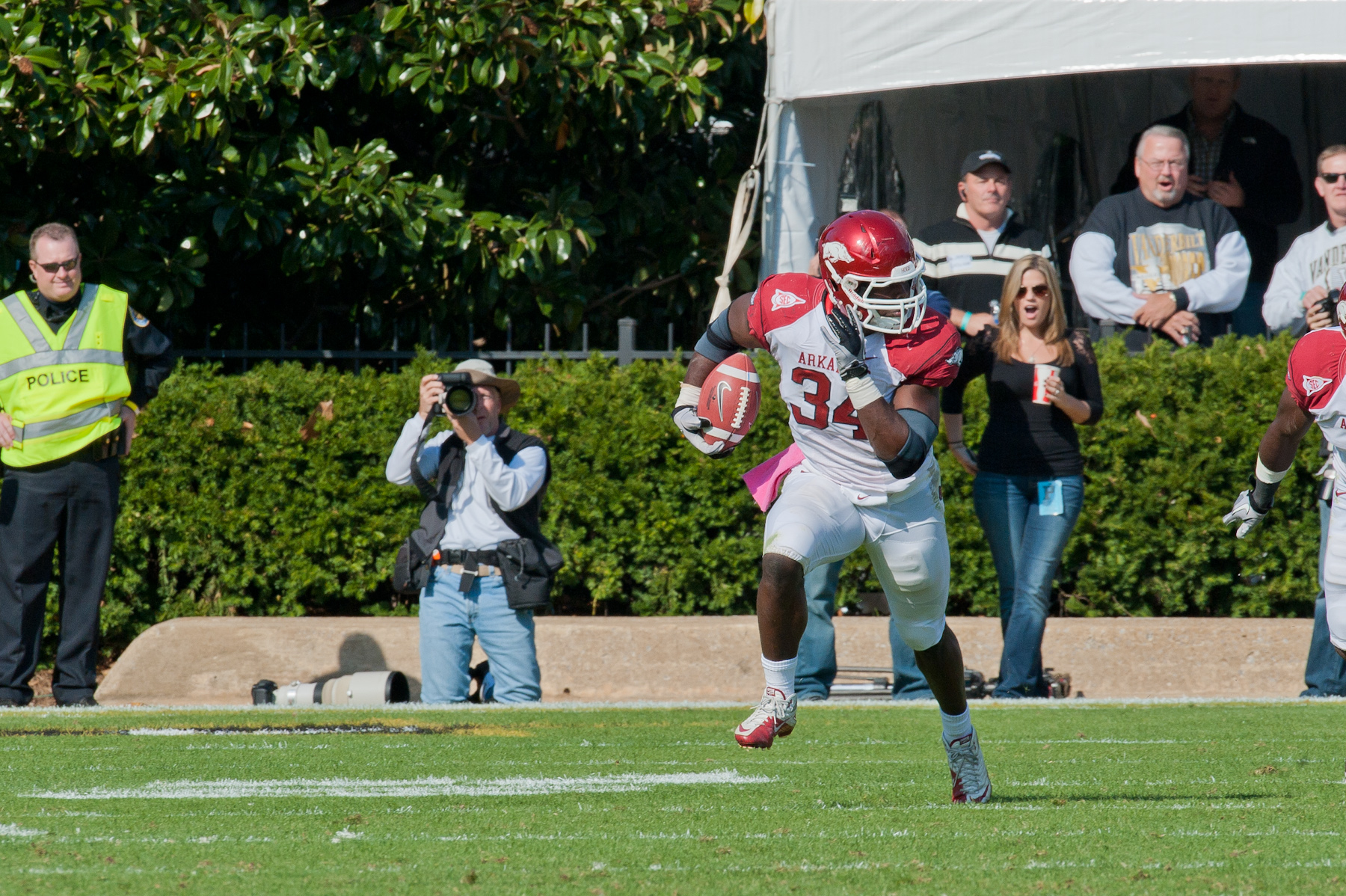 "I was able to grow to a point to where I didn't think I was gonna be," he recalled on a recent weekday in north Fayetteville. "When I looked back on it, I can't believe I doubted myself. That taught me to just attack everything. Just trust in yourself and trust in your abilities."
Franklin, 29, grew up in Sunset, Ark., about 10 minutes outside of Memphis. While some of his childhood friends have been killed or imprisoned, Franklin believes he is fortunate to have avoided trouble. He says Jeff House, a former AAU basketball coach and father figure, plays an important role here along with the entire House family.
After playing for the Hogs and getting a sports management degree, Franklin spent five years in the NFL with Denver, Carolina, Dallas, Chicago, Kansas City, New Orleans and most recently with Detroit in nearly 2016. Now he's back in Fayetteville and putting in long hours learning a new industry as a logistics account executive in Lowell. When free, he enjoys biking and talking to his 4-year-old son, Jacob.
Franklin and I sat down to talk about his football career and, naturally, what he thinks of the Hogs after a 52-20 loss to Auburn last Saturday.
Ok, let's get this out of the way first. Your Wikipedia page states you appeared on the children's television program Barney & Friends. What's going on there?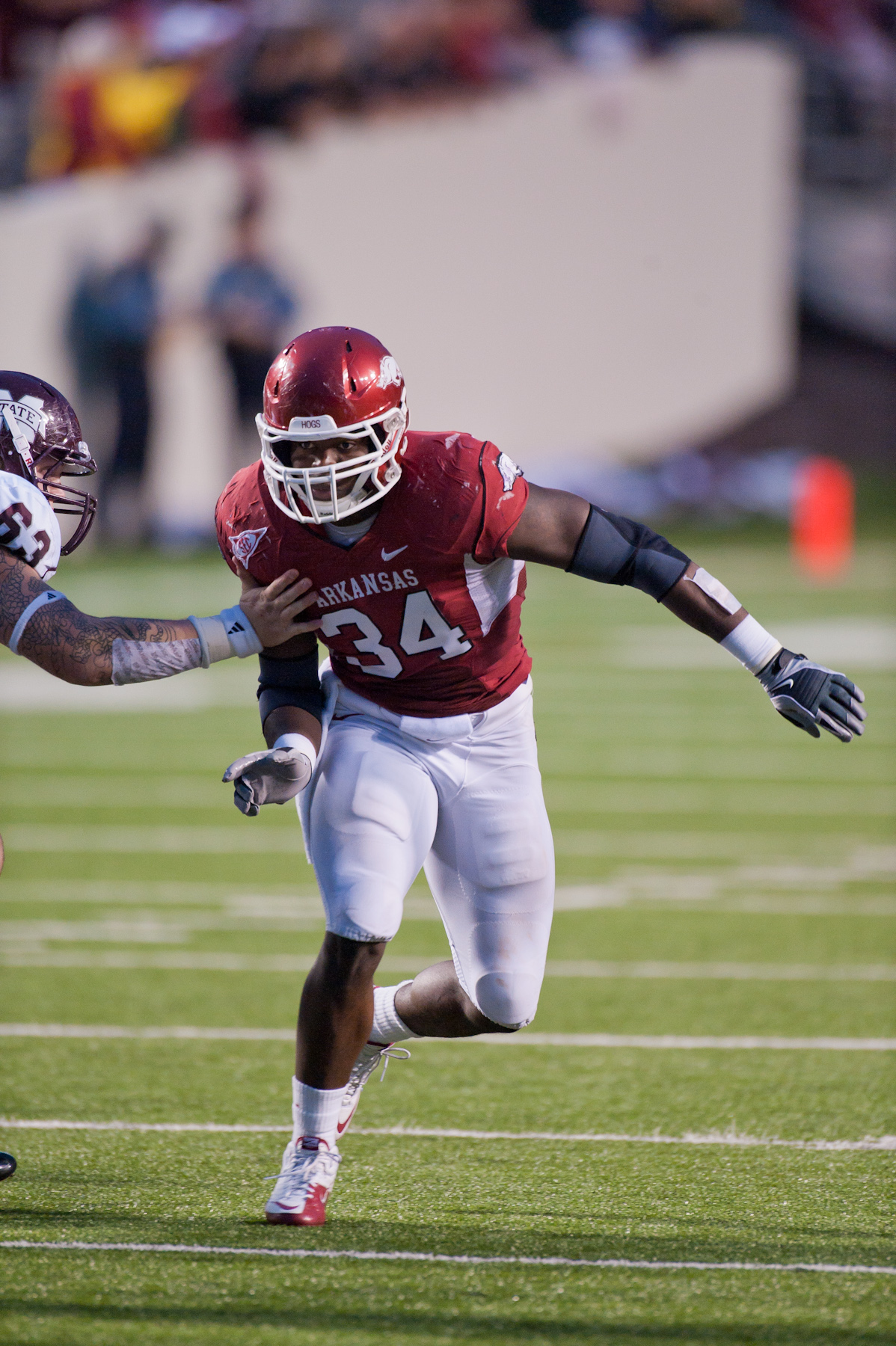 Jerry Franklin: [laughing] Yeah, that's definitely wrong. I couldn't stand that show growing up.
Lots of Hog fans can't stand what they're seeing on the field right now. Did you watch the entire Auburn game?
Jerry Franklin: I turned it off like midway through the third quarter. I couldn't watch it anymore. They started off pretty good. I was like "The defense is OK. We look good today." But in the second half, we just tend to fade. I'm not sure why that is. It's like the guys just go out with a losing mentality, like, "We don't have a chance to win it, let's just go through the motions." There's not a lot of intensity out there. I don't see any pride.
I haven't been to a game all year. My friends are like, "Hey why don't you come to a game?" I can't go to a game. I take it too personal. I get upset. I don't like to lose. 52-20? I can't watch that.
What are some of the main issues you see?
Jerry Franklin: I don't feel like our defenders really understand what the offense is trying to do, and what they're supposed to do. For example, there was a situation with one of our corners—I don't remember who it was—last year against Missouri. It was Cover 3, some kind of 3-deep defense, the receiver goes up, gives him an inside move, and he [the cornerback] jumps inside.
I was like "He had a post safety inside, why would he do that?" I'm pretty sure the coach told him at some point, "Hey, you have help to your inside. Stick to your leverage," but it's been tough getting those guys to understand and remember….
When I played, a lot of us had pride because most of us are from Arkansas. So it meant something to us. I felt like I had to have a chip on my shoulder, especially coming out of high school. Now I'm seeing guys who are, I guess, happy to be here. I'm not bashing the guys or anything….
I don't think Coach B's focus or priority is on guys from Arkansas. I've told my friends I'm sure if Coach [Bret Bielema] was here when I was coming out, I would not have gotten a scholarship offer from Arkansas. I wasn't the most highly regarded guy coming out, definitely a kid low-key on the radar.
During your freshman and sophomore years, the Hogs defense finished at the bottom of the SEC. Compare those teams to what you're seeing now.
Jerry Franklin: I played on a not-very-good team here my freshman year, but we didn't quit. We always looked like we were competing, though sometimes we took huge losses, like against Alabama, Florida, Texas. [Texas QB] Colt McCoy was awesome, probably the best quarterback we played against outside of Cam Newton. We didn't quit—the scores might have made it seem like we did, but we played hard.
Looking back on your NFL career, what was your favorite moment?
Jerry Franklin: I think that making a 53-man roster moment, it was like a journey—a kid from Sunset, population 300, having that vision before I really understood the game of football. I just remember the first day, sitting in my locker room, seeing my Chicago Bears jersey. I was just like "Wow." It was cool. I got to be around some guys that I'd idolized—Lance Briggs, Julius Peppers—even Devin Hester. In college, I remember watching all his crazy returns.
Another moment came when I was a rookie in Denver. I was with a bunch of rookies in the locker room, we had just gotten through with our physicals. Peyton Manning walks in while we're talking. Everybody just gets quiet.
He walks in there like "Hey, I'm Peyton Manning." Everybody's like "We know who you are! Why are you introducing yourself to us?" I don't get star-struck very much, but that was one time when I was. It was a lot of good memories….
It's clear you have a lot of passion for the game. Did you want to coach?
Jerry Franklin: At one point, yes. In 2015, when I was working on a sports management grad degree, I applied for a graduate assistant position on the UA staff. My friends Alfred Davis and Tenarius Wright were already on staff.
Aaron Henry, who had been a GA, had left for Rutgers so there was a spot open. I thought "I'd love to be a GA. I'll probably be done playing here soon anyway, why not just get a head start?" I applied, got a little feedback, but no interview.
Circling back to this season, the Hogs need to win four of their next five games to earn a lower-tier bowl bid. Whether that happens, or they don't go to a bowl, do you think Bret Bielema should be replaced as head coach?
Jerry Franklin: It's like, what is coach known for? Having great offensive linemen and running the football. But when you put the film on, do you see that? Do you see player development? Do you see any guys panning out? If you can't answer those questions "Yeah, yeah, yeah" in year 5 [of the Bielema era], then I don't think any other coach, at any other school in this league, survives.
Sportswriter Evin Demirel is the author of a new book on Arkansas heritage, sports and race relations. He gives a speech on it at the Clinton House Museum at 6 p.m. on November 9.
Photos courtesy of University of Arkansas Communications Dept.