The state of Arkansas has produced some amazing all-around athletes through the decades. Pine Bluff's Basil Shabazz, El Dorado's "Goose" Tatum, Forrest City's Don Kessinger and Ouachita Baptist star David Kossover all played at high levels in multiple sports including football, basketball, baseball and tennis. None, though, surpass the greatest multi-sport Razorback: Clyde "Smackover" Scott.
Before his death Jan. 30 at the age of 93, Scott was the only living Razorback football player whose jersey number (No. 12) had been retired. His electric play in the 1940s helped fuel a massive spike in statewide interest in the program. The opening of Little Rock's War Memorial Stadium in 1948 was in part a response to the anticipated crowds his senior season would bring.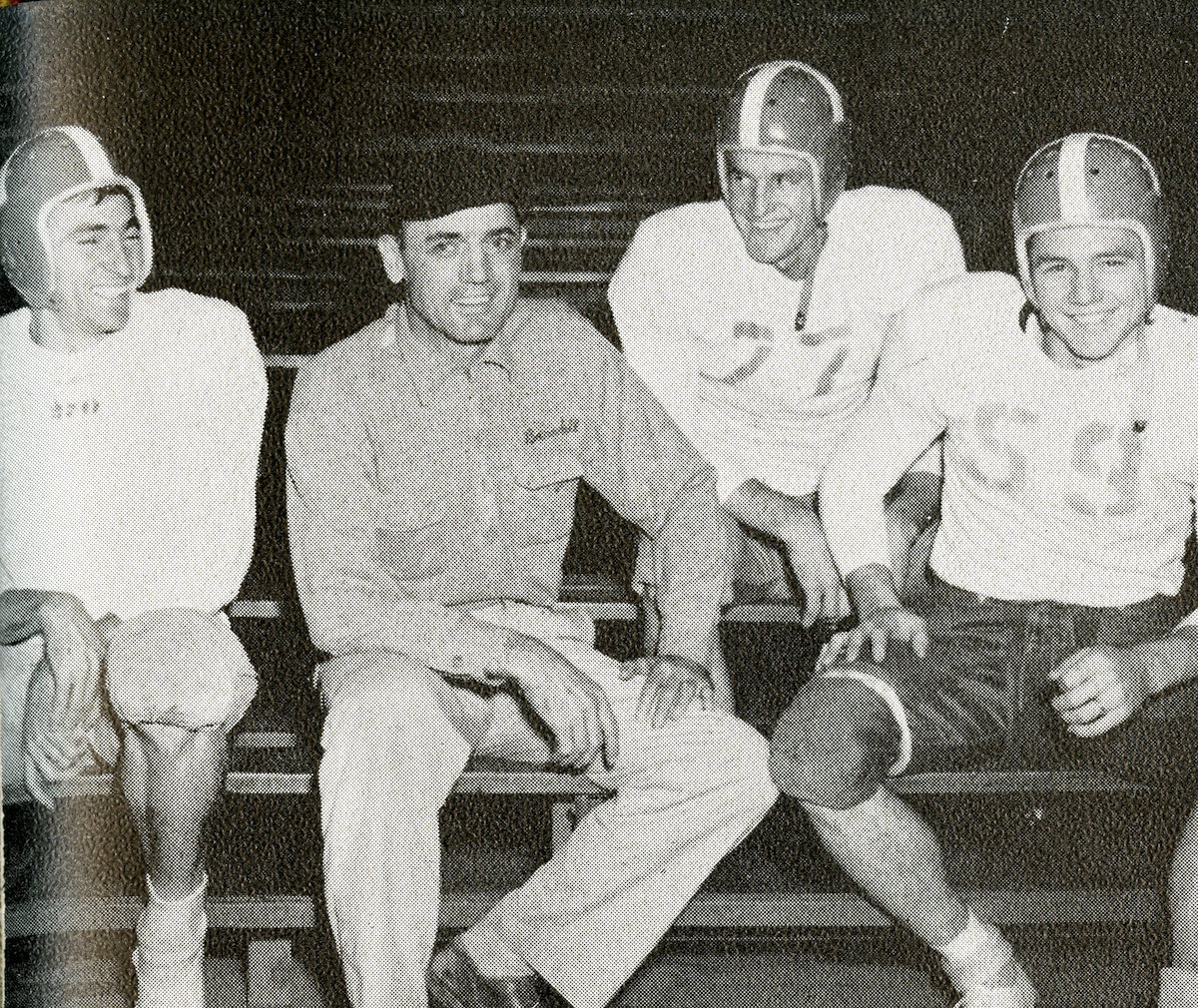 "Every little boy in Arkansas wanted to be Clyde back then, and a few men too, I'm sure," says Paul Berry, a friend of Scott's in recent decades. "The first fight I remember getting into as a child was on the playground fighting over who would get to be Clyde Scott."
Scott starred in track without the benefit of a true track coach. In the 110 high hurdles, he won a silver medal at the 1948 London Olympics without ever having learned proper technique. At Smackover High School, he had excelled in javelin and hurdles and later became the University of Arkansas' first individual NCAA champion.
Paul Berry recalls once discussing those days with Scott. Berry had heard Scott had won a 100-yard dash even though he'd never competed in that event in a meet for the UA before. "I asked him 'How fast did you run it?'" Berry says. "He acted like he didn't remember. But then, after a while, he said 'I tied Jesse Owens' world record.'" Scott had run it in 9.4 seconds.
The speed was evident from Scott's earliest days growing up as one of four boys in Dixie, north Louisiana, and Smackover in Union County. During high school, he stood out enough as a center fielder in baseball that the St. Louis Cardinals offered him a contract his senior year. He had learned to excel in hurdles, although his junior high school didn't own one.
So, Scott made his own. In a 2010 interview with The David and Barbara Pryor Center for Arkansas Oral and Visual History, he recalled taking trimmed wooden boards from a sawmill just down the old Camden road from his school. He nailed the boards to the top of two stakes he'd driven into the ground. "It was a permanent hurdle," he recalled. "You learn not to hit the hurdle. That's the first thing you learn."
It was in football, though that his athleticism drew the biggest crowds.
Don Lambert, now 87 years old, was one of the many children who frequented Buckaroos games in the early 1940s. "After school on Fridays all the boys would stay up at the stadium and not go home," he recalls. Scott "was such a nice man, took time with the kids — he was really a role model for us." During the games "we'd sit right there by the end zone. And it was a good place for us to be because Clyde spent half his time down there."
In all, Scott scored 65 touchdowns in three high school seasons, according to the Pryor Center interview. For two seasons, in 1944 and 1945, he played for Navy where he recovered from a horrific training exercise to become one of the most celebrated backs in that program's history.
There, he fell in love with Leslie Hampton, a UA student who was on her way to the Miss American pageant after winning the Miss Arkansan pageant. Scott resigned his post in July 1946 and the two soon married in Hampton's hometown of Lake Village. While Scott was a hard lean to play for the University of Arkansas and then-head coach John Barnhill anyway, his in-laws all but ensured the decision.
Bear Bryant, the Fordyce native who starred at Alabama and then coached at Kentucky, dropped by the Hamptons' to recruit Scott, Barnhill told Orville Henry in The Razorbacks: A Story of Arkansas Football. "Mrs. Hampton chewed him out because he had gone to Alabama and not Arkansas," Henry wrote.
It was Scott's ability to light up scoreboards (he averaged 7.1 yards per carry during a first-team All-American senior season and later helped the Philadelphia Eagles win a world championship) that generated the most headlines. But, in that era of two-way stars, he was just as spectacular on defense. Indeed, Barnhill considered him the best defensive back he coached.
Scott's most memorable moment on defense came at the end of a scoreless game — the Jan. 1, 1947 Cotton Bowl vs. LSU. On a day when the wind chill neared zero degrees, five times the Tigers drove into Arkansas's 20-yard line. The Hogs repulsed them every time. According to a legend shared in The Razorbacks, Scott's teammate "Muscles" Campbell spent timeouts "collecting newspapers and game programs swirling around in the frigid air and stacking them on the Arkansas goal line."
When asked what he was doing, Campbell replied: "If we're gonna camp down here all day, we ought to build a fire."
The Tigers' most serious threat came on their fourth surge. That's when LSU quarterback Y.A. Tittle completed a pass to star end Jeff Adams, who appeared to have a cake walk into the end zone from about 10 yards away. Adams caught the ball right near one sideline. Scott was on the opposite sideline.
Scott immediately began streaking toward the goal line, covering the entire width of the field. "I have all that speed and force with what little weight I had, and I hit him just perfectly in the midsection," Scott told The Pryor Center. Just before the end zone, "I not only stopped him, but I knocked him outta bounds way, way out there."
He continued: "It was kind of sensational to see somebody do it, but it wasn't all that much. It was just takin' an old boy that doesn't know anything but [to] run fast and, you know, grab people when you get there and keep 'em from scorin'."
Sports historian Evin Demirel is the author of African-American Athletes in Arkansas: Muhammad Ali's Tour, Black Razorbacks and other Forgotten Stories. He will helm a free panel with Sidney Moncrief and Oliver Elders at Crystal Bridges Museum of American Art on Feb. 28