Razorback Guard Sets Impressive All-Time Scoring Record
Through the decades, some of the most prime-time players in women's basketball history have scorched the nets at the SEC Tournament. A short list includes Chamique Holdsclaw, Seimone Augustus, Candace Parker and Tamika Catchings.
None of them did what Razorback Chelsea Dungee achieved over the weekend.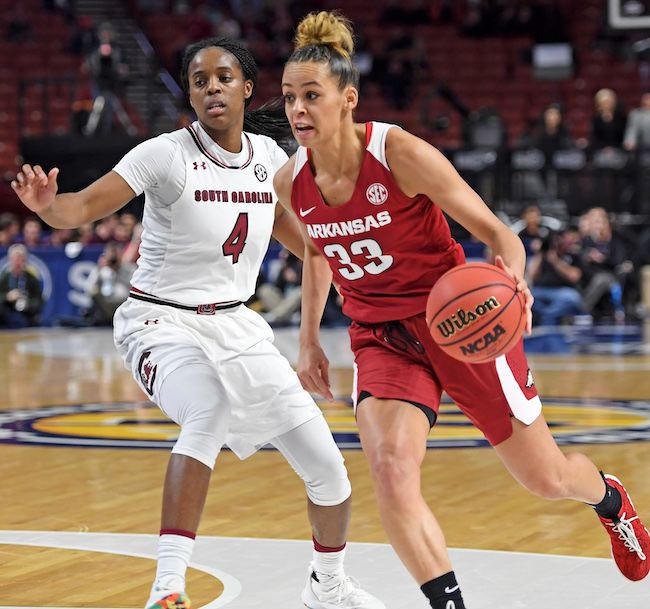 The SEC Women's Basketball Tournament continues at Bon Secours Wellness Arena in Greenville Friday, March 8, 2019.
GWINN DAVIS / MEDIA
Dungee, a 5-11 sophomore guard, shattered the SEC Tournament scoring record by pouring in 103 points — 13 more than that of the previous record holder, Tennessee's Shelia Collins.
Dungee led Arkansas to three straight wins, including two over Top 16 teams, before the Hogs bowed out in the championship game against No. 5 Mississippi State. "I've worked really hard behind closed doors," she said afterward. "To see goals like that accomplished, I'm thankful for my teammates. They're just as responsible for helping me get to that goal as I am." Arkansas (20-14) became the first No. 10 seed to make it to the SEC finals. It was the kind of deep postseason tourney run Dungee envisioned when she decided to transfer to the Razorbacks two years ago.
Dungee, from Sapulpa, Okla. near Tulsa, had already known Razorbacks' head coach Mike Neighbors for years. As a Sooner, she played against the Neighbors' former team — the Washington Huskies — and had seen him lead that program to a Final Four finish.
In 2017, she joined Neighbors at Arkansas with the goal of doing the same in Fayetteville.
So far, the road's been bumpy. As with recent men's teams, the lady Hogs have flashed signs of greatness mixed with maddening inconsistency. After a four-game SEC win streak early in conference, Arkansas lost eight of nine SEC games.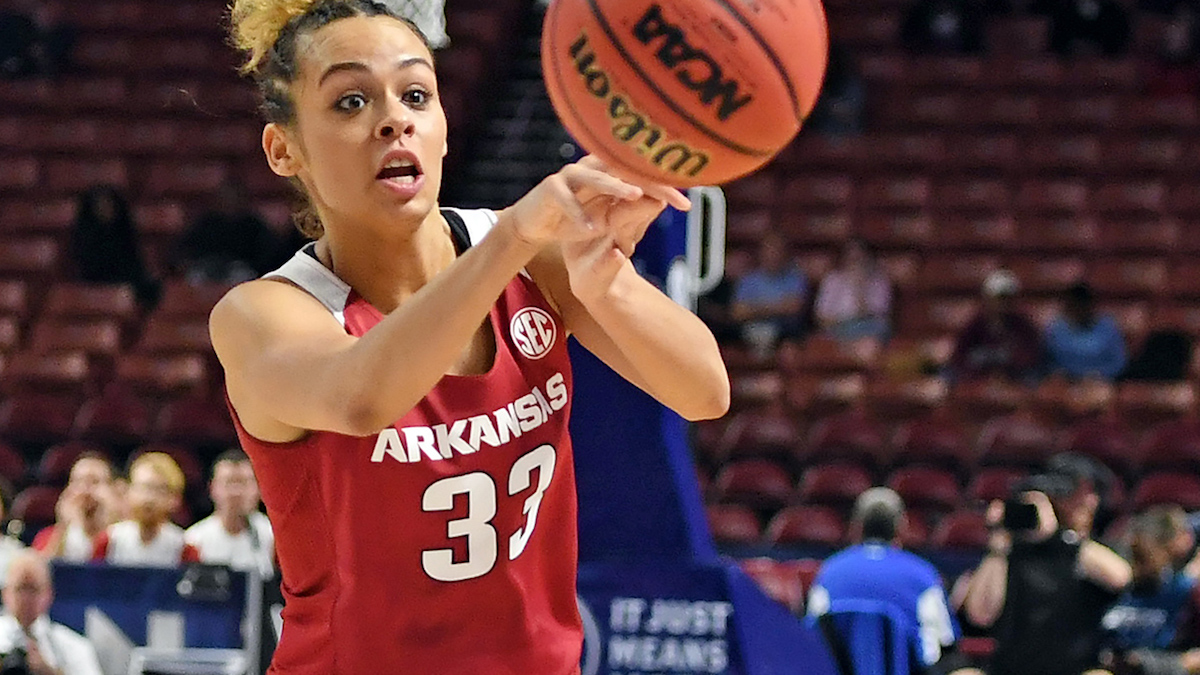 Still, through the tough times, Neighbors saw great potential in Dungee. "She's exactly what we look for: versatile, hard matchup, tough enough, gritty enough to guard a big on the other end, still be a mismatch problem," he said. Neighbors has been especially impressed by Dungee's work ethic in losing 35 pounds and adding muscle, tabbing her a "prototype for what we call a dragon."
After sitting out 2017-18 as a transfer season, the dragon has gotten to work. Dungee put up 19.5 points, 4.5 rebounds, 1.4 assists and 1.4 steals a game this year. She was especially devastating in SEC play, scoring 346 points to eclipse Shameka Christon for the most single-season SEC points in UA history.
For all that work, Dungee was selected to the SEC second-team, not first-team. She made no bones about that oversight displeasing her going into the SEC Tournament in Greenville, S.C. "I went down there with a chip on my shoulder," Dungee said. "I just wanted to play as well as I could for my team and seniors — they mean so much for me."
Outside of winning the title, consider that mission accomplished. Here's a sample of what Arkansas did during its four-day Cinderella run:
Beat No. 12 South Carolina, a powerhouse program which had won four straight SEC tourney championships. Chelsea Dungee scored 31 points in that upset.
Roared back from 16 points down in the second quarter to beat No. 15 Texas A&M
Became the lowest-seeded team ever to reach the SEC Tournament finals
Arkansas's first-ever trip to the SEC Tournament finals
Chelsea Dungee earned SEC All-Tournament Team honors (second Razorback to ever earn all-tournament honors after Shameka Christon in 2002 & 2003)
Junior guard Jailyn Mason hit 13 three-pointers, tying the all-time SEC Tournament record
Arkansas won't know whether it gets into the NCAA Tournament until Monday. Neighbors thinks his team's strong run gives it a resume worth strong consideration. "We're peaking at the right time," he said. "There's no reason in the world that has to be our last game."
For now, he's fine with just enjoying the historic run. Razorback fans greeted the team soon after it flew into Fayetteville's Drake Field Airport on Sunday night. "If you come and you give it everything you got—which we obviously did, we left every bit of it out there—these fans will recognize that," Neighbors said. "You don't have to win a championship to be a champion here. And when we do, it'll be that much more special. That's what separates this from every other school I've ever been associated with."
Dungee, Mason and their teammates were impressed, too. "It's just the best feeling to have this kind of support from people even though you don't win a championship ring," Mason said. "To have this atmosphere when you come home is just the best feeling ever."