Growing up under a microscope isn't foreign to many modern children. With smartphone baby monitors and constant social media chronicling, it's possible to imagine a kid who never escapes his parents' watch—or even the limelight of the world's stage.
LeBron James Jr. definitely checks that last particular box.
From infancy to adolescence, his images have been spliced, diced and digitized in thousands of social media posts and video clips taken by his global icon father, his mom and the media at large.
Many of these chronicles come courtesy of MADE Hoops, a nationwide basketball organization run by Chad and Kyle Babel, two New York-based brothers. Chad Babel was a graduate assistant for Razorback men's basketball in 2008-2010. MADE Hoops puts on multiple tournaments involving Amateur Athletic Union teams, including one every April in towns across northwest Arkansas. This year, major Razorback recruits Chris Moore, Moses Moody and Jaylin Williams played in it.
Yet the most famous baller was only 14 years old.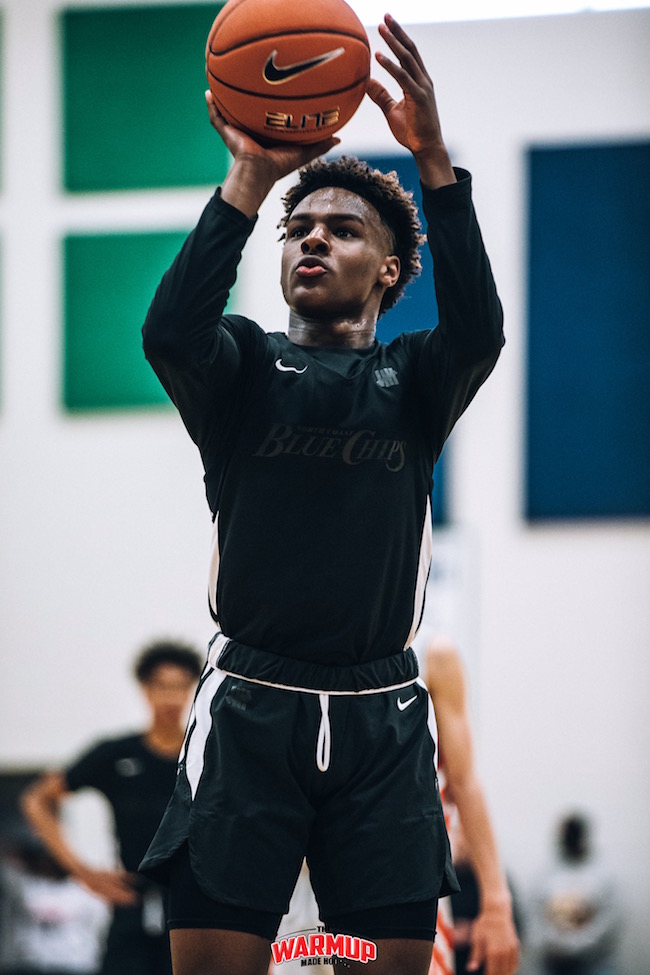 LeBron James Jr., whom his dad dubbed "Bronny," lives in the Santa Monica, Calif. area and crisscrosses the nation playing in various basketball events with the North Coast Blue Chips. On a recent weekend, he and the Blue Chips played in a MADE Hoops tourney at Fulbright Jr. High in south Bentonville. Fans packed Fulbright's 900-person gym for all three of Bronny's Saturday games, including an 11 a.m. one in which about 200-300 people had to be turned away, says Tom Halbmaier, Bentonville High's assistant athletic director. He added that under normal circumstances Bentonville High's Tiger gym would have hosted the games but that its floor is being replaced.
Some fans hoped to catch a glimpse of LeBron James Sr., the four-time NBA MVP, himself. Dad, though, didn't show up on this particular weekend. Typically, James Sr. makes about 30% of Bronny's spring and summer tournaments, Fulbright principal Bradley Webber said MADE Hoops organizers told him. "And when he comes it's generally on Sundays, not Saturdays, to avoid the crush."
Many of the children and teens were perfectly content to see the superstar's 5'11" son as he strode across the gym floor, through school hallways and to the concession stand for a snack. Three security guards surrounded James whenever he left the court, said Halbmaier, who served as the Bentonville School District's point of contact with MADE Hoops. They let Bronny mingle with other teens and "give dap" as he saw fit, but stood guard in case of sudden danger, Halbmaier added.
This is normal operating procedure in public for James Jr. Though it didn't seem to faze him, there's no escaping the fact he lives much of his life under a magnifying glass. His actions don't just influence his own future, but can affect the brand and image of his father. "I kind of feel sorry for the guy, because he can't be a normal kid," Halbmaier said.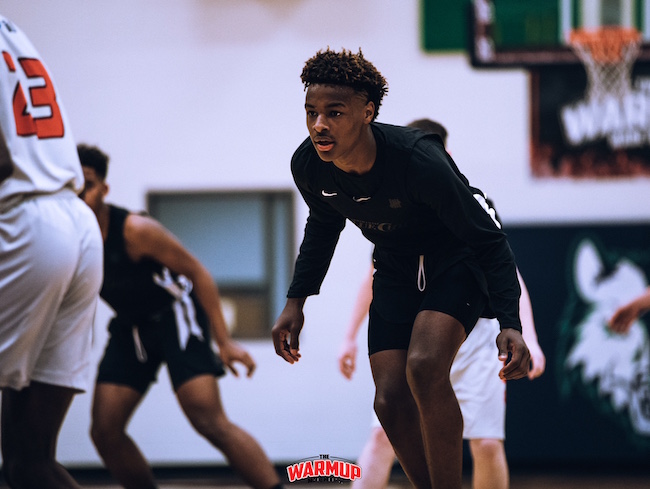 Some opponents go after Bronny especially hard. They seek the validation of beating a big name. This was clear when, late in the first half of the game I attended, an opponent stripped James and hustled after the ball. James scrambled after it, too, and the two teens dove for it at mid-court. The opponent came away with the ball, rolling over James' arm to get it.
The referees stopped play and the opposing team's coach scrambled onto the court toward the action. When he saw his player had wrested the ball from James, he gave a primal scream of success, like he'd single-handedly won Game 7 of the NBA Finals.
So far, Bronny seems to handle all the scrutiny and roughhousing in stride. He comes across as team-first and poised while developing into one of the best players in his class. Even as an 11-year-old, he held scholarship offers from Kentucky and Duke.
One reason is that whatever college program gets him will reap non-basketball benefits from his growing celebrity and ties to to his father. Already scores of photographers and videographers follow him to every game, and it wouldn't be surprising to see a documentary released about his life in the coming years.
But Bronny also shows elite skills that portend well for high major college basketball and the NBA. While his outside shot is still a progress and he doesn't project to be the same kind of physical specimen as his father (nobody outside of Zion Williamson is), he's an outstanding ball-handler. So good, in fact, that LeBron James Sr. said Bronny is a better dribbler than he was at the same age.
James Jr. also has superb quickness, passing ability and court IQ, constantly probing defenses for their weak points—just like dad. On Sunday at the end of a triple-overtime game against Blake Griffin's AAU basketball team, he flashed great defensive instincts, stealing an inbounds pass and then slicing past defenders to the hoop for the game-winning bucket. The Arkansas crowd roared its approval. A video clip of the clincher went viral nationwide. James Sr. gave Instagram props that went to 48.6 million followers.
The exploits of Bronny and other tournament stars briefly put Bentonville on the national basketball map. "You have these extremely talented young men come into our community and to be able to play basketball at the level they're playing … that helps our community out in terms of getting recognition in basketball," Halbmaier said. "The hotels and restaurants that the tourney fills also generates a lot of extra funds and tax revenue. We're extremely grateful."
The only comparable basketball buzz in these parts came a few years ago during the Bentonville High career of Malik Monk, then one of the nation's top shooting guards. As a junior, Monk was a highly sought Razorback recruit who delivered thrilling performances to multiple sellout audiences at the 1900-person Tiger gym. "We turned away at least 500 people four or five times with Malik," Halbmaier recalled.
Malik Monk's older brother Marcus Monk, a former Razorback, helped organize tournaments involving Bentonville High during Malik's high school career. Marcus Monk, who now helps run the Arkansas-based Woodz Elite AAU program (formerly the Arkansas Wings), also serves as an Arkansas contact for MADE Hoops.
Malik Monk went on to become the SEC Player of the Year with Kentucky, a No. 11 NBA Draft pick and a backup guard with the Hornets. Will Bronny reach, or surpass, similar levels of success? Regardless of whether he succeeds or fails, scores of cameras will track every move by this young man, a star-by-blood striving to be a star-by-merit.
It's going to be riveting reality TV for fans of basketball and human nature alike.
Photos used with permission. Credit: Jeff Armstrong/MADE Hoops