It's no secret: Razorback football won't climb to the mountaintop this season.
With a record of 4-5 (yeah, I'm technically counting Coastal Carolina as a "win"), the Hogs need to win two of their last three games to even make a bowl game. Given how shaky the Hogs looked in the last game, not many fans expect that to happen.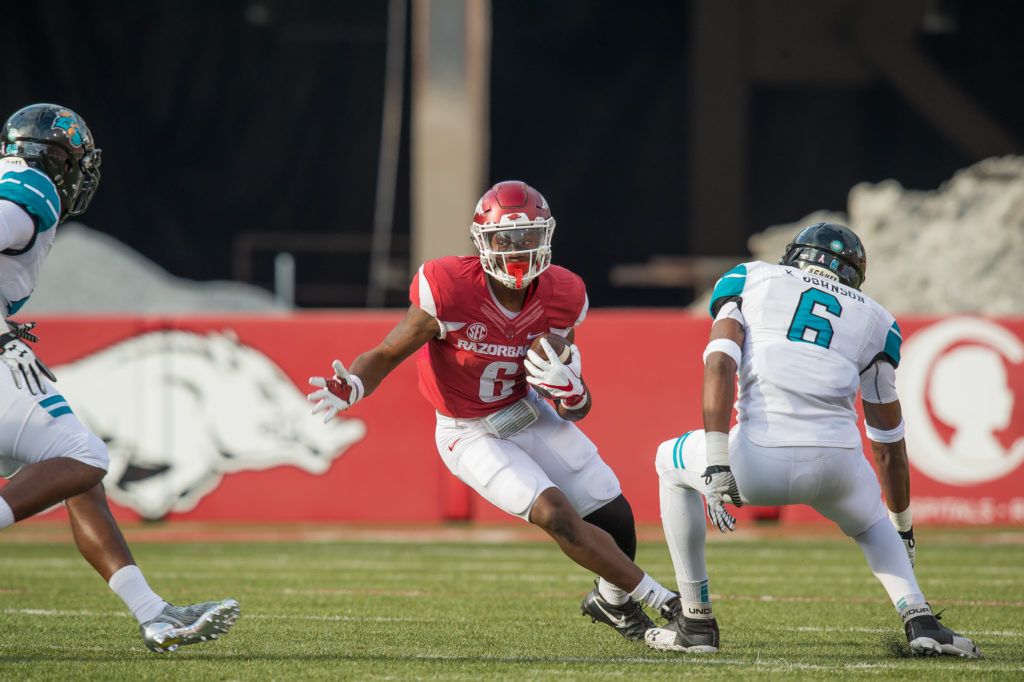 But still, in all the apparent doom and gloom surrounding the program, a few bright spots have emerged this fall. One of the biggest is T.J. Hammonds, the quicksilver sophomore back out of Little Rock. Without Hammonds, it's likely the Hogs are sitting at 2-7 right now. Two weeks ago, he scorched Ole Miss for 84 yards on 11 carries. Last week, he tacked on 119 yards in a mere seven carries—and a 60-yard touchdown reception for good measure.
This season Hammonds's per-carry average is 10.4 yards, which is obscenely good for a high-major Division I player.
For context, below are the top three Razorbacks of all-time in terms of per-carry yard average in a single season:
1. 8.74 Felix Jones (2007) (more than 10 rushes per game)
2. 8.00 Matt Jones (2001) (more than 9 rpg)
3. 7.74 Harry Jones (1965) (more than 8 rpg)
And here are the top three SEC players of all-time in same category, according to Sports-Reference.com:
1. 9.20 Percy Harvin (2007) (more than 7.5 rpg)
2. 8.74 Felix Jones (2007) (more than 10 rpg)
3. 8.53 Ontario McCalebb (2010) (more than 6.7 rpg)
The kicker is that to even make the list, the player must average at least 6.5 carries a game. And T.J. Hammonds has only has 25 carries in the 6 games in which he's had an attempt. Given how well the Joe T. Robinson High product has recently played, though, it's very possible he'll end the season with enough carries to qualify.
If the Hogs play only three more games, he needs 32 more carries to average 6.5 per game on the season.
In that scenario, Hammonds needs at least 240 more yards in the last three games to overtake Felix Jones in the Arkansas all-time rankings. That would mean he must average at least 7.5 yards per carry from here on out. That's a tough task considering two of the Hogs' last opponents—Mississippi State and LSU—rank in the Top 41 in rush defense, but it's far from impossible.
If Hammonds hungers for even more glory, he would need to average at least 8.31 yards per carry in these last three games to overtake Florida's Percy Harvin for the top spot in SEC history. As a team, the Hogs won't play for No. 1 this season, but T.J. Hammonds still has a legit shot to reach a single record-summit. He's nearly halfway there. 
Sports historian Evin Demirel, who has written for the likes of WholeHogSports.com and ESPN.com, is the author of African-American Athletes in Arkansas: Muhammad Ali's Tour, Black Razorbacks & Other Forgotten Stories.
Photo courtesy of Razorback Communications.