One of the many things my family loves most about living in Arkansas is the abundant outdoor activities there are for us to enjoy. You can find just about anything you can think of in the great outdoors of Northwest Arkansas. From swimming to hiking, mountain biking, camping, fishing… There's always something to do.
We look to nature for a lot of our activities, and fishing here in our corner of the Natural State has not disappointed. We're one of those crazy families who keep our fishing poles in the car at all times. This is another article for another day, but my husband's rigged up a fishing pole carrier on the ceiling of our 4Runner… I kid you not. Though we may be amateurs, we're always ready to do a li'l fishing. It's a beautiful way to sit back and enjoy nature.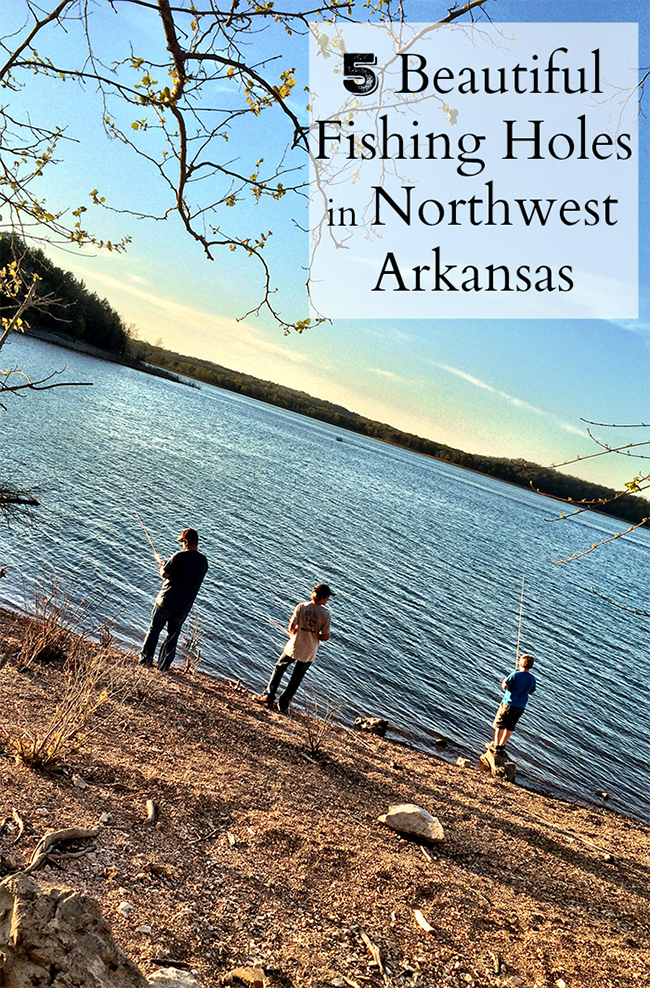 Last spring we enjoyed a simple staycation of sorts. We decided we wanted to give fishing a try; we'd been before with the boys, but it had been awhile. During that staycation, we found out we love fishing together. We also found a few great fishing holes and even caught dinner one night.
Here are just a few of the amazing fishing holes in Northwest Arkansas…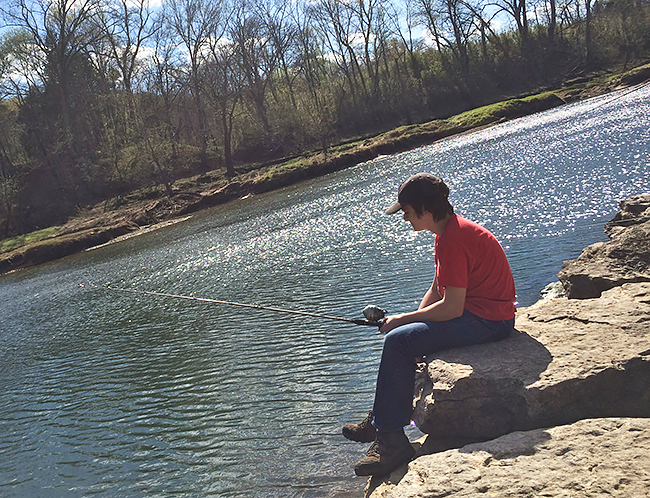 White River Below Beaver Dam
The White River below the dam is probably my favorite spot to fish because of how peaceful it is, especially on a week day afternoon. You may encounter a few other fishermen/women out and about, but for the most part, we've found it to be quite the peaceful spot. It's also a great place to catch trout and view, as well as listen to wildlife.
Catfish Pond near Dam Site River Campground
Within the same vicinity and on the banks of the White River is the Dam Site River Campground. Just up the road from the campground is a catfish pond. This is another peaceful spot, as the road usually isn't that busy. You may even catch a few trout here, as well. Do bring bug spray on a warm summer evening, though, as mosquitoes are plentiful.
War Eagle Creek at War Eagle Mill
Headed to War Eagle Mill? Bring a fishing pole along! You can walk down the creek, under the bridge, etc. It's another beautiful place to fish, albeit not quite as peaceful as there are usually others with the same idea. It's still a great place to go, especially with kids because if they get tired of fishing, they can scour the creek bed looking for rocks to add to their collection.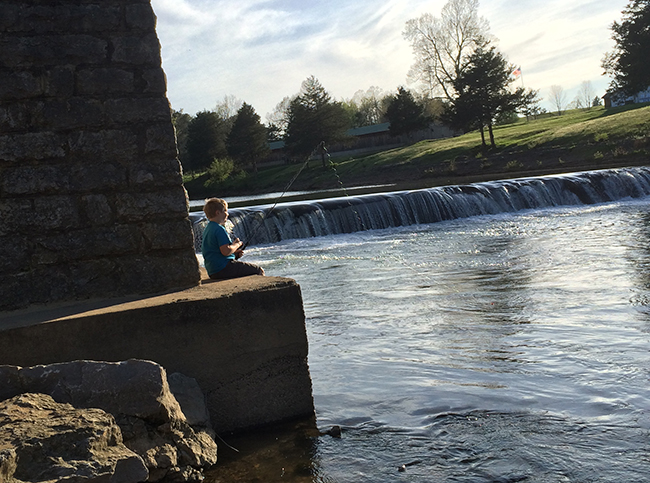 Lake Atalanta
While Lake Atalanta is currently a construction zone, it will soon be ready for fishing again. It's a great place to catch trout, bass, bluegill, catfish, and more. It's also a beautiful spot; we're really looking forward to the day it's finished because it looks like it's going to be an absolutely beautiful place to fish (and bike, hike, walk, and just be outdoors) when all is said and done.
Beaver Lake
Again, while not quite as peaceful as the shores of the White River, this is a great place to take the kids fishing for bass, catfish, stripers, white bass, and crappie. There's plenty of room for everyone; you can fish from a floating dock or the shoreline at Prairie Creek Recreation Area or right off the shore on Hwy 12. Of course, these aren't the only spots on Beaver Lake, but they're a couple of spots we've enjoyed. Beaver Lake is heaven for those who own a boat.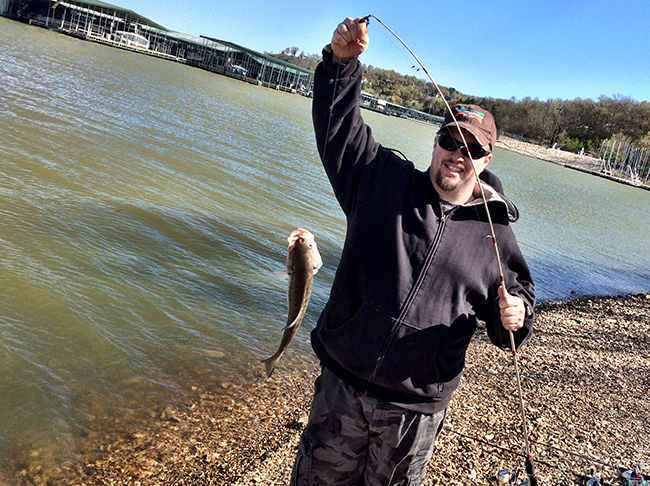 Things to Know Before You Go
Whether you're an avid fisherman or an amateur like us, it's important to educate yourself on the rules and regulations for where you're planning to fish. For example, certain parts of the White River are reserved for different types of lures and baits. There are rules around the size fish must be in order for you to keep each one you catch. There are also limits as to how many of each kind you can keep. You'll also need a fishing license. These are just a few of the things you need to think about and prepare for before you go. The Arkansas Game & Fish Commission is your go-to source for information.
If you're looking for fishing equipment, including poles, lures, and bait, Hook Line & Sinker in Rogers is a great place to buy local. You'll find the owner is a wealth of knowledge. You can even pick up your fishing license while there.
While some fishing holes may have restrooms nearby (including non-flushable toilets), others may not. My rule of thumb: Always carry a roll of toilet paper along. And don't forget plenty of drinking water and snacks. Can't go fishing without the proper snacks! Another suggestion… Bring camp chairs, so you'll have a place to rest.
Happy fishing!