From November through February in Northwest Arkansas, Hobbs State Park offers a guided Eagle Cruise on Beaver Lake. It's an opportunity to see bald eagles in their natural habitat. It's also an opportunity to sit back, relax and enjoy the view. There are two more weekends of cruises, so make your plans now!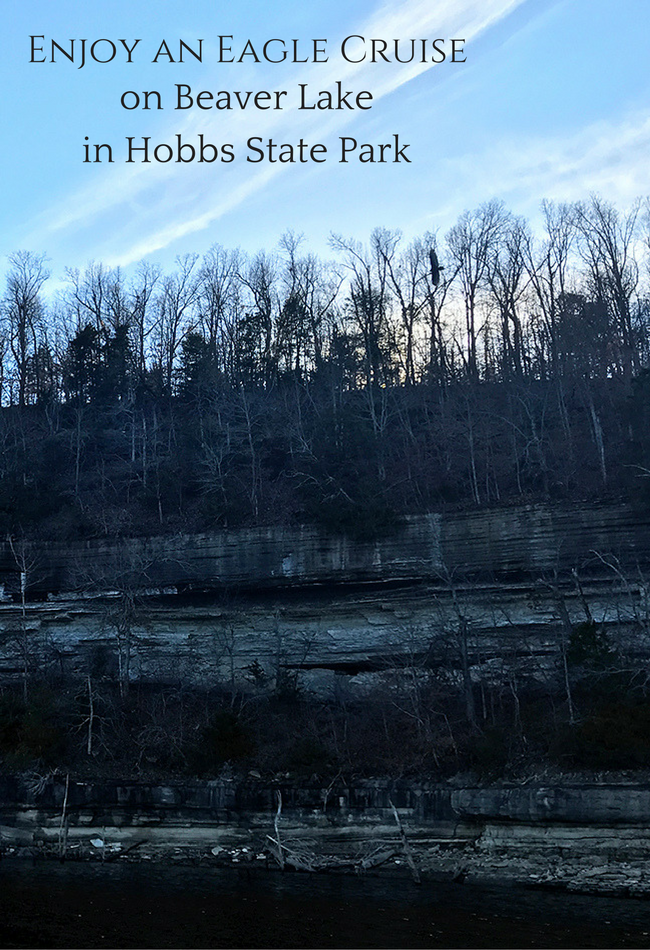 Our Eagle Cruise Adventure
We were fortunate to book an Eagle Cruise on a beautiful day this past January. We drove out past Rocky Branch School, following directions to get to Rocky Branch Marina, where we met up with our guide and other tour participants.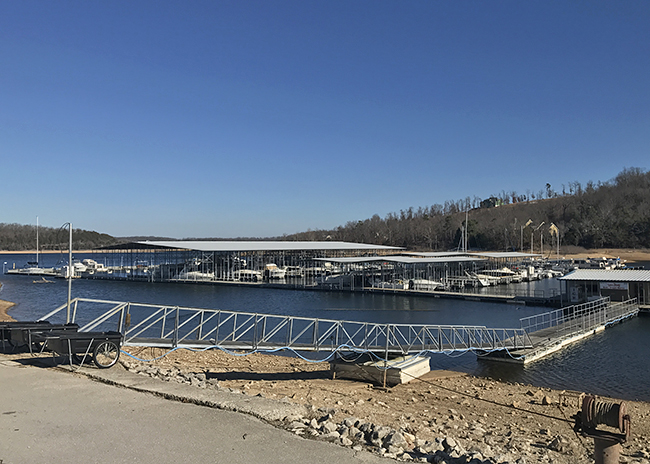 We weren't sure what to expect, but when we arrived, the large pontoon boat was plenty full of other guests just as excited as we were to spot a few eagles.
We were given life jackets and found our seats in the back of the boat. Our boys were provided with binoculars, as well, though you are encouraged to bring your own if possible. No need to worry, because everyone on the boat had a great view, no matter where we sat.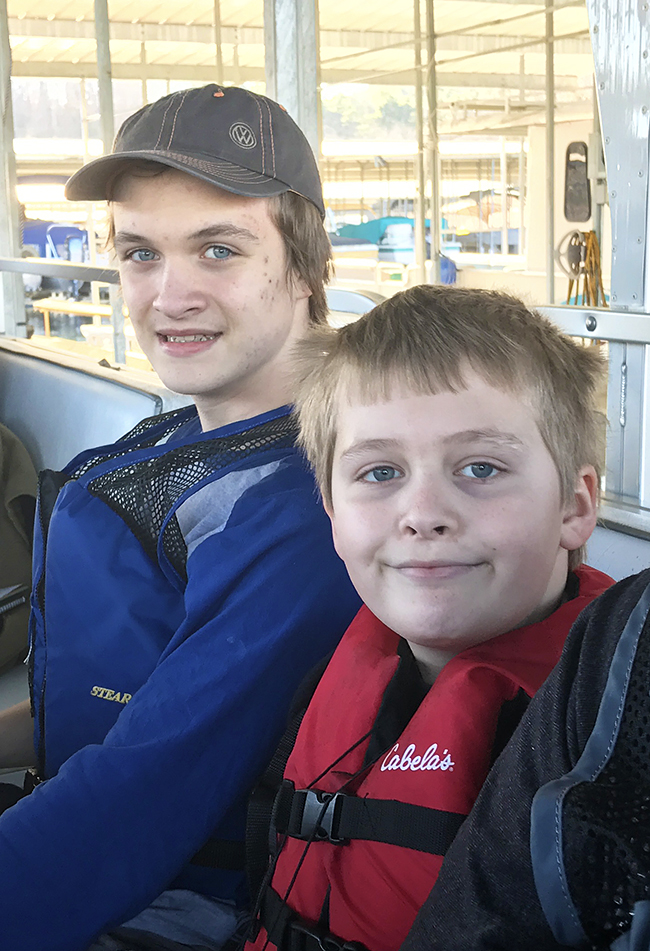 Our helmsman backed us out of the marina, and we made our way out onto the open waters of Beaver Lake. Our guide began to educate and inform us all about eagles. While it was a gorgeous day, he did mention that they've seen the most eagles on the yuckiest of days when it comes to weather. As we made our way to an undeveloped area on the Van Winkle arm of the lake, he pointed out other wild birds, including vultures and hawks, showing us the differences between them and eagles… One of those differences being that eagles fly with wings spread straight out, and vultures form more of a "V" with their wings. Bald eagles also have that white head and tail with a dark body.
Speeding along to our destination, we kept our eyes peeled for eagles, especially watching the tops of the pine trees where apparently, they like to build their nests. We spotted plenty of turkey vultures and hawks along the way.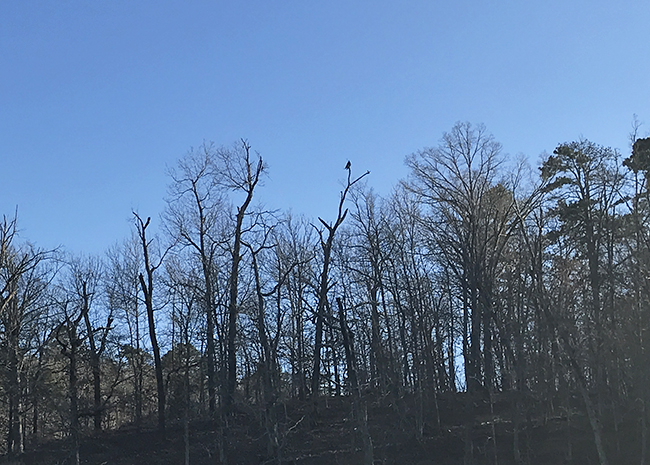 When we arrived at a more quiet area of the lake, that's when the real searching began. Our helmsman steered us in and out amongst trees sticking up out of the water, into an area of the lake that used to be a road.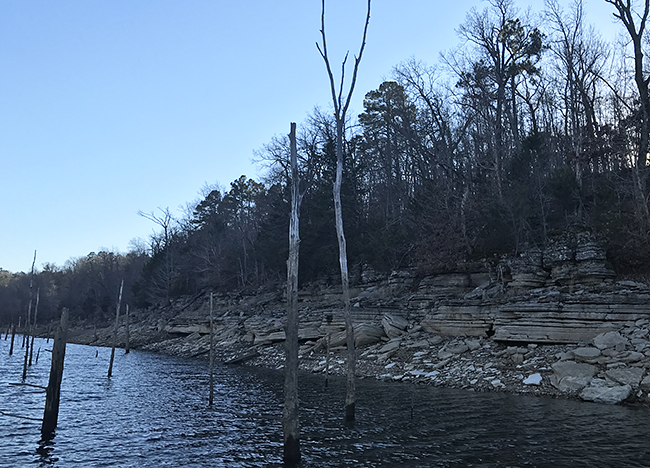 That's where we spotted our first eagle, soaring up above the trees and the lake. While it was difficult to take pictures, I'll never forget the sight of that eagle, freely gliding back and forth over the beautiful water. You can catch a brief glimpse of the eagle in our video adventure.
Along the way, I noticed our oldest getting acquainted and chatting with the helmsman as he steered the boat. It brought a smile to my face because he never fails to find a friend in anyone, especially those older in age. The stories he learns, the conversations he has… They're priceless.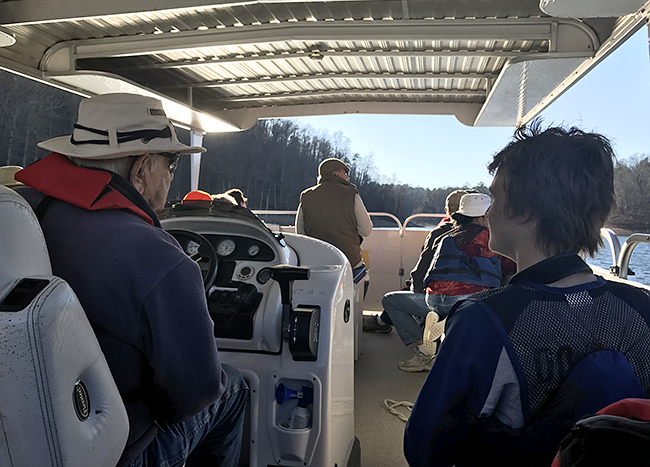 While the weather was sunny and the water especially calm, the eagles must have been enjoying this beautiful day, as well. We saw a total of TWO eagles on our cruise, as well as hawks, turkey vultures and more. According to one park interpreter, it's not unusual to see great blue herons, kingfishers, deer and red-tailed hawks.
The boat ride, with all of the gorgeous views and the education of our guide, was well worth the small investment we made to take an Eagle Cruise. We would totally go again, but maybe on a more blustery day so we could compare and see if weather truly does make a difference.
As far as taking kids on this cruise, our guide was ecstatic to see kids interested in bird watching. They were more than welcome, and our boys really enjoyed everything about it. I'd wager to say they even learned a thing or two about eagles and their natural habitat surrounding the beauty of Beaver Lake.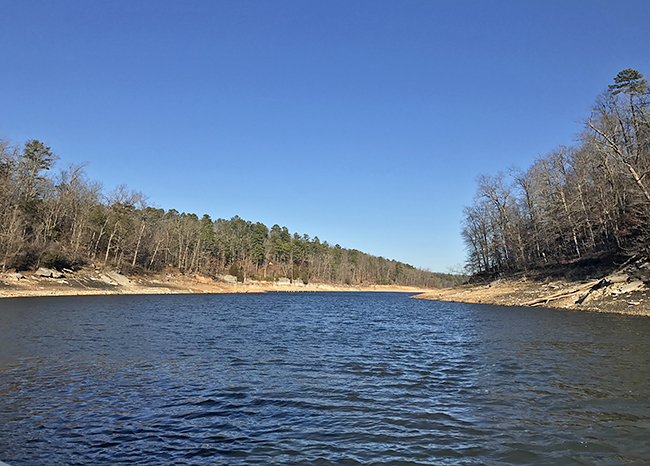 Things to Know Before You Go on an Eagle Cruise
Admission for the Eagle Cruise is $10 for adults, $5 for children ages 6-12, and free for children under 6. You do need to reserve your cruise and pay ahead of time by calling Hobbs State Park at 479-789-5000.
When you register, you'll receive an email with all the details, including a map that shows you where to park. You'll need to arrive at least 10 minutes before the cruise departs. The cruise itself lasts around 1-1/2 hours. The covered pontoon boat has comfortable seating, and lifejackets are provided and required. Bring your binoculars, though a few pairs of binoculars are available for use. You are allowed to take snacks and drinks onto the boat, as well, though alcohol, smoking and pets are not allowed.
Whatever you do, be sure to dress for the weather. It may feel warm outside, but as the boat begins to speed out onto the lake, the breeze can definitely give you a chill; be especially sure to dress children warmly.
Happy cruising! We wish you the best of luck on your Eagle Watch Cruise!