Chocolate.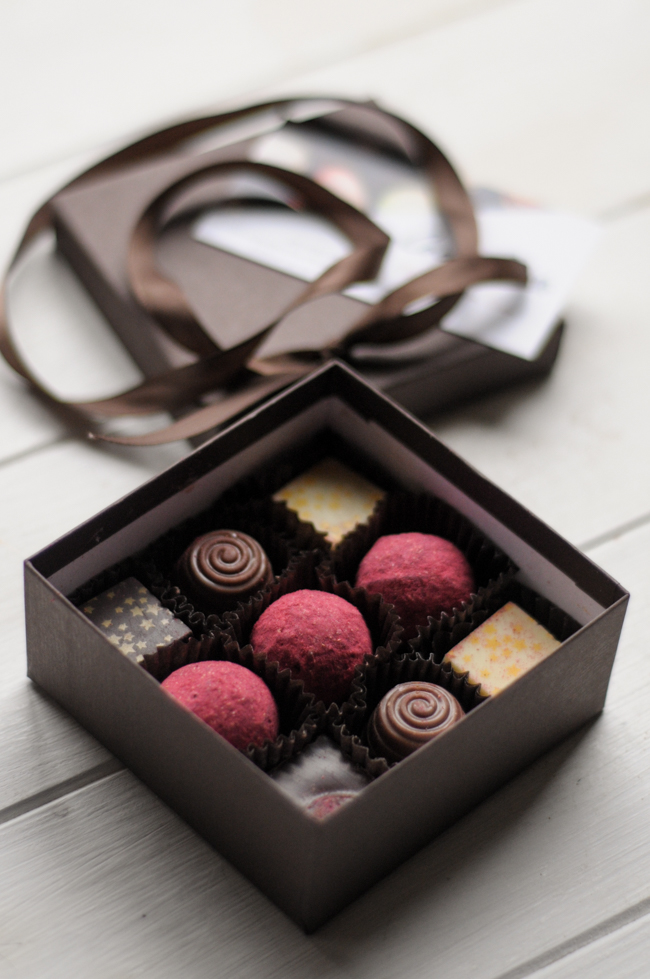 The very word conjures up magical, delicious thoughts and emotions. While for some a good fix might be a bag of M&Ms, others are truly dedicated to the processes and flavors that create a memorable, world-shifting chocolate experience.
Carmen Portillo of Cocoa Belle Chocolates is the latter.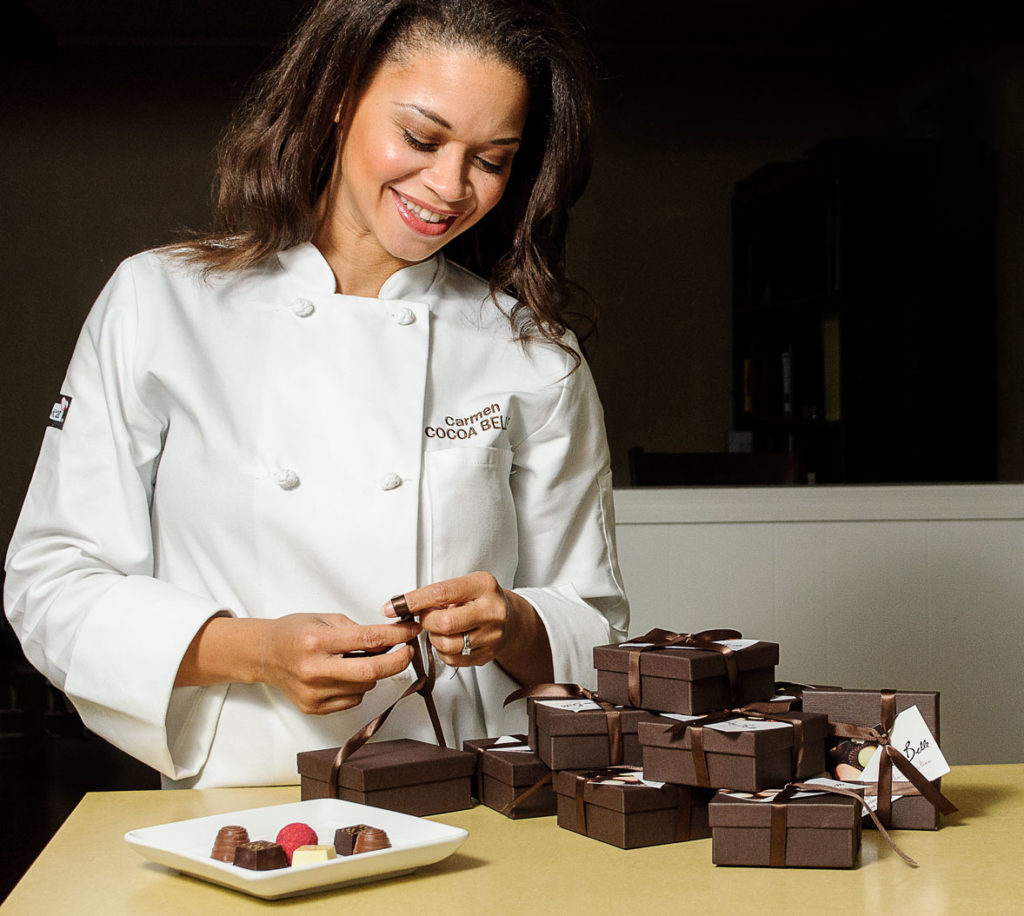 A young woman, Carmen quickly became the first Certified Professional Chocolatier in the state of Arkansas, establishing herself as a true master of the chocolate experience. Her inspiration is embedded in her world travels and experiences, and her art medium is chocolate. As a paying customer and lover of her craft, I can attest that Cocoa Belle chocolate is intensely flavorful, beautiful to behold, and creates a chocolate adventure that can't be found in a cheap box of grocery store candy.
In just talking to Carmen about chocolate one can feel the passion she has for this incredibly decadent ingredient. An adoration of quality is apparent, and she wants to share that love of chocolate with the world. Her story, her life, and her creativity are all focused on crafting an unadulterated experience of chocolate perfection for her customers.
Let's just say that Valentine's Day filled with carefully crafted and beautifully inspired chocolate trumps one without.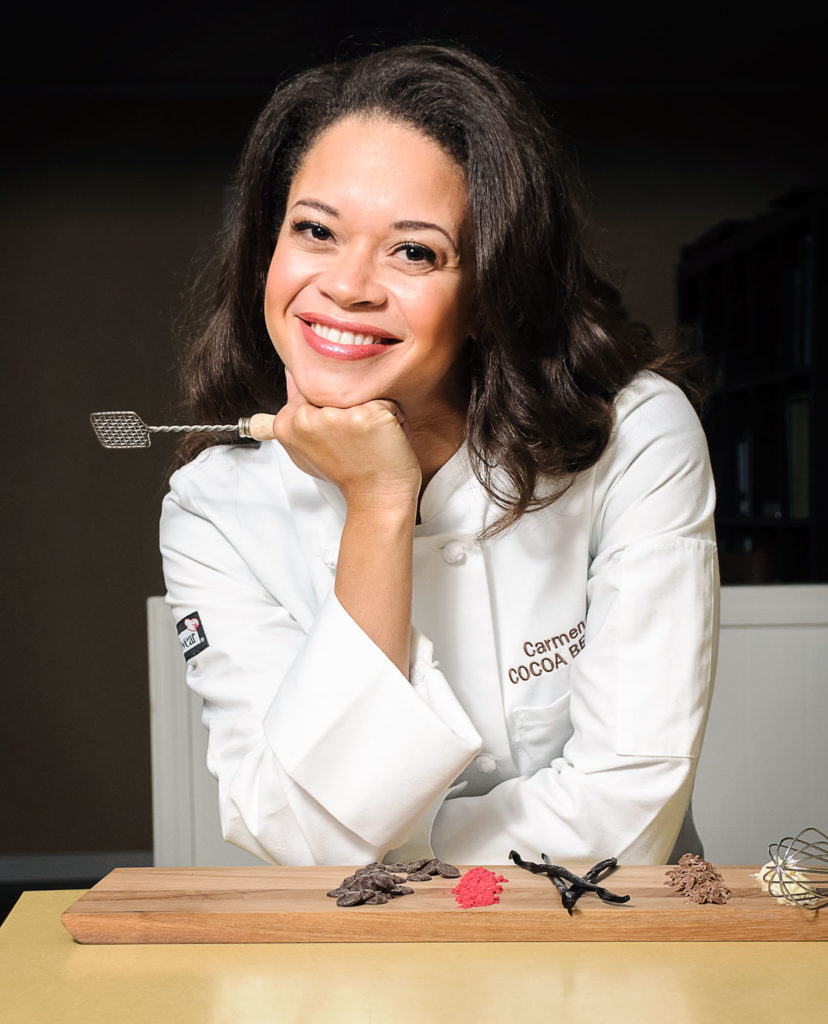 Heather's Dish: How long have you been making chocolates?
Carmen: I began making chocolates in 2008 when I attended what was at the time Notter School for Pastry Arts under the direction on Chef Ewald Notter. I later completed my certification to become a Professional Chocolatier in 2009 through Ecole Chocolat Professional School of Chocolate Arts, making me the first Certified Professional Chocolatier in the state of Arkansas. Shortly afterward, I owned a retail shop in the Little Rock River Market, but then later closed it in 2012 for personal reasons. Now I've relaunched with an amazing following of supportive Cocoa Belle fans!
Heather's Dish: What inspired you to pursue this path?
Carmen: When I was 19, I left my hometown of Little Rock and moved to London, England. There I was exposed to my first real handmade gourmet chocolate truffle. I would frequent this tiny chocolate shop as I would go about my shopping in Wimbledon. It was always such a treat for me to pick out the most beautiful and exquisite truffles! While in Europe, I traveled to Paris, France and really caught the chocolate fever. Over a year later, I returned home to Little Rock and longed for that experience again, so I started to research ways I could learn the trade and techniques to making my own delicious artisan truffles.
Heather's Dish: What is your inspiration in creating chocolate?
Carmen: I develop all of my own recipes, and I'm always looking for a balance of flavors that speaks to the chocolate lover's soul. I usually start with classic flavors and then find unique ways to elevate them, making it a memorable experience. I don't want my chocolates to be just simply candy; I want people to smile from just the very thought of them.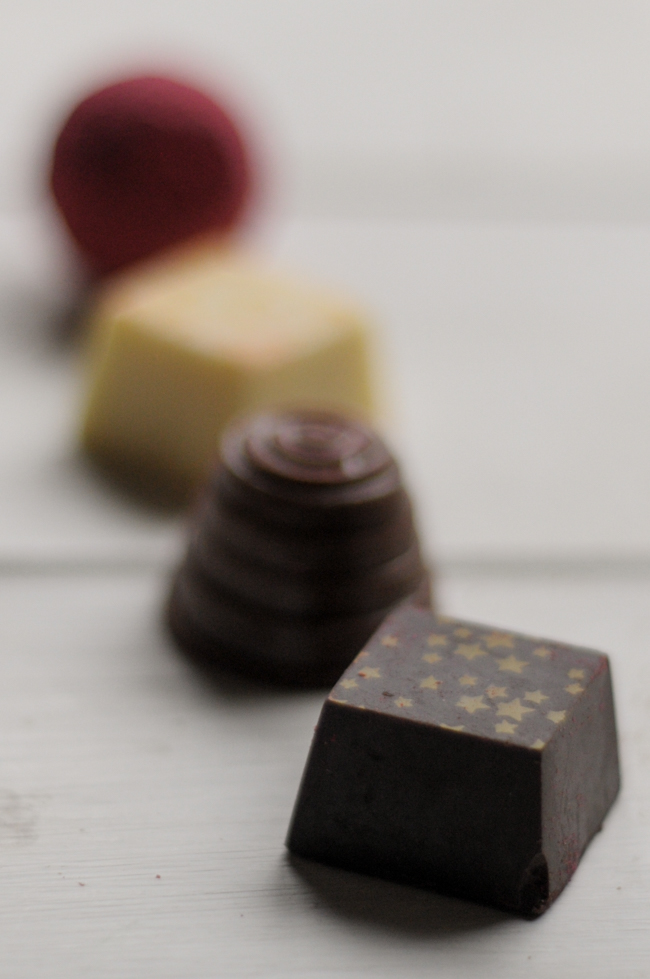 Heather's Dish: What are your favorite tools and products to use in your creations?
Carmen: My favorite tools are transfer sheets and an airbrush machine. These tools truly allow me to make my chocolates a work of art. We eat with our eyes first, and if it looks beautiful we're more excited about the experience. Chocolate making is an art form, with the best ingredient in the world – chocolate – as the medium.
Heather's Dish: I know it is probably like being asked to pick a favorite child, but what is your chocolate of choice?
Carmen: I like dark chocolate the best. The varying degrees of cacao percentages, the complexity that develops during the roast, and all of the different flavor notes from its origin make it my favorite.
Heather's Dish: What is involved in becoming a classically trained chocolatier?
Carmen: If I stayed in Europe I could have started by working in a chocolate shop and studying under the Master Chocolatier, and then moved forward from there. However, it's more difficult and "piecemeal" like in the United States. I've had to research and travel to find institutions that provide the training that I need. In more recent years, larger cities like Chicago, New York, and San Francisco have opened schools that cater to this type of niche. When I started training many of my colleagues were pastry chefs at five-star boutique hotels from across the country. Even so, there I was: a 22-year-old Arkansan with no culinary experience! I love being the underdog.
Heather's Dish: You have garnered a lot of attention for your truffles; what are your other favorite chocolate confections to make?
Carmen: Other than truffles I love to make bars and barks. The bean-to-bar and single sourcing is really trendy right now and I plan to develop a new line summer of 2016. Ultimately, my goal is to develop something to hit major retailers. I think it will have mass appeal and I'm really excited about the possibilities!
Heather's Dish: Where can people find and order your chocolate?
Carmen: Head over to my Cocoa Belle website. Also, I post "Flash Sales" whenever a product is available through social media. You can shop through my Facebook page and follow me on Instagram @cbchocolates. Delivery is free in the West Little Rock/Little Rock Metro areas. I ship anywhere in the U.S. for a flat rate fee. I also offer custom printing like logos, monograms, dates, etc. on chocolates.