Arkansas is home to the only public diamond-bearing volcanic crater, contains several prime spots for digging crystals, and you can even pan for gems at War Eagle Caverns.  If you want to learn more about the rocks of Arkansas, make sure to attend the Geological Survey presentation in Russellville to hear an expert share some great information. Rock music lovers should head to Fayetteville for a unique Arkansas beer festival and live music. And women are invited to hone a rock-solid defense strategy at Prepared Not Scared in Jonesboro. Rock on this weekend!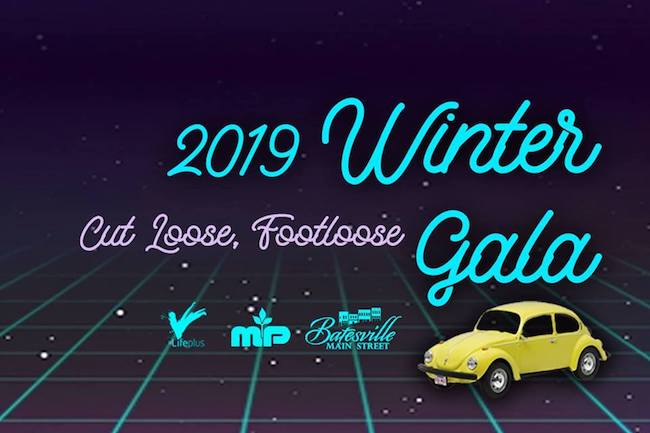 2019 Main Street Batesville Winter Gala (Batesville)
The 2019 Main Street Batesville Winter Gala is this weekend! The gala will take you back in time to the 80s and, of course, the need to dance. The "Footloose" theme will come to life with a setup reminiscent of high school prom. There will be awards given to the best dressed, best dance moves, and more.  The evening will feature live music by Walters & Rounds & Company, dancing, drinks, hors-d'oeuvres, and a live and silent auction.
Venue: Main Street Batesville
Date: February 1
Time: 6:30 p.m.
Admission: Individuals $35/ Couples $60
Contact: Click Here
7th Annual Princess Superhero Party  (Searcy)
Sign up for the Princess/Superhero Party! There will be snacks, crafts, activities, and fun including Harding students dressed as your child's favorite princesses and superheroes! Children are encouraged to wear their favorite costume.  Bring your cameras and invite your friends! Space is limited so buy your tickets now.
Venue: Harding University
Date: February 2
Time: 9 a.m.
Admission: Tickets Required, 2-12 years of age,  $10 each; 13 + $5 each
Contact: Click Here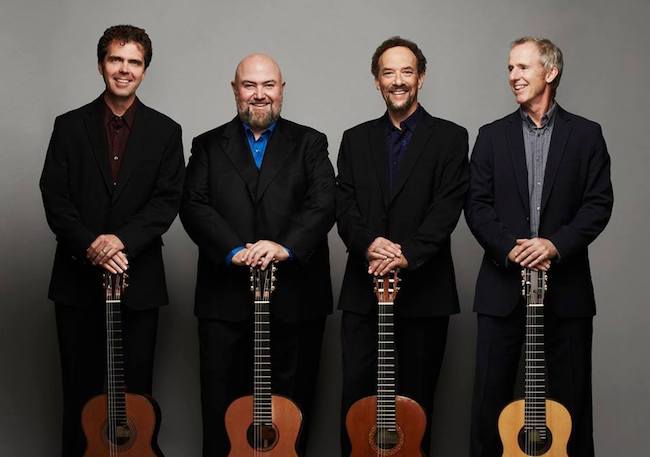 Arts & Life: Los Angeles Guitar Quartet (Searcy)
Harding will be hosting the Grammy-award-winning Los Angeles Guitar Quartet. The L.A. Times posed the question: "The world's hottest classical ensemble or its tightest pop band? However it helps you to think about the LAGQ, keep the emphasis on superlatives…."  Classical guitar enthusiasts are welcome at the 2 p.m. master class in the Donald W. Reynolds Center Recital Hall. The concert begins at 7 p.m.
Venue: Harding University
Date: February 1
Time: 7 p.m.
Admission: $8
Contact: Click Here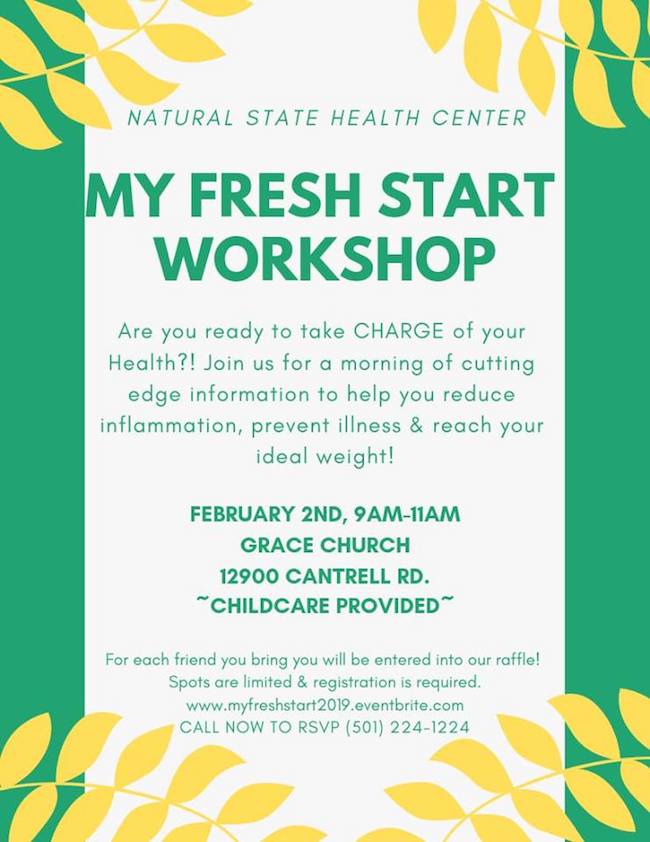 My Fresh Start Workshop (Little Rock)
Are you ready to take charge of your Health?! Start 2019 right and join us for a morning of cutting edge information to help you reduce inflammation, prevent illness & reach your ideal weight! The Fresh Start Workshop event is provided by Natural State Health Center.  You can meet local vendors and network with people just like you, on the pursuit of a healthy life! Snacks and childcare are provided.
Venue: 12900 Cantrell Road, Little Rock
Date: February 2
Time: 9 a.m.- 11 a.m.
Admission: Free
Contact: Click Here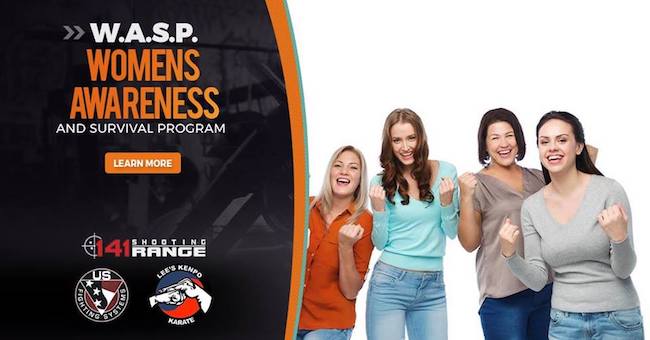 Prepared not Scared, Women's Self-defense (Jonesboro)
Be Prepared Not Scared!  All women need to come out for a different type of fun activity — our new W.A.S.P. Training!  The Women's Awareness and Survival Program was developed by Dave Young and is taught to female professionals who have to put themselves in dangerous situations all around the world.  Mr. Dave Young has traveled across the country and taught the staff at Lee's Karate, and they want to get you and your friends better prepared.  The difference in his program and anything else you may have done is you will learn how to deal with the situation before, during, and after the conflict happens! Get your girlfriends together and appropriate age daughters and come out to this emotionally safe learning environment and learn from the best of the best.
Venue: Lee's Karate Inc.
Date: February 1
Time: 7 p.m.- 8:30 p.m.
Admission: Tickets Required-Click Here
Contact: Click Here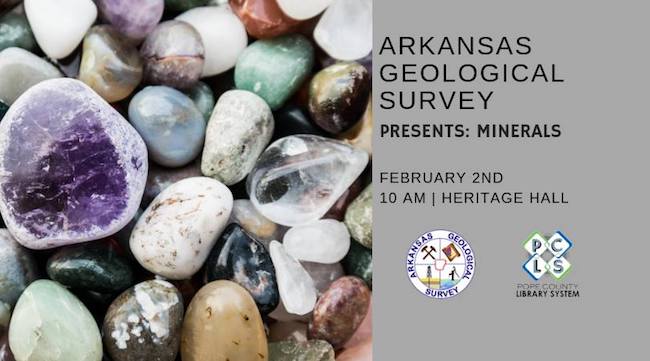 Arkansas Geological Survey Presents: Minerals (Russellville)
Did you know that 2 of the largest diamonds found in the United States was found in Arkansas? Want to know more about the minerals that Arkansas has?  The Arkansas Geological Survey will give a hands-on presentation of the minerals that are produced in our great state at the Pope County Library.
Venue: Pope County Library System
Date: February 2
Time: 10 a.m.-12 p.m.
Admission: Free
Contact: (479) 968-4368
Chocopalooza (Russellville)
Head to the Chocopalooza for all the chocolate you can eat on premises for $5. All proceeds go to benefit foster children of the River Valley. This event is sponsored by Royal Family Kids Camp and Teen Reach Adventure Camp.
Venue: Hughes Community Center
Date: February 1
Time: 5 p.m.- 8 p.m.
Admission: $5
Contact: (479) 968-1272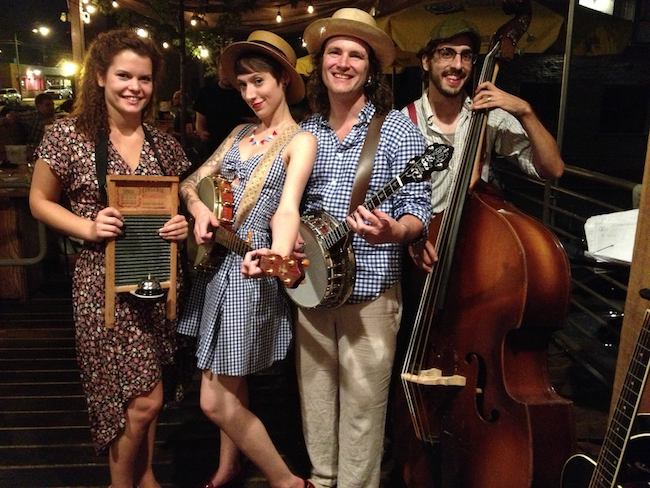 Side Street Steppers (El Dorado)
Christian Stanfield and Miss Vera Victoria founded the Side Street Steppers in June of 2009. What began as a simple duo of musicians unearthing material from the Golden Age of American gramophone recording has grown into a full-blown Memphis institution. The Steppers have played in over 650 shows and released three full-length studio recordings.  Some of their notable bookings include the National Jug Band Jubilee in Louisville, Kentucky, heading the International Banjo Rally in Eureka Springs, Arkansas, and an appearance at the American Banjo Museum in Oklahoma City.  They will be performing at the Griffin Restaurant in El Dorado this weekend!
Venue: Griffin Restaurant
Date: February 2
Time: 8 p.m.- 10 p.m.
Contact: Click Here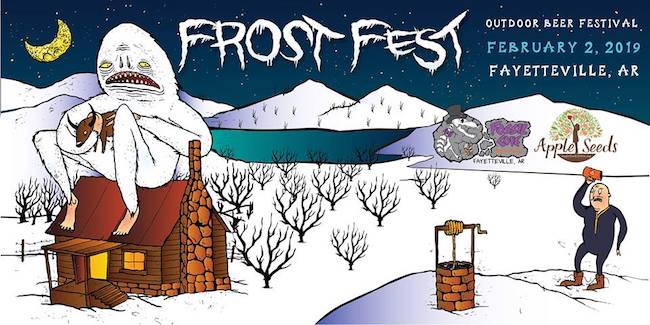 Frost Fest Outdoor Beer Festival (Fayetteville)
Frost Fest, Arkansas' winter beer festival returns to Fayetteville, AR! Frost Fest is a celebration of craft beer, community and winter in the Ozarks presented by Fossil Cove Brewing Co. and Apple Seeds, Inc. Frost Fest 2019 features a selection of breweries from across the region (including breweries not distributed in Arkansas) sharing products and their stories. Attendees will find craft beer, live music from Monk Is King, Vintage Pistol and Groovement, vendors, food trucks, artists, makers and more!
Venue: 2463 McConnell Ave, Fayetteville
Date: February 2
Time: 2 p.m.- 7 p.m.
Admission: Tickets Required- Click Here
Contact: Click Here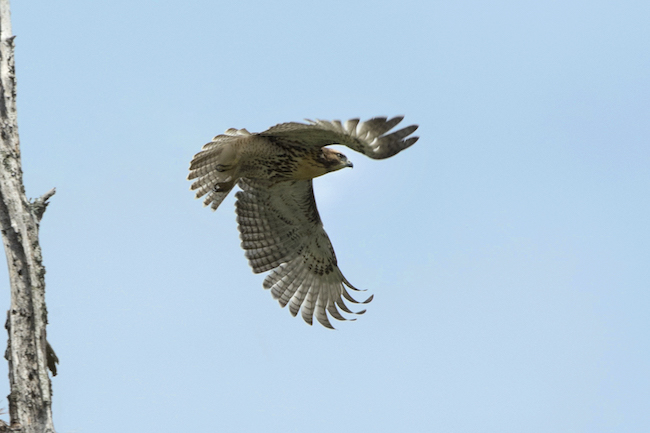 Photo Credit: Arkansas Parks & Tourism
Winter Wings (Lake Village)
Bird watchers and nature lovers are invited to participate in a weekend dedicated to all things avian. Through field trips, hikes, lake tours, levee tours and other interpretive programs such as making a pine cone bird feeder to take home, experience first hand the variety of bird life which inhabits the area during the winter months. Most programs are free, but there is a fee for levee and lake tours. Contact the park for a detailed schedule.
Venue: Lake Chicot State Park
Date: February 1-3
Time: Contact Park for a detailed schedule
Admission: Free
Contact: Click Here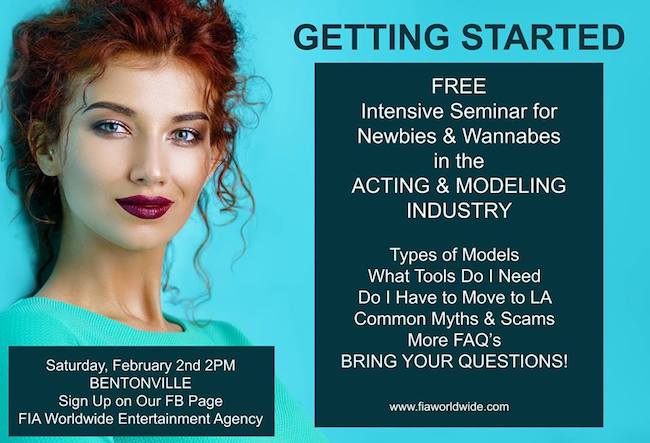 Getting Started in the Industry — Actors & Models (Bentonville)
Bring your questions! You can get straight talk about setting realistic goals and getting started in the acting/modeling industry in this FREE Session.  You must sign up on Eventbrite to be on the entry list. This is not an audition.  It is a business talk. Young ones may be "bored."
Venue: 207 NE 2nd St, Bentonville, AR
Date: February 2
Time: 2 p.m.- 4 p.m.
Admission: Free- But you must RSVP
Contact: Click Here
NWAFW Spring 2019 Open Call Model Audition
Northwest Arkansas Fashion Week is hosting open model auditions for Northwest Arkansas Fashion Week Spring 2019. All models interested in walking for NWAFW Spring 2019, can attend the auditions. They are asking for models of all looks and sizes to audition. Models must be 18 years or older. Aspiring models should wear fitted jeans, fitted white or black tank top, and heels (no wedges).
Venue: Chancellor Hotel, Bella Vista Room
Date: February 3
Time: 2 p.m.-4 p.m. (A-H 2 p.m.  I-R  2:30 p.m. S-Z 3 p.m.) ** Please arrive at the time based on your last name**
Admission: Click Here for Details
Contact: Click Here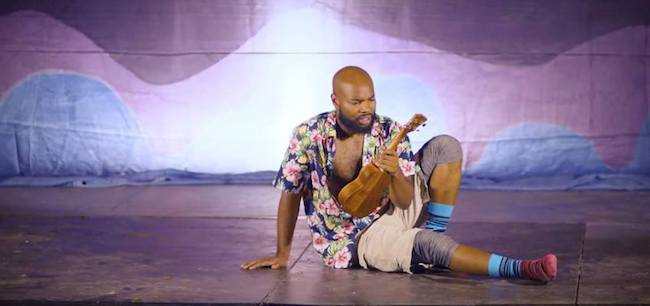 Artinfusion Happening — Island Trap by Austin Ashford (Bentonville)
Fresh off his sold-out performance off-Broadway at Theatre Row, actor and playwright Austin Ashford presents (I) sland T (rap), a hip-hop riff about Black Ulysses on an Odyssey of self-discovery. This tour-de-force is a powerful exploration of a young artist of color navigating the turbulent waters of contemporary American culture while trying to find his authentic voice. Two worlds collide as Ashford mixes the traditional storytelling of Homer with the contemporary voice of African-American Vernacular English. (I) sland T (rap) combines lyrical poetry, live music, and commentary on the Black experience to chart a soul journey on an exotic island where Black Ulysses discovers his place in a society full of gun-violence and oppression. Recently recognized by the Kennedy Center for Original Hip-Hop Script, this narratives dives into overcoming isolation through fantasy, myth, and escape. Head to Crystal Bridges to check it out!
Venue: Crystal Bridges
Date: February 1
Time: 7 p.m.- 8 p.m.
Admission: Free-registration is required
Contact: Click Here