With a love of Blanchard Springs Caverns, the children were beaming with excitement when we mentioned visiting War Eagle Caverns. In the eyes of children, the caverns are like visiting another world. The fact that these amazing places exist right below our feet, without us even knowing of their existence, is rather awe-inspiring.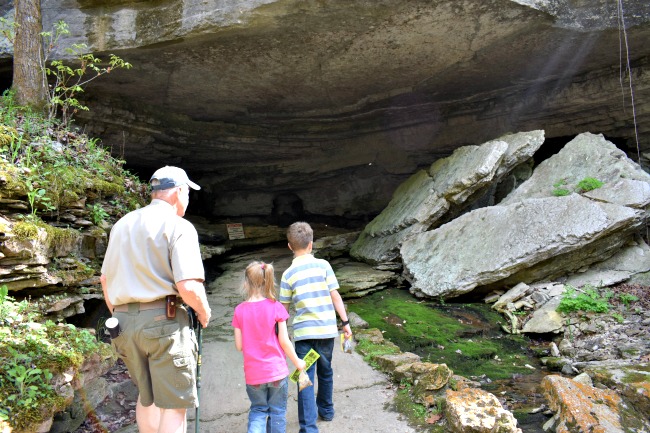 During the trek down into the caverns, our amazing guide Jesse was full of broad knowledge and shared with us the history of the area. We learned about the Native Americans who lived on the same land many years ago, the Louisiana Purchase, the way Beaver Lake was formed and why there are fossils of salt water creatures found in the caves. The caverns were amazing and we loved every minute, including the cool 58-degree air and the bat friends along the way. Although we could have stopped there, that wasn't the only reason we came. We really came to pan for gems!

I'm not sure the children really understood what it involved, but they were excited. Panning for gems, real gems they could keep, created excitement in the days leading up to our visit. Now the time had arrived! The owners at War Eagle Caverns have created the War Eagle Mining Company, complete with a fun water sluice to pan for gems. Inside the gift shop, you can purchase bags full of what looks like regular dirt you might dig up in your yard but there are treasures in each one.
They offer a semi-precious gemstone bag, an emerald bag, an Arkansas crystal bag and a fossil bag. The cost is about $11 and each bag is guaranteed with 8 ounces of treasure per bag. Austin immediately chose the emerald bag while both the girls choose the semi-precious gemstone bags. You have never seen kiddos so excited to hold a bag of dirt. They just couldn't wait to sift through their dirt to see what treasures they could find.

We headed outside to the sluice with the General Manager, Guy, so he could walk the children through what they needed to do. They have everything all set up for you to use and make it easy and fun. The children poured about a fistful of dirt into each of their trays and then placed them in the water and rocked them back and forth. The water slowly rinsed the dirt away and left lots of tiny pebbles along with lots of gems.

They set their trays above the water and admired their treasures. The bigger ones were easy to pick out and were quickly gathered. Gathering the smaller gems took a little more time and patience to find, but they were so happy they sifted through them. As they worked through their bags, they were equally as excited for each and every gem they found.

After all the dirt was washed away, each child was left with a bag of shiny gems. They were given an identification card and had a wonderful time matching up their gems with the ones on the cards. Austin's favorite find was an emerald, of which he found several. Addie's favorite was a rose quartz followed by the fool's gold. And Miss B, she is an Arkansas girl and loved all her Arkansas crystals. We found a vast variety of stones including Amazonite, Amethyst, Flourite, Sodalite, Labradorite and Carnelian. We had collected gems in the vibrant colors of the rainbow.

As we pulled off from War Eagle Caverns, the children's pockets and hands were full of the treasures they gemmed, their heads were full of knowledge from our cavern guide and our hearts were happy from all the memories we created.
Deep in the heart of Northwest Arkansas, there are many treasures to be found. Gem Panning at War Eagle Mining Company and visiting War Eagle Caverns are certainly among them.