In the quaint, historic town of Calico Rock, Arkansas, a museum system is helping the community and its visitors to build a bridge between the past and future. Small towns tend to represent heritage and culture. When we walk down historic Main Streets or around town squares, we often think about how life was "way back when." The Calico Rock Museum & Visitors Center and its recent addition, Tomlinson Art & Science Center allow a sneak peek into that past and an exciting experience for all generations, especially those who have grown up in the modern era of technology.
On a family field trip to the museum with four adventurous children (ages 3 to 11), we crossed that bridge, took in the tour and engaged in the hands-on education offered to visitors.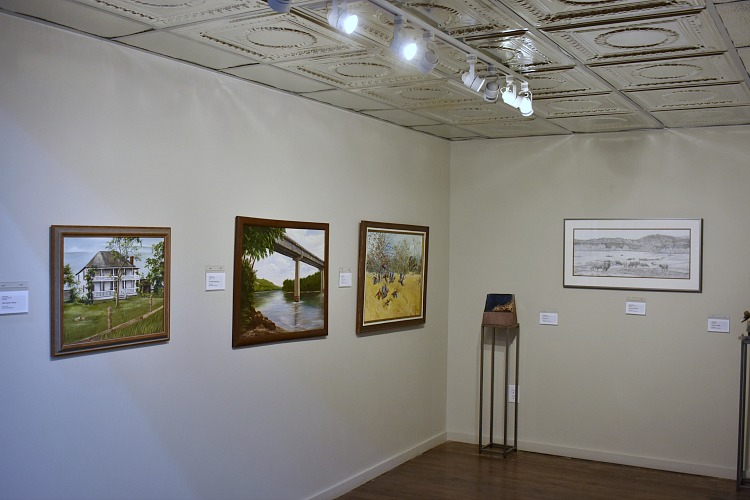 The Tomlinson Art & Science Center holds an impressive collection from local and regional artists, as well as works from well-known American artists. It has been designed beautifully with lighting and metal tiles adorning the ceiling.
The upper level contains a gallery that rotates displays. Currently, visitors can take a tour on the history of quilting, along with the tools used in the 20th and 21st centuries that shaped the art of modern quilting we see today. Various classes are offered to the public for participation at the Art & Science Center.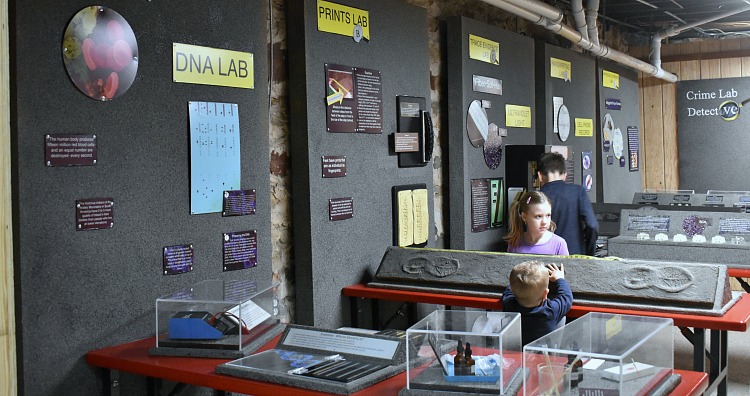 The Crime Lab
The Science center, located below the main floor, is a treasure for the marvelous curiosity of the children who visit. Curiosity leads to discovery and discovery leads to invention. The Science Center builds on that curiosity by allowing children to get up close and personal in a crime lab and become a crime detective.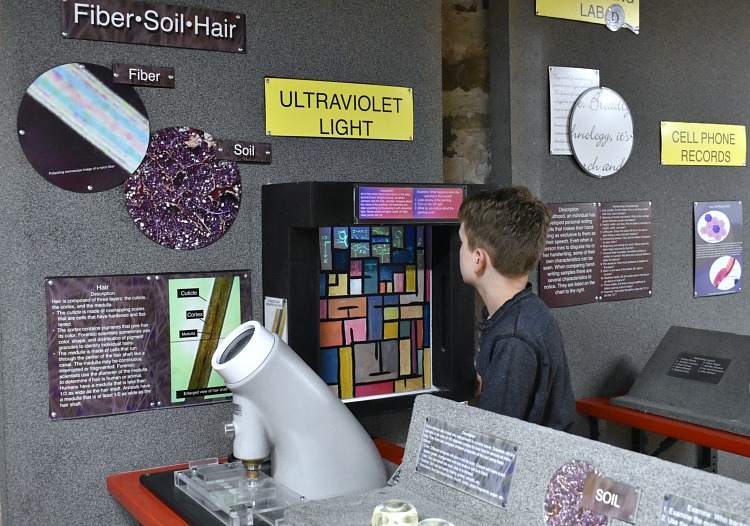 Guests can walk through the discovery processes, learn about DNA and blood samples, trace evidence and even discover that footprints are like fingerprints: no two are identical. They can reason on the evidence, use the process of elimination and help solve the crime.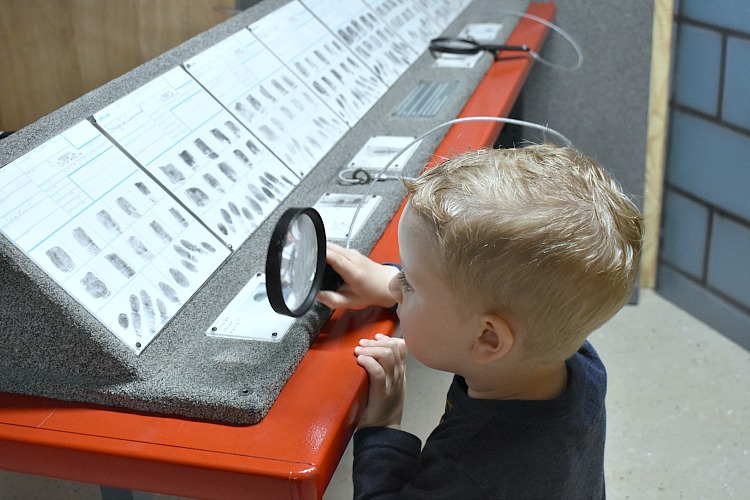 Even the youngest in our group couldn't help but be excited to explore alongside older siblings. What child doesn't enjoy using a magnifying glass to examine fingerprints?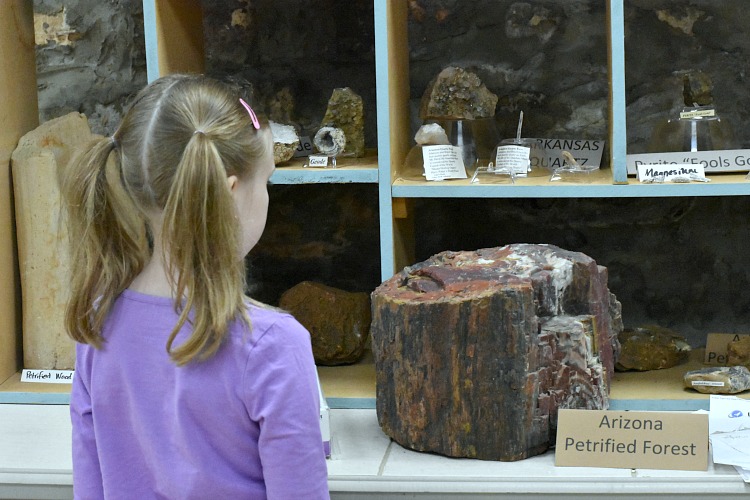 Rock and Fossil Collection
The museum has an impressive rock and fossil collection. Want to experience a small part of the Petrified Forest National Park in Arizona? View and touch a piece of the colorful petrified wood. It's remarkable to see all the beautiful minerals found on our planet.
Have an interest in fossils? Get up close and personal with the dinosaur exhibit. Arkansas is full of caves and caverns, but touching is often restricted. In the Science Center, we explored deep into an Ozark Cave (with bats)!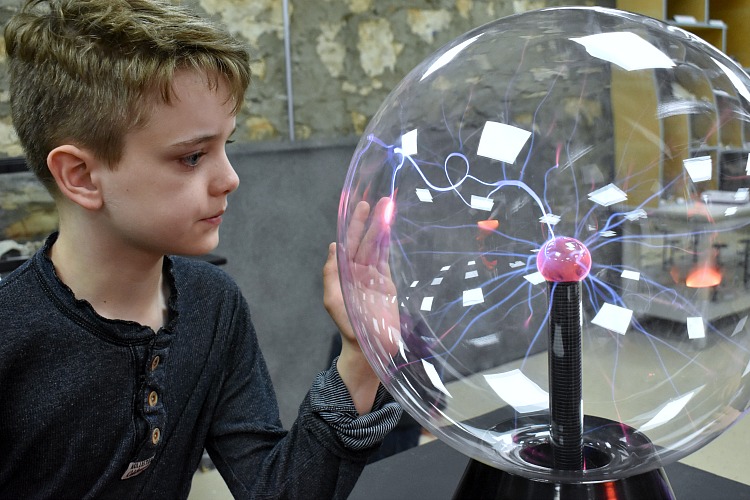 The Science Center is currently expanding and adding some cool pieces. More hands-on? Yes, please! The large plasma ball was like a gravitational pull for my budding scientist! He loves learning about electricity. When he touched the ball, it was like creating his own personal bolt of lightning from the Telsa Coil to his finger. (Don't worry, it doesn't hurt.) To this exhibit, the museum is soon adding a large lava lamp and a tornado machine.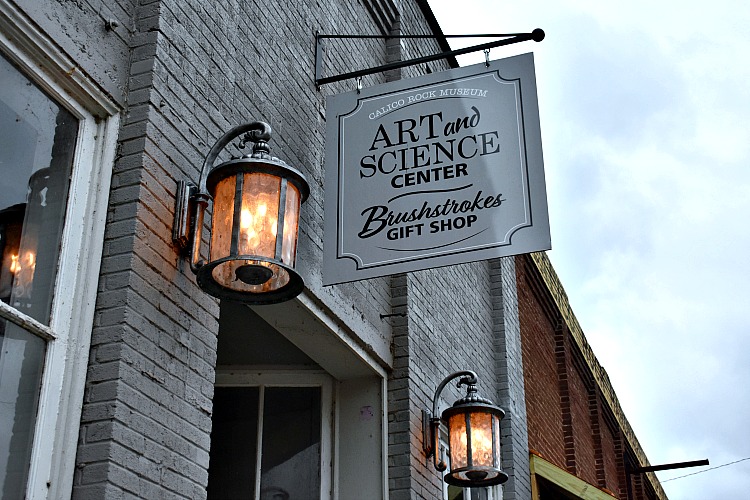 There is something for everyone at the Tomlinson Art & Science Center, especially lovers of history, art and science. While visiting the historic Main Street in Calico Rock, in between visiting shops and eating at local restaurants, make the trip fun and educational by taking in both of these fascinating museum centers.