You're never too young for art! Crystal Bridges Museum of American Art has introduced a new class for babies (age 3-24 months) that is designed to stimulate babies' brains and foster development and learning with exposure to art. CB Babies began with Senior Museum Educator Holly York, who calls the class her "baby." York implemented a similar program at the Dallas Museum of Art where she was an intern and was excited to begin a baby program here in Arkansas.
In 2016 it happened that a number of the Crystal Bridges staff had babies, and in September York was able to perform a test run of the proposed CB Babies class with ten infants and their parents as the subjects. CB Babies was added to the schedule for museum guests in February 2017, making it a relatively new program—just a year old—but one that has quickly been successful. In fact, CB Babies was so well received that it sparked the creation of Tots and Tales (18 months to 3 years old) and Mini Masters (4-5 years old) this year.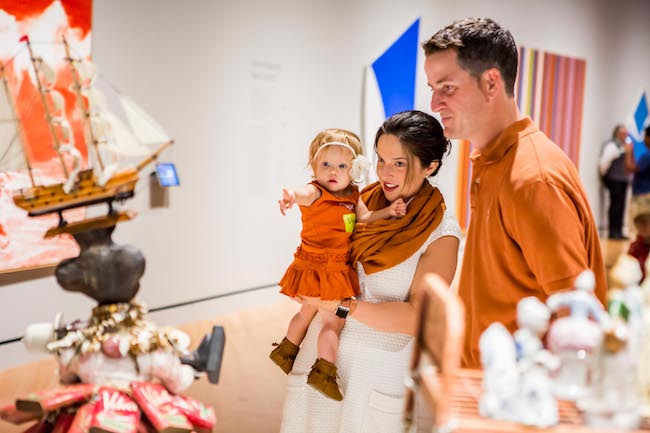 CB Babies occurs one Saturday a month at 10:00 am, the museum's opening time. The class begins in a room adjacent to Walker Landing where babies play together with bright blocks and tactile objects. "It's important to note, it's a leisurely start time," York explains. This is great for those who might need a break after driving to Crystal Bridges and releases the stress to be on time, sometimes difficult to manage for parents. York feels that this play time, which recurs at the end of the class, is the babies' favorite part, which is both amusing and gratifying in light of the simplicity of the materials: "They enjoy shiny objects so we just have shiny pots and pans, spoons and foil that they play with. These aren't expensive items but they allow for that creative sensory play."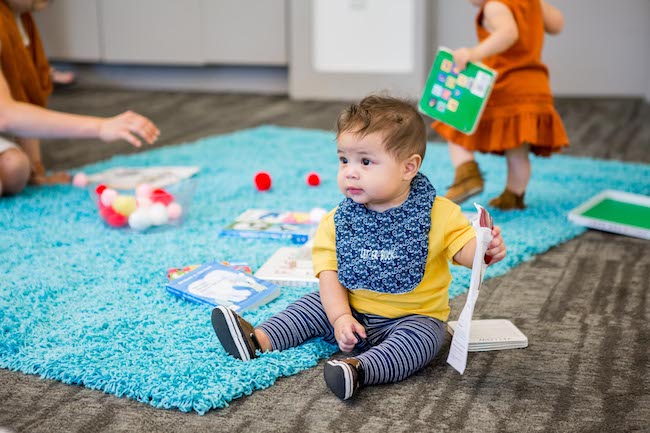 York bases the class on the research of Dr. Kathy Danko-McGhee, whose work focuses on visual literacy in infants and signs of interest in artworks: staring, studying, smiling, laughing and reaching. York shares facts like, "a one-month-old can discriminate between red and green" and "looking at art promotes early neuron connections in the brain." To this end, CB Babies ventures into the galleries to receive a brief lesson and place the babies before art to encourage visual stimulation. Babies coo and babble, wriggling in their parents' arms, scooting or crawling around. A few even walk, their parents watching to make sure they don't wander or touch the art.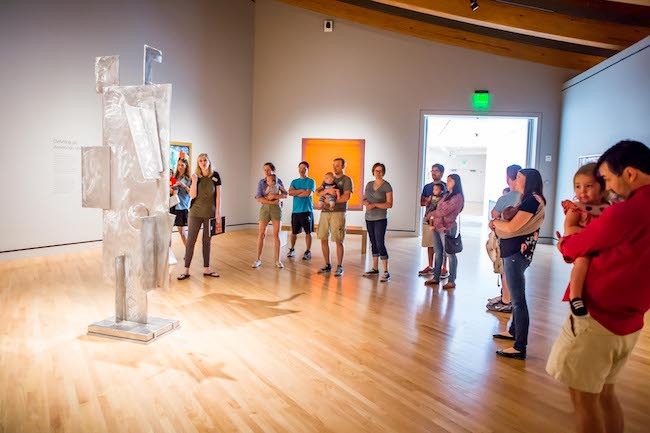 Witnessing the babies' response to the artworks and their enjoyment of the casual story time is one of York's favorite parts of the program, "It really does captivate them." Some families attend the class regularly, and York delights in observing the growth and development of her student babies. She and the babies are not the only ones appreciating the class; the program has been popular with staff and guests alike. "Everybody's been very excited. When they hear about the program, people just fall in love. They love to see the babies and the parents engaging with art here at the museum."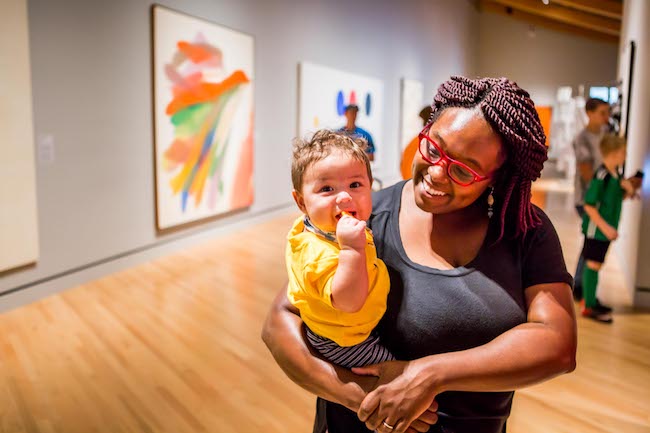 In January the class visited the modern art gallery, viewing oversized works such as Maya Lin's "Silver Upper White River" and spending time in the "All or Nothing" exhibition of black-and-white pieces. The babies enjoyed the high contrast offered in the room, which included a twisting Georgia O'Keeffe sculpture, paintings, woodcuts, a marble statue of Sappho and a television screen showing a black snake coiling on a white surface. In February the class visited the special exhibition "Soul of a Nation," where babies enjoyed gazing at faces in portraiture and thrilled at the bright colors. Upcoming classes will continue to explore themes that engage babies in the galleries, including this summer's anticipated special exhibition "The Beyond: Georgia O'Keeffe and Contemporary Art."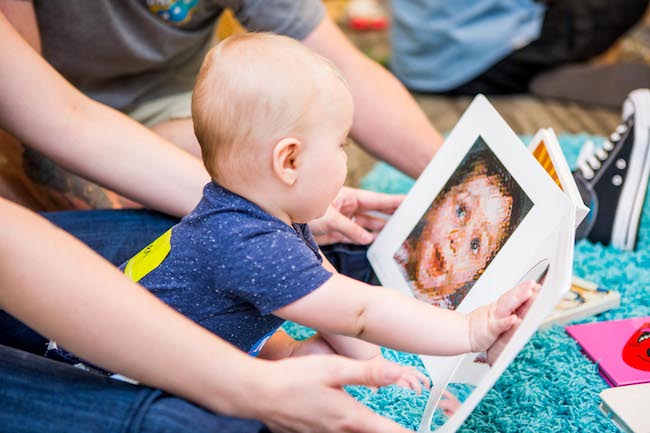 CB Babies is a fun interactive program for infants, one which York says can be attended repeatedly because of its varied curriculum: "It's something new every time you come." CB Babies meets again March 24 and April 28 before an intermission to allow for summer camps. The cost of attending per baby is $10 (or $8 with a membership). Call (479)-657-2335 to reserve a space for your baby in this enjoyable class.
Photo Credit: Daniel Moody