If the first State of the Art exhibit curated by Crystal Bridges Museum of American Art was good – and it drew thousands into gallery spaces in Bentonville and beyond – a group of curators for the local museum hope twice is nice.
Crystal Bridges announced earlier this week a series of developments related to the "State of the Art" exhibit, which debuted in September 2014. With a collection of innovative contemporary art, the exhibit saw a record number of visitors.
The museum will unveil "State of the Art II" early next year and will show a documentary about the first endeavor later this month. Like its predecessor, "State of the Art II" will showcase a nationwide selection of contemporary art from artists not yet recognized at the national level. Crystal Bridges curators Lauren Haynes, Alejo Benedetti and Allison Glenn have been crisscrossing the country to visit studios to find undiscovered artists. The show will be installed in Crystal Bridges and also at the Momentary, Crystal Bridges' still-under-development home for contemporary art. "State of the Art II" will be the first exhibit at The Momentary, set to open early next year on E Street near downtown Bentonville. When it opens, the facility will be home to visual arts as well as music, culinary and performance art events.
The documentary chronicles the development and lasting impact of the initial "State of the Art" exhibit. That exhibit was also a product of the curatorial team at Crystal Bridges, although both of the original curators have since departed the museum for other opportunities. Peabody Award-winning filmmakers Brent and Craig Renaud started work on the documentary when the initial exhibit debuted and continued to follow seven of the artists to further explore their work. The documentary, called "State of the Art," debuts nationally April 26 on PBS. Crystal Bridges will host a free screening of the documentary during its national television premiere. The event is free and takes place from 7 to 9 p.m. April 26, with the screening running during the second half of the watch party.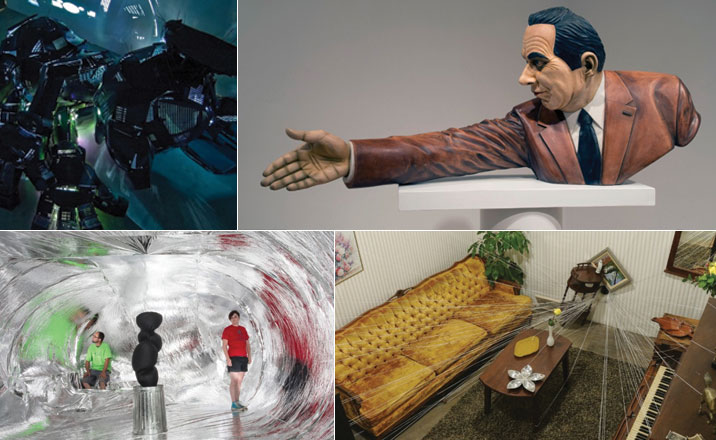 Some of the work from the original State of the Art at Crystal Bridges
Crystal Bridges has also announced that one of the original "State of the Art" contributors – and one of the seven artists featured in the documentary – will speak at the museum in the runup to the documentary screening. Vanessa German, who makes unforgettable sculptures from found objects, will speak at 7 p.m. April 24. German, from Pittsburg, Pennsylvania, is the recent recipient of the Don Tyson Prize, a $200,000 award for achievement in American art. Her discussion is part of the museum's Distinguished Speaker Series.
No additional details, such as a start date or exhibit duration, were announced for "State of the Art II."
Continue Reading at Fayetteville Flyer