When you walk into the Harper family home, the first sight you see is their entry table. It's not made or wood or marble — it's a foosball table.  But that's only the beginning. If you look to the left or right, you have your pick of 13 working vintage arcade games, two multicades, and two pinball machines. All because the family took a trip to a vintage arcade in Fayetteville years ago.
Tracey Harper, wife and mother of four, explains, "Well, we've always loved video games. We have all the home console systems, and my husband, Bob, and I have always talked about how we've been playing video games for years." The Harper's twin boys got invited to a birthday party at Arkadia Retrocade in Fayetteville, and they had so much fun that not long after, the entire family returned for a visit. Something sparked inside them — maybe it was the games, the nostalgia (for mom and dad), the family time, or the race for the high score. Either way, they were hooked. Tracey explains, "After that trip, we were on the lookout for arcade games. Larry's Pizza had some games, and Chuck E. Cheese had some. But they weren't the games we grew up playing, and some of them cost $1-2 to for each play. It just wasn't the same."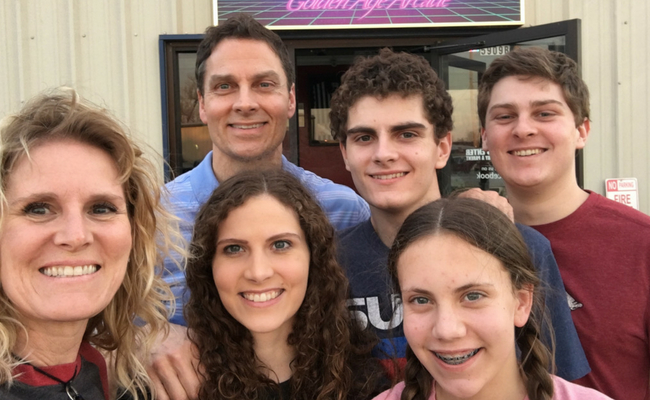 In searching for classic games, they visited the Vortex Retrocade (formerly Z28 Retrocade) in Sherwood. "My M.O. is to make a list of the games and prices and compare it to other arcades. I was on the hunt for the best arcade. The games in Sherwood have all been restored, and they look really great," she said. Noticing the quality of the games, Tracey started talking to the owner. She explained her family's newfound love of vintage games and how they would love something similar in their hometown of Fort Smith. The arcade owner talked her through what to look for and how to get started, then the treasure hunt was on. She started looking for ads in the newspaper and online, and she found her first treasure.        
Their first game was one she remembers playing as a teen, the Ms. Pac-Man cocktail table. With this unique game, two players sit across from each other and play on a shared screen on the table top. It wasn't working at first, and for a while, it served as a kitchen island in their home. Tracey needed to open it up, examine it and see what needed to be fixed. But it the meantime, it was a piece of furniture. After some repairs, it now happily flashes and beeps in the Harper living room.
She says, "I remember thinking as a teenager that I wanted to own this game. It's funny; I don't remember playing that many games as a kid. I never had any money, any quarters. So I was the kid leaning against the side of the game watching my friends play.  Now I look at the sides of the machines to see how worn they are because that was my spot. But I remember playing a few games in particular."
"I remember playing Dig Dug at the Circle M grocery store at the bottom of Fianna Hills. My friend and I would go down there every day after school and play it.  Nibbler was my favorite, and they had one at the pool at Ben Geren park under an awning. When you got tired of swimming, you would play. That one has been hard to find, and it's my holy grail."
Over the course of a couple of years, Tracey has crisscrossed the state to buy games and have them repaired. Each game has a story. She's made countless stops at towns along the interstate to buy games and often takes them to Sherwood to have them repaired. This hobby has allowed her to see corners of the state and run the road with family and friends. She's found many games locally in Fort Smith through connections with friends, and one, in particular, was very special.
She heard about a local sale with some games. When she got to the sale, she realized it was the home of a former teacher. He had owned this game, Phoenix, for 20 years, so it was in almost pristine condition. (As you can imagine, a game for public play gets much more wear and tear than a home game.) But when they turned on the game, it barely showed any signs of life.  They plugged it in and saw nothing. But when they unplugged it, she heard a tiny beep and saw one small green pixel on the screen. Those signals showed Tracey that something was still working in there. She had hope. Once she got it home and plugged it in, the screen came up! And once she found the volume controls and made some changes, it was all working. Her first working game. The family brought it home, and Tracey said of Phoenix and the Ms. Pac-Man table, "We probably put more hours on these than any others in the house because they were the first ones." 
It's not unusual to hear beeps and button clicks throughout the home. "I'll be cooking dinner, and when I hear a game start, I'm just filled with joy. Even if I'm not playing them, I love that someone else is enjoying them."
The biggest hurdle to growing her collection and fulfilling her pipe dream of opening an arcade is the game repairs. The more games are played, the more they need to be fixed. "I have taken some classes, and unfortunately I just haven't become good at fixing things. I need to find somebody who can make repairs and teach me things who is also interested in this. Somebody who can help me, or maybe could partner with me," she explained.  Tracey has what she calls the "wall of shame" in her garage, which includes two non-working pinball machines and six arcade games that need fixing.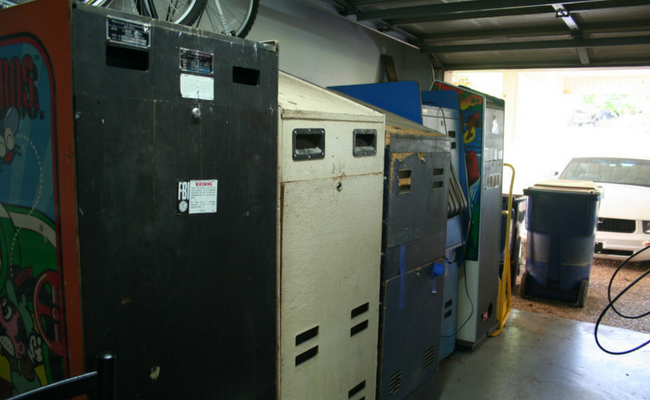 The games don't just sit around though; they get played often. Everyone in the family has their favorite game. Robotron is her husband's favorite. She sought it out just for him. "It's really upsetting to me that I get a new game and I play it for hours, and then he comes in and quickly wipes out my high score," she says. Feeding their competitive nature, the Harpers have a board with the list of games and high scores, so they can keep track of who holds which record.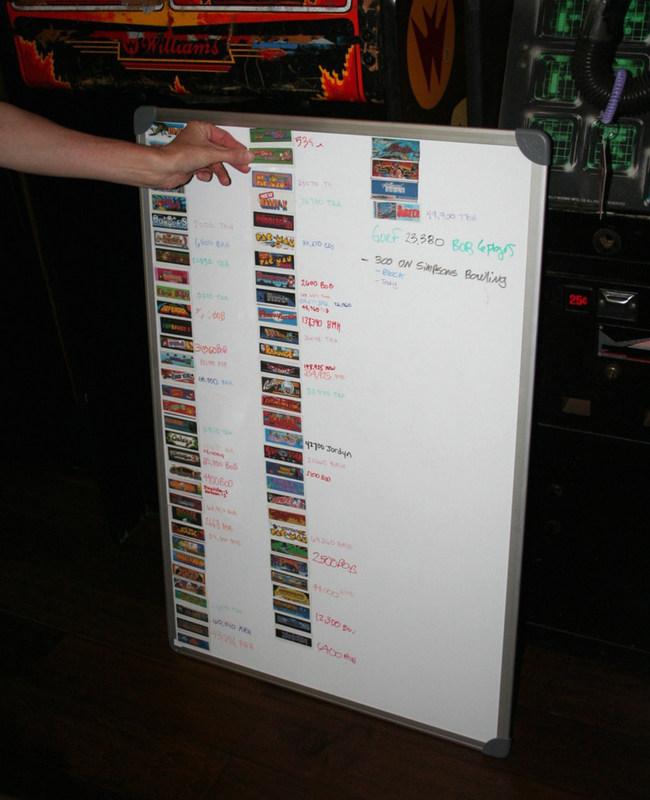 They have had to rearrange their home several times for this hobby, but it's worth it. They live among the games. In the side room, her son practices piano next to a multicade. They play board games on the Ms. Pac-Man table game. These games have become a part of their home and their life.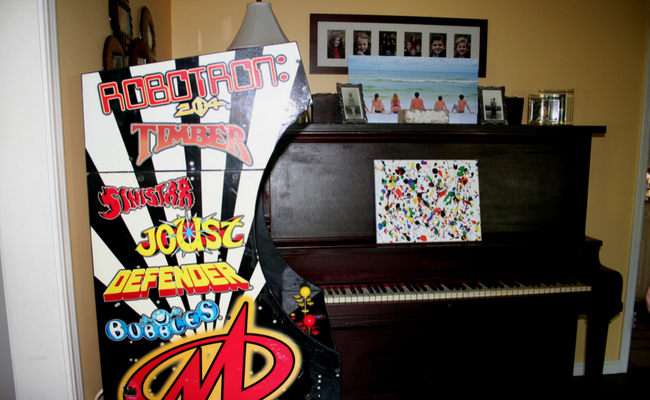 You can follow Tracey's arcade adventures on Instagram at @4quartersarcade. And if you know how to repair games and want to help, let her know. The Harper home is great, but this amazing collection is begging to be played with a little more repair. In fact, her social media profile says it's "just a little home arcade that wants to grow up someday and be played by all."
What started with visiting unique attractions across the state has turned in to traveling miles across Arkansas to buy and repair games. You just never know what interesting find will spark something in you. Do you have a favorite arcade game that you remember playing as a kid? We'd love to hear your memories of what you played and where. For me, I remember playing Ms. Pac-Man and Mortal Kombat in the gas station across from my mom's office in Hot Springs growing up. I would collect quarters and spend all day in the summer feeding the machine. I wasn't very good. Maybe I need to spend some time at the Harpers working on that high score.