Many state organizations are working together to attract both film and television productions to Arkansas, and to supply these companies with crew members and actors who live in Arkansas, so citizens do not have to travel out of state to work in the industry.
Arkansas Film Commissioner Christopher Crane said in a recent interview that one of the Arkansas Film Commission's goals is to "keep all artists in the state to work where they love living. There are many skilled crew members who live in Arkansas and our goal is to have a place where they live also be a place to go to work."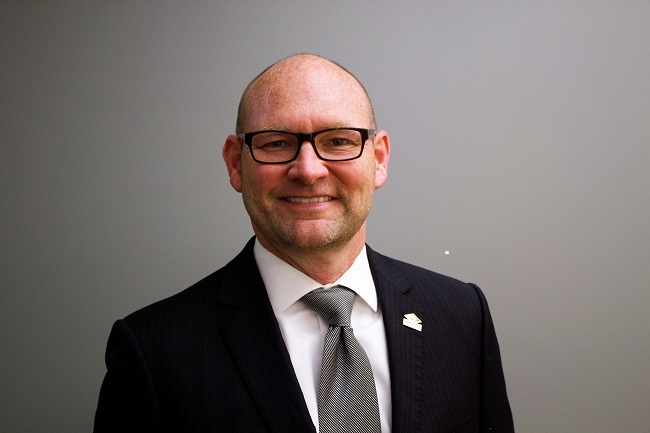 Christopher Crane, Arkansas Film Commissioner
Photo courtesy of Arkansas Economic Development Commission
According to Crane, the word "gets out" when production companies have positive experiences in Arkansas. He said that the theatrical film Mud, shot in Arkansas and released in 2013, was "great" and helped establish Arkansas as a leader in customer service within the film industry. Mud was directed by Little Rock-native Jeff Nichols and stars Academy Award-winning actors Matthew McConaughey and Reese Witherspoon.
Crane continues, "When producers have a good experience in the state, it lays the foundation for future endeavors."
Recent movies filmed in Arkansas, including God's Not Dead 2 and God's Not Dead: A Light in Darkness, produced by Pure Flix Productions, hired both Arkansas crew members and local background actors for their productions.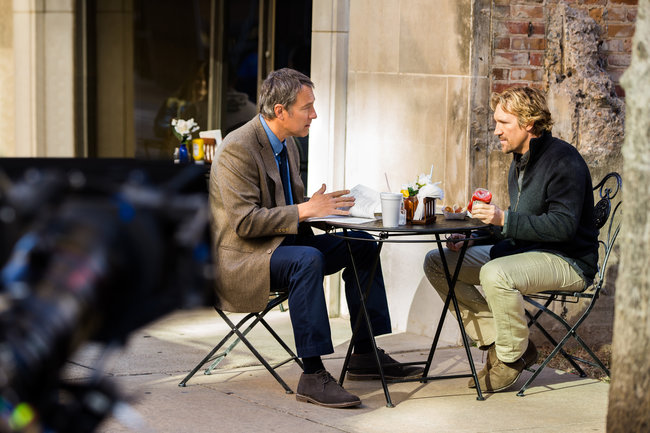 John Corbett and David A.R. White shooting a scene on the set of God's Not Dead: A Light in Darkness, scheduled to release in theaters on Good Friday, March 30, 2018. Photo Credit: Robert Hacman/Pure Flix.

The Arkansas Production Alliance (arfilm) is a collaboration of private and public economic development organizations united to keep, attract and grow an innovative and profitable film and digital content production industry in Arkansas. Partner in the Alliance by contacting Christopher Crane (Arkansas Film Commissioner) at 501-682-7676.
Based on standard industry listings of categories, the arfilm Directory empowers producers and potential clients to locate film, television, and digital media industry professionals within the state.
The different components on this website include:
Locations (Directory, Studios, Weather, Sunrise/Sunset, Arrival, Tourism, Arkansas)
Incentives (State, Local, Commercials, Discounts, Permits, Regulations, Application, Distribution)
Talent (Crew, Support, Training, Stars, Shorts)
Work (News, Events, Festivals, Community, Filmography, IMDb – Internet Movie Database, Arkansas Production Alliance
Contact (Includes Contact Form)
Another organization assisting Arkansas filmmakers is the Arkansas Cinema Society (ACS). Holding its premiere event in Little Rock in August 2017, ACS Executive Director Kathryn Tucker explains that she was looking for a way to continue what the former Little Rock Film Festival offered to the local community by creating a society that showcases Arkansas filmmakers in a non-competitive program.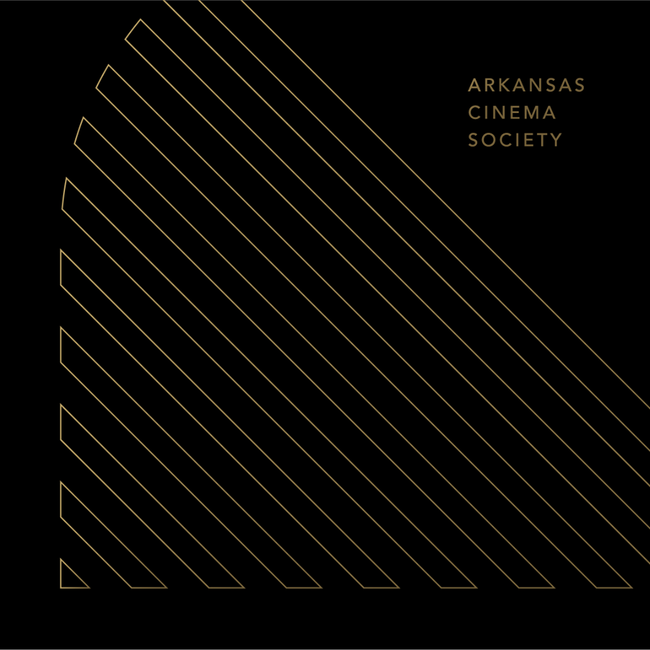 The mission of the ACS is to build a film community in Arkansas where film lovers can watch films, share ideas, connect with each other and nurture the new and existing film talent within our state through increased exposure to filmmakers and their art.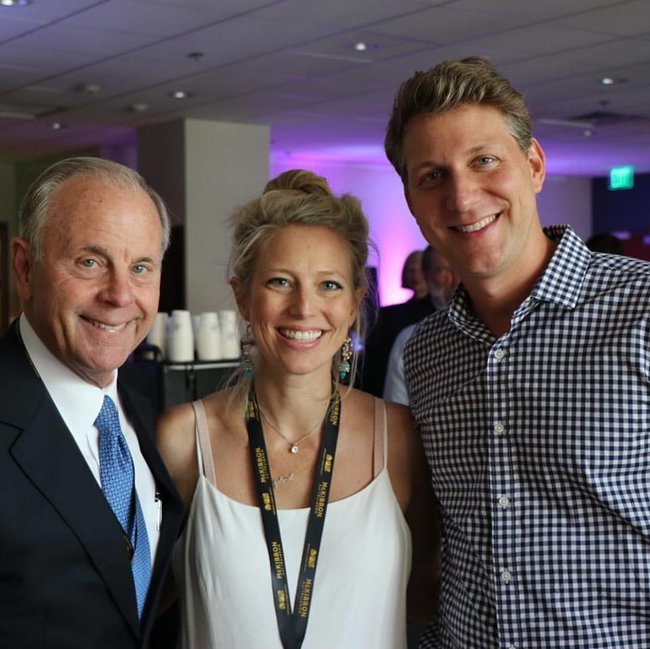 Mack McLarty, Arkansas Cinema Society Executive Director Kathryn Tucker, and Arkansas Cinema Society Chairman of the Board Jeff Nichols attend the VIP/Sponsor Happy Hour event during the ACS Festival in August 2017. Photo courtesy of Jason Shivers/ACS
Tucker, a filmmaker who has a background in photography and worked on several movies, including Chicago, Kill Bill, and Station Agent, moved back to Little Rock from New York in 2013 and was looking for a way to "sink her teeth in the Arkansas film community." Coincidentally, both actor Nichols and Tucker are graduates of Little Rock Central High School.
The first event sponsored by the ACS was a three-day screening of four movies, including a question-and-answer session featuring actor Adam Driver of the Star Wars series.
Continuing with the idea of offering a monthly screening of films with an Arkansas connection, the next event was held on Feb. 3 for Then There Was Joe, with tickets selling out in just a few days. Arkansas-native Justin Warren wrote, directed and stars in Then There Was Joe and he participated in a "Conversation with the Filmmakers" after the screening. The screening launched the ACS "Homegrown Film Series" that gives Arkansas filmmakers a venue and voice in their communities.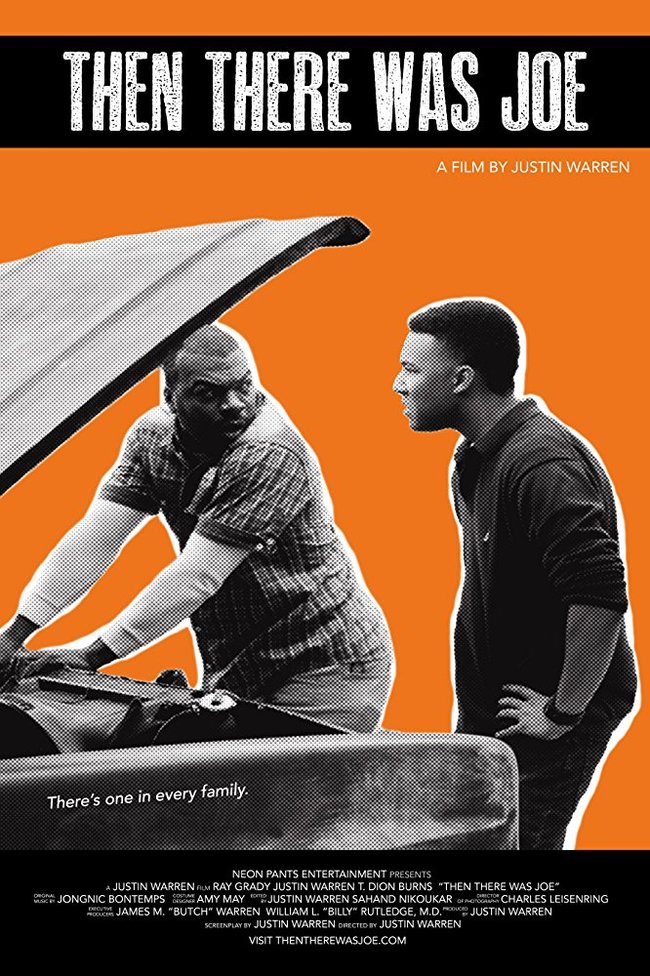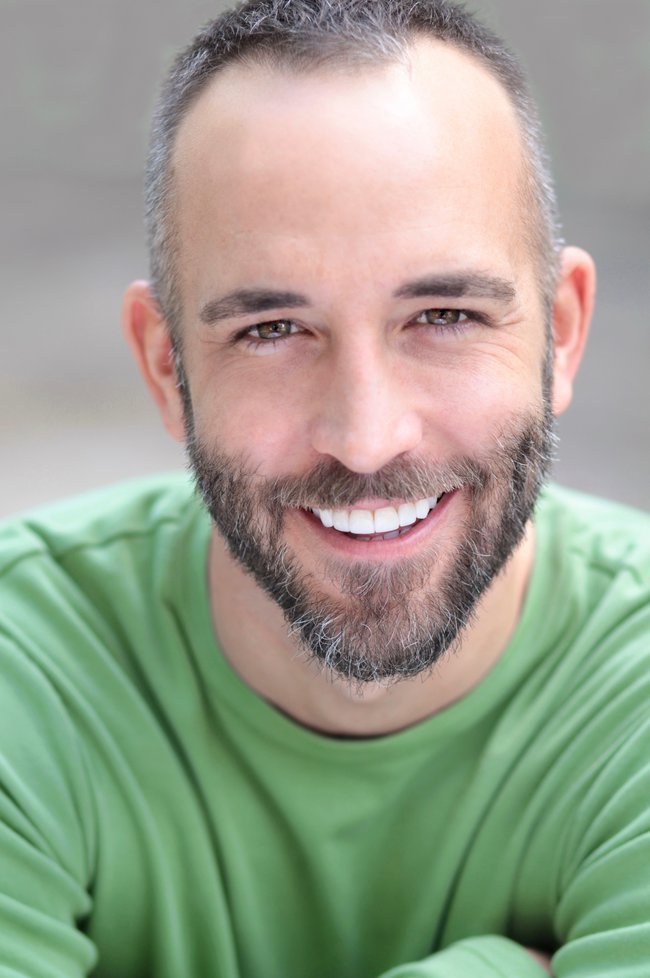 Native Arkansan Warren McCullough spent many years as a working as a Screen Actors Guild actor in Los Angeles, before moving a few years ago to Little Rock. In 2015, Warren was nominated for "Best Actor" at the Louisiana Film Prize Film Festival for his role in The God Particle. He also appears in two feature films slated to come out this year.
In addition, Warren operates the Warren McCullough Studio in Little Rock, which offers the On-Camera Acting Class to children, teens and adults. His studio's services include private coaching, instruction in audition technique, cold readings, script analysis, scene study and character development improvisation.  Classes are held weekly at Murry's Dinner Playhouse in Little Rock.
When asked what tips he would give aspiring actors in Arkansas, McCullough said, "On-camera training is very important for those wanting to audition for film and TV."
He offers the following advice to people who want to pursue acting:
Get on-camera training
Educate yourself on the business side of acting
Network
Audition, Audition, Audition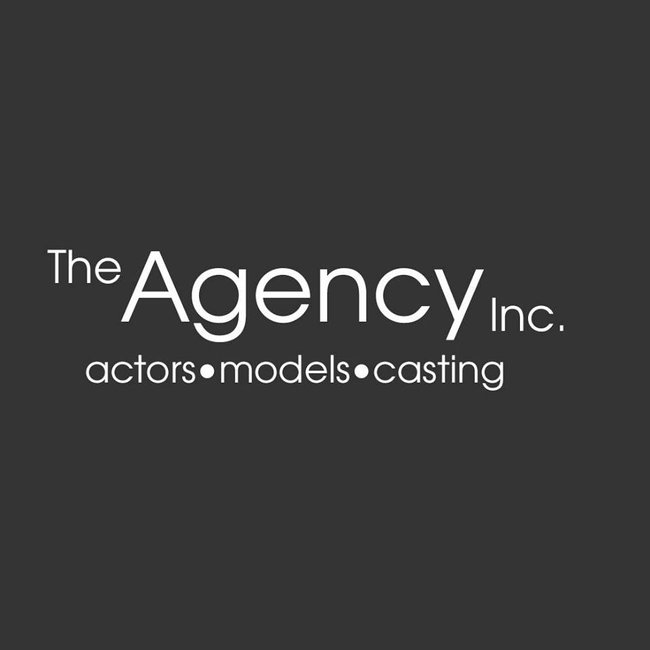 Photo courtesy of The Agency, Inc.
The Agency, Inc., a Little Rock-based full-service casting agency founded in 1984 by Sarah Tackett, has contributed to the casting of more than fifty feature films, and has cast talent, models and stylists for television movies, commercials, training and corporate videos, infomercials, interactive media, voice-over, commercial and fashion print, runway shows and special entertainment.
Yancey Prosser, talent director for The Agency, Inc., recently commented that each particular project The Agency works with has different criteria. He notes that The Agency, Inc. issues a press release when there are roles for extras in productions filmed in Arkansas.
He adds, "Actors in Arkansas who want representation can go to The Agency website to get more information about registering as new talent."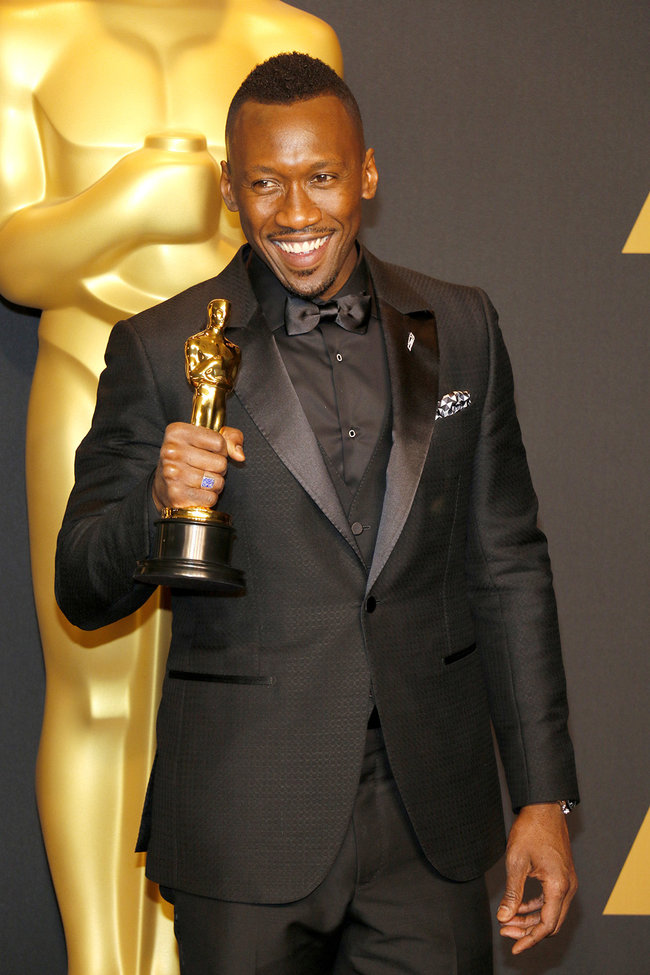 Academy Award-winning actor Mahershala Ali
Photo courtesy of Arkansas Economic Development Commission, Arkansas Film Commission
The third installment of the HBO crime anthology True Detective, created by University of Arkansas MFA graduate Nic Pizzolatto and starring Oscar-winner Mahershala Ali and actress Carmen Ejogo, will be filmed and produced in northwest Arkansas, beginning in early 2018.
According to a press release from the Arkansas Economic Development Commission, the production will provide work for local actors, extras, and production crews, said Fayetteville Mayor Lioneld Jordan, whom AEDC officials credit with being incredibly helpful and accommodating during recruitment of the production.
To apply for casting for this upcoming award-winning series, submit to Arkansas Casting.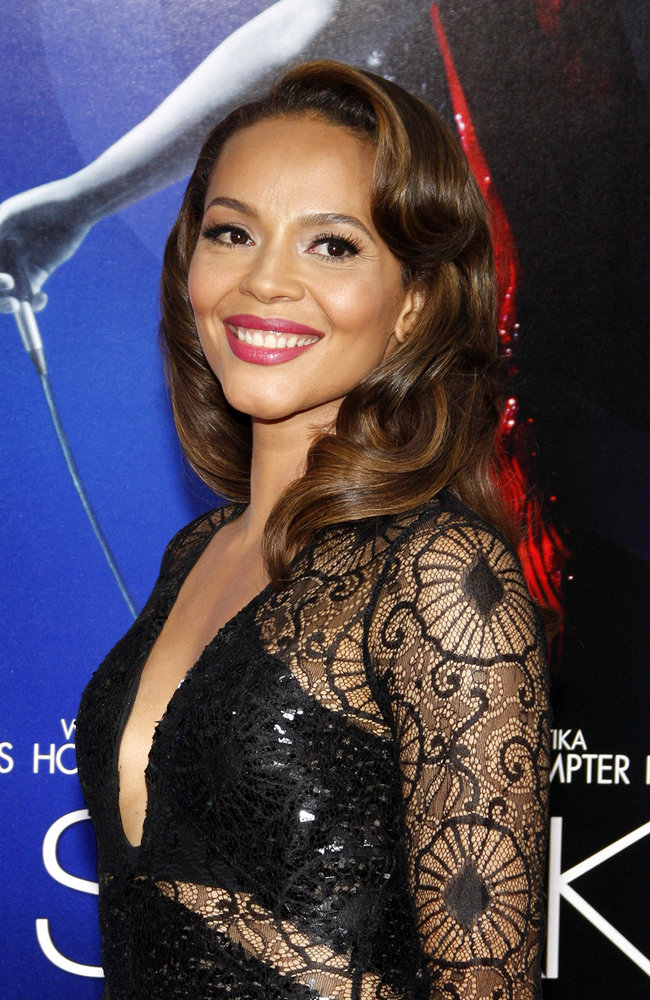 Selma Actress Carmen Ejogo
Photo courtesy of Arkansas Economic Development Commission, Arkansas Film Commission
Cover Photo of The Old Mill, located in North Little Rock, Arkansas, featured in the opening scenes of the 1939 Academy Award-winning movie, Gone with the Wind. Photo by Leslie Dianne.